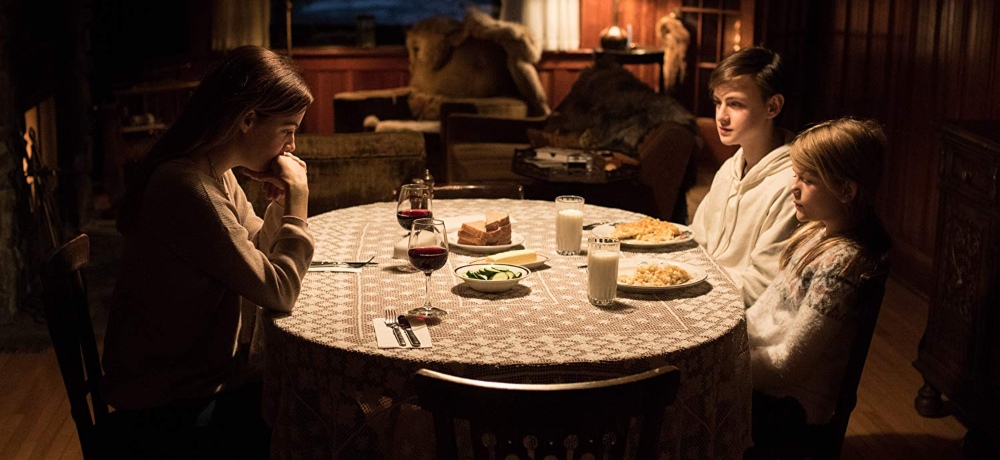 [Editor's Note: Spoiler warning for those who haven't seen The Lodge.]
January 9, 2020 - Tragedy befell a local family over the Christmas holiday. Beloved father, Richard, along with his children Mia and Aidan, were found shot to death in the family's mountain cabin. The assailant was, tragically, none other than Richard's fiancée, Grace. She was found alongside them, dead from a self-inflicted gunshot wound. It is believed that the family perished just before the holiday, during an extended stay at the isolated cabin.  
Sadly, this family was no stranger to tragedy, as Richard's estranged wife and mother of Mia and Aidan died by suicide just six months prior.
Grace was a former member of a religious cult led by her father. When she was a child, the rest of the cult members died in a mass suicide. Grace was left alive to spread the cult's message. After more than a decade, it appears that is exactly what she did. Both Aidan and Mia, along with Grace, were found dead with duct tape covering their mouths, upon which was written the word "SIN." This chilling display was also seen in the mass suicide of her father's cult members.  
It is truly a tragedy that the family's time was ended, and that the children's lives were cut short, by an unstable woman with such a rocky past. It is clear that whatever she was taught in her childhood stayed with Grace, as she acted out this horrific display of religious zealotry.  
Our community sends their thoughts and prayers to surviving family members and friends of the deceased.
Severin Fiala and Veronika Franz's The Lodge ends just prior to the inevitable deaths of Grace (Riley Keough), Mia (Lia McHugh), and Aidan (Jaeden Martell). Had we followed the film over the next several days, this is likely where it would have landed. The family's grisly deaths would be the subject of whispers and gossip. The children's plot and everything they did to Grace would remain unknown, and this incident would be chalked up to a "woman gone mad." A religious psycho who wormed her way into a cracking family and destroyed everyone in it.
As viewers, we know the events that transpired were almost entirely the work of Aidan and Mia. Their angry and ill-sighted attempt at avenging their mother's death and lashing out at Grace's new place in their family resulted in the mental collapse of Grace, the death of their father (Richard Armitage), and their own demise. And a dog's death. Seriously, they are a whole new level of evil kids.
In a film rife with tragedy, the undoing of Grace might be the most tragic aspect of them all. Grace survived what we can assume to be an abusive childhood (she violently punishes herself when she believes she must atone for her sins, after all) led by a righteous, patriarchal ruler who stood as a self-proclaimed pillar of the Christian faith. When her family and everyone in her community killed themselves in one fell swoop, she was left alone.
She managed to survive and deal with her trauma. When we meet her, she is quiet, and certainly has memories of her childhood (we see her reacting to the crucifix in the bedroom of the cabin), but she has been able to cope with her trauma and put her life back together. All in all, she is a well-adjusted adult and has learned to lead a healthy life. Her relationship with Richard appears to be stable and loving. We learn through conversations and interactions that her early years certainly left a mark, but she has moved past it and is living her own life.
And in just a few days, it is all undone. Under Mia and Aiden's plan, she is traumatized and ridden with guilt over her sins and the way God will judge her. She is frightened and over time detaches from reality. When Aidan and Mia try to confess, in the hopes of knocking her out of her daze, their words are met with silence. None of it sinks in.
None of this is her fault, and yet, in the world of the film, she is positioned to be remembered as the villain of this particular story. It's a new twist on the Evil Stepmother. All of her growth and everything that she has made of her life is going to disappear as the media and the community talk only about her creepy cult upbringing, and saddle her with the blame for everything that happened over the Christmas holiday. Because from the outside perspective, all evidence points to her guilt. The crazy zealot lost her mind and murdered her fiancé and his children. You can't fix evil. Some damage is too great to recover from.
In a story as bleak as The Lodge, it may seem counterproductive to find extra things to be sad about. Isn't the ending hard enough? But delving into the lives of the characters and the impact of their actions is an interesting exercise, and one that really illuminates the full scope of this brutal film. Franz and Fiala have crafted a story that goes beyond its final shot and leaves ripples of tragedy yet to come.
---------
Visit our online hub to catch up on our previous coverage of The Lodge, including Heather Wixson's interviews with co-directors Severin Fiala and Veronika Franz and co-stars Jaeden Martell and Lia McHugh.