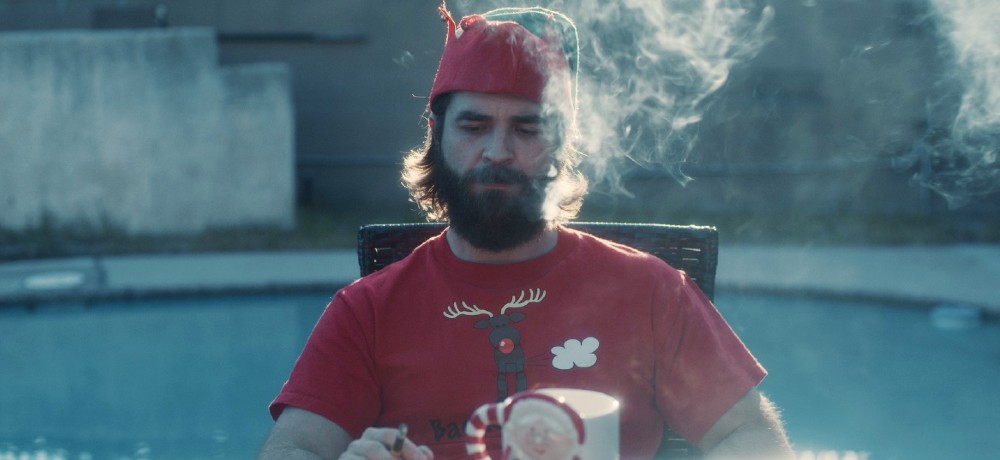 There have been countless films about people struggling with drugs and alcohol, but there have not been many that have used magic to tell the story. Shane Brady (Doctor Sleep, The Endless) has partnered with Rustic Films for his highly impressive directorial debut, Breathing Happy, which had its World Premiere at this year's virtual Chattanooga Film Festival. Written, directed, and edited by Brady, Breathing Happy is a weird, wonderful, highly satisfying journey through grief, addiction, and recovery.
Featuring a ton of easter eggs and the disembodied voices of people like Aaron Moorhead (The Endless, Synchronic) and Dave Lawson, Jr. (The Endless, Synchronic), Breathing Happy follows a man named Dylan, played fantastically by Brady, who is grappling with sobriety on Christmas. Dylan, a recovering drug addict, is about to celebrate being one year sober, but his attempt at dealing with the loss of his family and his dog, seems to be getting in the way of his success. Dylan's unusual odyssey begins when he finds his front door standing wide open, alarms going off, and his sick dog Angel is missing. Along the way, Dylan uses magic as a form of communication as he interacts with inanimate objects and sees flashbacks of Christmases past with his family. Breathing Happy also stars Katelyn Nacon, June Carryl, Augie Duke, and Justin Benson.
Almost anyone should find Brady's incredible portrayal of Dylan relatable. We've all made mistakes and we all have demons. Dylan's magical, mystical quest for sobriety forces him to face some difficult truths about himself, as well as his relationships with his lost family members. Navigating grief and recovery isn't supposed to be easy. It would be much easier for Dylan to just give in and take the drugs his old drug dealer will always be offering. The fact that Dylan doesn't immediately choose to escape into a haze of substances says a lot about him as a person and his desire to be sober.
Through mesmerizing, hallucinatory visuals and the fact that Dylan is appealing and funny, Breathing Happy isn't just Dylan's journey; it's also the viewer's emotional journey. Due to Brady's captivating portrayal of Dylan, it's easy to sympathize with him. Dylan likes to do magic tricks, which also seem to give him a connection to his family and his past. He has endured so much tragedy and pain, yet he still has the will to live and to be a better person. The post credits scene and dedication at the end are the perfect conclusion to Dylan's story and are guaranteed to leave you in tears.
Brady's performance is just spectacular in this film, the story is compelling, and the fact that this movie causes such an emotional response makes this a remarkable directorial debut. Breathing Happy is an intimate, beautiful exploration of recovery and grief presented in such a passionate way. It's very easy to fall in love with this film. Kleenex highly recommended.
Movie Score: 4.5/5