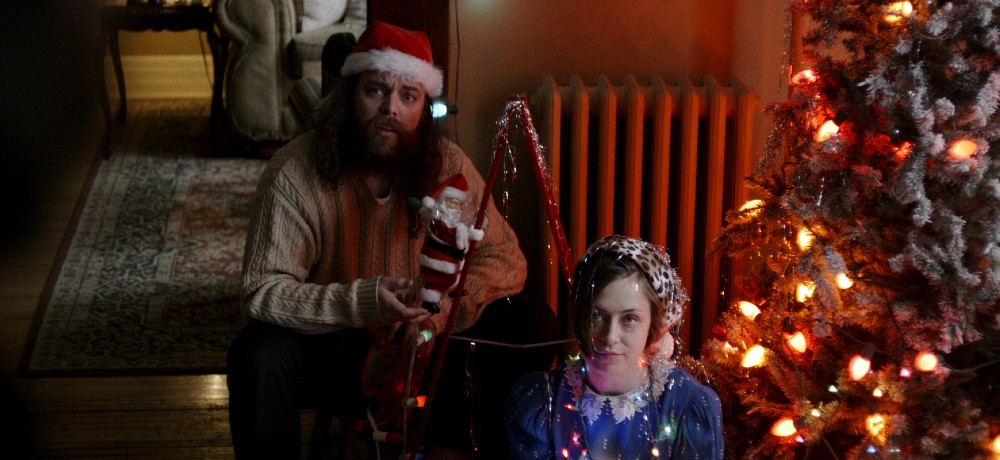 Writer/director Eric Pennycoff's 2018 film Sadistic Intentions uses metal and mayhem to tell a story of romantic deceit. The film stars Jeremy Gardner and Taylor Zaudtke and a big part of the movie's appeal comes from the onscreen chemistry of the duo, who are now married in real life. Pennycoff's new film, The Leech, had its World Premiere as the opening night film of this year's virtual Chattanooga Film Festival, and stars Gardner, Zaudtke, and Graham Skipper. The Leech is a frenzied Christmas horror comedy about a couple who test a priest's faith to its limit, and it has already been picked up for release by Arrow Films Video.
The Leech opens with Father David, played by Graham Skipper, a priest who continues to faithfully preach to an almost nonexistent congregation. His church pianist, Rigo, played by Rigo Garay, comes to see him after the service and is concerned about the fact that the church is empty. It's the week of Christmas and Father David is hopeful that God will provide a congregation for his midnight mass. As he is locking up the church, Father David discovers a man sleeping in a pew. The man introduces himself as Terry, played by Jeremy Gardner, and says he can't get in touch with his girlfriend. One thing leads to another, and Father David ends up telling Terry he can stay at his house for the night. That's his first mistake.
Gardner is more than capable of playing thoughtful, romantic characters in films like After Midnight, but he's at his best playing loud, rambunctious characters like Terry, who starts blasting music, smoking, and drinking almost as soon as he arrives at Father David's house. Father David is a little taken aback at Terry's behavior, but still believes he's doing God's work by providing a place for Terry to stay. After a series of unusual events, Terry's girlfriend Lexi, played by Taylor Zaudtke, is also staying at Father David's house.
As Christmas quickly approaches, Father David is unwittingly swept up in Terry and Lexi's wild, nonstop partying, and is forced to confront a side of himself he didn't know existed. Gardner and Zaudtke are perfectly cast as the raunchy couple who cause Father David to question his faith. Skipper gives an amusingly tantalizing performance as the oblivious priest, who doesn't know if he's losing his mind or discovering who he really is.
As the life he knows crumbles around him, Father David drifts in and out of consciousness and hears a demonic voice that calls itself the leech. Is any of what he's experiencing even real? Clinging to his beliefs, Father David attempts to prepare for the Christmas midnight mass, but he also can't resist Terry and Lexi's vulgar advances. The party soon turns into a bloody, crazed fight for survival, as Father David grasps at his faith one last time.
The Leech is an impressively gratifying follow-up to Sadistic Intentions for writer/director Pennycoff, who cleverly pairs Gardner and Zaudtke with Skipper to tell a riotous holiday story. This movie is horny, and bloody, and loud and it's impossible not to have a good time watching it. Buckle up, The Leech is the obscenely fun, naughty Christmas horror comedy you didn't know you needed.
Movie Score: 4/5