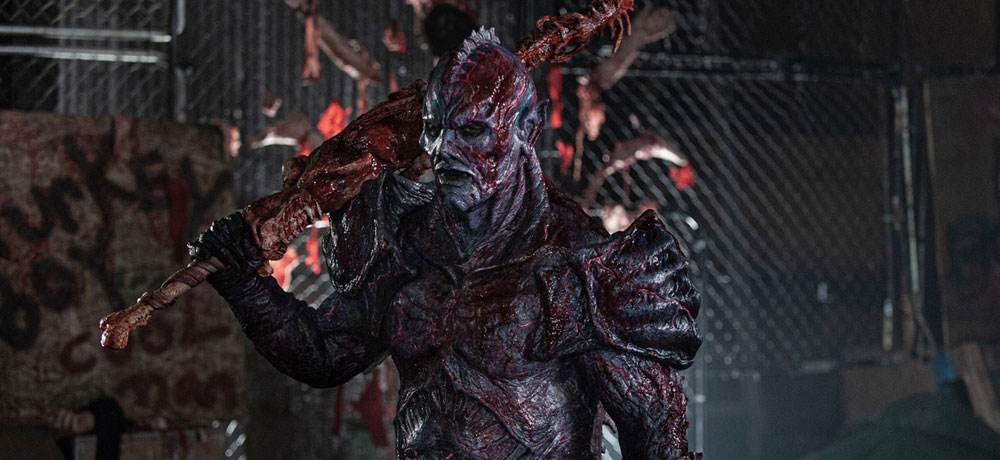 Following the blood-soaked adventures of a deadly extraterrestrial who teams up with young siblings who unwittingly resurrect him, the new horror comedy PG: Psycho Goreman will be released in theaters and on VOD and Digital beginning January 22nd from RLJE Films, and to celebrate, Alamo Drafthouse is having an online watch party, virtual hangout, and a Q&A with writer/director Steven Kostanski and co-star Matthew Ninaber that will be moderated by Daily Dead Managing Editor and Monster Squad author Heather Wixson!
The PG: Psycho Goreman watch party will take place online at Alamo On Demand's Virtual Screener Theater on Saturday, January 23rd at 6:00pm PST, followed by the Q&A and virtual hangout.
As a special treat, we've been provided with five online passes to the PG: Psycho Goreman virtual event to give away to lucky Daily Dead readers! Keep reading for details on how to enter the giveaway, and visit Alamo Drafthouse's website for details on how you can purchase tickets if you don't win them in this contest!
---------
Prize Details: (5) Winners will receive (1) online pass to the PG: Psycho Goreman watch party, Q&A, and virtual hangout.
How to Enter: For a chance to win, send an email to contest@dailydead.com with the subject "PG: Psycho Goreman Contest".
Entry Details: The contest will end at 1:00pm EST on January 22nd. This contest is only open to those who are eighteen years of age or older that live in the United States. Only one entry per entry method, per household will be accepted.
---------
Written and directed by Steven Kostanski, PG: Psycho Goreman stars Nita-Josee Hanna, Owen Myre, Adam Brooks, Alexis Hancey, and Matthew Ninaber.
Synopsis: "Siblings Mimi and Luke unwittingly resurrect an ancient alien overlord who was entombed on Earth millions of years ago after a failed attempt to destroy the universe. They nickname the evil creature Psycho Goreman (or PG for short) and use the magical amulet they discovered to force him to obey their childish whims. It isn't long before PG's reappearance draws the attention of intergalactic friends and foes from across the cosmos and a rogues' gallery of alien combatants converges in small-town suburbia to battle for the fate of the galaxy."