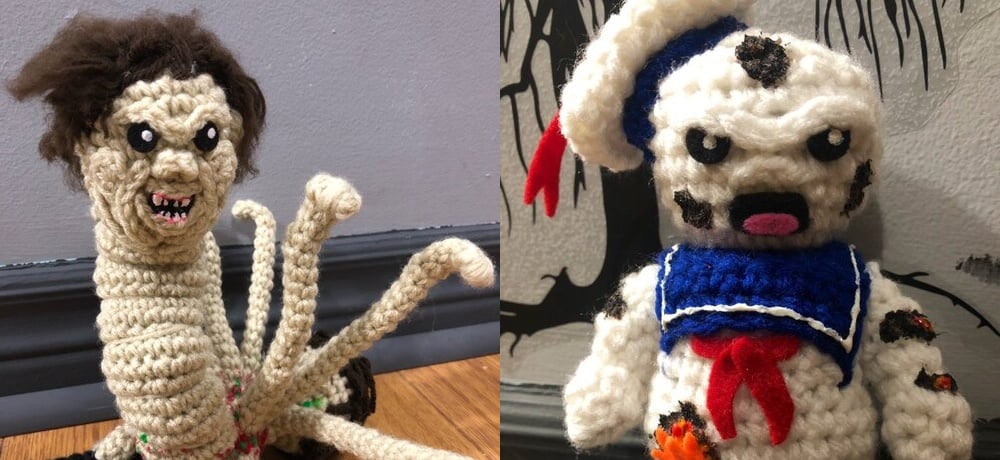 Hello, readers! In anticipation of the launch of Daily Dead's 8th annual Holiday Gift Guide later this month, we're going to spend the next few weeks celebrating a series of independent artists who specialize in creating horror-themed merchandise. Be sure to check back every day throughout the month of November to learn more about all of these indie artisans, and hopefully these profiles will help inspire your holiday shopping lists this year. Cheers!
A few years ago, I discovered The Stitchkeeper on Twitter and totally fell in love with her yarntastic horror creations. So much so that last year for Christmas, I hired her to design my better half an 8-bit version of a Jason Voorhees doll (which was a huge hit). She currently has an array of yarn babies available to purchase on her site, but if you're looking for a custom creation, it's best to hit up The Stitchkeeper just as soon as you can (more on that below). For more information, be sure to check out her site at: https://www.talesfromthestitch.com/.
You mention on your site that you have had a love of horror and crocheting ever since you were young. Was there a specific moment when you knew it was the right time to bring these two loves together to start up Tales from the Stitch?
I actually found a book years ago called Super Scary Crochet by Nikki Trench. As soon as I saw the book, I knew I had to try out some of the patterns because, as you mentioned, horror and crochet are two things I'm passionate about. As soon as I tried out the first pattern in the book, I knew that this was something that I was very interested in pursuing. After a few years of playing around with my own patterns, I decided to showcase my work online just for fun. People started asking about purchasing my dolls and I realized that this could potentially be a career for me. That's when I started up Tales From The Stitch and used that platform to sell my work.
What has been the biggest challenge for you with your business from an artistic perspective? Is it keeping up with demand? More challenging designs?
I love a good crochet challenge. I love when I'm asked to create something out of my comfort zone because leaving my comfort zone helps build my talent. There are a lot of techniques I learn with each piece that can be applied to future pieces. As for demand, I never over-exhaust myself. When I began this venture, I swore that I would never create a situation where I hated what I was doing, so making sure to keep my stress levels low is a huge priority.
I think the biggest challenge is being a mom and owning my own business. Kids are unpredictable, especially this year where COVID-19 has taken away things like daycare. Working from home with a four-year-old is definitely challenging. Some days she lets me work and other days she wakes up, shoves her head up my butt, and keeps it there until bedtime. Luckily, I am a night owl, so I have no issues staying up all night working, but it's the unpredictability that bothers me the most. I like routine and unfortunately 2020 is not the year for routine.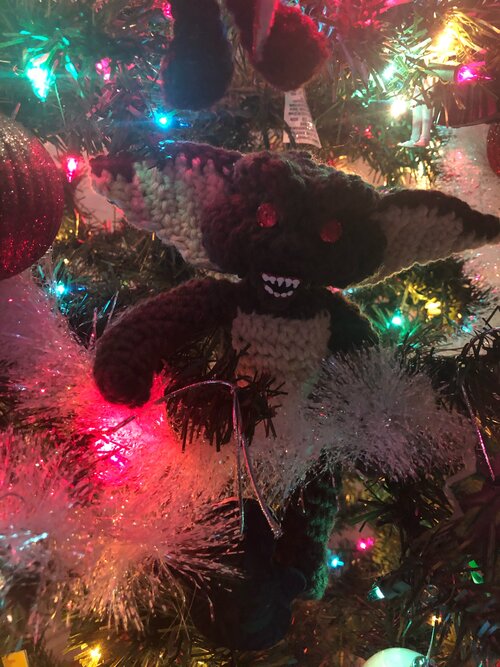 Do you have favorite yarn babies that you have created over the years?
I'm always a fan of my Killer Klown yarn babies. And I once made this gorgeous Q The Winged Serpent that I think about quite often. I also adore my Creepshow crate beast and the witch from House. Those two stay with me in my office, as I couldn't bear to part with them, especially the House witch. House was one of my first horror films and that witch was one of my first "What the f--- is this insane bullshit?" moments in horror.
If you're creating a yarn baby for fun, is there a specific design or horror icon that you tend to revisit more than others?
I will forever and always adore making Jason Voorhees dolls. He is just such a versatile character. There are so many versions of him that I never get tired of making him. Plus, he's my number one dude in horror. Usually when I'm making a yarn baby for fun, though, it's because I was inspired by a film I recently watched. There are a lot of films now where I will be sitting there watching and I'll be like, "OMFG, I have to create that creature," and immediately my mind starts making the pattern up.
Is there a yarn baby design that you have always wanted to try, but just haven't done yet, for whatever reason?
I have always wanted to crochet the giant clown on strings from Killer Klowns from Outer Space. If I had the time, I would want it to be life sized and I would just put it in the wooded trails in my town, just so people would be walking and then be like, "What the hell is that?"
I actually would love to get into creepy yarn bombing around town.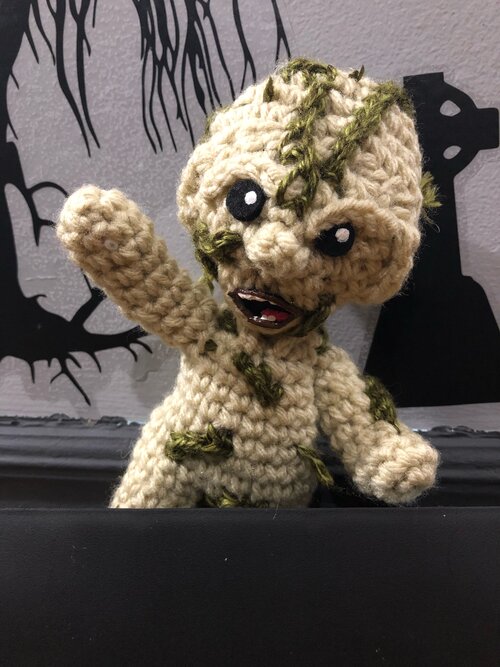 What's been the biggest highlight of your business so far?
There's been a few things I've been proud of. I've done some work for different film releases, like Brightburn and Scary Stories to Tell in the Dark. I recently had my work showcased by Fangoria on their social media platforms. I've done work for Jennifer Tilly. I've had retweets by numerous celebrities, and I've traded crochet yarn babies for autographs with celebrities. I don't think I could pick just one highlight because every highlight gives me that positive energy that lets me know I'm doing what I was meant to do with my life.
If horror fans want to place an order with you for the holiday season, what's the best way for them to do that, and what kind of deadlines are you facing during the holidays?
The easiest way to contact me is on my website talesfromthestitch.com. I will admit I am almost booked for custom orders to be guaranteed for Christmas, so if you're planning a custom order for a gift, do it now. I usually stop guaranteeing Christmas arrival packages mid-December, but with the post offices being a hot mess this year, I'm really having a hard time guaranteeing anything after December 1st. But please, make sure to just contact me and ask, because every situation is different.
---------
Visit Tales From The Stitch to learn more about The Stitchkeeper's creations, and go here to catch up on our previous Holiday Gift Guide artist profiles!