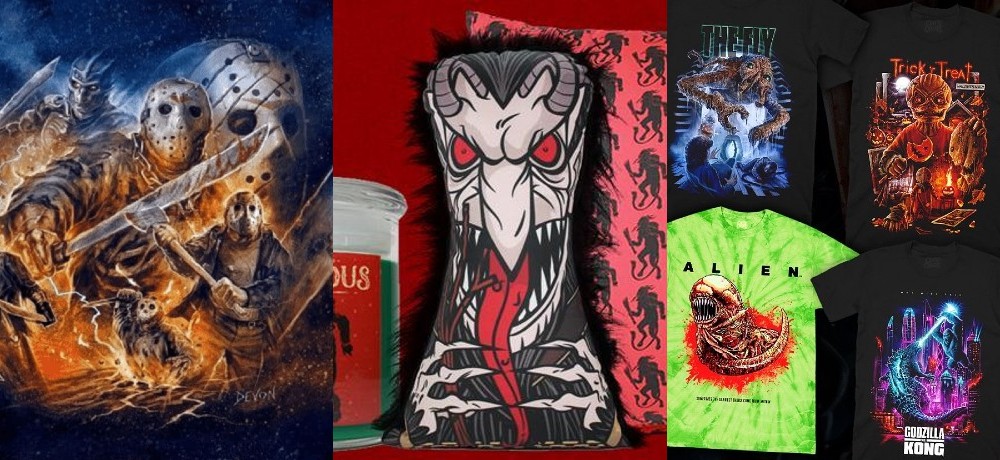 Happy Holiday Season, dear readers! Now that Thanksgiving is less than 24 hours away, that means that the 2021 holiday shopping season is officially underway which makes it the perfect time to kick-off Daily Dead's 9th Annual Holiday Gift Guide. As we do every year, we starting things off highlighting a bunch of killer Black Friday deals from some of our favorite online vendors that specialize in genre goods, including Fright-Rags, Vinegar Syndrome, Mondo, Mixtape Massacre, Cavity Colors, Severin Films, Horror Decor, Shout Factory and Hero Complex Gallery.
Check out all their devilish deals and spooky sales below and be sure to head back here later this week for even more Black Friday sale information from other vendors as they release details. We'll also have a whole week of Holiday Gift Guide fun coming to Daily Dead beginning on Monday, November 29th, too.
Happy Shopping, everyone!
Note: All new Black Friday Sale additions are toward the end with a *New* marker
Mixtape Massacre: The fine fiends over at Mixtape Massacre are already holding a kickass Black Friday sale that's offering deep discounts on a ton of games, game bundles, booster packs and more. The Mixtape Massacre Black Friday sale is currently running through Friday, November 26th so be sure to check out all the details on the discounts on their site before it's over. For more information, head on over to: https://mixtapemassacre.com/black-friday/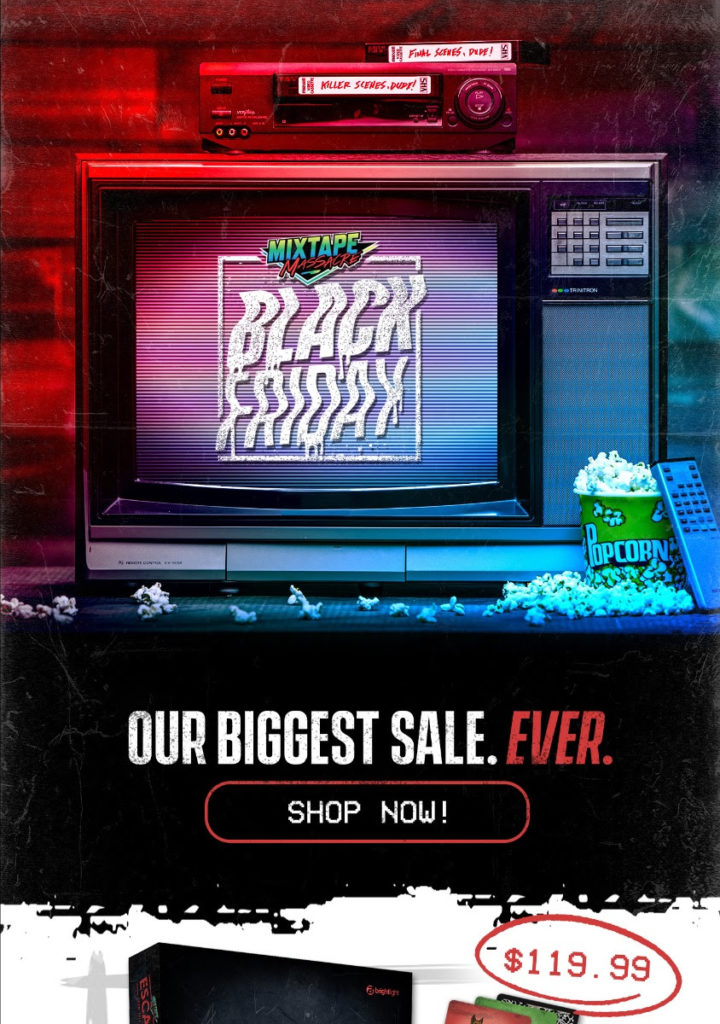 Fright-Rags: Once again, Fright-Rags has put together yet another awesome Black Friday sale for 2021, and horror fans are definitely going to want to check out all their discounted offerings. Beginning on Friday, November 26th at 12:01 AM EST and running through Monday, November 29th at 11:59 PM EST, Fright-Rags will have everything from t-shirts to socks to pants on sale, plus they'll also be restocking some favorite items during the weekend, too. Be sure to check out the Fright-Rags site beginning this Friday to save some bucks this holiday season: https://www.fright-rags.com/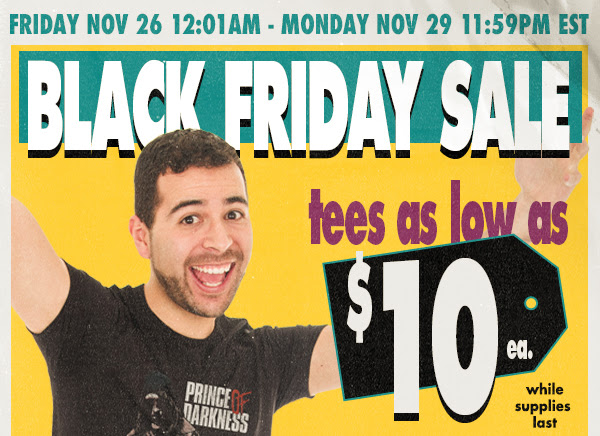 Vinegar Syndrome: For many fans, the Vinegar Syndrome Black Friday sale is an annual tradition, and once again, there will be a lot of great selections that genre lovers are going to want to pick up during their Black Friday celebration. The Vinegar Syndrome sale begins at 12:01 AM EST on Friday, November 26th, and even though the VS site is currently in maintenance mode, you can still prepare for Black Friday battle by visiting their checklist at www.vschecklist.com so that you can make your wish lists in anticipation of the sale later this week. And when the sale hits, be sure to head over to VS's main site at: www.VinegarSyndrome.com

Horror Decor: I've been a big fan of Horror Decor for a long time now and they are always a site I visit for some fun, unique gift ideas each and every year. Once again, they'll be hosting a Black Friday sale where they will be marking down a selection of items and for all orders that are $15 or more, you'll receive a free "Christmas Slasher" drink koozie that would be a perfect addition in any horror fan's stocking. Horror Decor's Black Friday sale begins this Friday, November 26th, and runs through Cyber Monday, November 29th. For more details, check out their site here: https://horrordecor.net/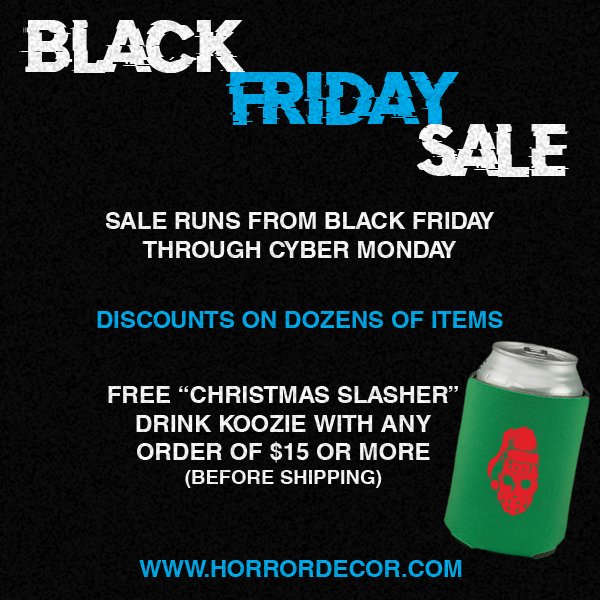 Severin Films: The crew over at Severin Films have put together a ton of amazing offerings for their annual Nasty Friday Sale, which begins at Midnight EST on Friday, November 26th, and will run through Tuesday, November 30th at 3 AM EST. During their Nasty Friday event, you can pick up a bunch of new titles from Severin and save money on selected titles and merch to boot, so be sure to check out all the Nasty Friday details here: https://severinpolicies.com/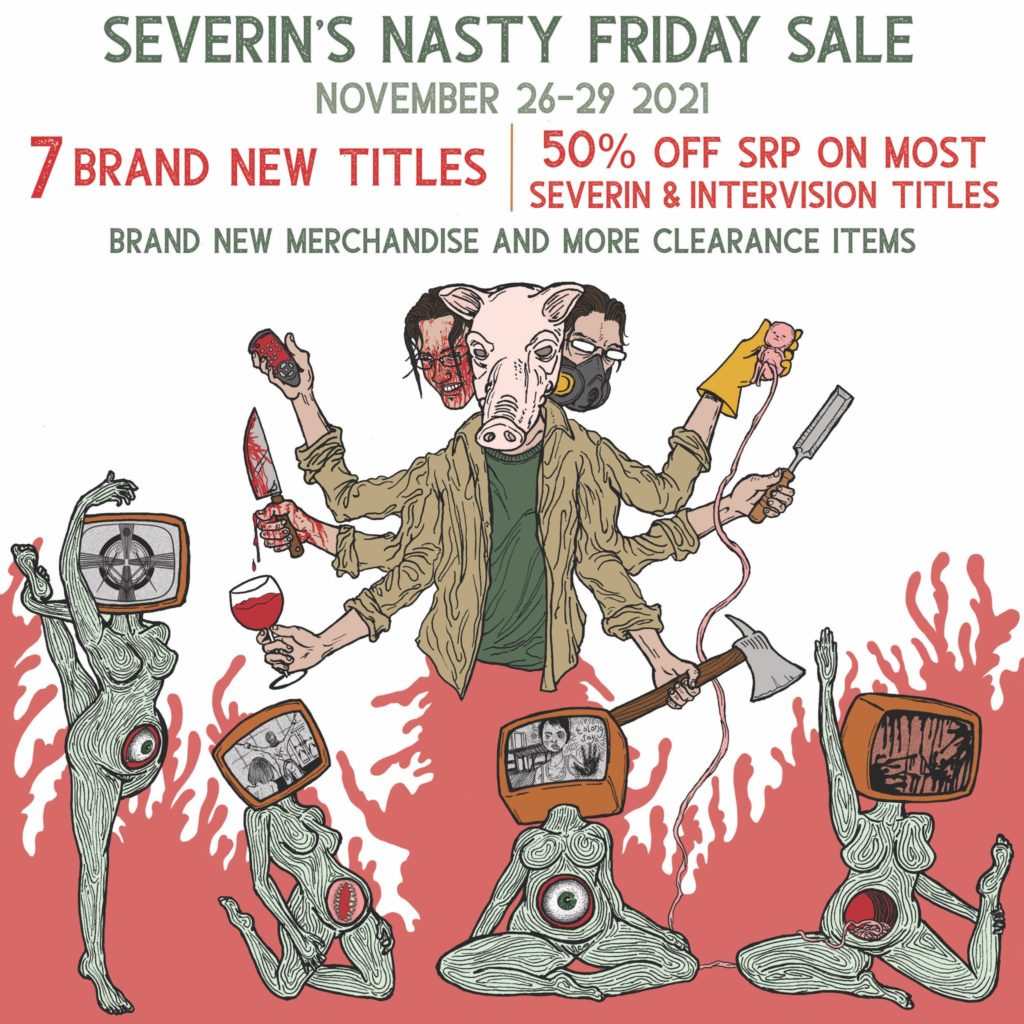 Cavitycolors: There are always a lot of reasons to check out Cavitycolors' Black Friday sale, but one thing that always catches my eye when it comes to their annual BF sale is the return of a limited amount of their "Buy or Die" stock because so many of those designs often slip past me throughout the year. CC is also offering a ton of discounts and some new frighteningly festive gear that would make for great gifts for the horror fan in your life (or maybe you want to spoil yourself). In any case, Cavitycolors' Black Friday sale kicks off on Wednesday, November 24th at 5 pm EST and will run through Wednesday, December 1st at 5 pm EST. For more info, check out CC's site at: https://cavitycolors.com/ 
Mondo: Once again, Mondo has knocked it out of the park with their Black Friday plans and if you have people with a variety of interests on your holiday shopping list this year, Mondo most likely will have you covered. Their Black Friday Archive Sale begins at 12 pm CST on Friday, November 26th where you have a chance to grab some artwork from Mondo that has long been sold out and they are also having a Buy 5 Pins, Get 5 Pins free sale as well. For some holiday gift ideas, visit Mondo's Shopping Guide at: https://mondoshop.com/pages/gift-guide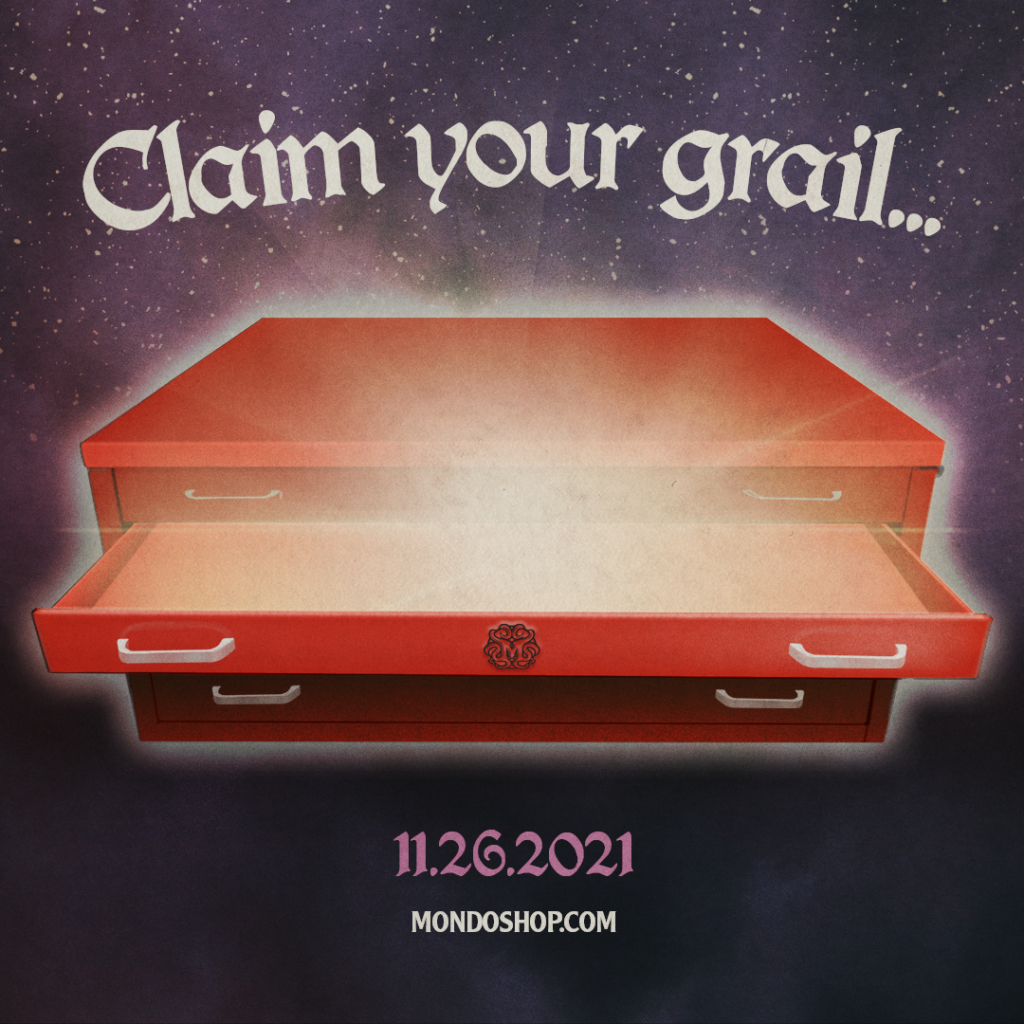 Shout Factory: To kick-off the holiday shopping season, Shout Factory has already launched their Box Set Sale where you can save nearly 40 percent off on some of their awesome collections, like their sets for Critters, Friday the 13th, The Fly and more, plus all orders over $50 get free shipping. For the lowdown on the Shout Factory sale, which runs through December 1st, head on over to their site here: https://www.shoutfactory.com/sale/box-sets-sale   

Hero Complex Gallery: If you're looking to grab some artwork for a holiday gift this year, Hero Complex Gallery is currently hosting its annual sale where you can save 20 percent off your order when you use the code SNOW. The sale is currently underway and runs through December 12th. To check out their selection of available art, please visit: https://hcgart.com/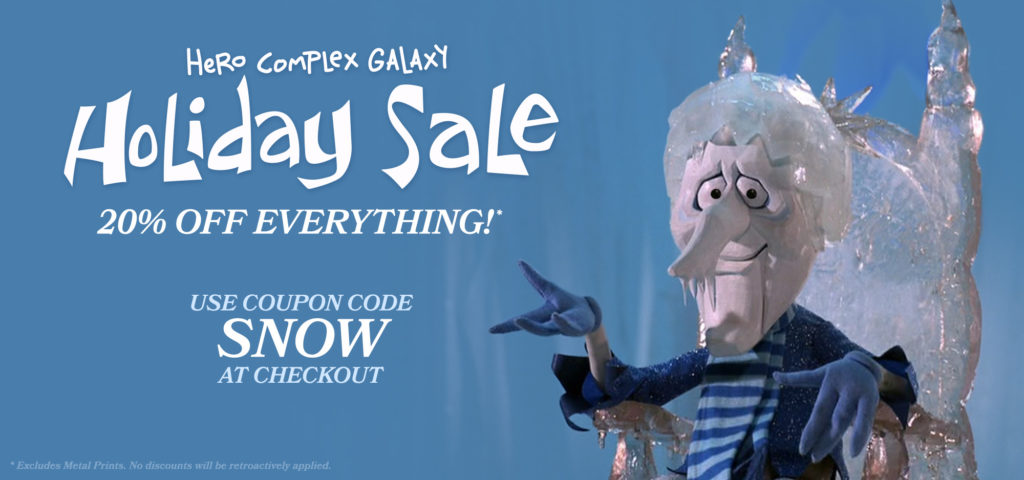 *New* - Vixen by Micheline Pitt: I absolutely adore Micheline Pitt's Vixen brand, and every single time I leave the house with my Pet Sematary purse, I always get some kind of comment or compliment. During Vixen's Black Friday sale, you can save 35 percent off your order when you use the code BACKTO BLACK when you check out. To check out all of Vixen's killer offerings, check out: https://www.michelinepitt.com/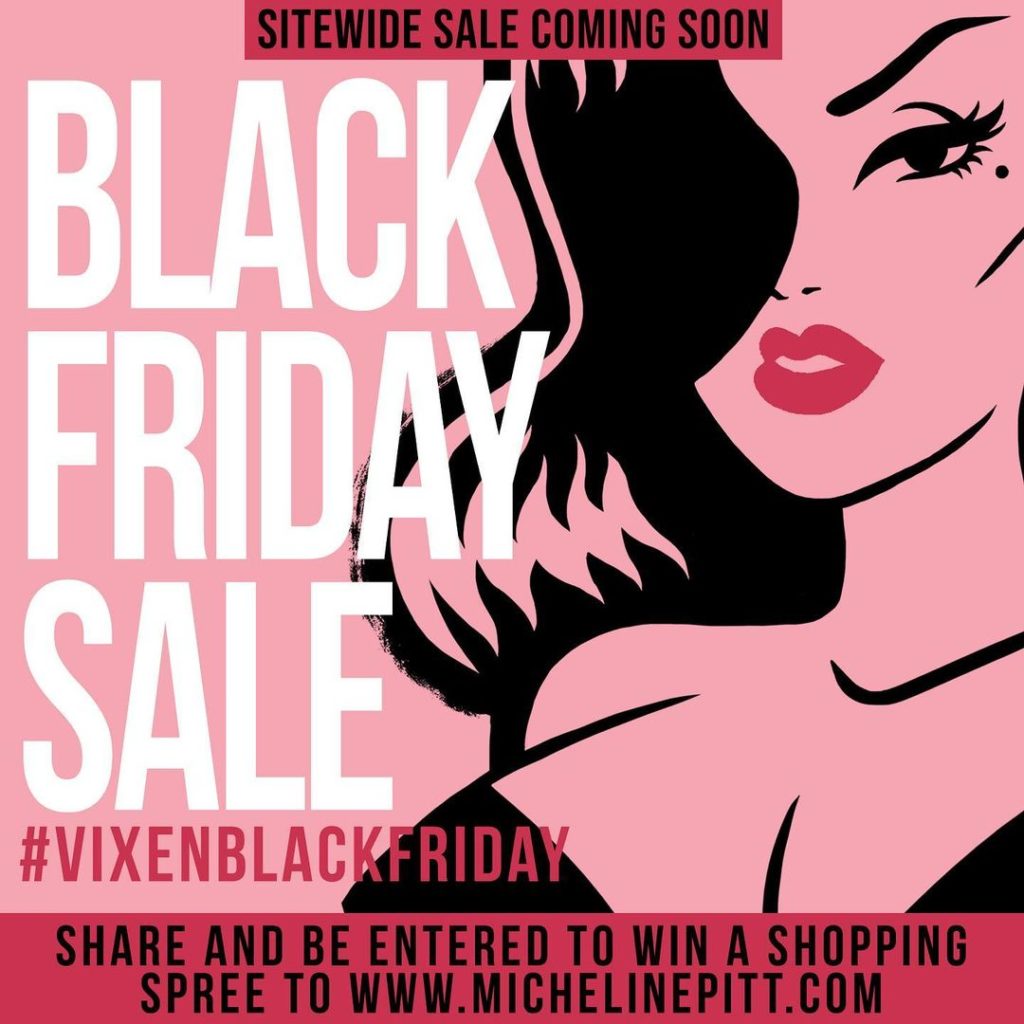 *New* - Pixel Elixir: Once again, Pixel Elixir is hosting a most excellent Black Friday sale on their site where you can save lots of money while picking up some restocks or any of their new merch they are launching this weekend. The Pixel Elixir Black Friday sale begins on Friday, November 26th at 12 am CST and runs through the weekend. To check out all their offerings, visit the PE site at: https://www.pixelelixir.com/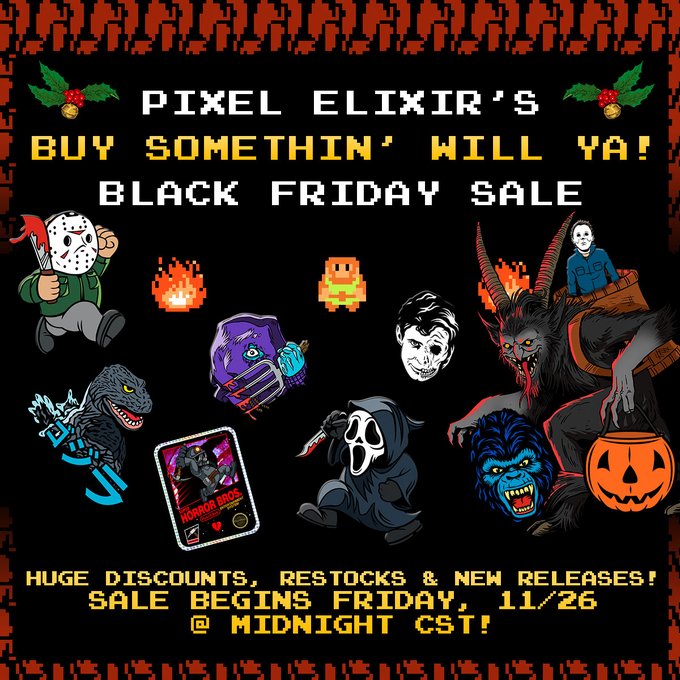 *New* - Final Girl Designs: Jennifer McCarthy of Final Girl Designs creates some killer horror-themed jewelry and accessories that would make for a great gift to put under the tree or stuff someone's stocking with this year. FGD is currently offering 25 percent off all orders if you use the code CREEPYXMAS when you check out. To see more of her jewelry selections, visit FGD at: https://www.finalgirldesigns.com/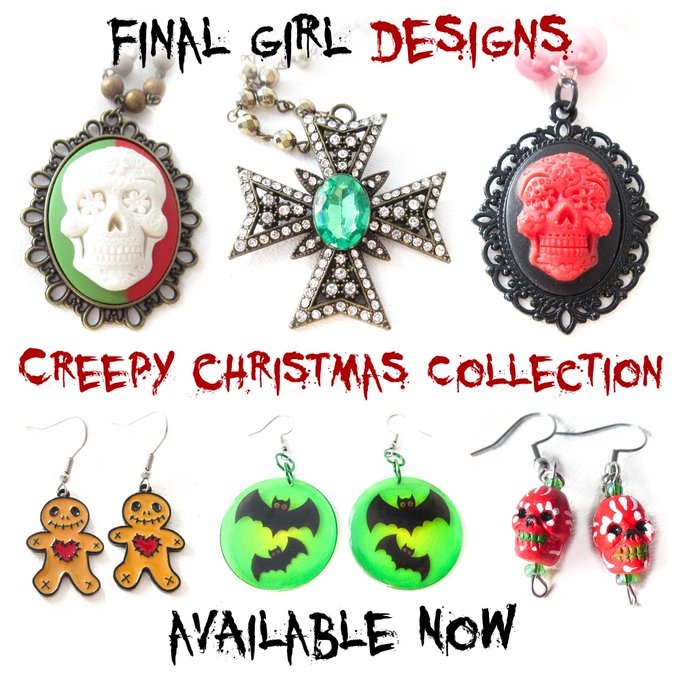 *New* - Poltergeists and Paramours: Ama Lea's Poltergeists and Paramours has quickly become one of my favorite apparel brands over the last few years (I nearly bought everything from her Phantom of the Paradise line and it was worth every single penny I paid for it all). P&P is currently hosting a Black Friday Sale that features several deeply discounted items and a 25 percent discount sitewide. For more details, check out the P&P site at: https://poltergeistsandparamours.com/collections/black-friday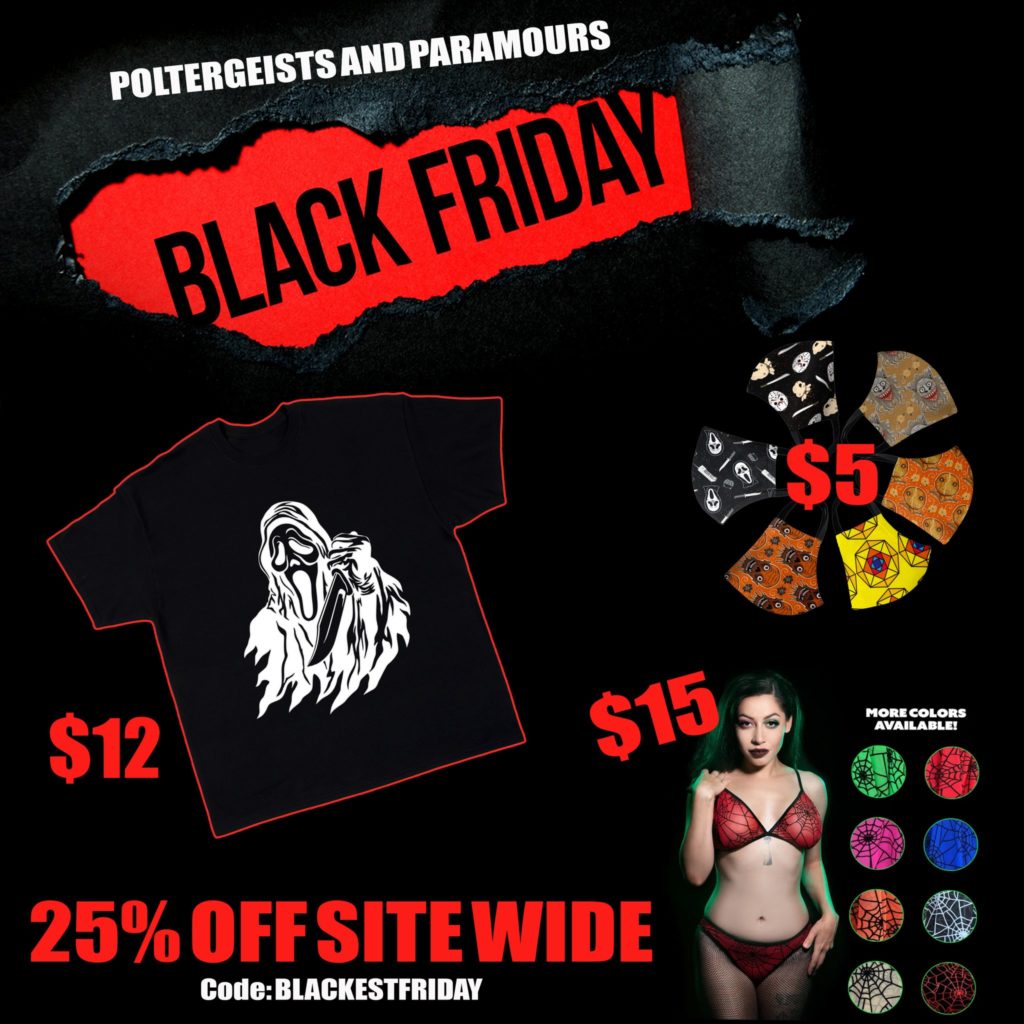 *New* - Ghost Girl Greetings: As someone who lives for horror products that really focus on all the details that make me a fan, I absolutely adore everything that the ghoulfriends over at Ghost Girl Greetings create. If you're looking for some fun horror-themed cards, wrapping paper, cards, or even lip balms, GGG has got you covered. Also, throughout the holiday weekend, they are hosting a buy one, get one free sale on all of their cards which starts on Friday. For more info, visit the GGG site here: https://ghostgirlgreetings.com/
*New* - Creepy Co.: Creepy Co.'s annual Black Friday sale is currently underway, where they've marked down everything throughout their site already, but you can save an extra 10 percent if you use the code COLDTURKEY while checking out (code expires Thursday at midnigh). For the lowdown on Creepy Co.'s Black Friday sale, please check out their site at: https://www.creepycompany.com/collections/black-friday-site-wide-sale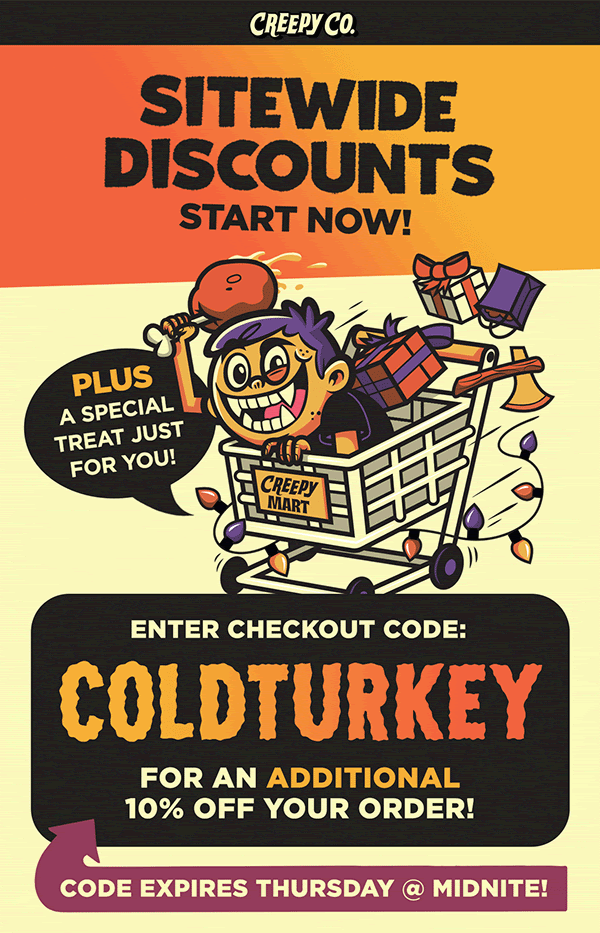 *New* - Hot Topic: I know that Hot Topic is generally for "the youths" but they usually have a really awesome selection of horror apparel, accessories and other fun stuff, so I generally do a little shopping with them every holiday season (they have killer horror pjs). Right now, they've got everything marked down by 30 percent and they're also offering other discounts on hoodies, jackets and other outwear apparel too. So if you're looking for some horror gift ideas, you'll probably find something fun at Hot Topic. For more details on their sale and more, head on over to: https://www.hottopic.com/