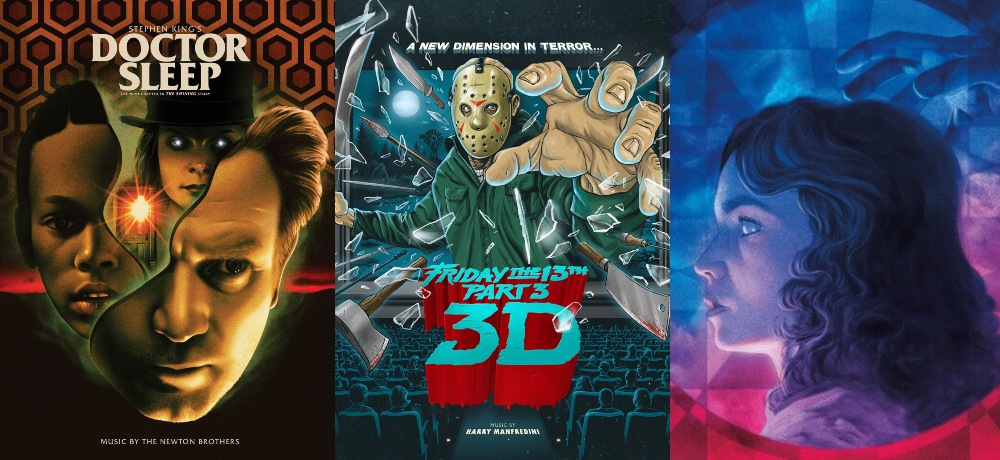 Happy Monday, dear readers! We're back today (after a slight delay) with the latest installment of Daily Dead's 2022 Holiday Gift Guide, which focuses on a ton of great movie soundtracks released on vinyl throughout 2022. I've broken down all the titles by where you can find them, whether it's on Waxwork Records or Mondo's sites, or via other sites like Amazon and other retailers.
One of my favorite gifts to get every holiday season is soundtrack LPs, and I suspect it's pretty similar for a lot of other horror fans out there, so be sure to check out the entire list so that it can help you as you finish up your shopping this holiday season.
Cheers!
WAXWORK RECORDS:
Nope Original Motion Picture Soundtrack by Michael Abels
Oscar® winner Jordan Peele disrupted and redefined modern horror with Get Out and then Us. Now, he reimagines the summer movie with a new pop nightmare: the expansive horror epic, Nope.
The film reunites Peele with Oscar® winner Daniel Kaluuya (Get Out, Judas and the Black Messiah), who is joined by Keke Palmer and Oscar® nominee Steven Yeun as residents in a lonely gulch of inland California who bear witness to an uncanny and chilling discovery.
NOPE marks Abels' third feature film score with director Jordan Peele, having previously scored Peele's GET OUT and US. The album also features songs from the film, including a new version of Corey Hart's classic "Sunglasses at Night (Jean Jacket Mix)", Dionne Warwick's "Walk on By", The Lost Generation's "This is the Lost Generation", Exuma's "Exuma, the Obeah Man", and a never-before-released gem by a young Jodie Foster, "La Vie C'est Chouette" from the 1977 film MOI, FLEUR BLEUE.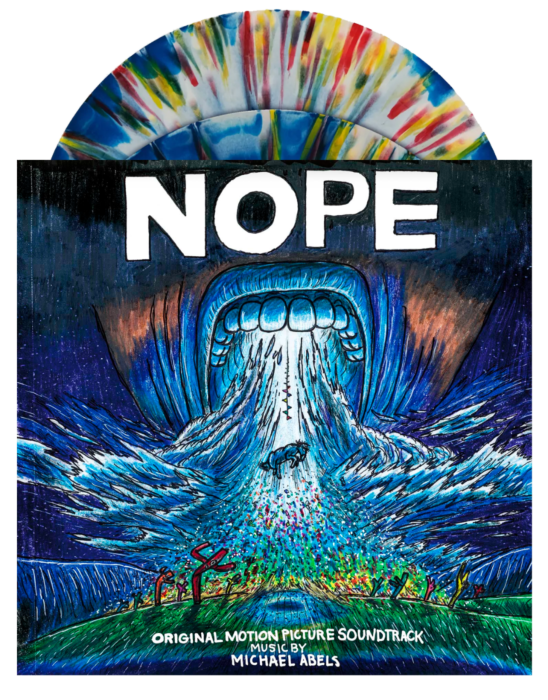 Doctor Sleep Original Motion Picture Score Music By The Newton Brothers
DOCTOR SLEEP is a 2019 supernatural horror film written and directed by Mike Flanagan (The Haunting of Hill House, Midnight Mass). It is based on the 2013 Stephen King novel of the same name, and it serves as a sequel to Stanley Kubrick's 1980 Horror film, THE SHINING. Starring Ewan McGregor, Rebecca Ferguson as Rose The Hat, and Kyliegh Curran, the story follows a now adult Danny Torrance (McGregor) who possesses psychic abilities and is struggling with addiction. Still traumatized from his family's horrific 1980 ordeal at the Overlook Hotel, Danny Torrance is guided by the ghost of Dick Hollorann to capture the ghosts of The Overlook in lockboxes. Meanwhile, a traveling cult of psychics called The True Knot led by Rose The Hat (Ferguson) extend their lifespans by consuming "steam", a psychic essence released by torturing and killing those who have "the shining".
The score by The Newton Brothers pays homage to the music heard in 1980's THE SHINING composed by Wendy Carlos (A Clockwork Orange, Tron) with tracks such as "Dies Irae / Violet" and "The Overlook". Effectively capturing the feeling from parts of THE SHINING, the score to DOCTOR SLEEP also creates a new, unique world for the characters and story. To create the score of DOCTOR SLEEP, The Newton Brothers used experimental recording methods and instrumentation to sculpt an original and terrifying new sonic landscape.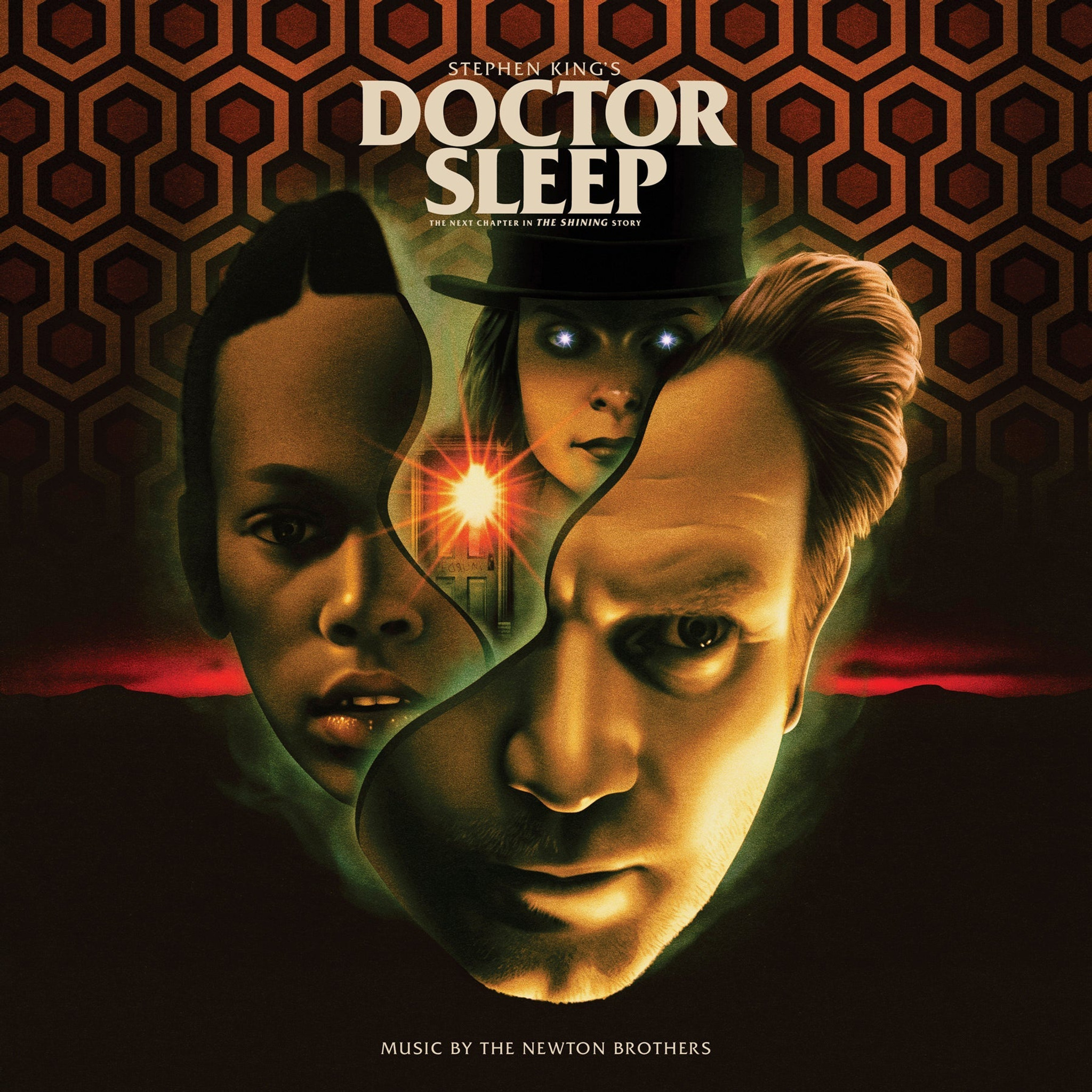 Friday the 13th Part 3 Original Motion Picture Soundtrack by Harry Manfredini
Waxwork Records is proud to announce the next entry into their collection of FRIDAY THE 13TH soundtrack releases on vinyl, FRIDAY THE 13TH PART 3. Waxwork and composer Harry Manfredini re-visited the original analog tapes in an effort to faithfully master the complete soundtrack for vinyl. FRIDAY THE 13TH PART 3 includes every musical cue featured in the film and encompasses two 180 gram LP's clocking in at nearly one hour of chilling audio which serve as a dark musical backdrop to one of the most beloved franchises for horror fans.
Originally released in 1982 and in 3-D, FRIDAY THE 13TH PART 3 is the first film to feature the legendary slasher, Jason Voorhees, wearing his signature hockey mask. This image of a machete-wielding, hockey-masked killer became the trademark for the franchise, as well as an iconic image in American cinema and horror films in general.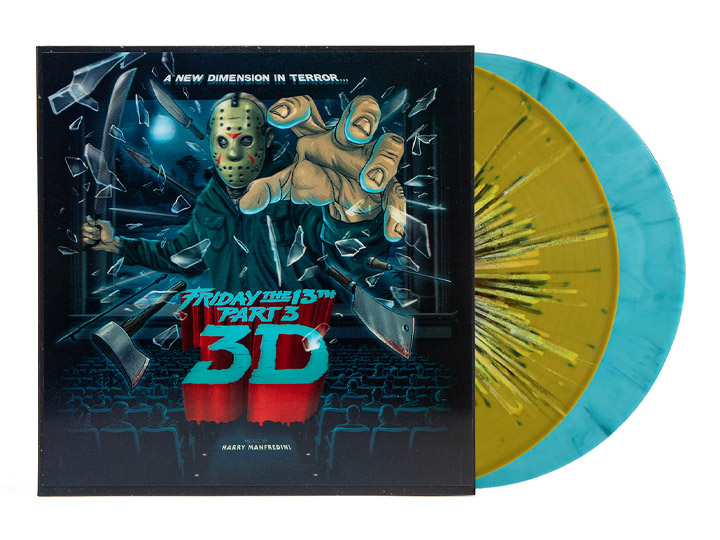 The Texas Chainsaw Massacre Part 2 Original Motion Picture Score By Jerry Lambert
Written and directed by Tobe Hooper, THE TEXAS CHAINSAW MASSACRE PART 2 is a 1986 dark comedy horror film starring Dennis Hopper, Caroline Williams, Bill Moseley, and Jim Siedow. The plot follows a radio host that is victimized and captured by Leatherface and his cannibalistic family while a former Texas Marshall hunts them down.
Waxwork Records is proud to release the complete original film score by composer Jerry Lambert for the very first time in any format. Sourced from the original 1986 master tapes and then mixed and sequenced into a cohesive album listening experience by the composer himself, the score features over 90 minutes of dark musique concréte by utilizing musical cues, synthesizers, drones, field recordings, audio manipulation, wind, tape loops, animal snarls, and sampling.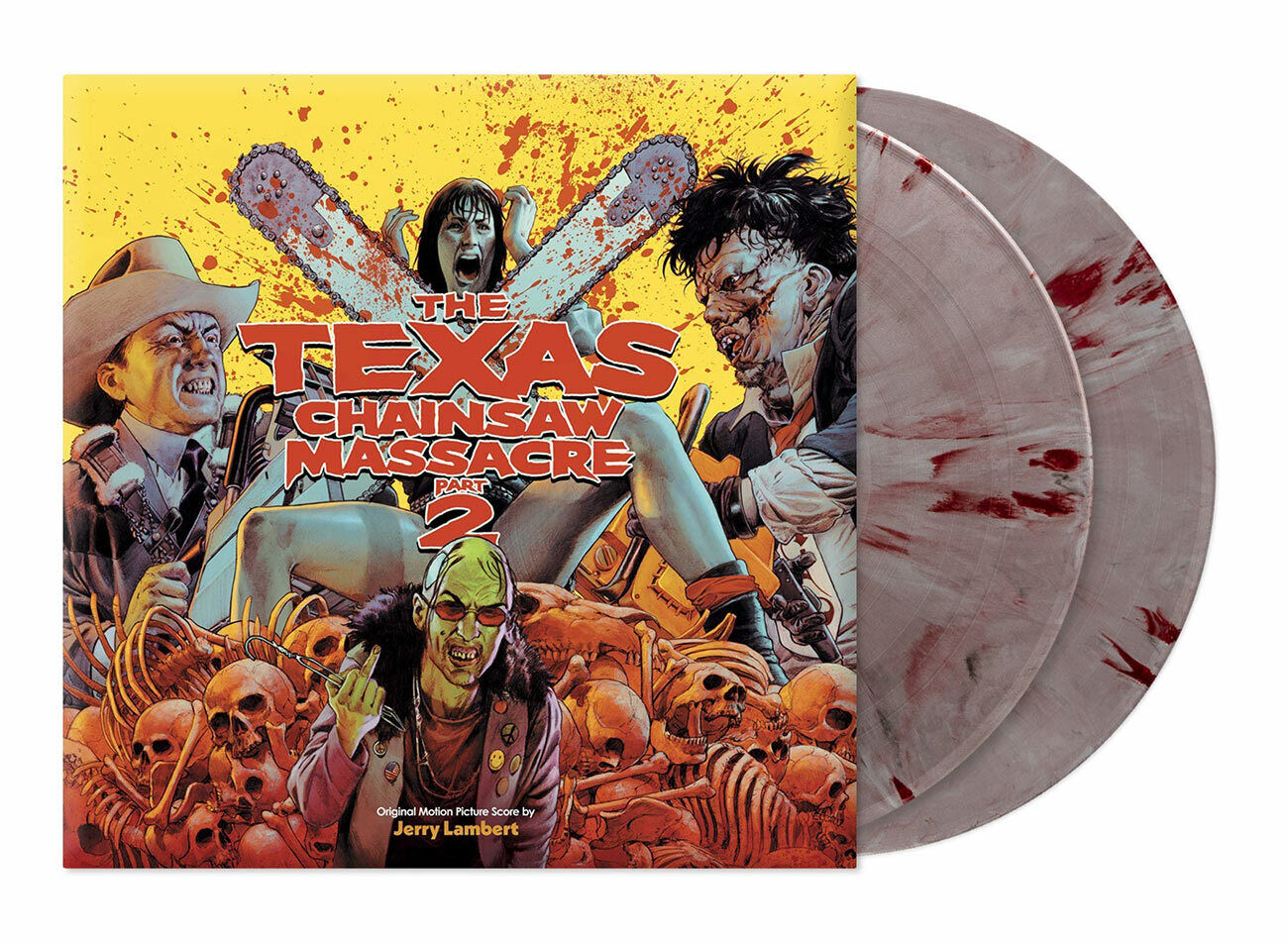 Curtains Original Motion Picture Score by Paul Zaza
Curtains is a 1983 Canadian slasher-horror movie that tells the story of six actors competing for a role to die for. They are lured to director Jonathan Stryker's (John Vernon - Killer Klowns from Outer Space, Dirty Harry, Heavy Metal) home during a snowstorm to compete for the role of 'Audra' where they are met with manipulation, predacious men, and a murderous masked hag. Prepared to fight for the role, these women were not expecting to fight for their lives!
The score for Curtains threatens brutality with menacing strings following the women throughout the film, as they are stalked and preyed on by a masked murderer and their doll companion. Paul Zaza, who brought us fan favorites like My Bloody Valentine and Prom Night, delivers again with Curtains!
MONDO:
The People Under the Stairs Original Motion Picture Soundtrack by Don Peake
The first-ever vinyl release of Don Peake's atmospheric and spooky score for Wes Craven's 1991 enduring classic.
The arc of Peake's career is as insane as the film itself. As a guitarist and member of the Wrecking Crew, he's played on albums by Marvin Gaye, Phil Spector, Everly Brothers, Mahalia Jackson, John Lennon, Jackson 5 and more -- capturing the diversity of sound throughout the film.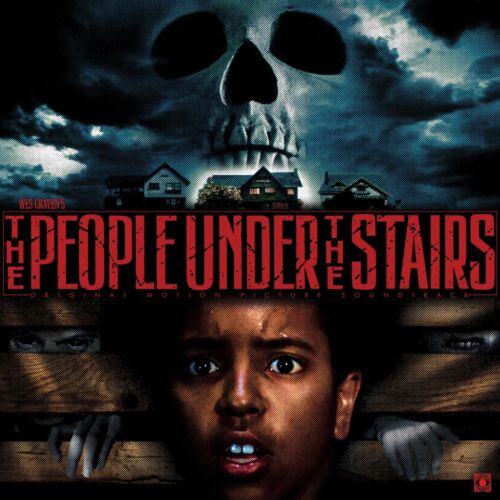 Last Night in Soho Original Motion Picture Score 2XLP by Steven Price
Mondo, in partnership with Back Lot Music Wright, are proud to present the premiere physical release of Steven Price's electrifying score to LAST NIGHT IN SOHO, the latest film by Edgar Wright.  
Edgar Wright wanted a score to soundtrack the two eras of Last Night in Soho and tie together the stories of these two very different young women. To achieve this, Wright turned once again to his now-regular composer, Academy Award® winner Steven Price, who successfully scored both Baby Driver and The World's End.
While Price's influences for the score included contemporary film music by the likes of Ennio Morricone and John Barry, a "'60s session band" sound with echoing fragments of dialogue add a different and sometimes subliminally sinister edge to the score. The sounds of '60s Soho blend into the present-day London scenes as Eloise is sucked further into the past. "The idea is that Sandie's voice becomes part of the film, so you hear her siren song from the '60s coming through, and Anya became an intrinsic part of it… I was pleased that the lead actress is also the lead singer in the film score; the whole thing knitted together."
The album also features songs performed by Anya Taylor-Joy, including the lead single from the film "Downtown (Downtempo Version)"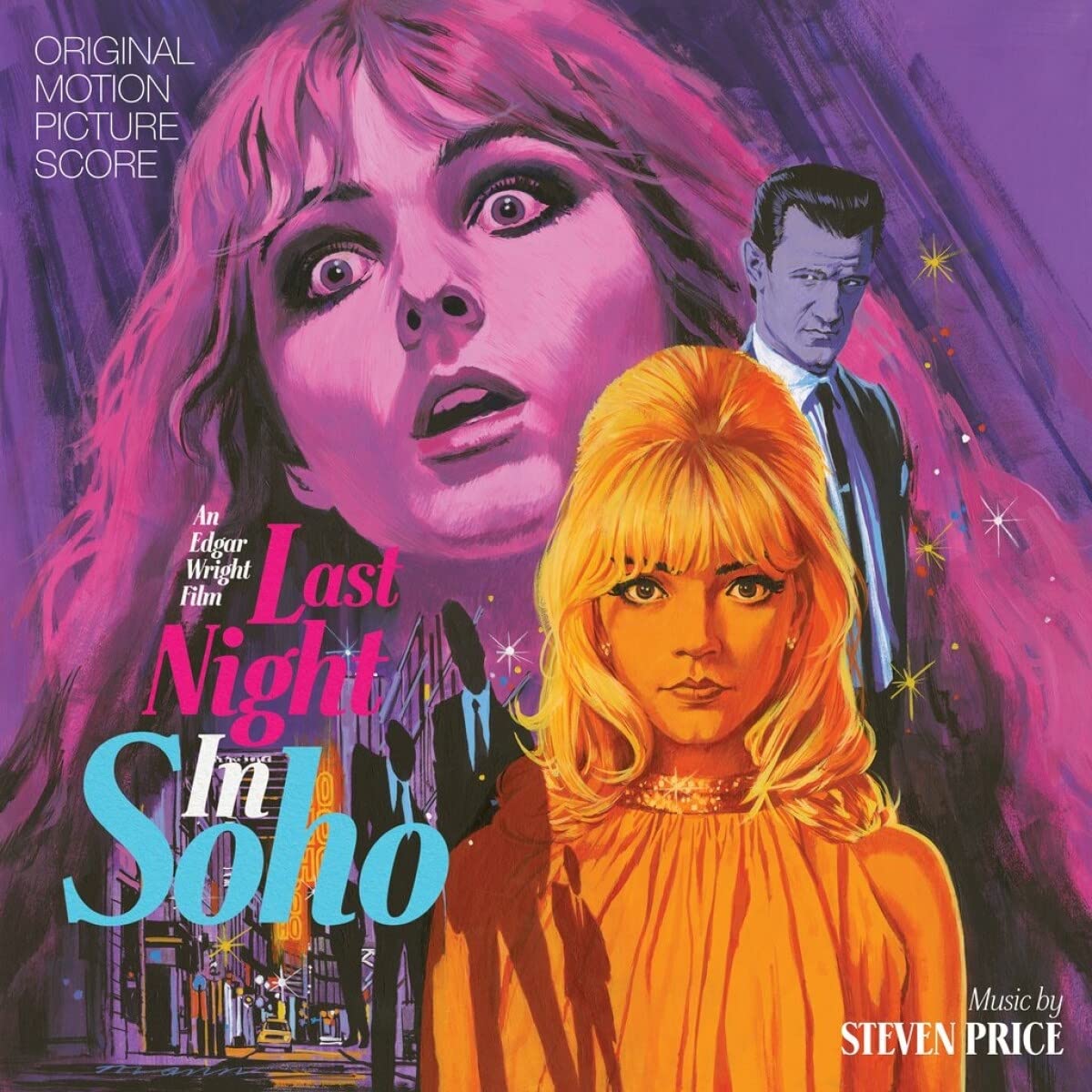 Suspiria – Original Motion Picture Soundtrack LP by Goblin
This score is an absolute tour de force. It's arguably one of the most outstanding horror scores ever recorded. It's ferocious, full of wailing, screaming, and guttural noises. Incredibly intense yet still retaining a musicality that Italian cinema excelled at in the 1970s. Dario Argento and Goblin were a match made in heaven, and I'm not sure anyone has created such a nightmarish mix of visuals and sounds in the history of cinema. A Masterpiece in every way.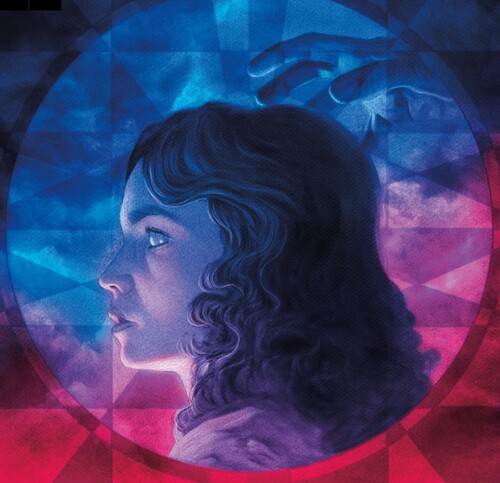 The Gate Original Motion Picture Soundtrack LP by Michael Hoenig & J. Peter Robinson
Thanks to our friends at Terror-Vision for releasing this classic 80's stop-motion, monster action movie! This is the first time the full score has ever been released, the audio was taken directly from the original master tapes!
The score by Michael Hoenig and J. Peter Robinson is a classic slice of Fairlight-fueled synth mayhem: it's epic, bombastic and full of fun! This release has been long-awaited by fans and more than delivers, on all fronts.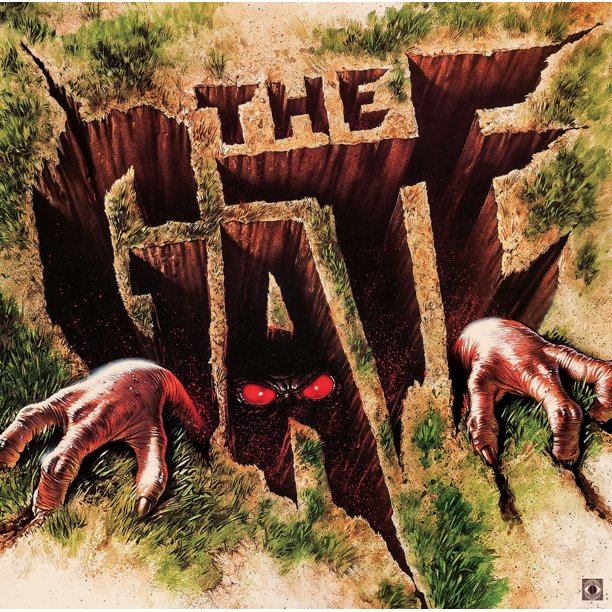 Clue: The Movie Music From The Paramount Motion Picture LP by John Morris
Enjoy The Ride Records and Paramount Pictures proudly present Clue The Movie (Music From The Paramount Motion Picture). Composed and Conducted by John Morris (Blazing Saddles, Spaceballs, The Elephant Man), the music for the black comedy murder mystery is a beautifully balanced accompaniment to the themes and mood throughout the film.
Featuring original poster artwork on the cover, Clue The Movie is housed in a 400gsm jacket with black poly-lined inner sleeves and includes a 16-page booklet with stills from the film, track-by-track liner notes, and more. This release has a perforated polybag in lieu of shrink wrap as well.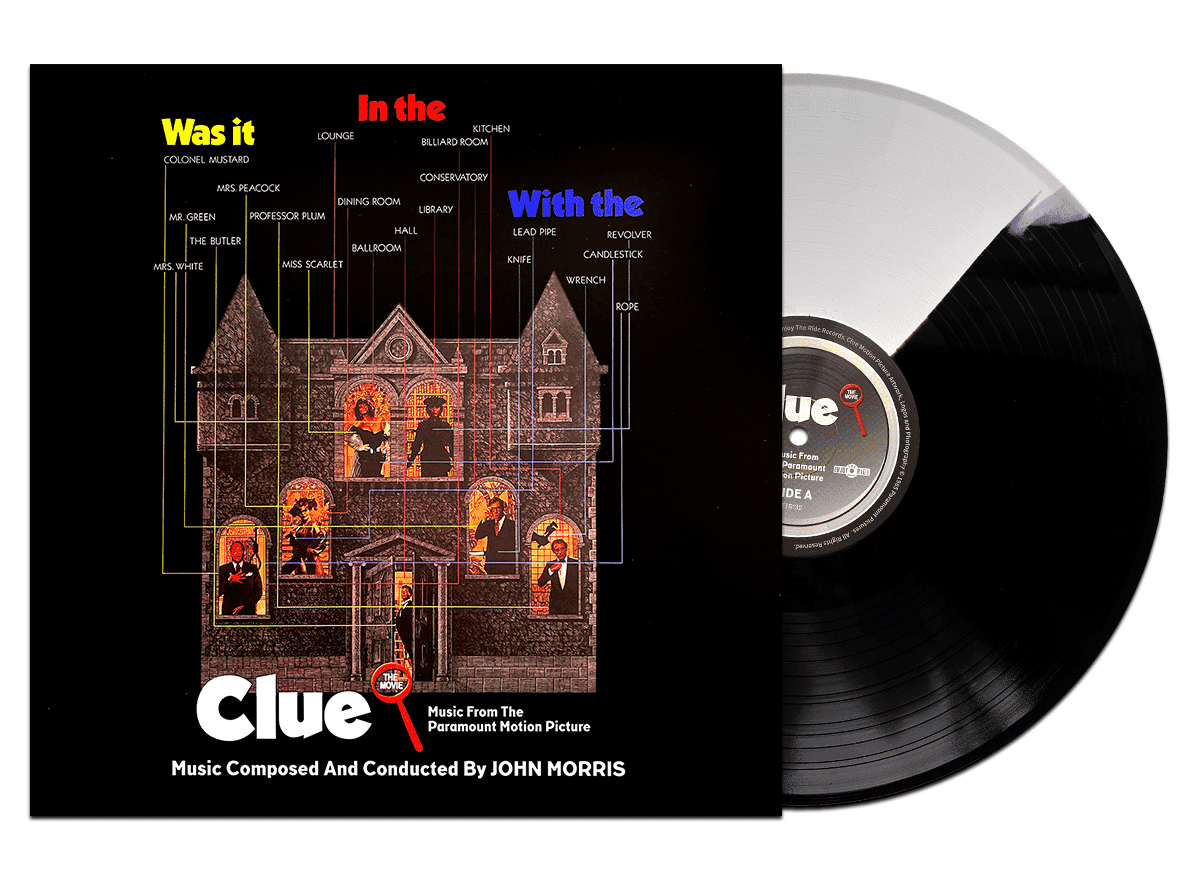 VIA AMAZON & OTHER RETAILERS:
Scream 1-4 Soundtracks by Marco Beltrami
Scream was perfectly pitched when it came out in 1996: written by Kevin Williamson and directed by horror master Wes Craven, it was a self-aware send-up of the slasher genre as well as a perfectly executed example of it—and became a huge hit that defined a moment in time. It revitalized the horror genre and led to a franchise, with follow-up films Scream 2 (1997), Scream 3 (2000) and Scream 4 (2011), plus a fifth on the way. Scream was the breakthrough score for Marco Beltrami, whose avant-garde orchestral techniques and cinematic instincts created a suspense–horror style perfectly suited for the franchise—and not surprisingly led to a major Hollywood career for Beltrami, still going strong. The score is eerie and creepy one moment, evocative and haunting the next—then lurches into pulse-pounding action. It is timeless and sophisticated, befitting modern concert music, while staying intense and pulse-pounding for contemporary audiences. 
Beltrami returned for the second, third and fourth Scream films, all of which had their scores released by Varèse Sarabande. Now, all four Beltrami Scream scores are presented in definitive form across six CDs. The Deluxe Editions of Scream and Scream 2 are presented on discs one and two, respectively; an expanded, two-disc edition of Scream 3 is found on discs three and four; and an expanded edition of Scream 4 on disc 5. The sixth disc is an all-new, previously unreleased collection of alternates, outtakes and demos. Liner notes by Jim Lochner incorporate a new interview with the composer…and look for a "Ghostface" surprise in the packaging!
Waxwork Original Motion Picture Soundtrack by Roger Bellon
First ever release of this cult classic. Music pulled from original tapes and LP artwork/layout by Earl Kess. Gatefold packaging w/ rad die-cut and liner notes by composer Roger Bellon.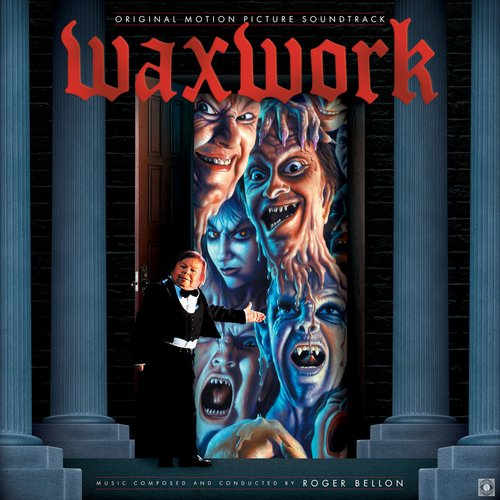 Things Original Motion Picture Soundtrack
First ever release of this "Canuxploitation" gem. Music pulled from original tapes and LP layout put together by actor/writer Barry J. Gillis. Gatefold packaging & album artwork/layout by Earl Kess. Comes with a personalized Certificate of Insanity (will be made out to the first/last name you use when checking out).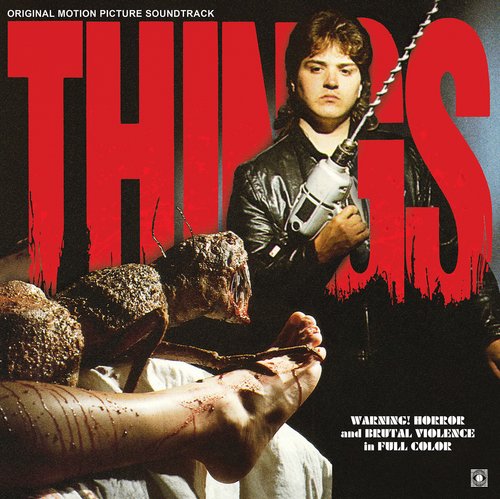 Mimic Original Motion Picture Soundtrack by Marco Beltrami
Mimic, released in 1997, was Guillermo del Toro's first big budget English-language film and the second film composed by Marco Beltrami, who had just completed work on Scream the previous year. Available for the first time on vinyl, the soundtrack features new, original artwork and a triptych jacket design which displays the creature's multiple faces.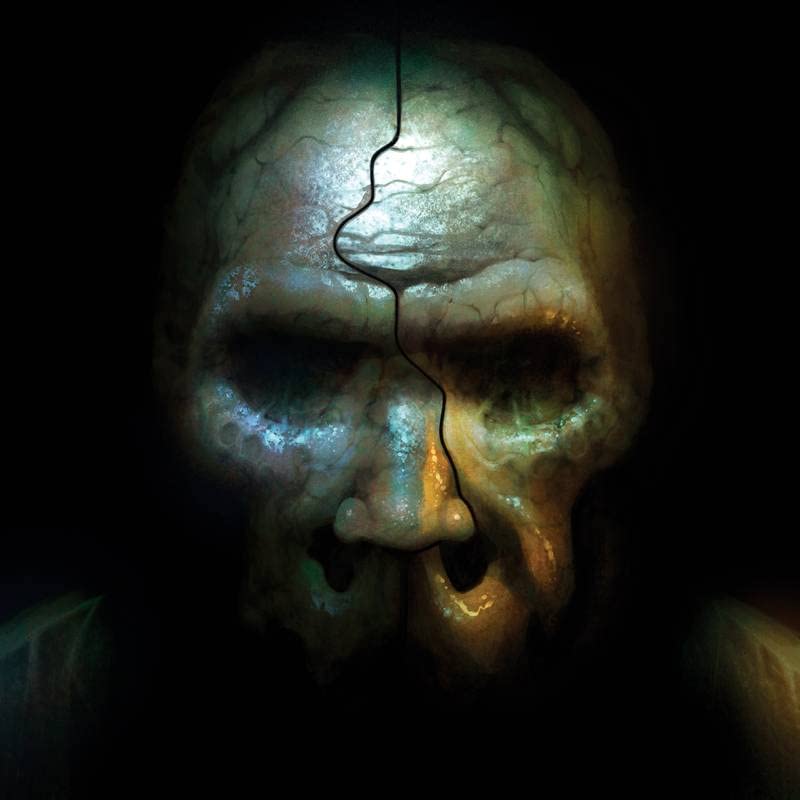 It Follows Original Motion Picture Soundtrack by Disasterpeace
It Follows is a critically acclaimed horror film directed by David Robert Mitchell. The movie tells the story of 19-year-old Jay who, after a seemingly innocent sexual encounter, finds herself plagued by strange visions and the inescapable sense that someone, or something, is following her. Faced with this burden, Jay and her teenage friends must find a way to escape the horrors that seem to be only a few steps behind. Composed by the renowned musician Disasterpeace, the score is heavy with pulsating synths and dread in equal measure. The electro, 80s influenced score is a character in itself in the movie, and will haunt the listener long after the film has stopped rolling. This vinyl release features the entirety of Disasterpeace's score pressed on opaque gray & black marble 180 Gram vinyl.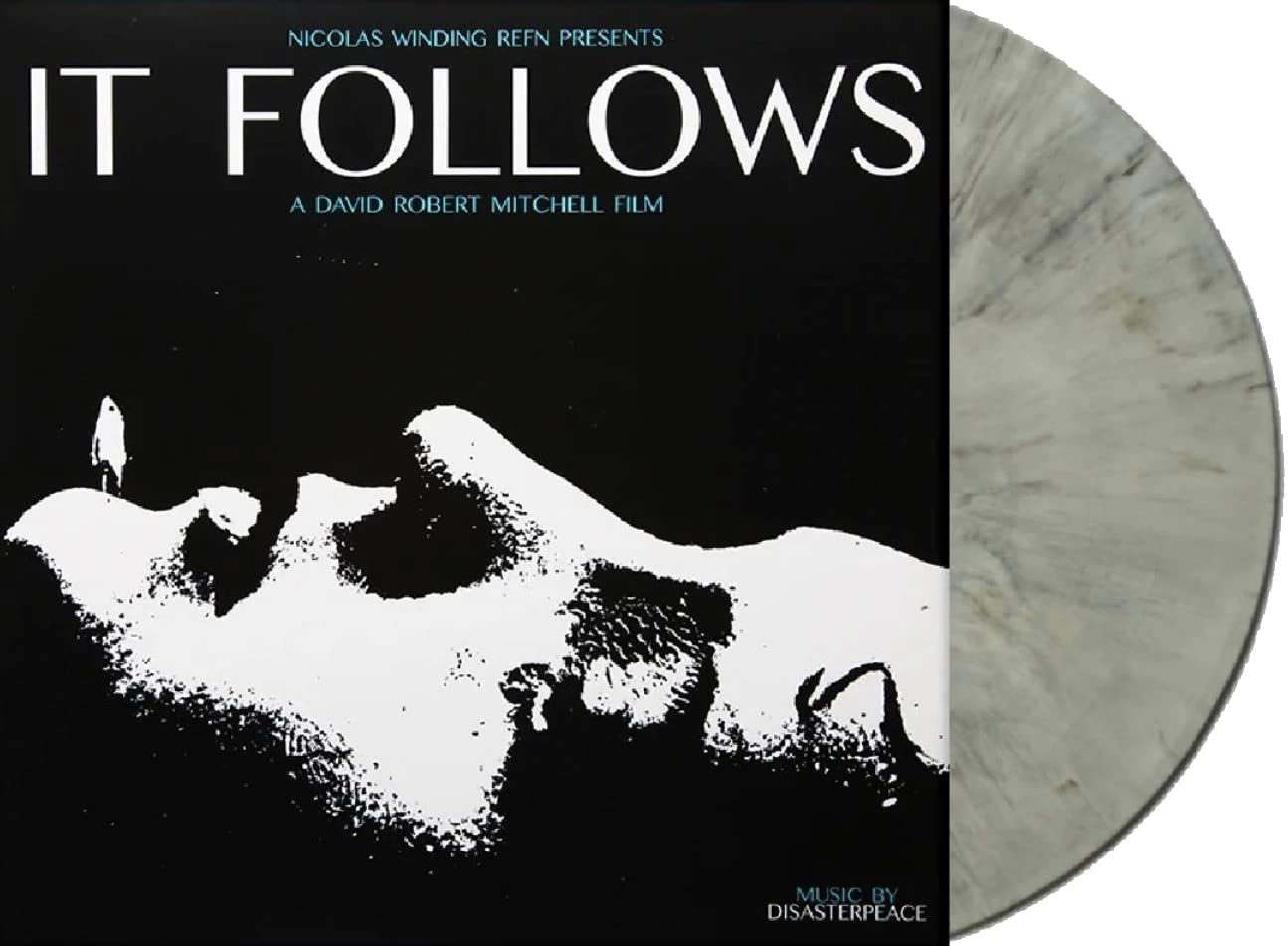 The Northman Original Motion Picture Soundtrack by Robin Carolan and Sebastian Gainsborough
Composers Robin Carolan and Sebastian Gainsborough joined forces to provide the original soundtrack to director Rob Eggers' newest film, the 2022 Viking-era inspired The Northman. To aid in the film's score, the two consulted musician and ethnographer Poul Høxbro for an accurate understanding of Viking music. While the two have backgrounds in electronic music, providing music for the film offered both a challenge and liberation. While traditional instruments like the tagelharpa, langspil, kravik lyre and säckpip were used to sculpt the movie's landscape, Carolan and Gainsborough took their own creative liberty to add depth such as the usage of drums, which were not used in Viking musical culture.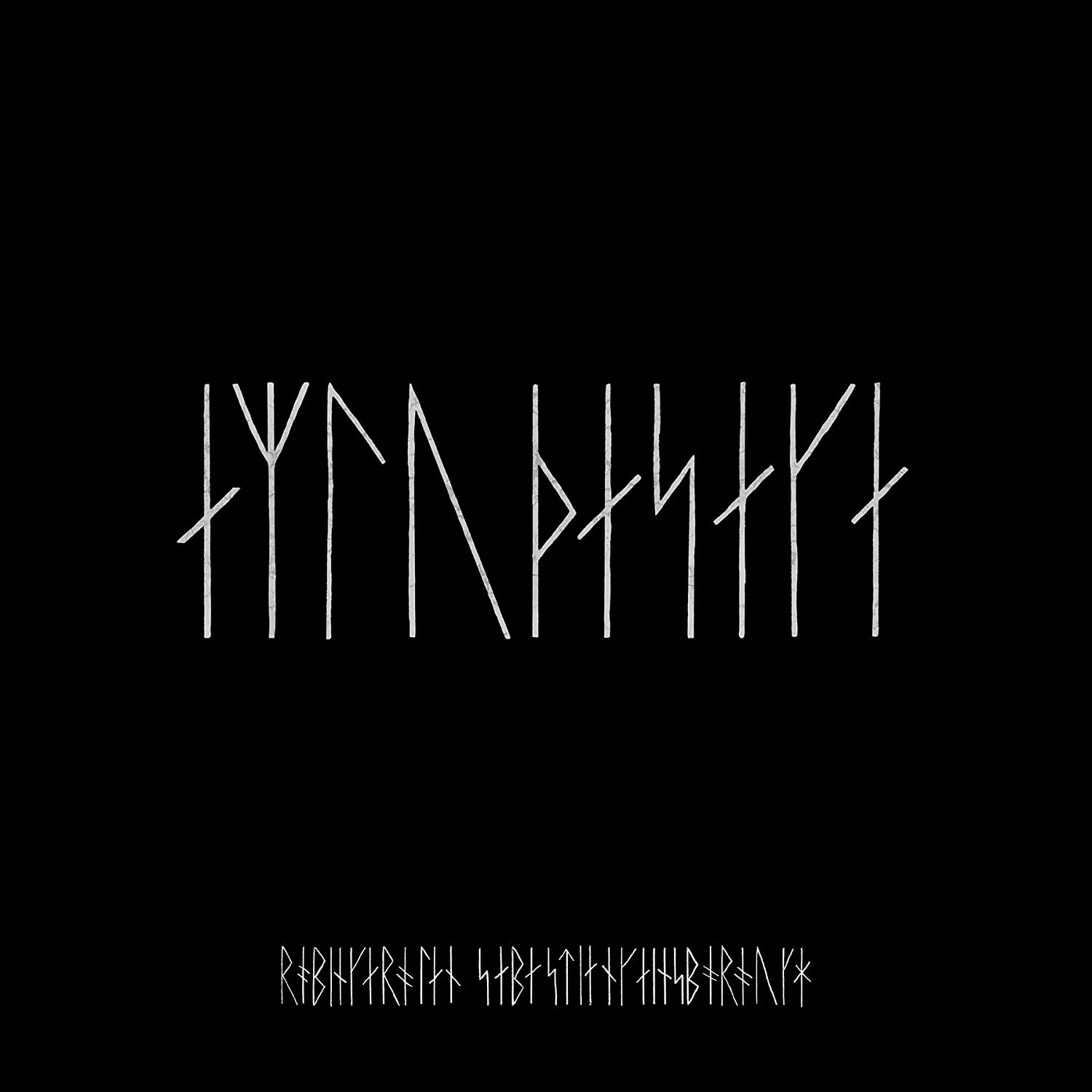 ---------
Go HERE to unwrap other installments of Heather Wixson's Holiday Gift Guide, and happy holidays to our readers from all of us at Daily Dead!