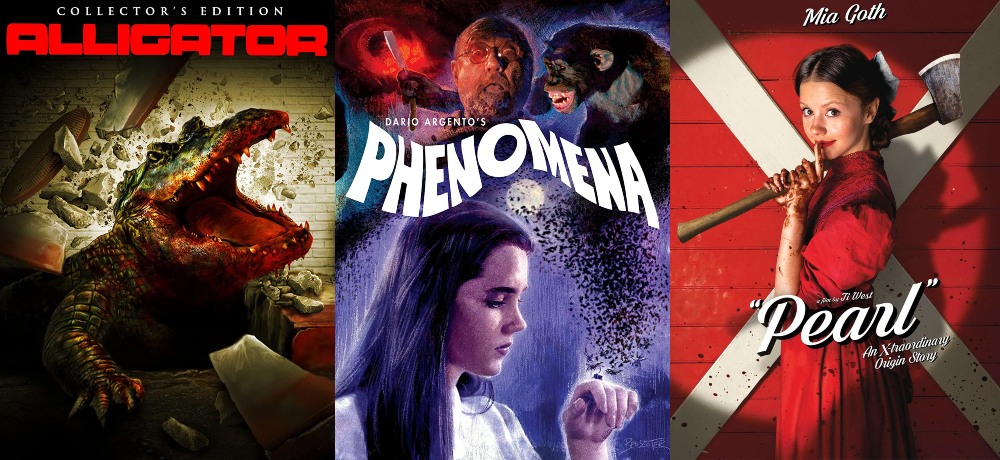 Happy Thursday, everyone! We're going to spend today highlighting all the great horror—both new and old—that has come out on home media throughout the year. And to make things easier for everyone, I've broken down everything into categories that should hopefully be helpful as you do your holiday shopping this year.
Cheers!
RECENT HORROR HITS
Pearl (Lionsgate, Blu-ray/DVD/Digital)
Filmmaker Ti West returns with another chapter from the twisted world of X, in this astonishing follow-up to the year's most acclaimed horror film. Trapped on her family's isolated farm, Pearl must tend to her ailing father under the bitter and overbearing watch of her devout mother. Lusting for a glamorous life like she's seen in the movies, Pearl's ambitions, temptations, and repressions all collide, in the stunning, technicolor-inspired origin story of X's iconic villain.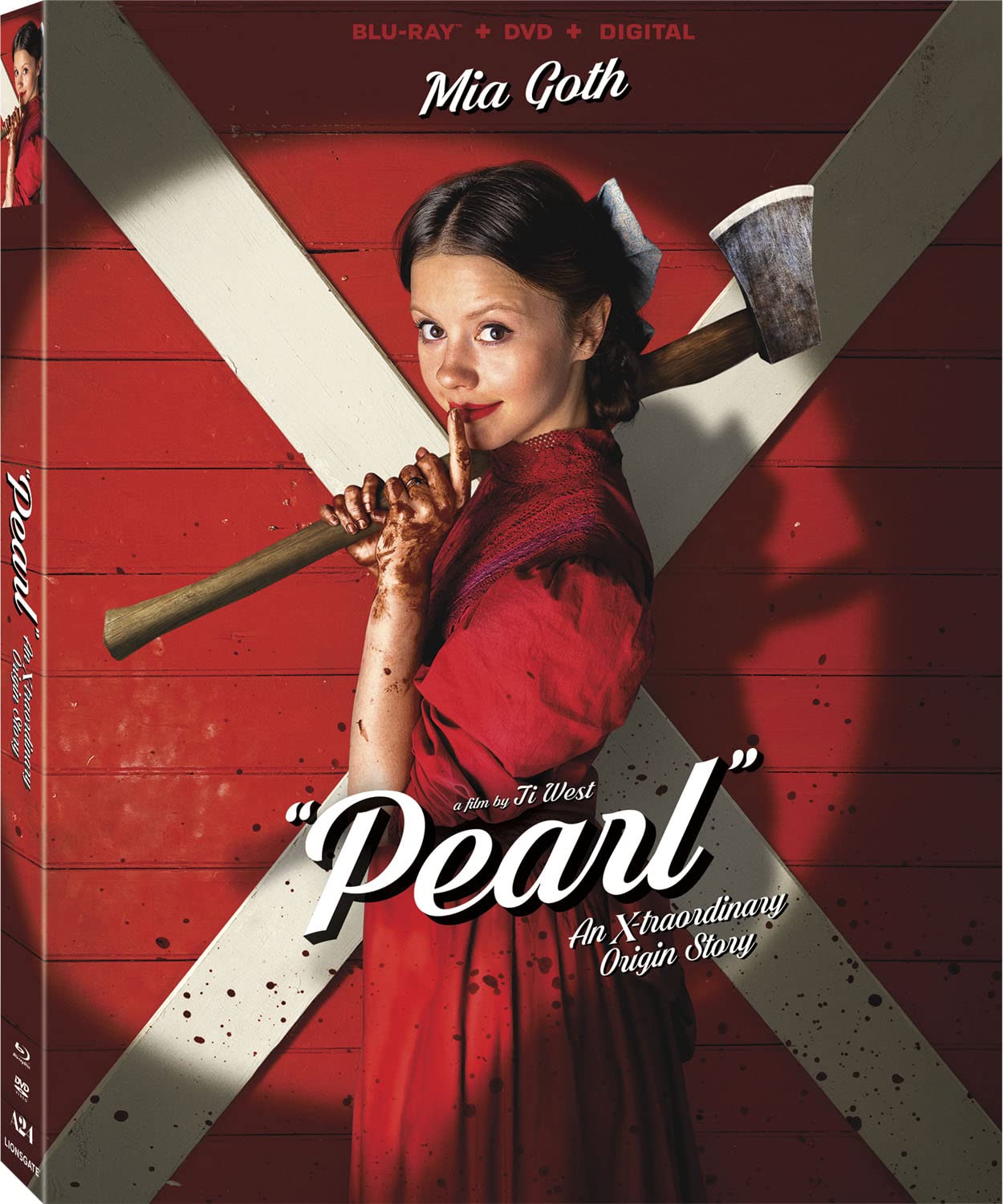 X (Lionsgate, Blu-ray/DVD/Digital)
At a secluded farmhouse in Texas, a film crew arrives to shoot an adult film. Their hosts, a reclusive elderly couple, take a special interest in their young guests. As night falls the couple's leering interest turns violent.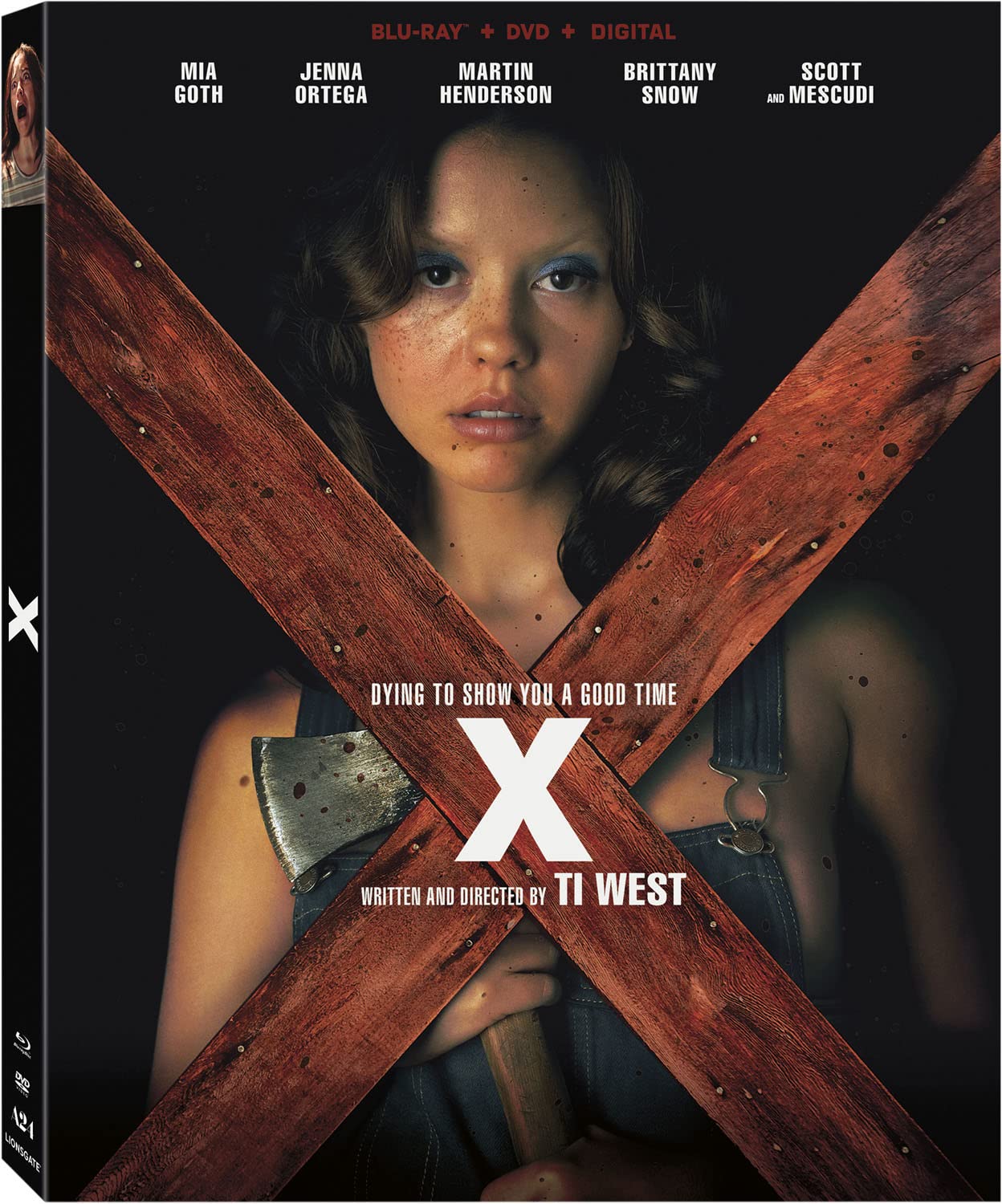 The Black Phone: Collector's Edition (Universal Pictures Home Entertainment, Blu-ray/DVD/Digital) 
Oscar® nominee Ethan Hawke, in the most disturbing role of his career, stars in a new psychological thriller from Blumhouse and the director who brought you Sinister and Doctor Strange. Finney Shaw, a shy but clever 13-year-old boy, is abducted by a sadistic killer (Hawke) and trapped in a soundproof basement where screaming is of little use. When a disconnected phone on the wall begins to ring, Finney discovers that he can hear the voices of the killer's previous victims. And they are dead set on making sure that what happened to them doesn't happen to Finney.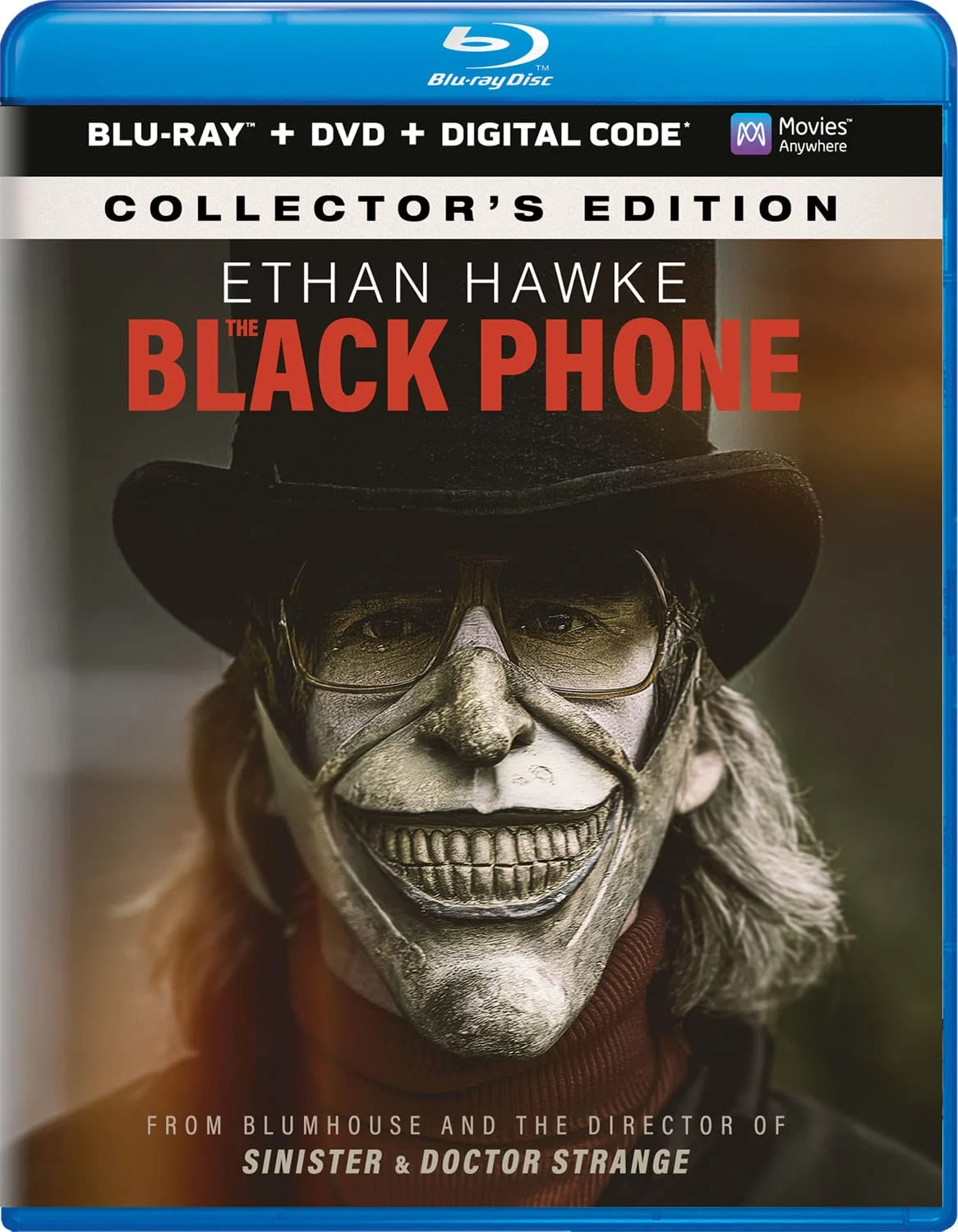 Smile (Paramount Home Entertainment, 4K Ultra HD/Digital, Blu-ray/Digital & DVD/Digital) - Available 12/13/22
After witnessing a bizarre, traumatic incident involving a patient, Dr. Rose Cotter (Sosie Bacon) starts experiencing frightening occurrences that she can't explain. As an overwhelming terror begins taking over her life, Rose must confront her troubling past in order to survive and escape her horrifying new reality.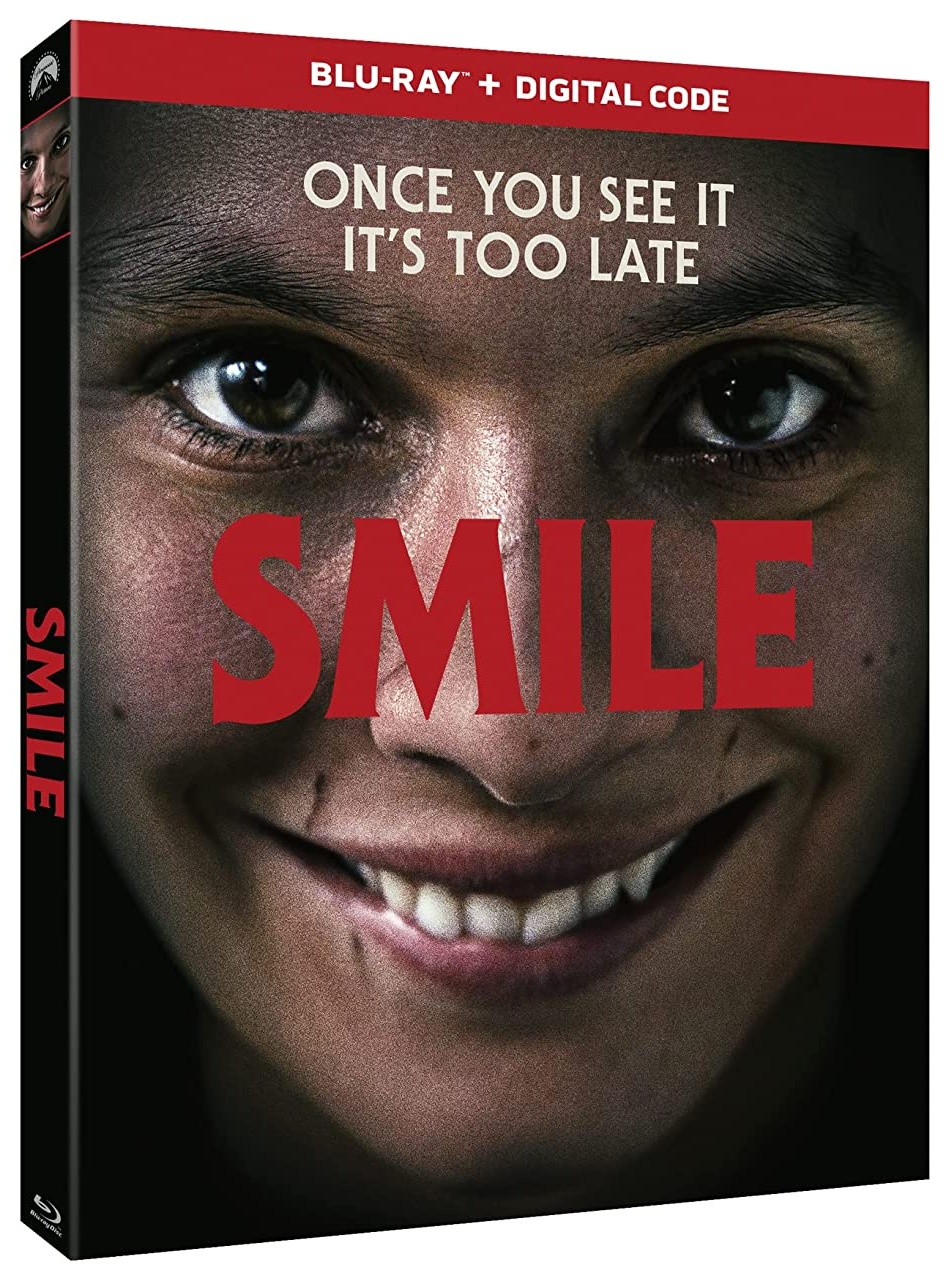 Nope (Universal Pictures Home Entertainment, 4K Ultra HD/Digital, Blu-ray/Digital & DVD)
Oscar® winner Jordan Peele disrupted and redefined modern horror with Get Out and then Us. Now, he reimagines the summer movie with a new pop nightmare: the expansive horror epic, Nope. The film reunites Peele with Oscar® winner Daniel Kaluuya (Get Out, Judas and the Black Messiah), who is joined by Keke Palmer (Hustlers, Alice) and Oscar® nominee Steven Yeun (Minari, Okja) as residents in a lonely gulch of inland California who bear witness to an uncanny and chilling discovery.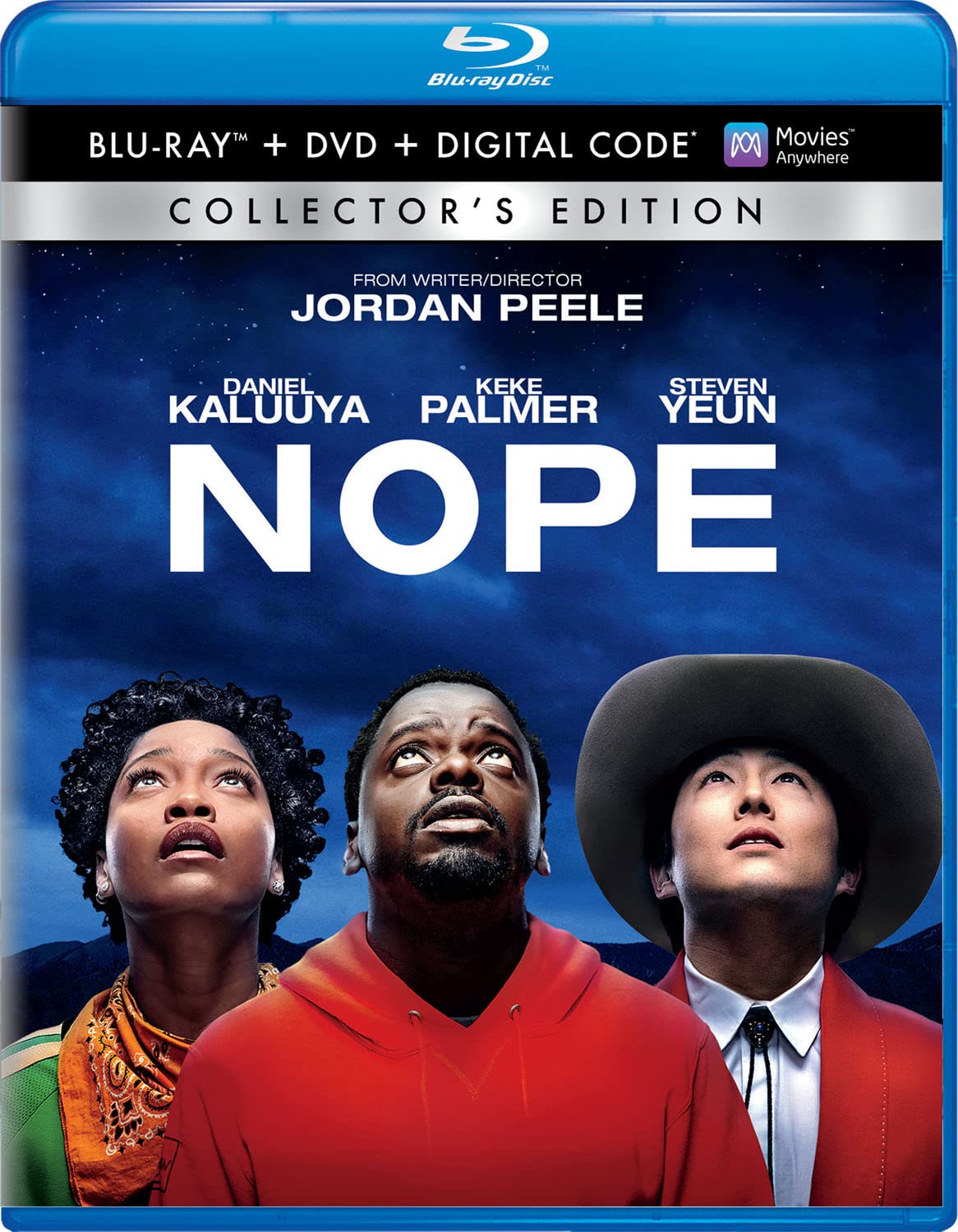 Scream (2022) (Paramount Home Entertainment, 4K Ultra HD/Digital, Blu-ray/Digital & DVD/Digital)
Twenty-five years after a streak of brutal murders shocked the quiet town of Woodsboro, a new killer has donned the Ghostface mask and begins targeting a group of teenagers to resurrect secrets from the town's deadly past. Neve Campbell ("Sidney Prescott"), Courteney Cox ("Gale Weathers") and David Arquette ("Dewey Riley") return to their iconic roles in Scream alongside Melissa Barrera, Mason Gooding, Dylan Minnette, Jenna Ortega, Jack Quaid, and Marley Shelton.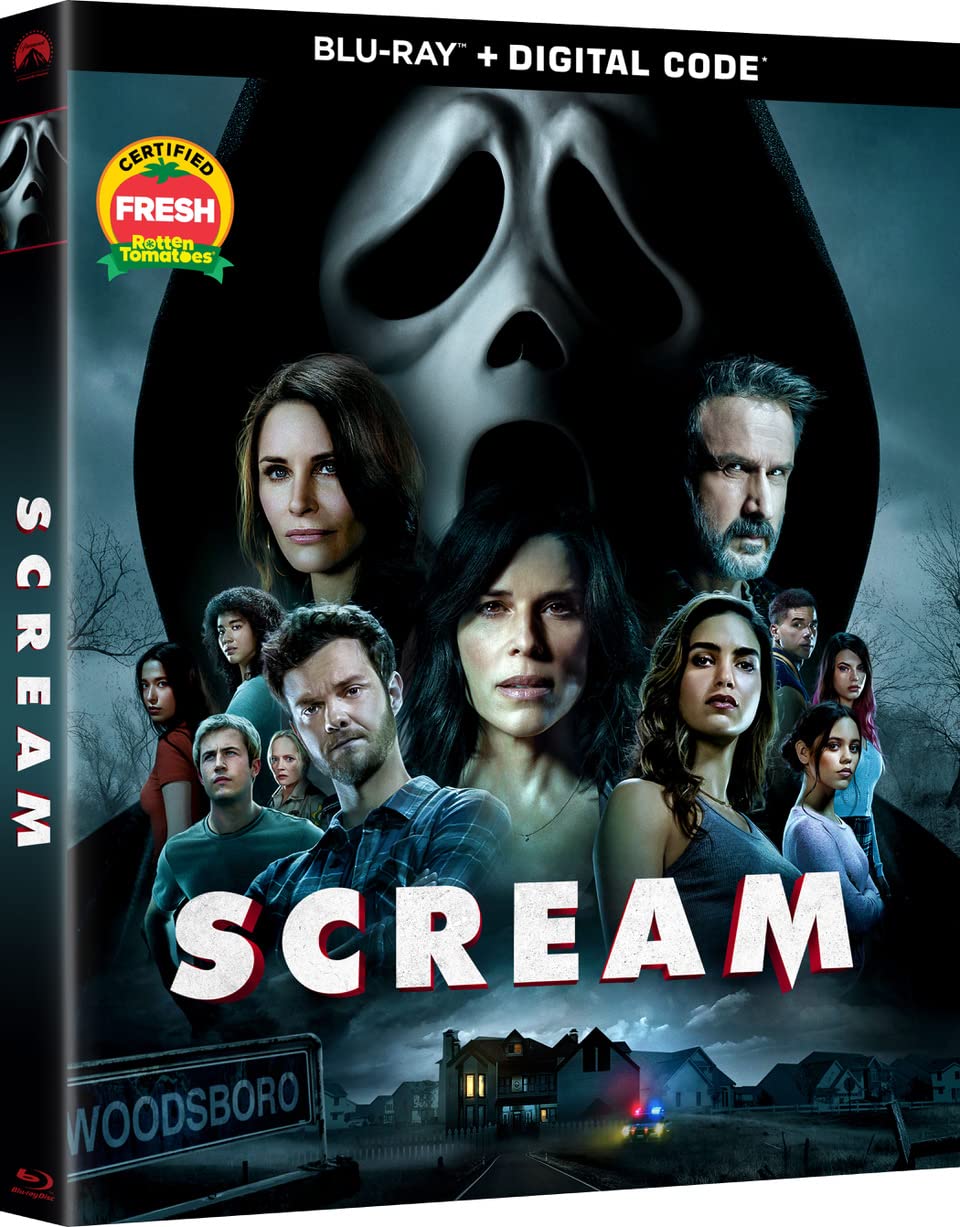 OFFBEAT OFFERINGS
Mad God: Steelbook (RLJE Films, Blu-ray/DVD) - Available 12/6/22
Follow The Assassin through a forbidding world of tortured souls, decrepit bunkers, and wretched monstrosities forged from the most primordial horrors of the subconscious mind. Directed by Phil Tippett (Star Wars, Jurassic Park), the world's pre-eminent stop motion animator, every set, creature, and effigy in this macabre masterpiece is hand-crafted and painstakingly animated using traditional stop-motion techniques.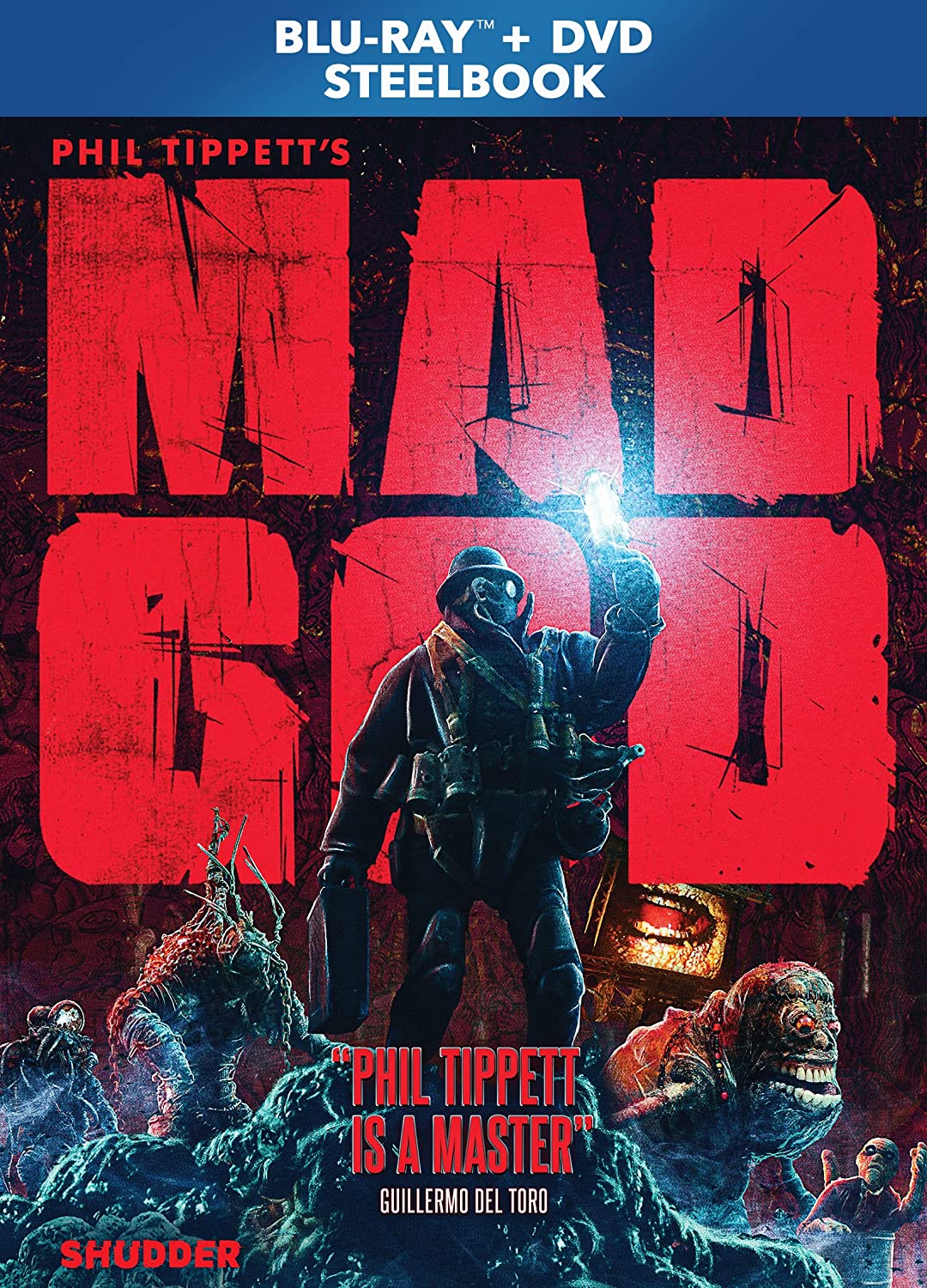 All About Evil: 2-Disc Special Edition (Severin Films, Blu-ray/CD)
It's been called "a riotous experience" (Horror News), "clearly ahead of its time" (Geekscape), and "made for lovers of horror by someone who loves the genre" (Daily Dead). Now the "demented, outrageous and hysterical" (PopOptiq) debut feature from writer/director Joshua Grannell can finally be experienced by audiences everywhere: When a mousy librarian (Natasha Lyonne of RUSSIAN DOLL) takes over her late father's struggling movie theater, a series of grisly murders caught on camera will transform her into the new queen of indie splatter cinema. Thomas Dekker (TERMINATOR: THE SARAH CONNOR CHRONICLES), Cassandra Peterson (ELVIRA, MISTRESS OF THE DARK), Noah Segan (DEADGIRL), Mink Stole (FEMALE TROUBLE) and drag legend Peaches Christ co-star in this "huge fun nod to forgotten horror and exploitation via loads of blood and black humor" (Yell! Magazine) produced by Darren Stein (JAWBREAKER) and gushing with all-new Special Features.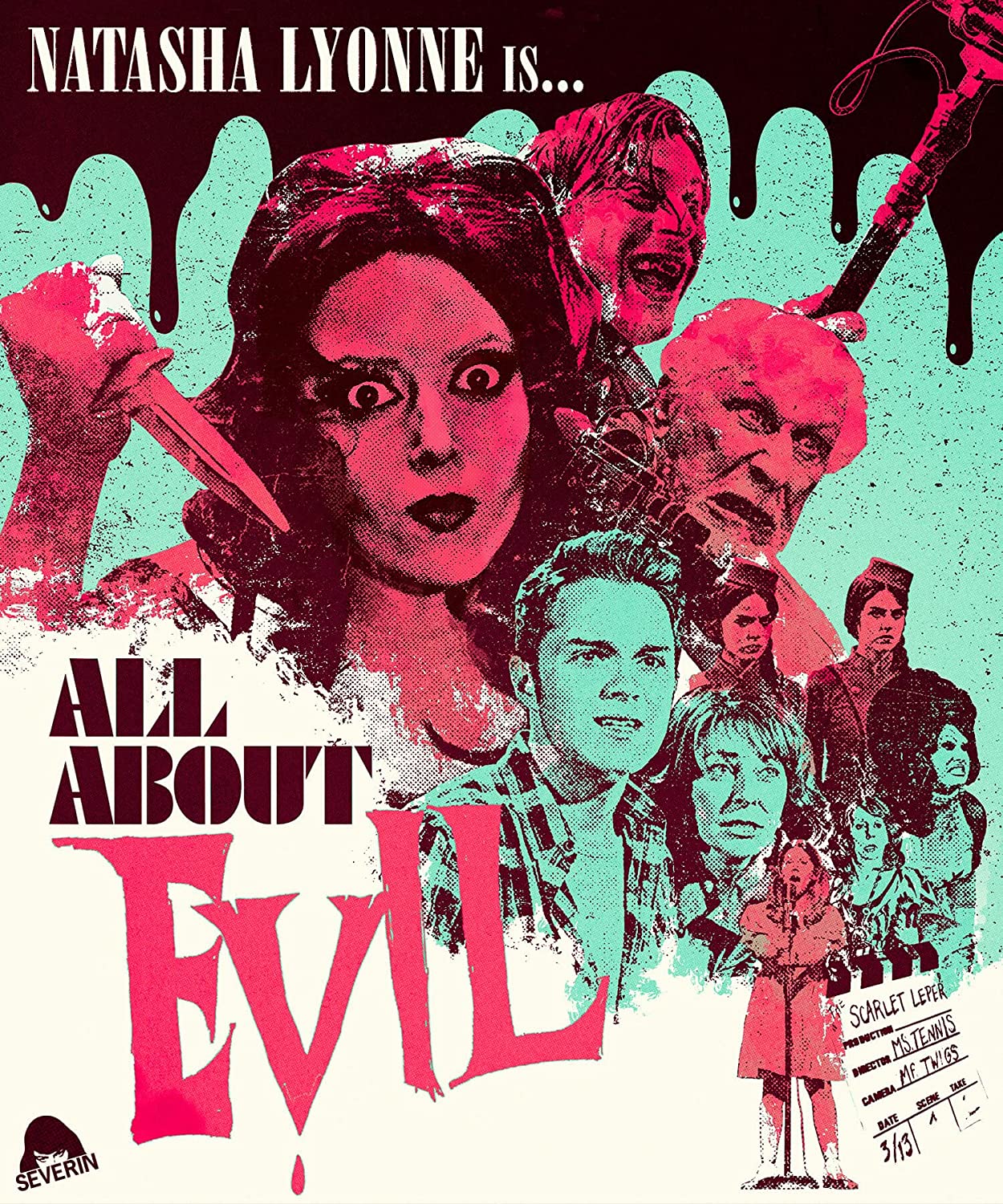 Hey, Stop Stabbing Me: Special Edition (Severin Films, Blu-ray)
Long before they became big-time Hollywood players with DORM DAZE, GOLAN THE INSATIABLE and the SONIC THE HEDGEHOG movies, 20-year-old producer/co-writer/director Josh Miller and producer/co-writer/star Pat Casey spent the summer of 2000 with $500, a MiniDV cam and a group of friends in Bloomington, MN creating what remains the most insanely accomplished - and long-out-of-print - comedy/horror hit of the SOV era. It's a deranged suburban saga of hole diggers, serial killers, nympho girlfriends, clothes-stealing monsters and lawn mower murders that Film Threat calls "goofy and funny with charm to spare, filled with ideas both creative and bizarre." Intervision is proud to present this justifiable cult favorite now lovingly remastered in HD with all-new reunion featurettes, audio commentaries, short films and much more.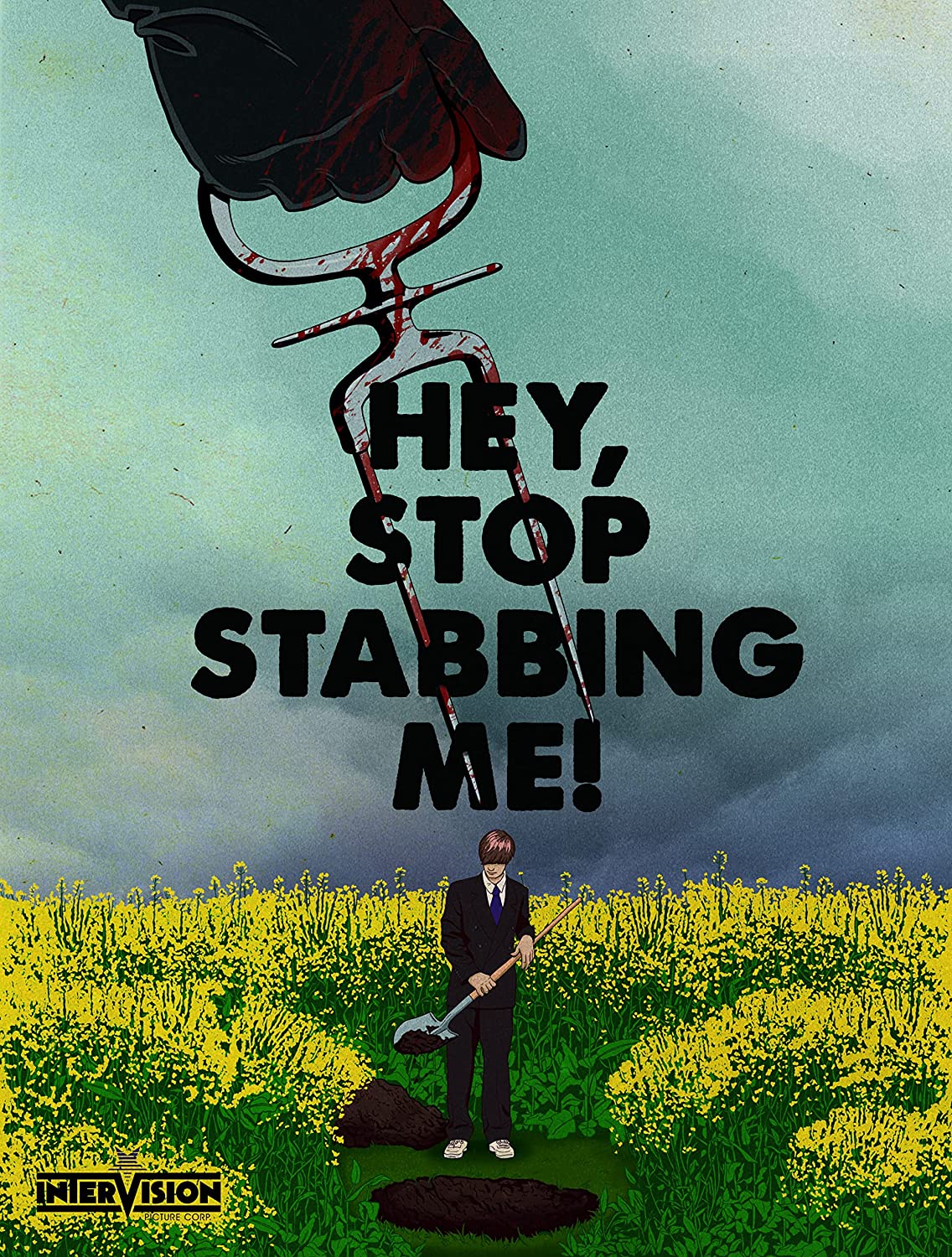 4K RELEASES
The Funhouse: Collector's Edition 4K (Scream Factory, 4K Ultra HD/Blu-ray)
On her first date with Buzz (Cooper Huckabee, True Blood), Amy (Elizabeth Berridge, Amadeus) disobeys her father and goes to the carnival with Richie (Miles Chapin, Hair) and Liz (Largo Woodruff, The Ladies Club)…but their first date may end up as their last. After witnessing a murder, the four terrified teens are trapped in the maze of the Funhouse and stalked by a real monster: a horribly deformed killer who lurks among the freakish exhibits to butcher them one by one! Also starring Sylvia Miles (Midnight Cowboy) and Kevin Conway (Invincible) in three roles, The Funhouse features special makeup designs by the ingenious Rick Baker (An American Werewolf in London, Ed Wood).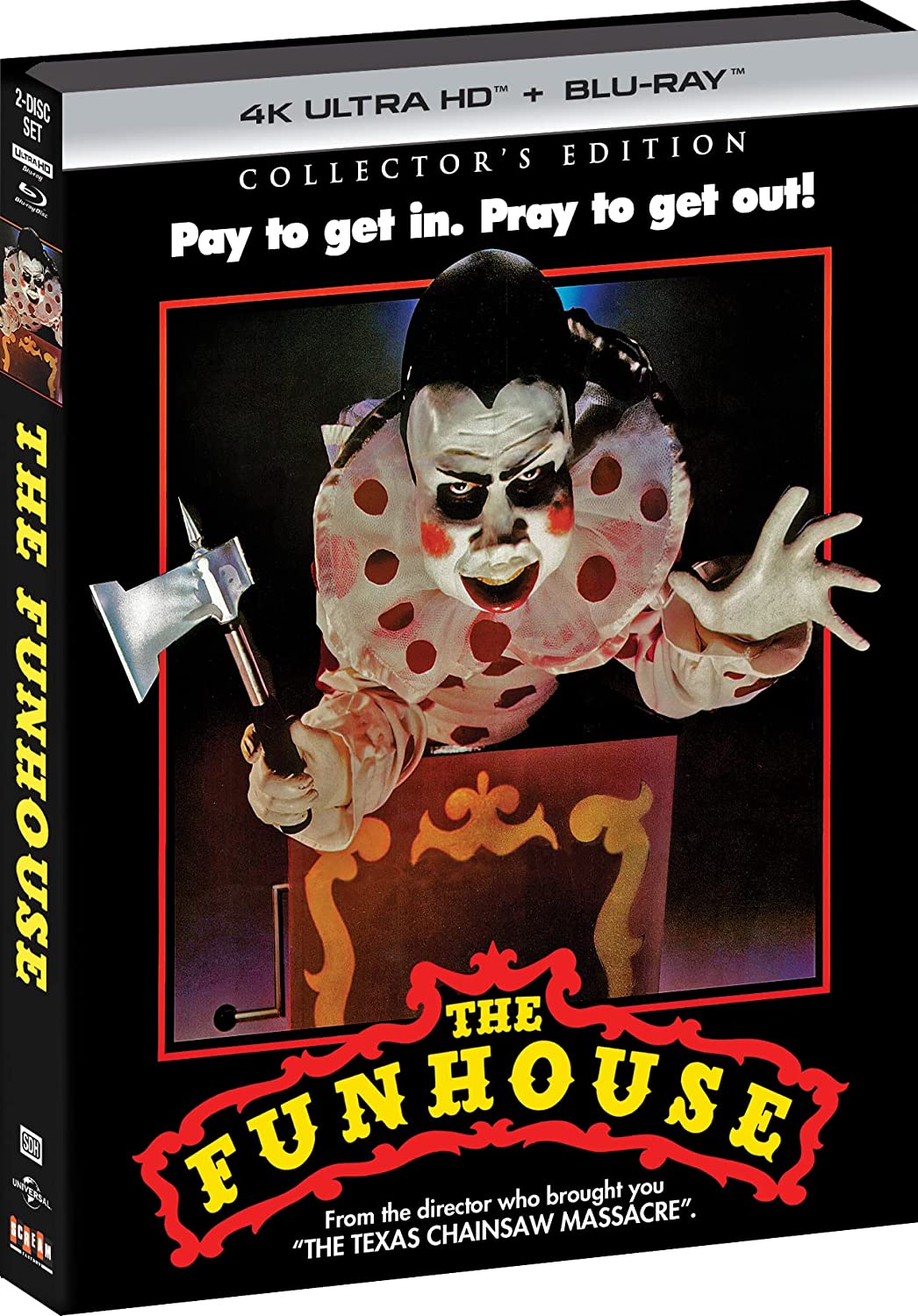 Tenebrae 4K (Synapse Films, 4K Ultra HD/Blu-ray)
American mystery author Peter Neal (Anthony Franciosa, Death Wish II) comes to Rome to promote his newest novel, Tenebrae. A razor-wielding psychopath is on the loose, taunting Neal and murdering those around him in gruesome fashion just like the character in his novel. As the mystery surrounding the killings spirals out of control, Neal investigates the crimes on his own, leading to a mind-bending, genre-twisting conclusion that will leave you breathless! Co-starring John Saxon (A Nightmare on Elm Street), Daria Nicolodi (Phenomena), John Steiner (Caligula), this stunning all-new 4K restoration includes hours of extras and, for the first time ever, the alternate U.S. theatrical cut, Unsane.
Child's Play (1988): Collector's Edition 4K (Scream Factory, 4K Ultra HD/Blu-ray)
The "chills come thick and fast" (Los Angeles Times) in this riveting, jolt-a-minute thriller about an innocent-looking doll inhabited by the soul of a serial killer who refuses to die. From the director of Fright Night, Child's Play comes complete with "excellent special effects" (Leonard Maltin) and a slew of special features that make this 3-disc set your "friend to the end!"
Event Horizon 4K: Limited Edition Steelbook (Paramount Home Entertainment, 4K Ultra HD/Blu-ray/Digital)
Celebrating 25 years of terror, EVENT HORIZON comes to 4K Ultra-HD in this limited edition, collectible steelbook. Seven years ago, pioneering research spacecraft "Event Horizon" mysteriously vanished without a trace on its maiden voyage. But then, in the darkness of deep space, a persistent signal prompts a rescue crew to wing its way through the galaxy on a bold rescue mission. What they uncover is an unimaginable interstellar horror that will test the entire team's sanity and souls.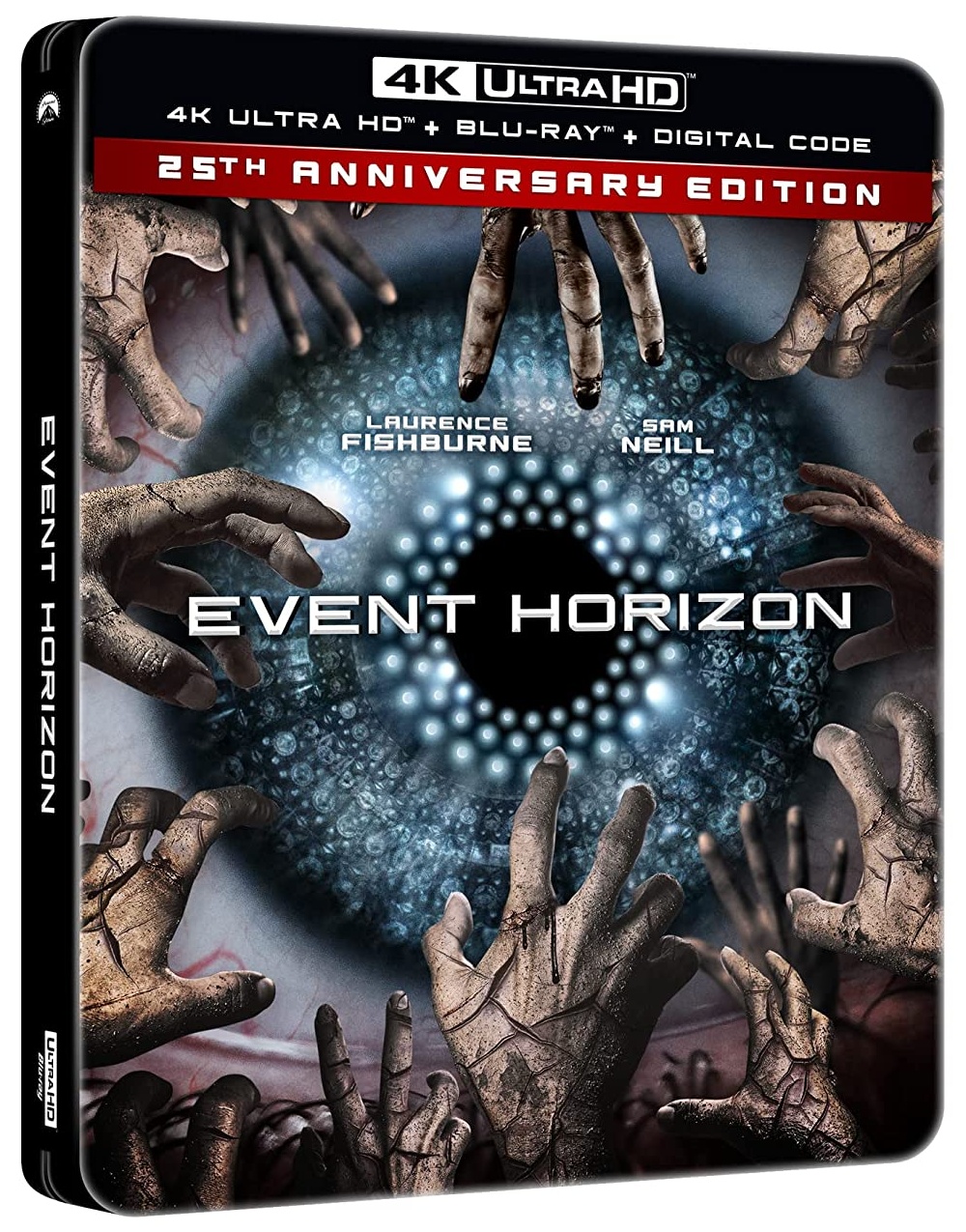 Alligator: Collector's Edition 4K (Scream Factory, 4K Ultra HD/Blu-ray)
It lives 50 feet beneath the city. It's 36 feet long. It weighs 2,000 pounds…and it's about to break out! From director Lewis Teague (Cujo) and screenwriter John Sayles (The Howling) comes an unstoppable thriller with bite. A family returning from Florida decides their pet baby alligator is too much to handle and flushes him down the toilet. Meanwhile, Slade Laboratories is conducting secret experiments with animals and disposing of them in the sewer. The alligator, fending for itself, begins to feed on the dead animals, and grows. Now, twelve years later, after several mysterious murders, David Madison (Robert Forster, Jackie Brown) is on the case to find out who…or what…is killing people.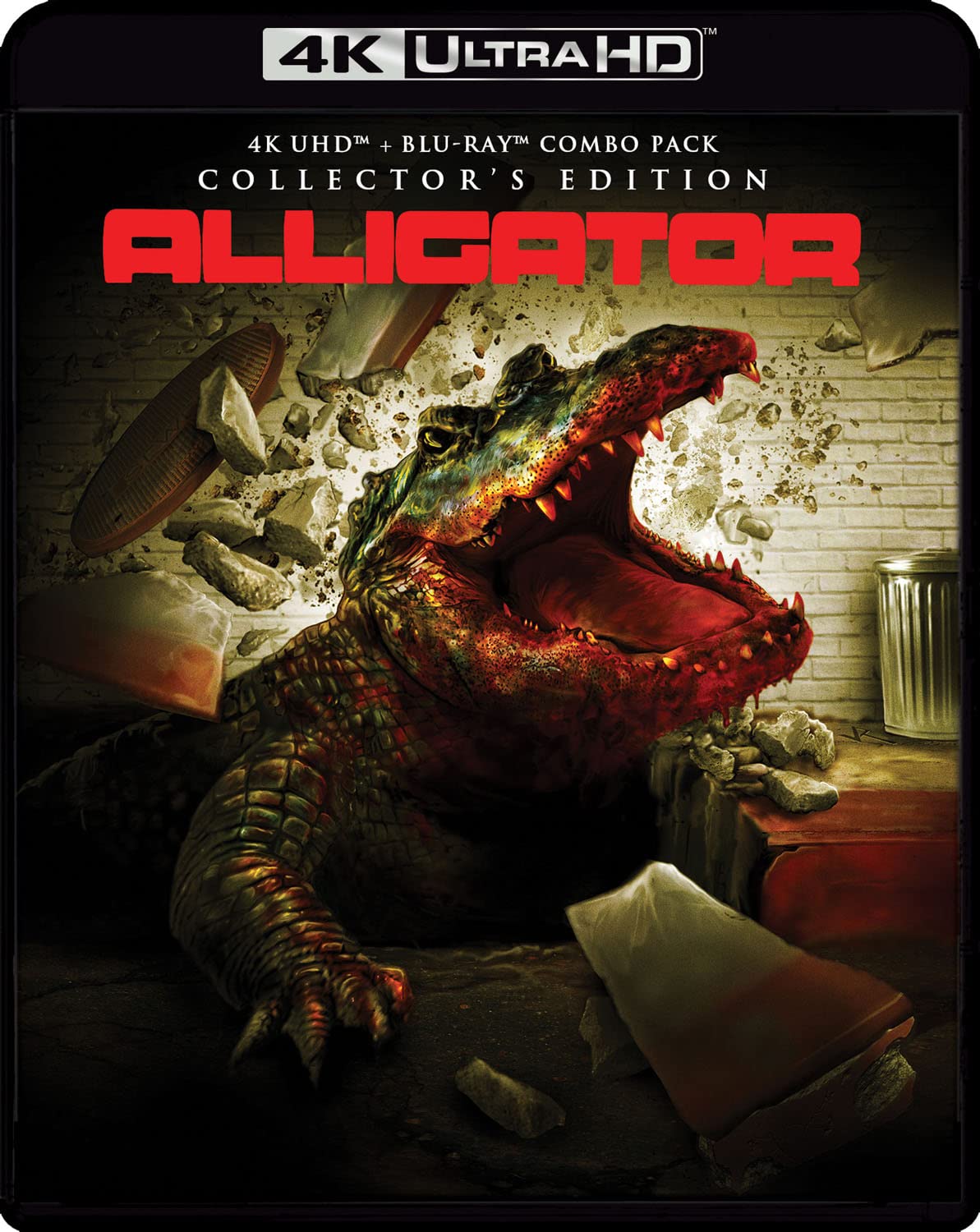 Phenomena 4K (Synapse Films, 4K Ultra HD)
The young Jennifer Corvino, played by Oscar-winning actress Jennifer Connelly (Labyrinth, Top Gun: Maverick), is sent to a private Swiss academy for girls where a vicious killer is on the loose. Jennifer has the unique ability to telepathically communicate with insects and an entomologist, Dr. John McGregor (Donald Pleasence, Halloween, Escape from New York), enlists her help in locating the murderer. As the mystery unfolds, they find themselves in a bizarre murder plot with maggots, telepathic insects and a razor-wielding chimpanzee! Can Jennifer uncover the killer's identity before becoming a victim herself?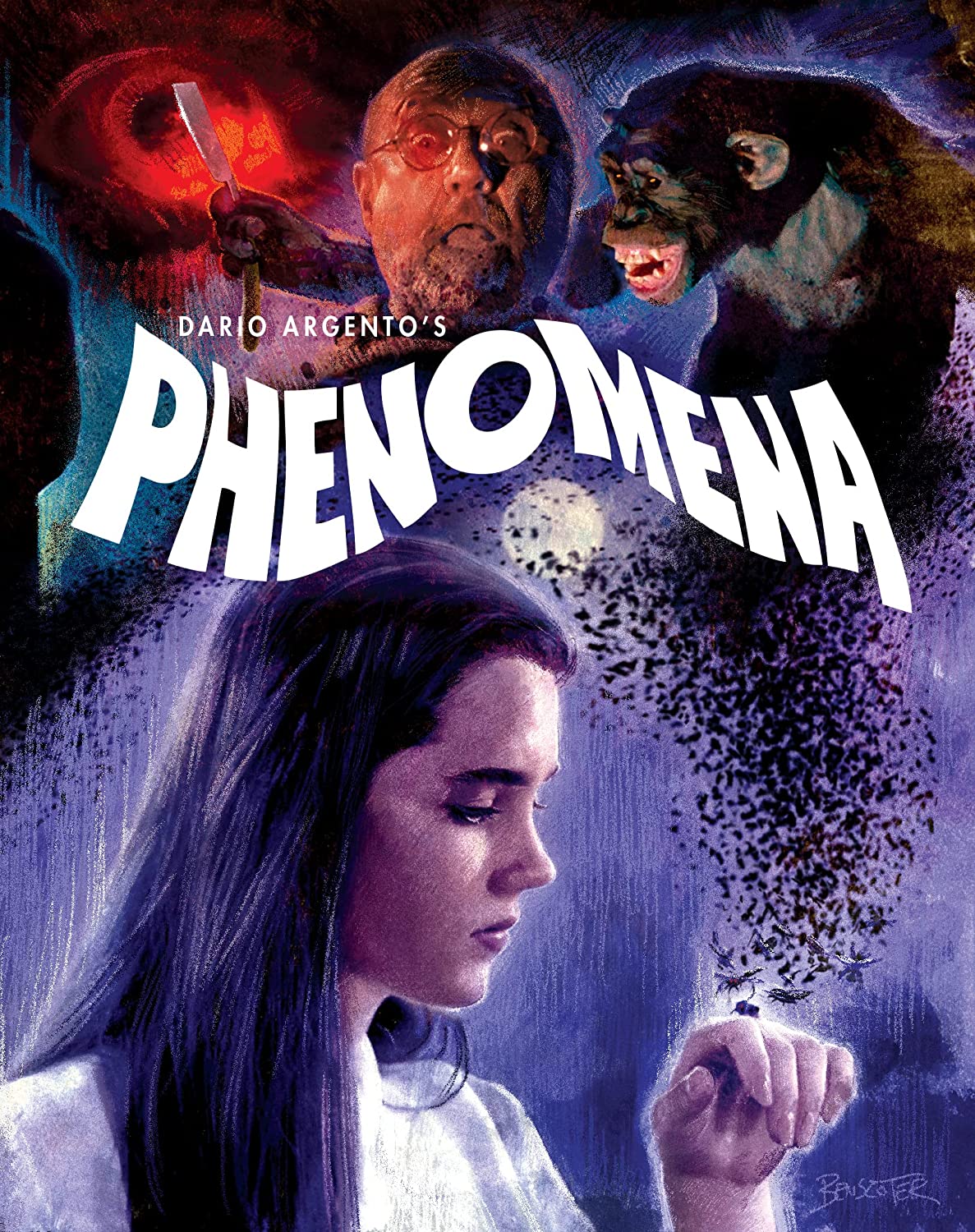 Lifeforce: Collector's Edition 4K (Scream Factory, 4K Ultra HD/Blu-ray)
A mission to investigate Halley's Comet discovers an even stranger phenomenon: an alien spacecraft! Following a deadly confrontation, the aliens arrive on Earth, where their seductive leader begins a terrifying campaign to drain the lifeforce of everyone she encounters. Her victims, in turn, continue the cycle, and soon the entire planet is in mortal danger. And when the mission's sole survivor (Steve Railsback, The Stunt Man) sets out to destroy her, he comes face to face with the most charming—and horrifying—being he's ever known.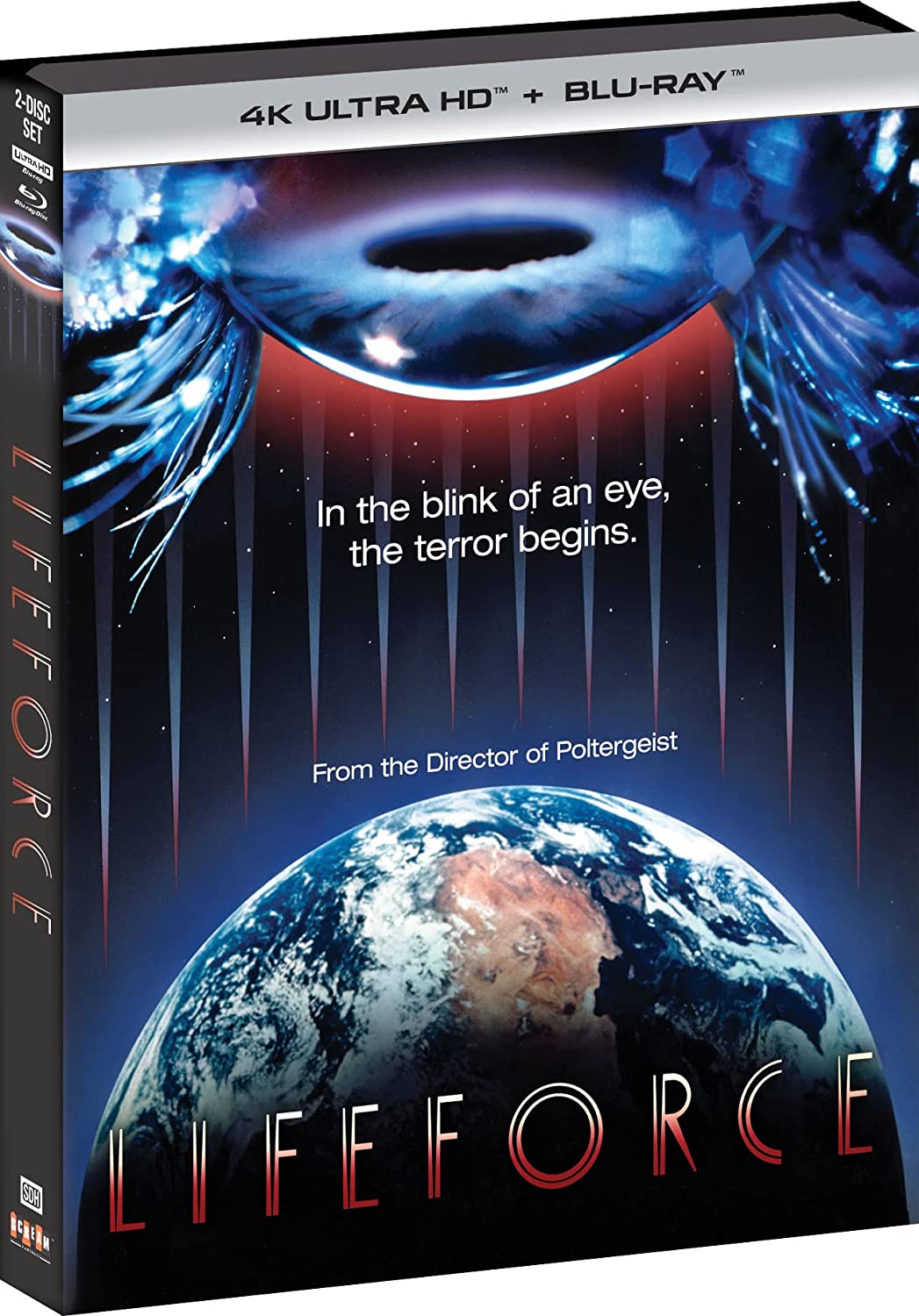 Fright Night: 4K Steelbook (Sony Pictures Home Entertainment, 4K Ultra HD/Blu-ray/Digital)
Meet Jerry Dandridge. He's sweet, sexy, and he likes to sleep in late. You might think he's the perfect neighbor. But before inviting Jerry in for a nightcap, there's just one thing you should know. Jerry prefers his drinks warm, red and straight from the jugular! It's FRIGHT NIGHT, a horrific howl starring Chris Sarandon as the seductive vampire and William Ragsdale as the frantic teenager struggling to keep Jerry's deadly fangs out of his neck. Only 17-year-old Charley Brewster (Ragsdale) knows Jerry's bloodcurdling secret. When Charley can't get anybody to believe him, he turns to TV horror host Peter Vincent (Roddy McDowall), who used to be the "Great Vampire Killer '' of the movies. Can these mortals save Charley and his sweetheart Amy (Amanda Bearse) from the wrathful bloodsucker's toothy embrace? If you love being scared, FRIGHT NIGHT...will give you the nightmare of your life.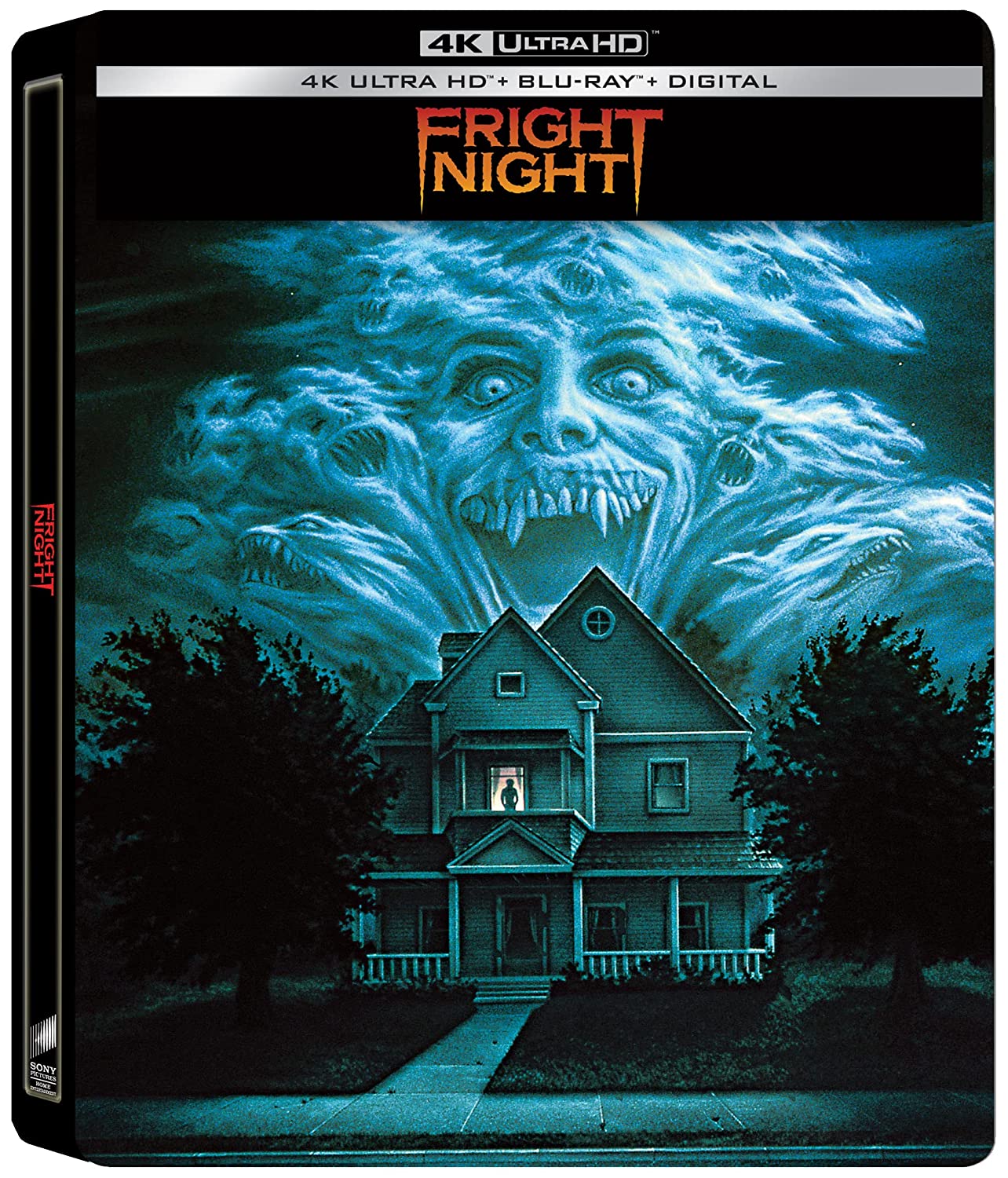 The Howling: 4K Collector's Edition (Scream Factory, 4K Ultra HD/Blu-ray)
From the director of Gremlins and Piranha comes the ultimate masterpiece of primal terror. Severely shaken after a near-fatal encounter with a serial killer, TV newscaster Karen White (Dee Wallace, E.T. The Extra-Terrestrial) takes some much-needed time off. Hoping to conquer her inner demons, she heads for "the Colony," a secluded retreat where her new neighbors are just a tad too eager to make her feel at home. Also, there seems to be a bizarre link between her would-be attacker and this supposedly safe haven. And when, after nights of being tormented by savage shrieks and unearthly cries, Karen ventures into the forest to find answers, she makes a terrifying discovery. Now she must fight not only for her life…but for her very soul!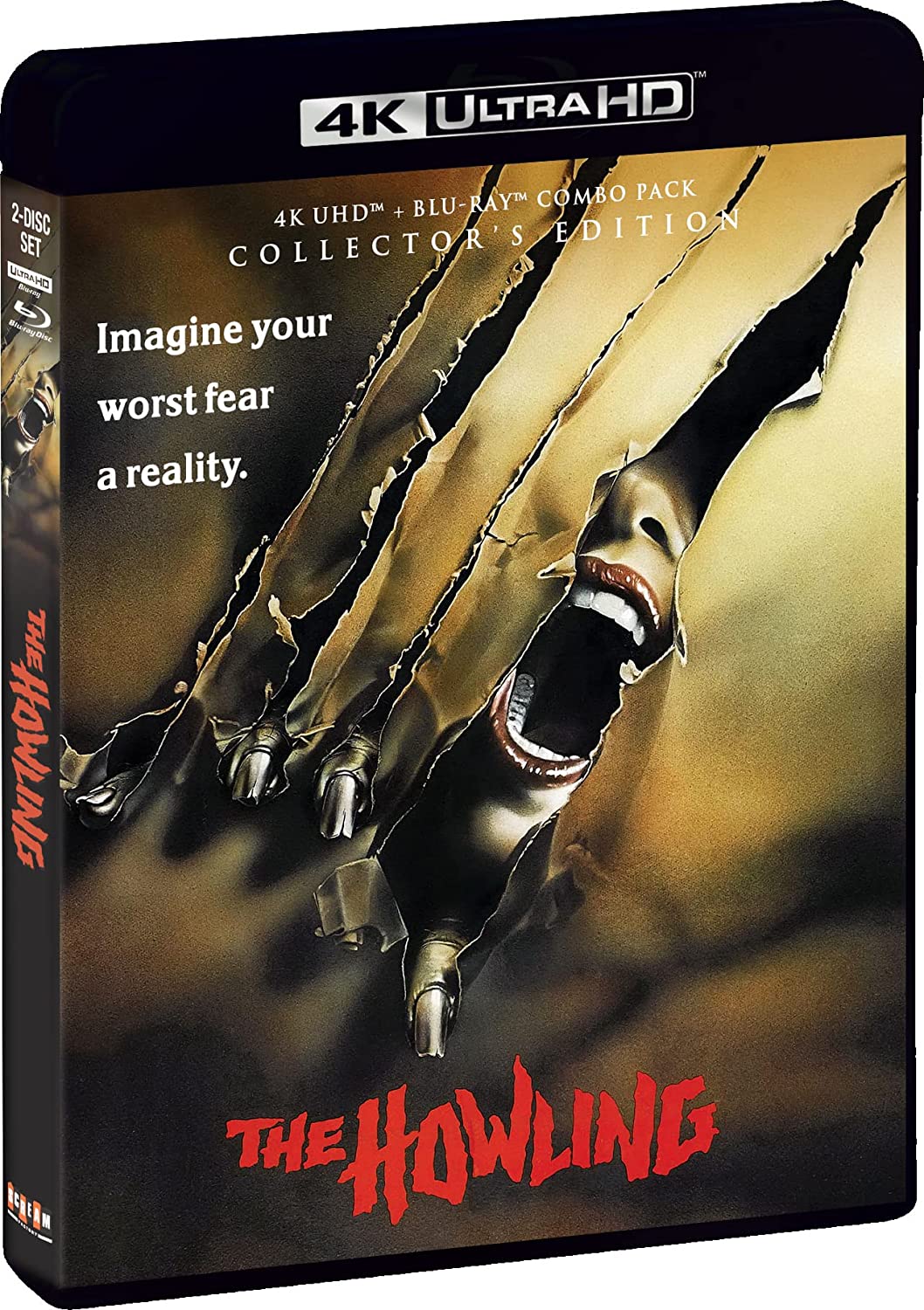 Dog Soldiers: 4K Collector's Edition (Scream Factory, 4K Ultra HD/Blu-ray)
A group of soldiers dispatched to the Scottish Highlands on special training maneuvers face their biggest fears after they run into Captain Ryan – the only survivor of a Special Ops team that was literally torn to pieces. Ryan refuses to disclose his mission even though whoever attacked his men might be hungry for seconds. Help arrives in the form of a local woman who shelters them in a deserted farmhouse deep in the forest ... but when they realize that they are surrounded by a pack of blood-lusting werewolves, it's apparent their nightmare has just begun!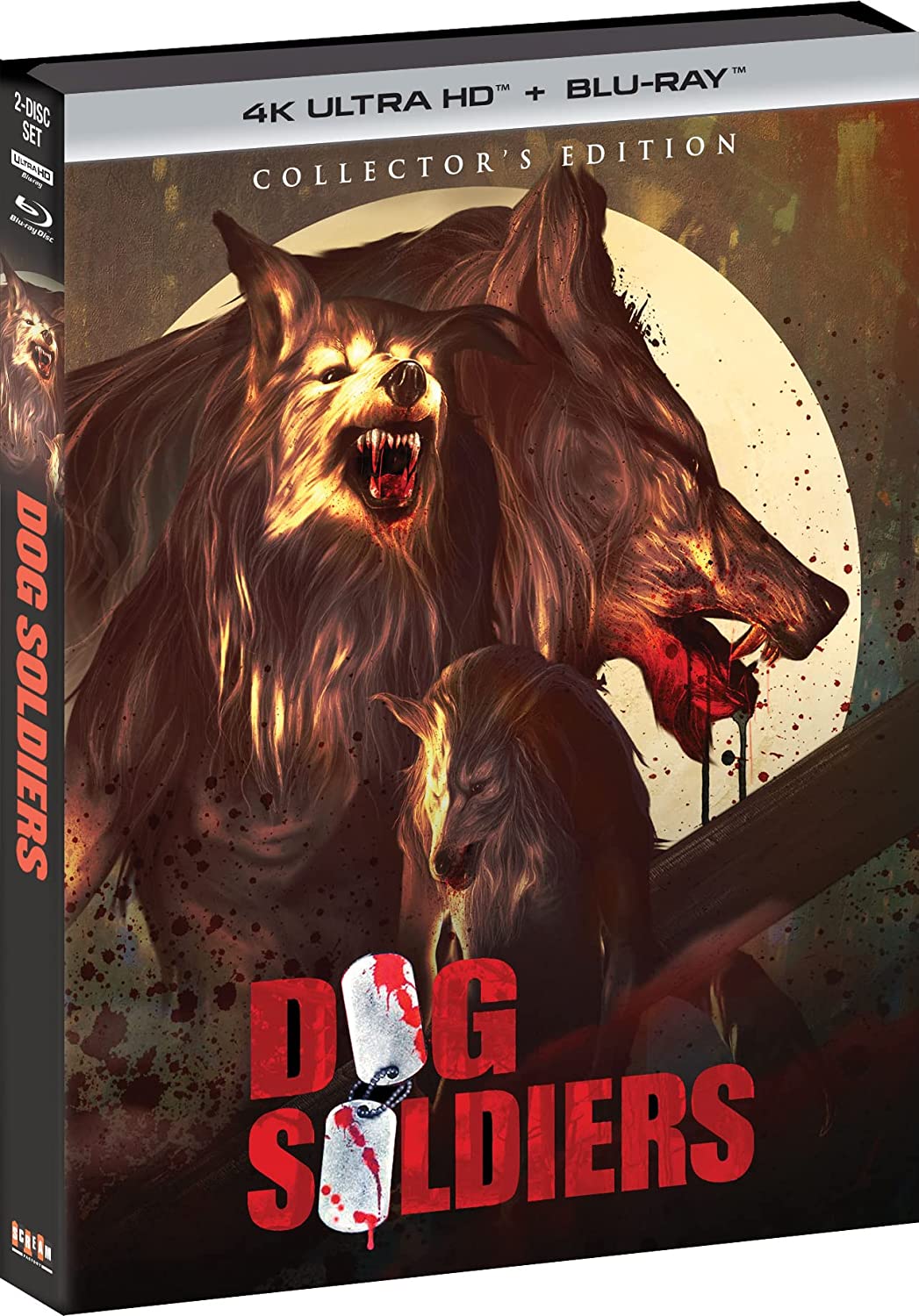 12 Monkeys 4K: Special Edition (Arrow Video, 4K Ultra HD)
In 1996, a deadly virus is unleashed by a group calling themselves the Army of the Twelve Monkeys, destroying much of the world's population and forcing survivors underground. In 2035, prisoner James Cole (Bruce Willis, Die Hard) is chosen to go back in time and help scientists in their search for a cure.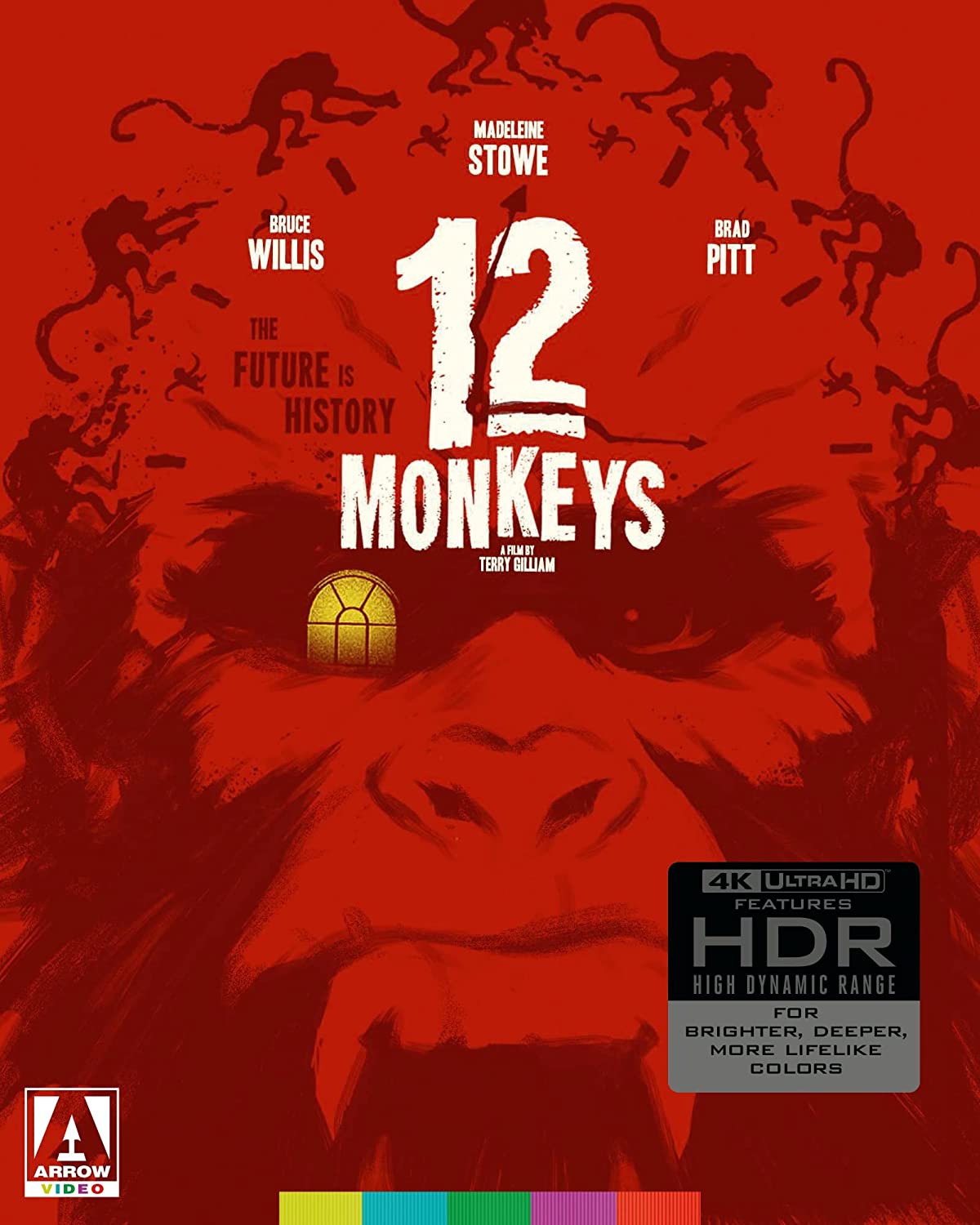 COLLECTOR'S SETS
House of Psychotic Women: Rarities Collection (Severin Films, Blu-ray)
In 2012 Kier-La Janisse published House of Psychotic Women, billed as ""an autobiographical topography of female neurosis in horror and exploitation films."" It soon became one of the most ""vital"" (Tim Lucas, Video Watchdog) and ""astonishing"" (Daily Grindhouse) genre tomes of all time. To mark the book's 10th anniversary, award-winning writer/programmer/filmmaker Janisse now presents four of the strongest and strangest explorations of onscreen delirium and hysteria, all on U.S. Blu-ray for the first time: Elizabeth Taylor stars in 1974's IDENTIKIT as a woman who travels to Rome to find the most dangerous liaison. In the surreal 1986 Polish horror-comedy I LIKE BATS, a vampire discovers that love may be the cruelest curse of all. Florinda Bolkan stars in the startling 1975 amnesiac giallo FOOTPRINTS from the director of THE FIFTH CORD. And British screenwriter and radical theatre icon Jane Arden directs 1972's harrowing THE OTHER SIDE OF THE UNDERNEATH.
Giallo Essentials: 3-Disc Limited Edition Collection (Arrow Video, Blu-ray)
While the release of Dario Argento's The Bird with the Crystal Plumage gave rise to a glut of imitators, there was more to the giallo than just shameless copycats setting out to ape a rigid formula. This volume of Giallo Essentials celebrates the range and breadth of the genre with three lesser-seen films from its early 1970s heyday. In Silvio Amadio's Smile Before Death, familicide with a sprinkling of Oedipal love is the order of the day when teenager Nancy returns home to discover the apparent suicide of her mother, and quickly comes to suspect that her stepfather and his mistress are to blame. 
Next, Horny priests and self-flagellating nuns abound in Francesco Mazzei's The Weapon, the Hour, the Motive, as police commissioner Franco Boito investigates the brutal murder of a young clergyman, only to enter into an affair with the dead man's lover. Finally, in Giuseppe Bennati's The Killer Reserved Nine Seats, an assortment of wealthy degenerates - including Italian cult mainstays Andrea Scotti and Howard Ross - answer the summons of an eccentric nobleman and assemble in the theatre attached to his ancestral home, only to find themselves trapped in the decaying building while a savage killer picks them off Agatha Christie-style! 
With gory murders, wanton debauchery and left-field plot twists a-plenty, all three of these oft-overlooked gialli are restored in 2K from their original camera negatives - including brand-new, Arrow-exclusive restorations of Smile Before Death and The Weapon, the Hour, the Motive - alongside a range of in-depth bonus features.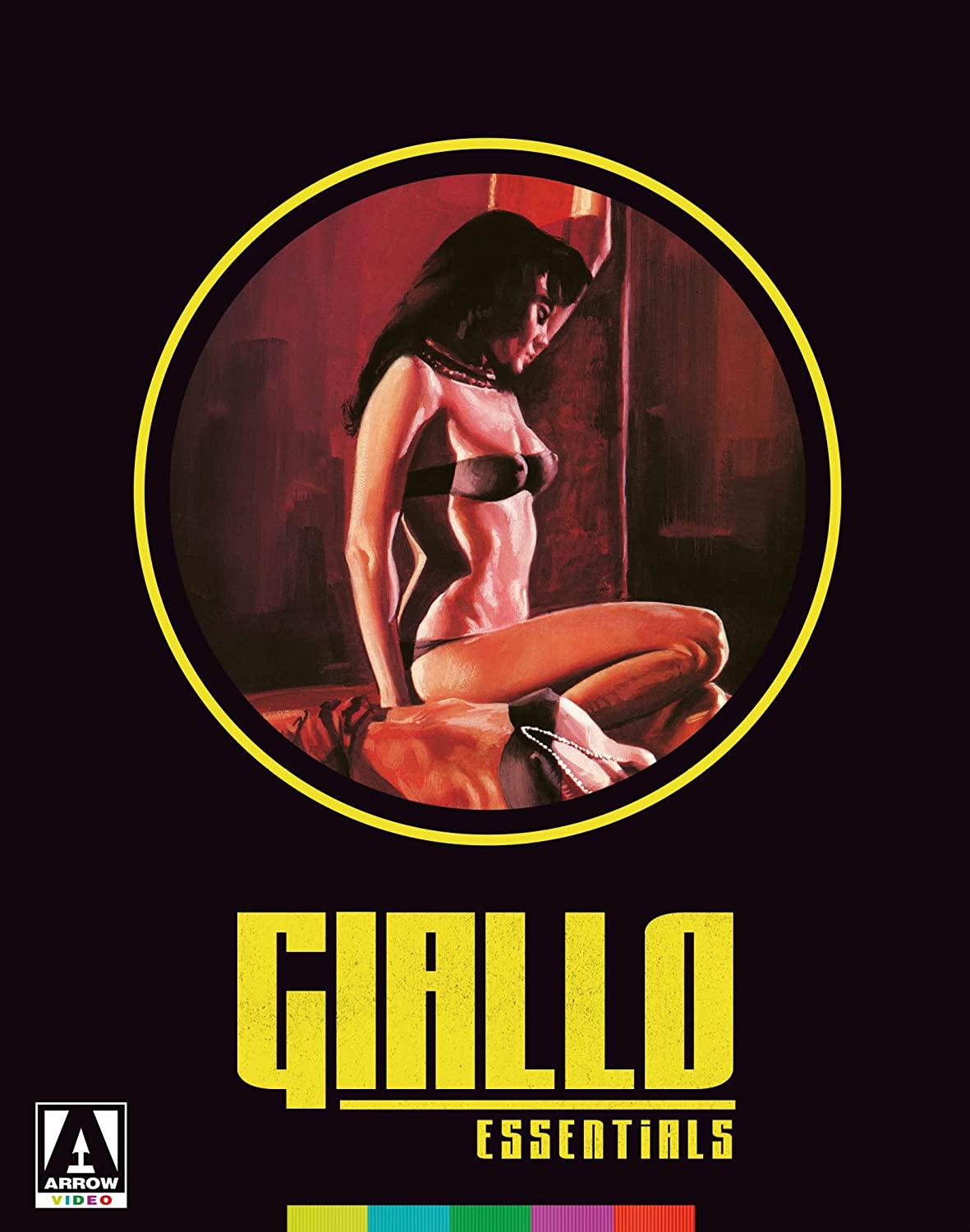 Santo: El Enmascarado De Plata (VCI Entertainment, Blu-ray)
SANTO: EL ENMASCARADO DE PLATA is a 4-disc compilation, consisting of eight, classic Mexican movies, featuring, Santo [José] Mantequilla Nápoles, the popular, wrestling, superhero and contains the following titles; • SANTO IN THE WAX MUSEUM (1963/92mins/B&W) • SANTO IN THE TREASURE OF DRACULA - (1969/81mins/Color/no Nudity version) • SANTO VS THE RIDERS OF TERROR (1970/80mins/Color) • SANTO in THE VENGEANCE OF THE MUMMY (1971/87mins/Color) • SANTO VS FRANKENSTEIN'S DAUGHTER (1972/97mins/Color) • SANTO & BLUE DEMON VS DRACULA AND THE WOLFMAN (1973/90mins/Color) • SANTO & BLUE DEMON VS DR. FRANKENSTEIN (1974/95mins/Color) • SANTO and MANTEQUILLA NAPOLES in THE REVENGE OF LA LLORONA (THE CRYING WOMAN) (1074/87mins/Color)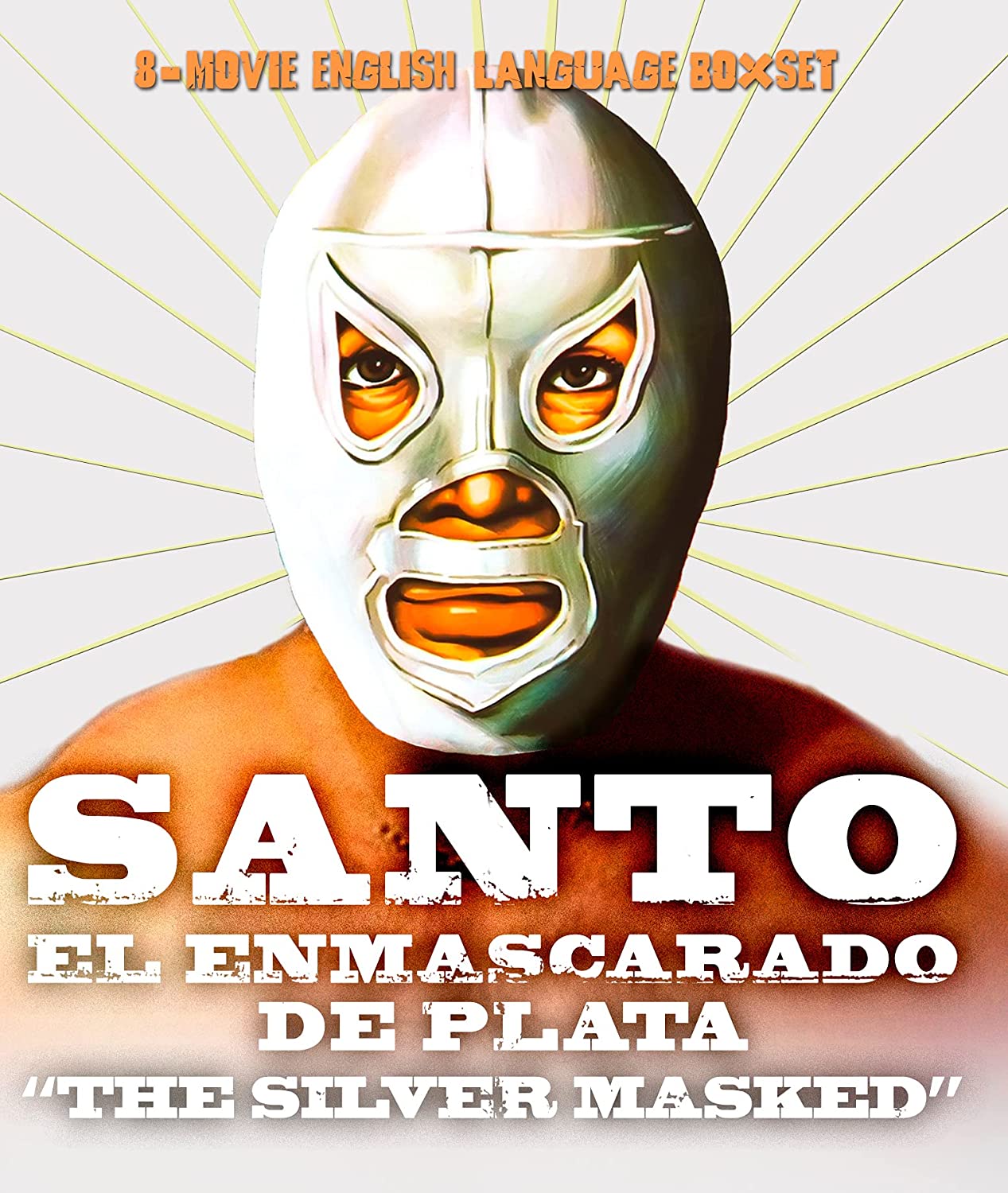 All The Haunts Be Ours: A Compendium Of Folk Horror (15-Disc Special Edition Collector's Set) (Severin Films, Blu-ray/CD)
The most comprehensive collection of its kind. Experience 19 of the best-known, least-known, rarely-seen and thought-lost classics of folk horror from around the world, all restored from the best available vault elements.
Special Features include short films, audio commentaries and exclusive featurettes. The ultimate genre exploration continues with the original WOODLANDS DARK AND DAYS BEWITCHED soundtrack by Jim Williams, a 2-disc reading of the classic short story 'The White People' by actress Linda Hayden with a new score by composer Timothy Fife, as well as a 156-page book curated by Kier-La Janisse, featuring new writings by renowned film scholars, authors and historians alongside a selection of archival writings, poems and folk tales.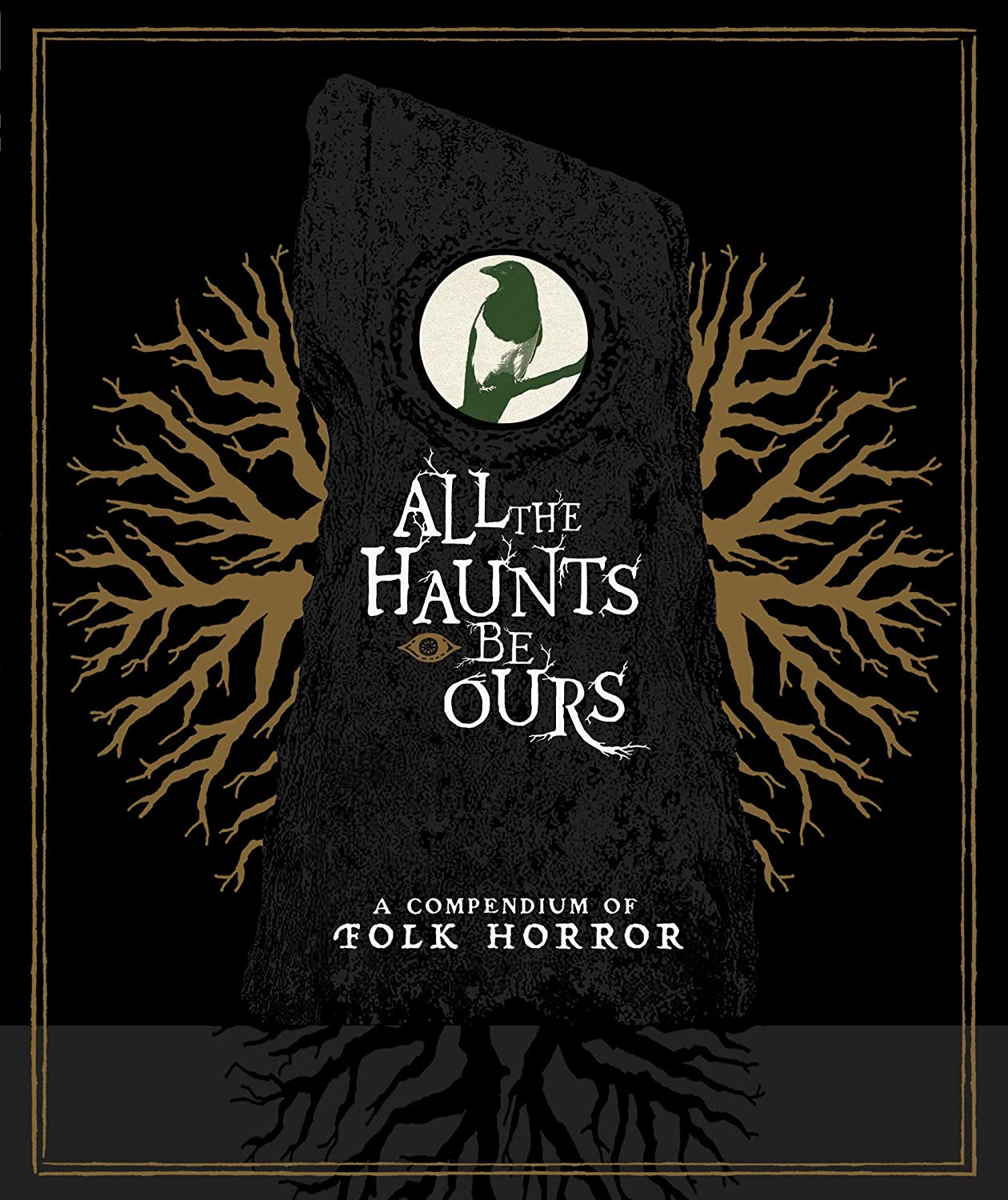 Silent Night, Deadly Night: 3-Film Collection (Vestron Video, Blu-ray) - Available 12/13/22
Prepare for a trilogy of pure terror with this collection of films from the Silent Night, Deadly Night series. In Better Watch Out!, it's a very bloody Christmas after Ricky Caldwell, the notorious "Killer Santa Claus," awakens from a six-year coma with one thing on his mind: murder. In Initiation, a reporter's investigation into a mysterious death leads her into the clutches of a cult that's chosen her as its new queen, and The Toy Maker stars entertainment legend Mickey Rooney as a toy maker whose creations display some very human — and deadly — tendencies.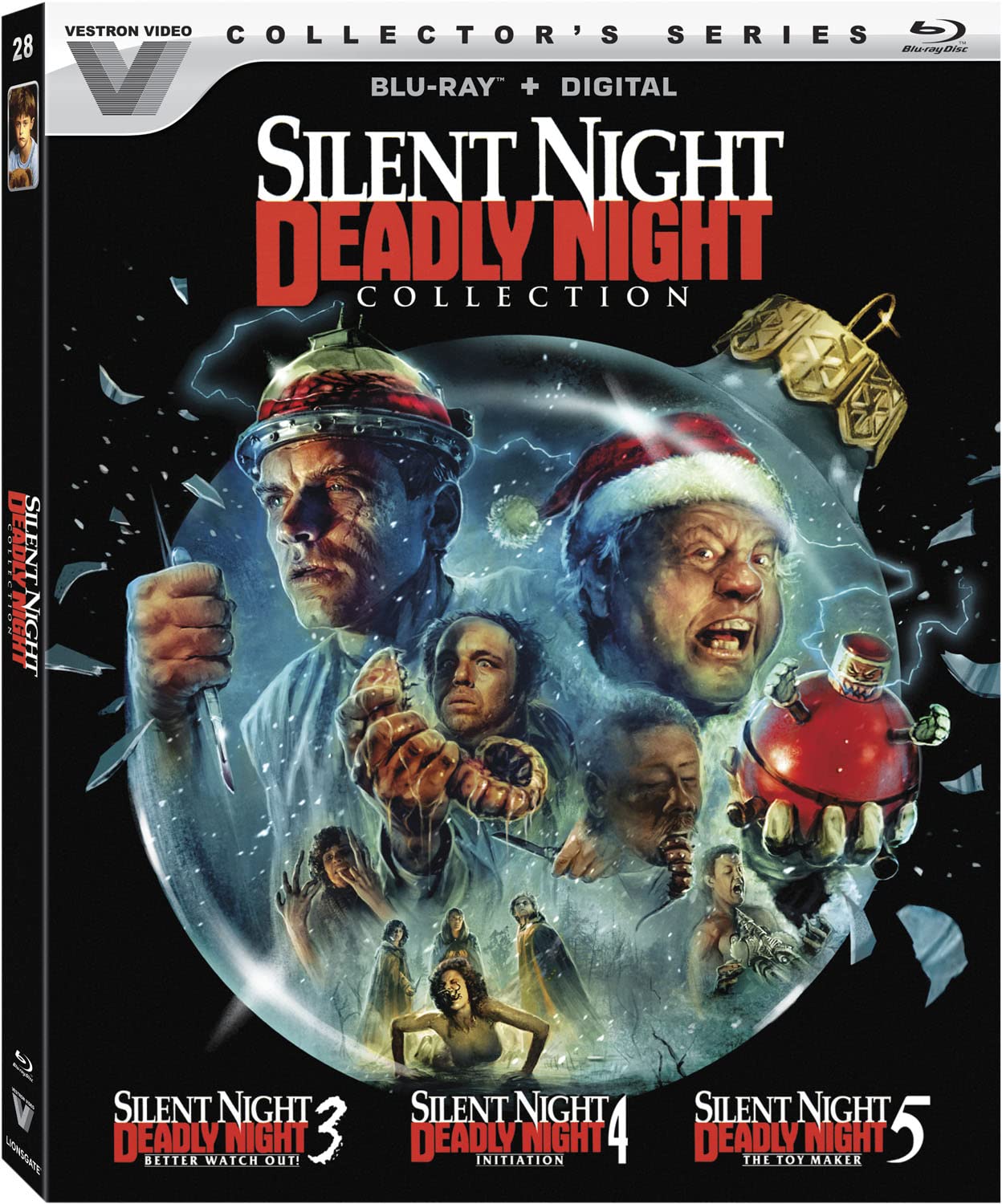 OUTRAGEOUS '80s HORROR
Manhattan Baby: Special Edition (Blue Underground, Blu-ray & DVD)
A young girl on vacation in Egypt is given a mysterious charm, causing her archeologist father to be struck blind inside an unexplored pyramid tomb. But when the family returns home to Manhattan, a plague of supernatural evil and sudden violence follows. Can this ancient curse be stopped before it is unleashed on the streets of New York City?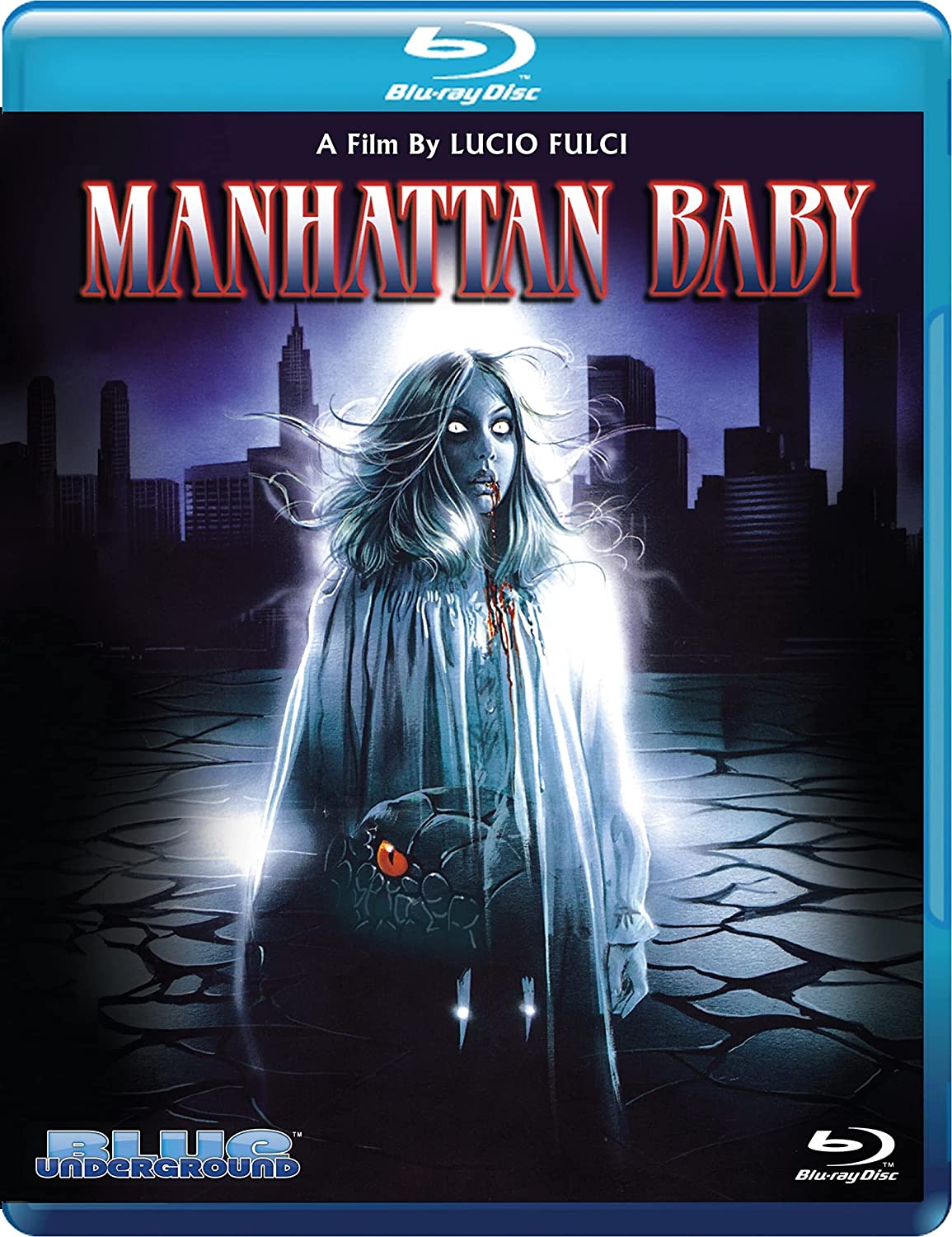 New Year's Evil: Special Edition (Kino Lorber, Blu-ray)
On a totally punked-out New Year's Eve, vivacious TV hostess Diane "Blaze" Sullivan counts down the hours to midnight. But as her show progresses, every hour, on the hour, a savage maniac slashes up a new female victim. As the trail of mutilated bodies spreads throughout the city, it becomes apparent that the psychopath's ultimate target is Blaze herself. Desperate to stop the bloody rampage, the police frantically seal off the ongoing televised festivities. But the killer is quicker than they suspected—and he's also the last one anyone suspects. So join the holiday season's deadliest celebration with a New Year's resolution to stay alive!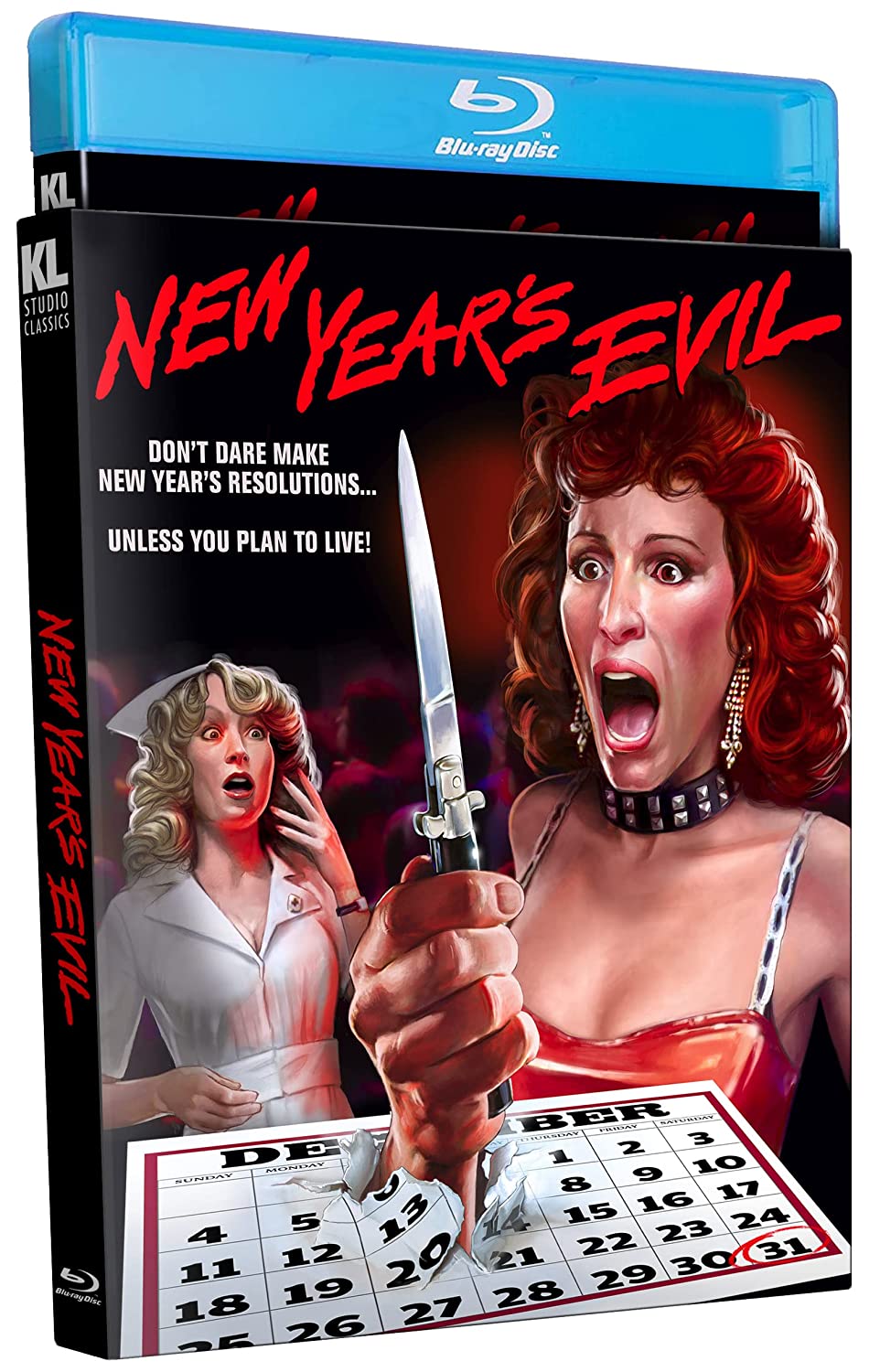 Girls Nite Out: Limited Edition (Arrow Video, Blu-ray)
A host of familiar genre faces including Hal Holbrook (Creepshow), Rutanya Alda (Amityville II: The Possession), Julia Montgomery (The Kindred), and Lauren-Marie Taylor (Friday the 13th Part 2) round out the cast of this gloriously mean-spirited slice from the slasher golden age, Girls Nite Out!
The students of DeWitt University are preparing themselves for a night of fun and frolics in the form of an all-night scavenger hunt. Little do they know that they are in fact the ones being hunted… An unhinged assailant, disguised in the college's goofy bear mascot outfit – and bearing knives for claws, two years before Freddy donned his famous gloves – is stalking the campus hellbent on carving up co-eds.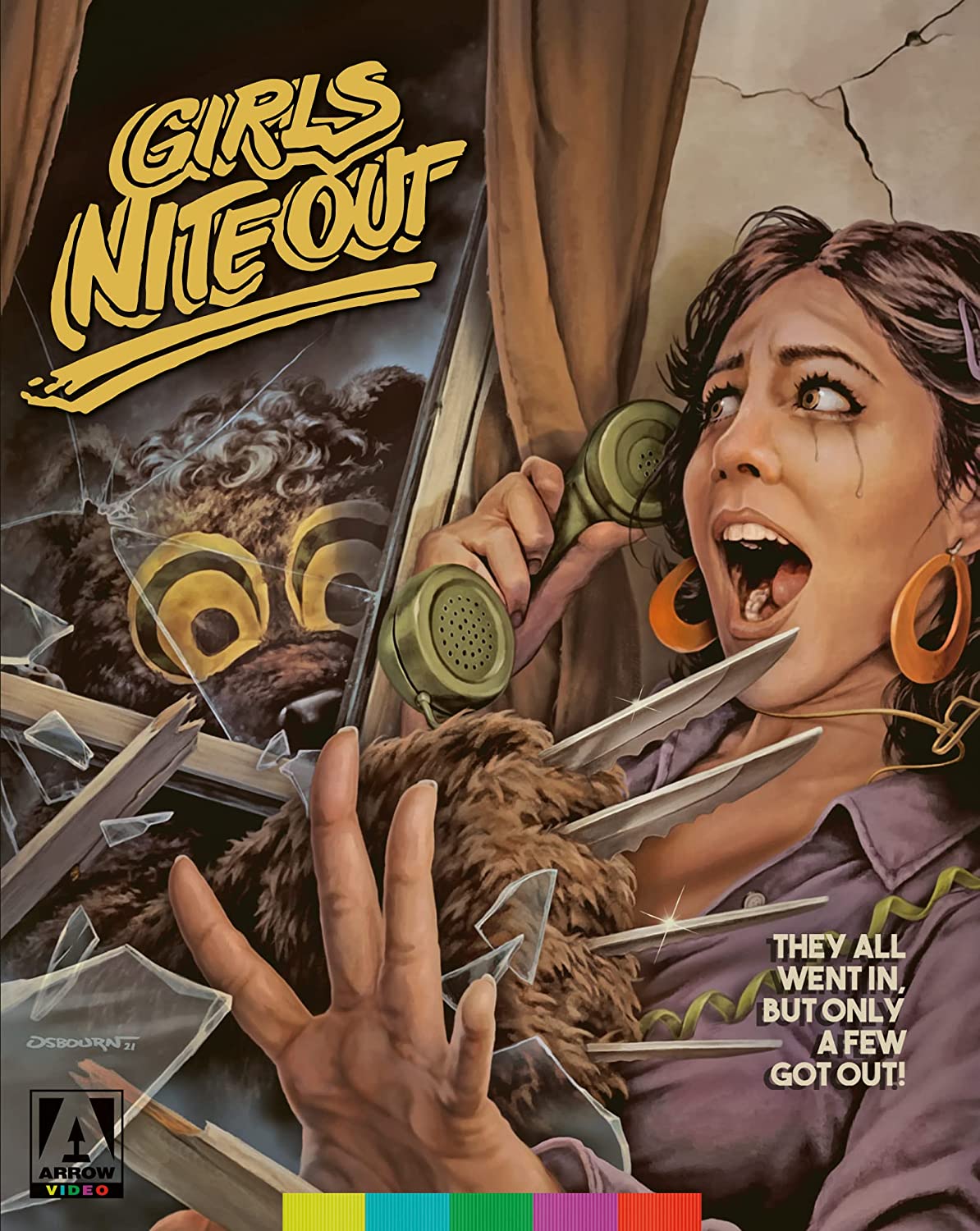 NIFTY '90s FILMS
Scream 2: 4K (Paramount Home Entertainment, 4K Ultra HD/Blu-ray/Digital)
Away at college, Sidney Prescott (Neve Campbell) thought she'd finally put the shocking murders that shattered her life behind her…until a copycat killer begins acting out a real-life sequel. Now, as history repeats itself, ambitious reporter Gale Weathers (Courteney Cox), deputy Dewey (David Arquette) and other Scream survivors find themselves trapped in a terrifyingly clever plotline where no one is safe – or beyond suspicion – in this "delicious, diabolical and fun" (Rolling Stone) sequel.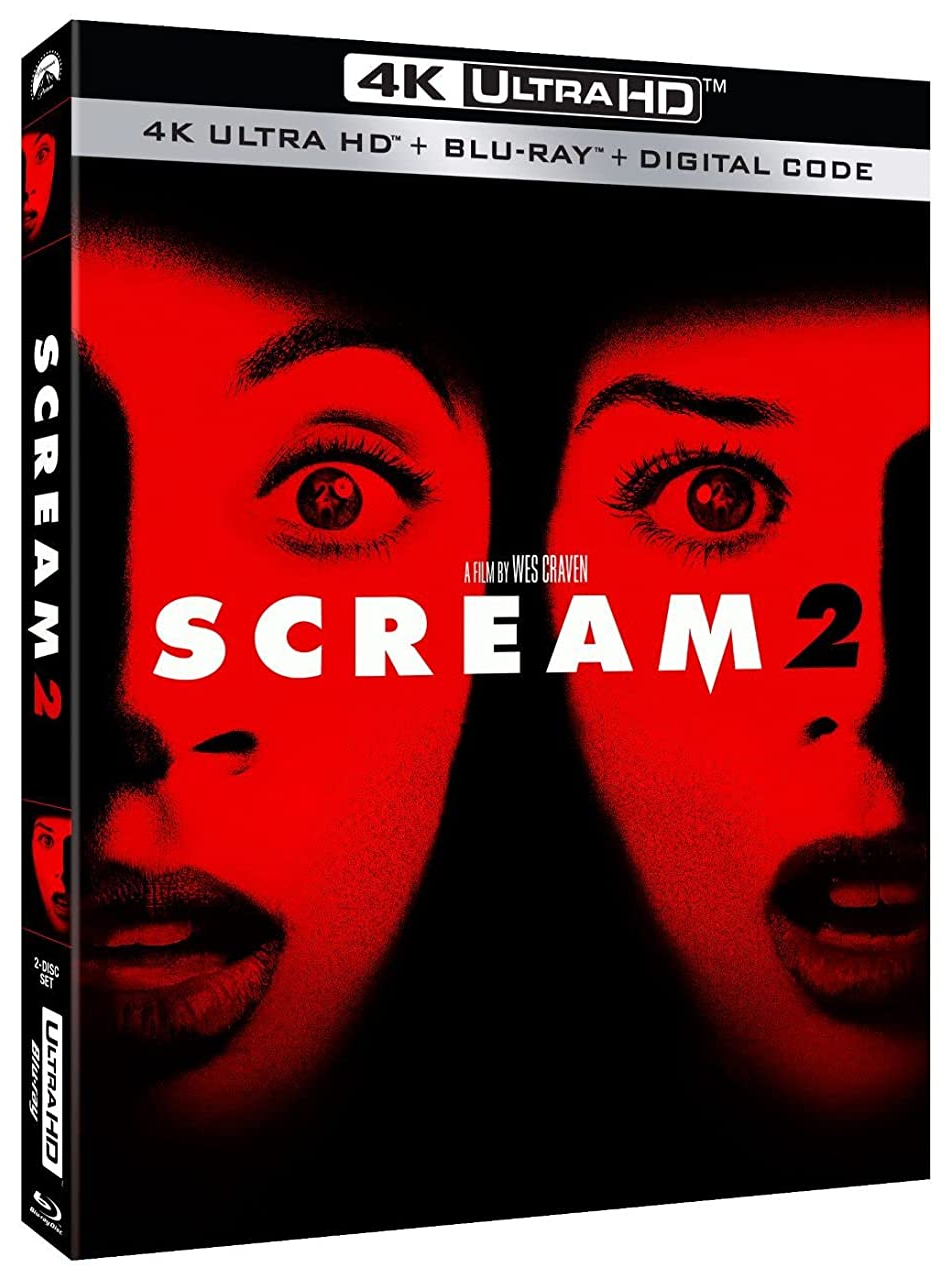 Johnny Mnemonic in Black & White (Sony Pictures Home Entertainment, Blu-ray)
In this film based on the William Gibson story, Johnny (Keanu Reeves) is a data courier who has a secret stash of information implanted into his mind. However, the data will kill Johnny if he cannot retrieve it within 48 hours. Accompanied by physically enhanced bodyguard Jane (Dina Meyer), Johnny sets out to acquire the passwords he needs to save himself. Worse yet, he is hunted by gangster Shinji (Denis Akiyama) and businessman Takahashi (Takeshi), both of whom seek the data Johnny possesses.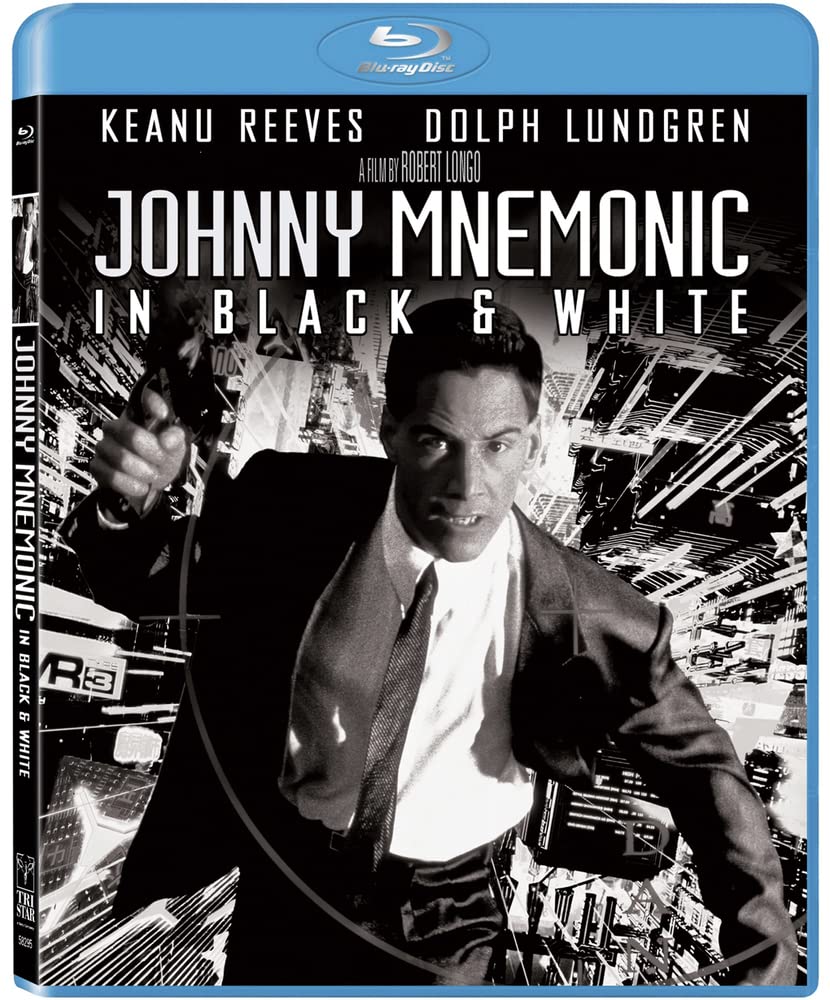 Ghostwatch: Collector's Edition (101 Films, Blu-ray & DVD) - Available 12/13/22
The BBC gives over a whole evening to an 'investigation into the supernatural'. Four respected presenters and a camera crew attempt to discover the truth behind 'The most haunted house in Britain', expecting a light-hearted scare or two and probably the uncovering of a hoax. They think they are in control of the situation. They think they are safe. The viewers settle down and decide to watch 'for a laugh'. Ninety minutes later the BBC, and the country, was changed, and the consequences are still felt today.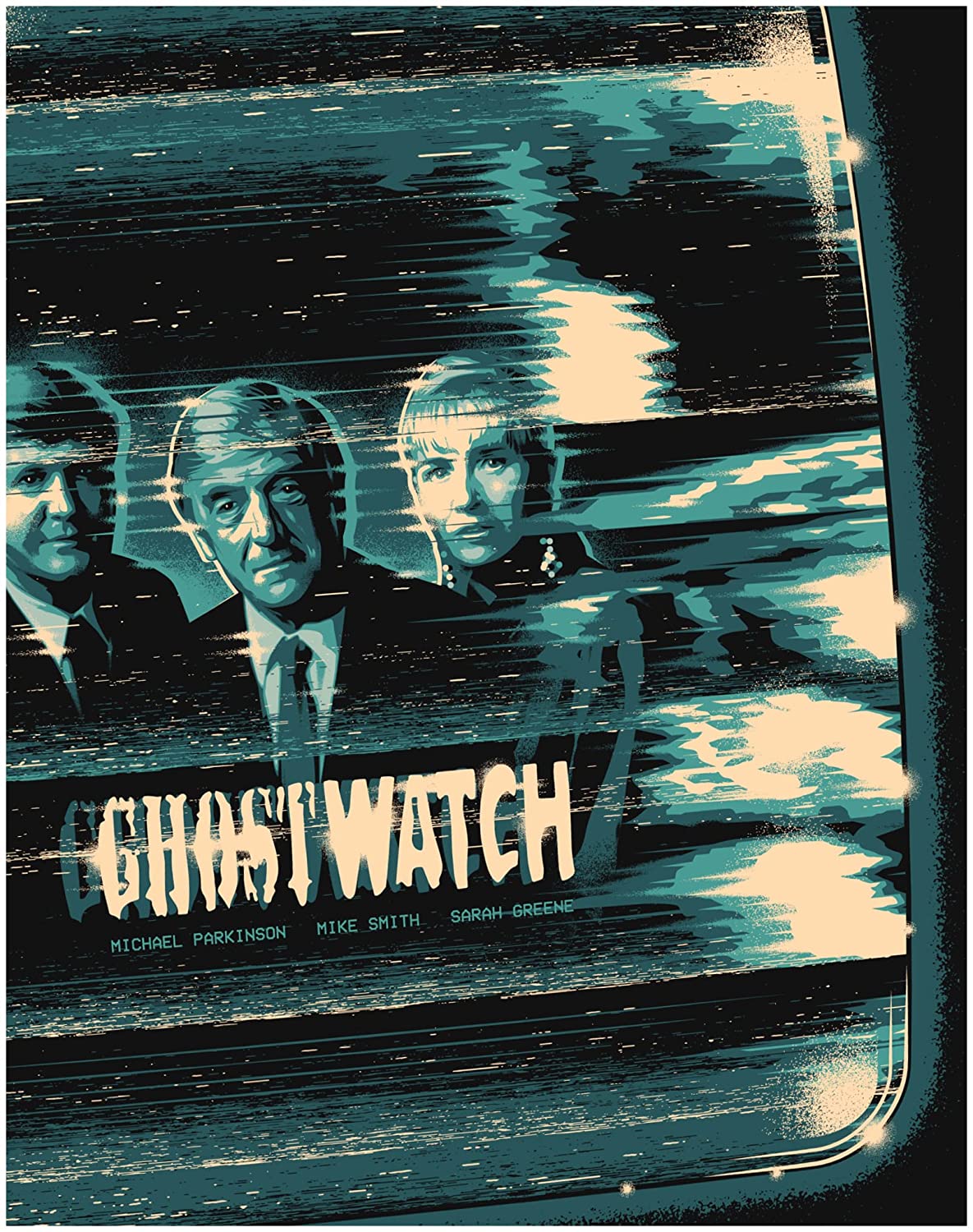 Def by Temptation (Troma, Blu-ray)
Joel (James Bond III) grew up in the church but has started questioning his beliefs. After sensing a supernatural presence from his deceased father, Joel becomes compelled to visit his cousin, K (Kadeem Hardison) in New York. But shortly after arriving, he and K become embroiled in a series of mysterious homicides of local men, all of whom were last seen in the company of a mysterious and beautiful woman, who has now set her bloodthirsty sights on K...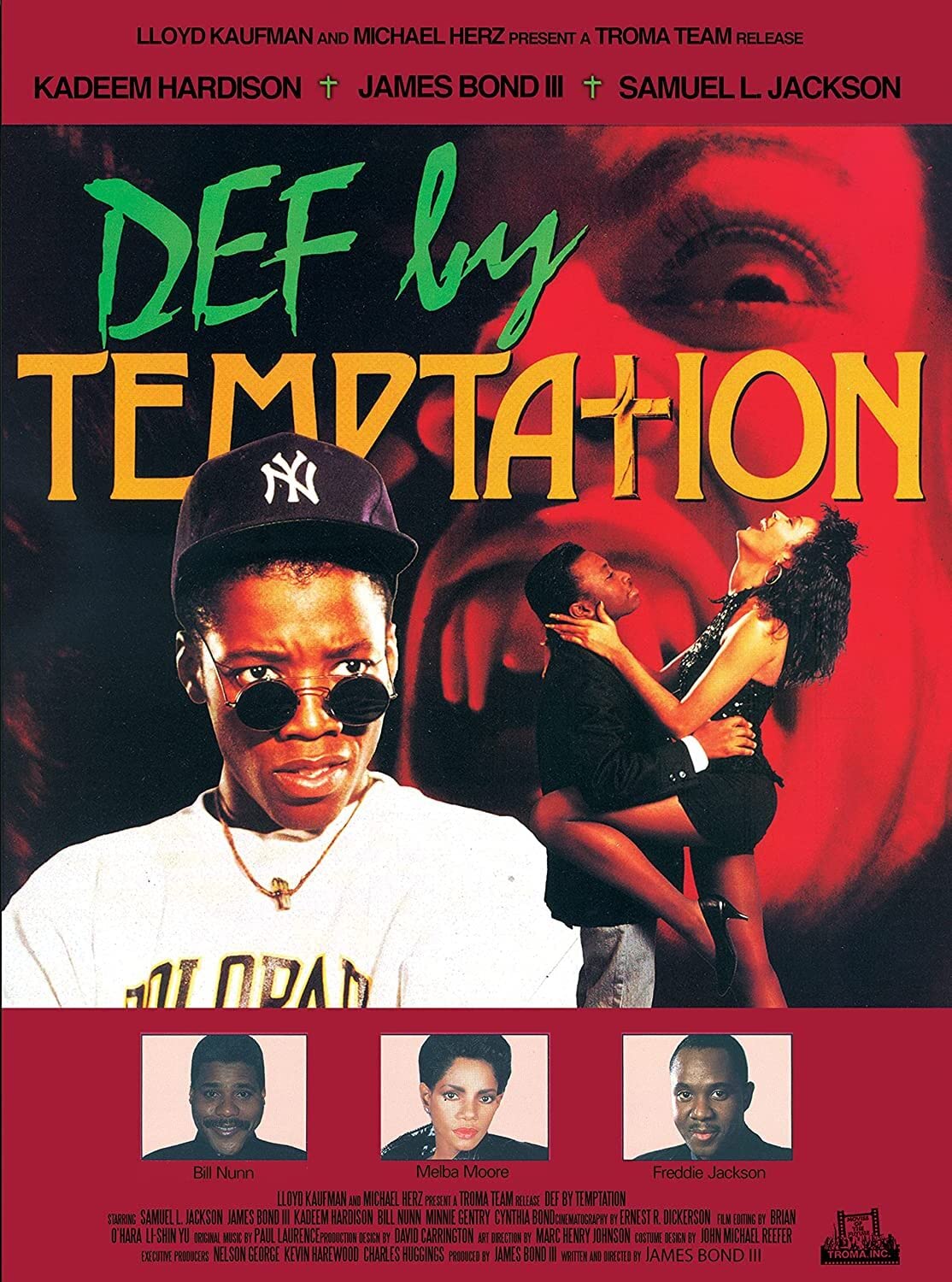 Bram Stoker's Dracula: 4K Steelbook (4K Ultra HD/Blu-ray/Digital)
From Academy Award®-winning director Francis Ford Coppola (1974 Best Director, The Godfather: Part II) comes the classic and chilling tale about the devastatingly seductive Transylvanian prince (Gary Oldman) who travels from Easter Europe to 19th-century London in search of human love. When the charismatic Dracula meets Mina (Winona Ryder), a young woman who appears as the reincarnation of his lost love, the two embark on a journey of romantic passion and horror. Now presented in full 4k resolution, experience this sensual gothic spectacle like never before.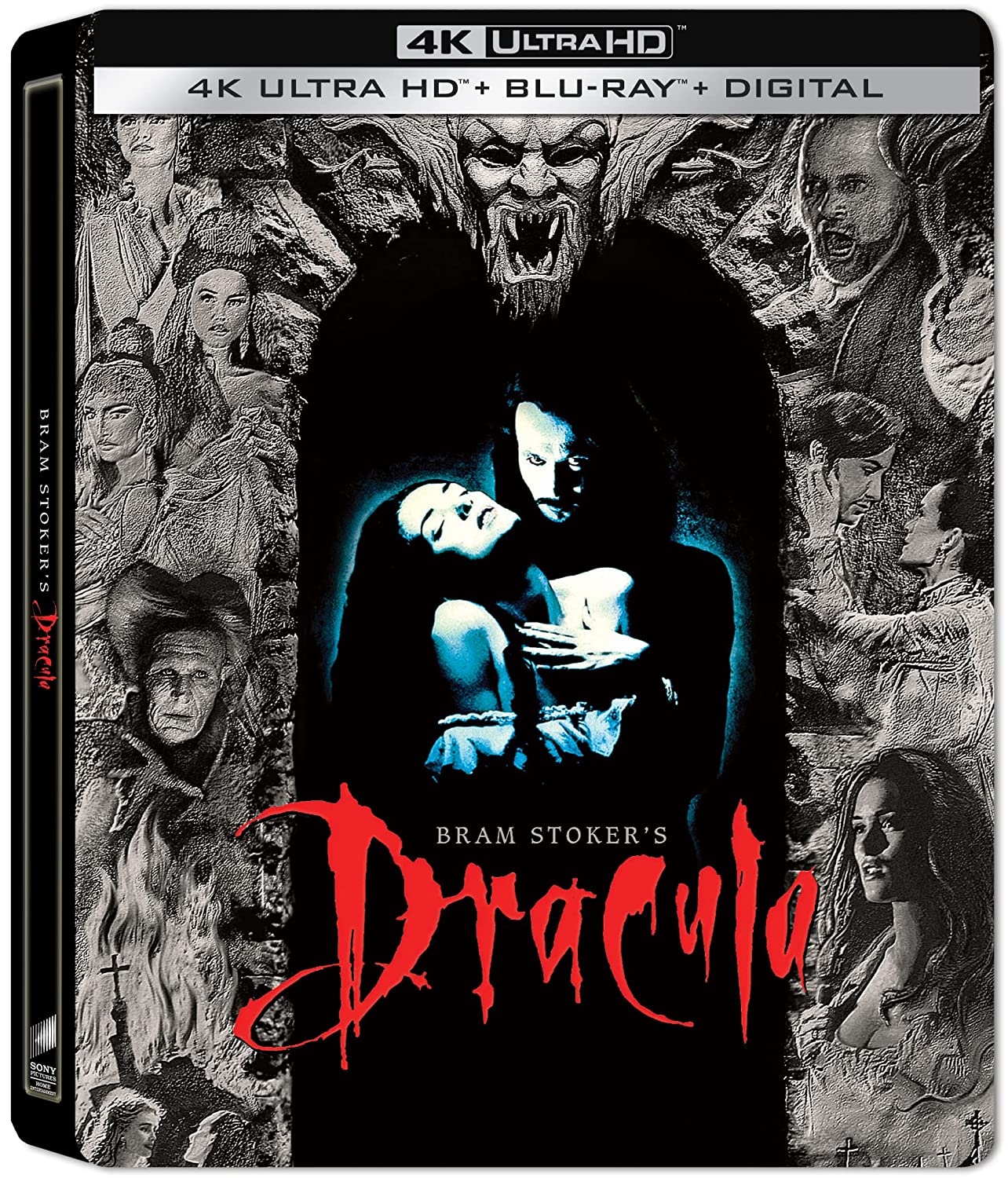 Fire in the Sky (Scream Factory, Blu-ray)
Six men saw it. One man became a prisoner inside it. But who would believe them?
In 1975, logger Travis Walton (D.B. Sweeney, Hear No Evil, Eight Men Out) and his co-workers encountered a UFO. His pals were able to flee—but Walton was not so lucky. Whisked aboard the strange craft, he was subjected to a painful, unearthly medical study. Fire in the Sky is the amazing tale of that ordeal…and of the contempt and ridicule endured by Walton and his friends as they tried to convince others of this otherworldly experience.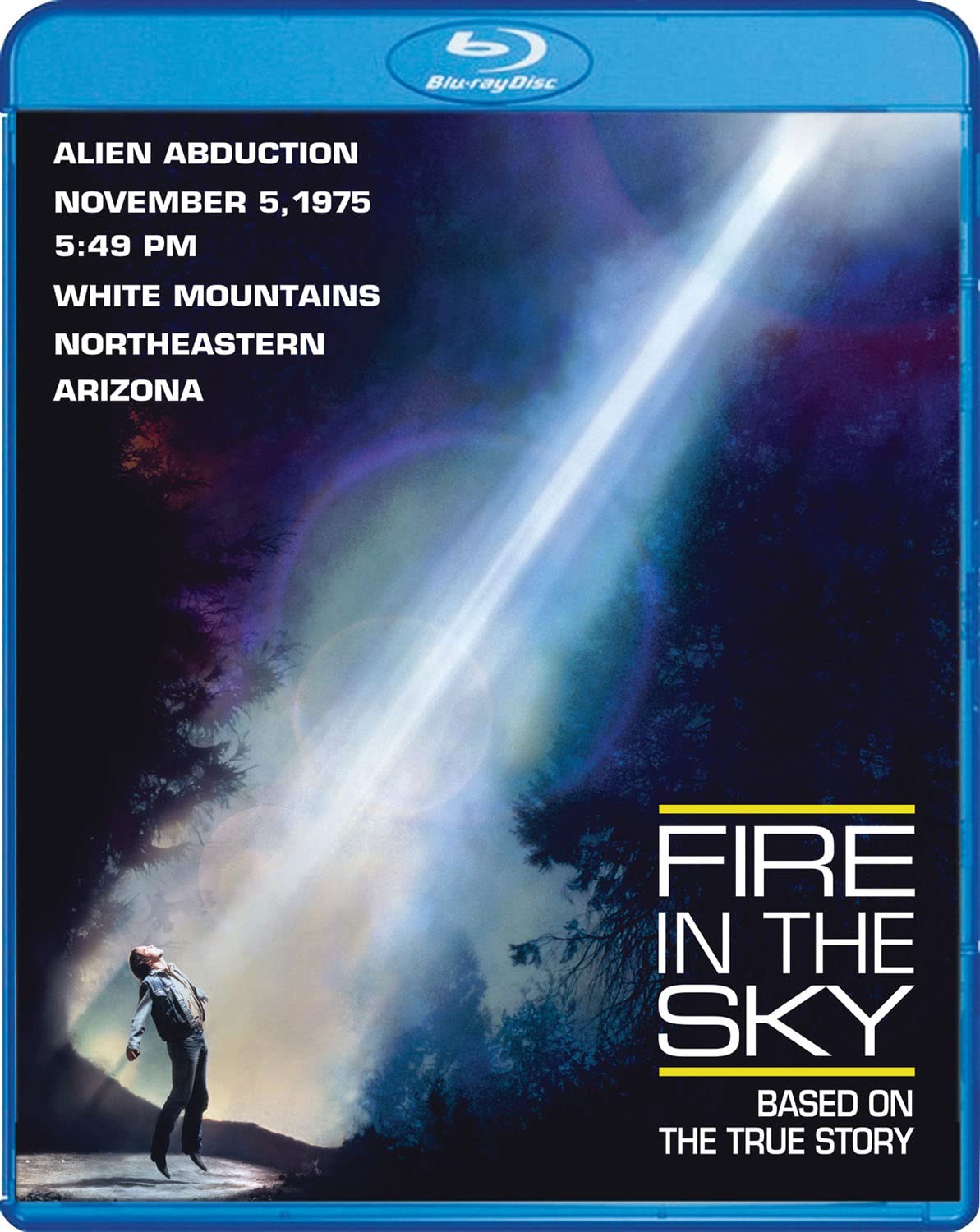 THE AUGHTS & BEYOND
Tragedy Girls (Vinegar Syndrome, Blu-ray)
Best friends Sadie and McKayla are on a mission to boost their social media fandom as amateur crime reporters hot on the trail of a deranged local serial killer. After they manage to capture the killer and secretly hold him hostage, they realize the best way to get scoops on future victims would be to, you know, murder people themselves. As the @TragedyGirls become an overnight sensation and panic grips their small town, can their friendship survive the strain of national stardom? Will they get caught? Will their accounts get verified?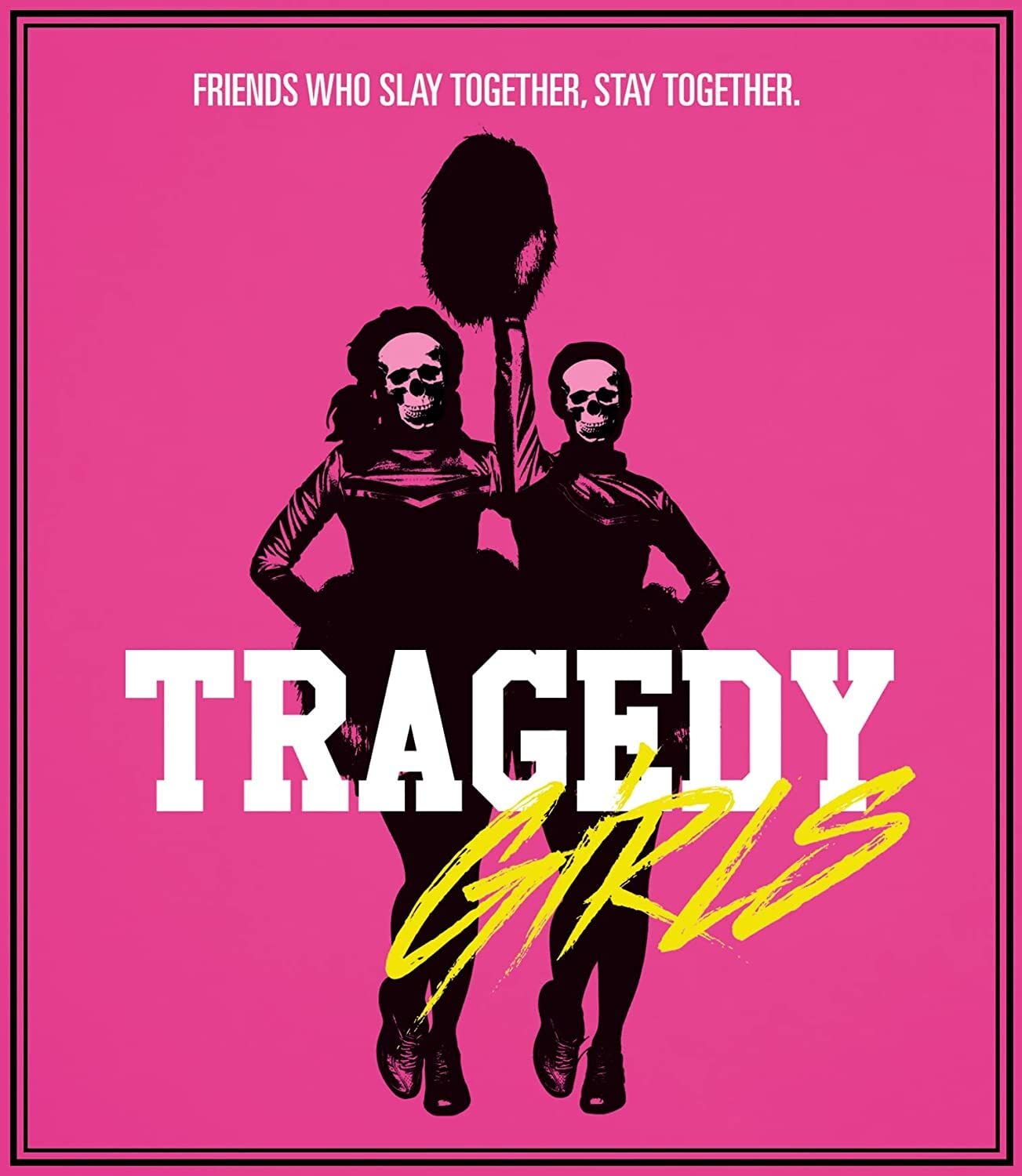 The Ring: Steelbook (Paramount Home Entertainment, Blu-ray/Digital)
One of the most iconic modern-day horror films, THE RING celebrates 20 years with this collectible Blu-ray steelbook. The bizarre death of a teenage girl leads journalist Rachel Keller (Naomi Watts) to investigate a mysterious urban legend. Within the cabin is a videocassette containing disturbing imagery, and anyone who views the tape receives a chilling phone call from an unknown voice stating "seven days."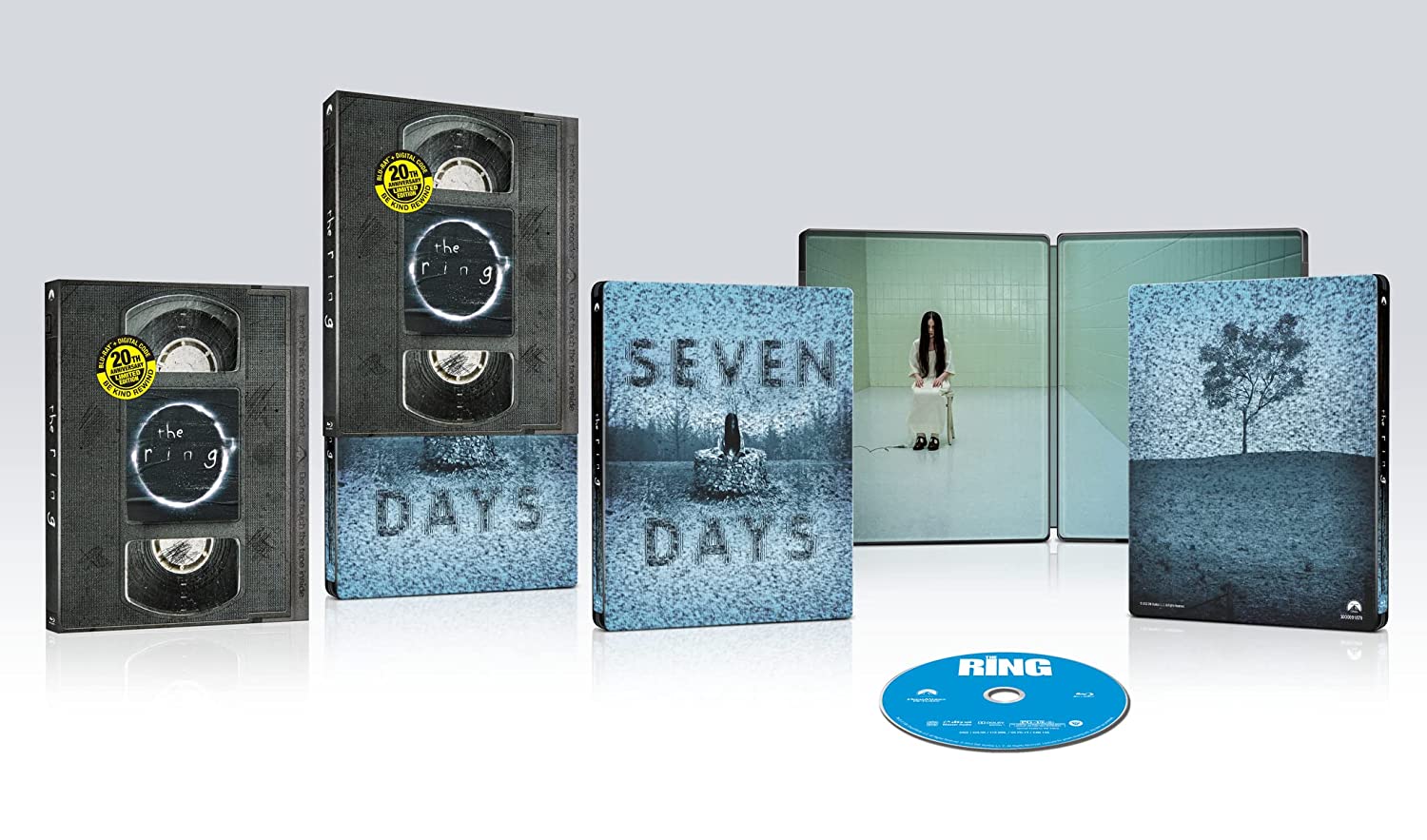 Cursed (2005): Collector's Edition (Scream Factory, Blu-ray)
Packed with even more intense thrills than audiences experienced in theaters, the included unrated version of Wes Craven's Cursed brings you the terror of werewolves as never before! Christina Ricci (Yellowjackets), Jesse Eisenberg, (Zombieland), Joshua Jackson (Dr.Death), Judy Greer (Halloween Kills), and Milo Ventimiglia (Kiss of the Damned) find themselves caught up in an unimaginable horror!
A werewolf loose in Los Angeles changes the lives of three young adults who, after being mauled by the beast, learn that the only way to break the curse put upon them is to kill the one who started it all! From master of horror Wes Craven and writer Kevin Williamson, the team that brought you Scream, Cursed is frightening, undeniably fun and presented here with both the theatrical and unrated versions!
---------
Go HERE to unwrap other installments of Heather Wixson's Holiday Gift Guide, and happy holidays to our readers from all of us at Daily Dead!