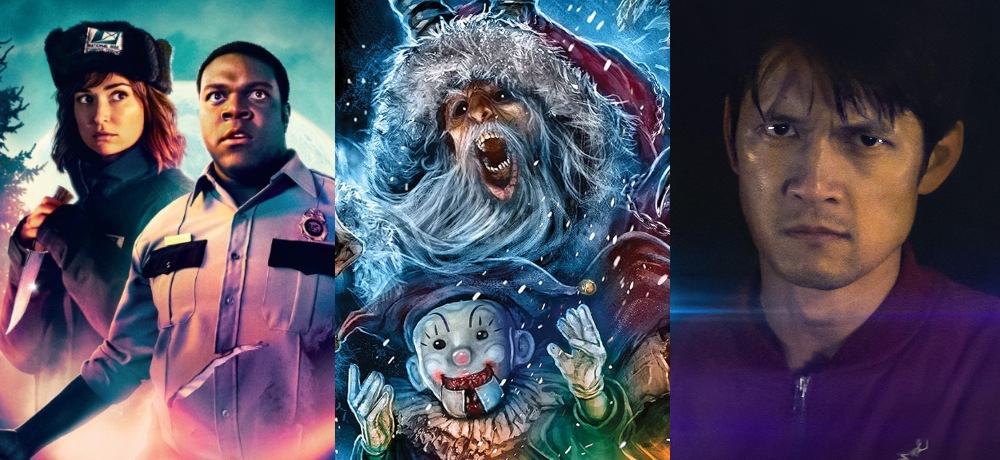 Hello, everyone! This week, we only have a handful of horror and genre titles headed to Blu-ray and DVD, but several of these releases are sure to get you into the holiday spirit, including Scream Factory's 4K release of Mike Dougherty's Krampus: The Naughty Cut. RLJE Films is unleashing Creepshow: Season 2 on both Blu-ray and DVD (with the Creepshow Holiday Special included), and if you're still looking to enhance your holiday spirit even more, there's always the indie Christmas-themed anthology 13 Slays Till X-Mas coming to Blu-ray, too.
Other home media releases for December 7th include Werewolves Within (one of this writer's favorite movies of 2021), Blue Monkey, and Broadcast Signal Intrusion.
13 Slays Till X-Mas (Scream Team Releasing, Blu-ray)
On December 24th, five seemingly random men are invited to a dive bar by a mysterious e-mail. They decide to pass the time by resurrecting the old tradition of telling scary stories on Christmas Eve. As each take turns spinning yarns of yuletide terror, it becomes evident, they may be harboring a dark and deadly secret. Blood Moon Pictures brings you their newest anthology of fear from writer/producer P.J. Starks, the creator of Volumes of Blood, and producer Eric Huskisson (The Confession of Fred Krueger, VOB: Horror Stories). 13 Slays is thirteen Christmas themed stories of merry mayhem from directors Brittany Blanton (Seasons Greetings 2), Sean Blevins (Trick or Treat), Jed Brian (Unlisted Owner), William Capps (After the Slasher), Alex Clark, John Hale (The Conduit), Blair Hoyle (Five Wild Animals), Robert Kern III, Carlos Omar De Leon (For We Are Many), Drew Marvick (Pool Party Massacre), John Mason (Sleep Tight), Eric Huskisson, P.J. Starks (Volumes of Blood), Julie Streble and Shawn Burkett (Stranded).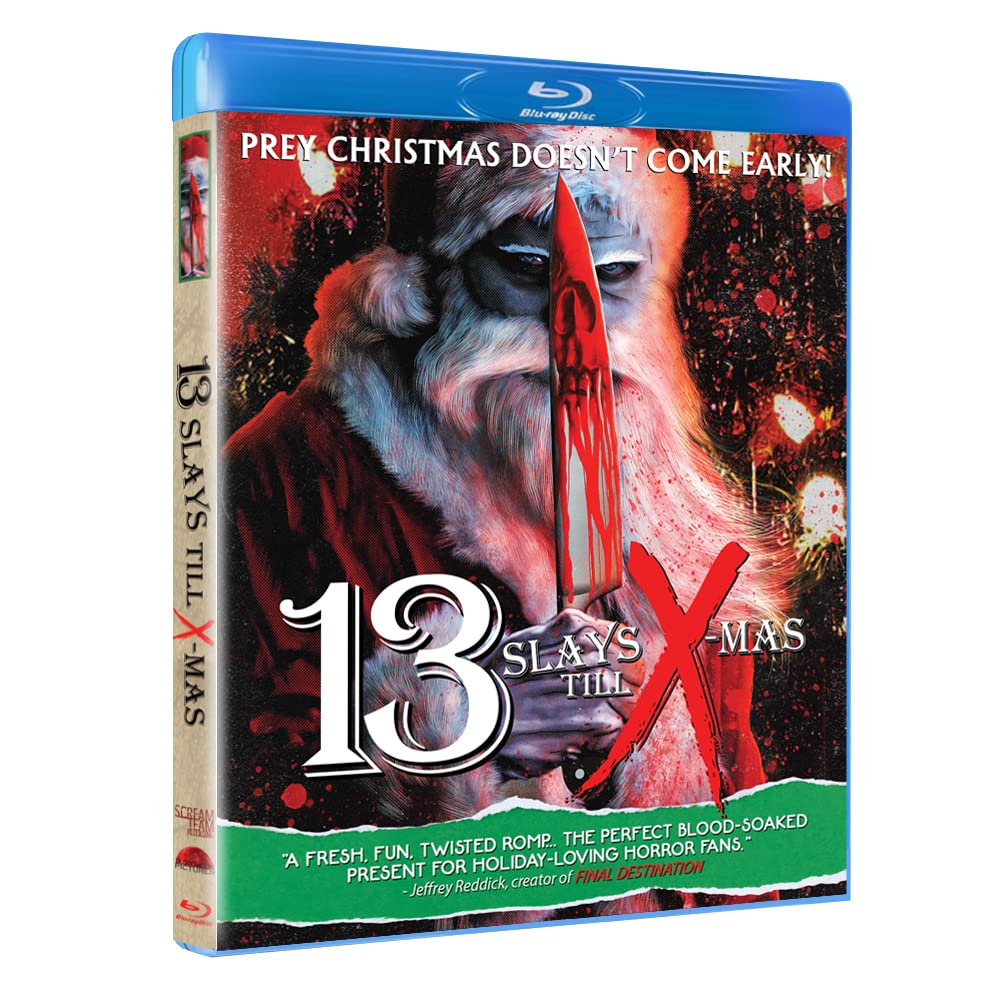 Blue Monkey (Code Red, Blu-ray)
Directed by Canadian horror pic helmer William Fruet (House by the Lake, Funeral Home, Spasms), this 80s horror flick blends gore with an endearing 50s style oversized killer bug. Steve Railsback (Helter Skelter, Lifeforce) turns in a great performance as Detective Jim Bishop, who must find a way to stop a giant monstrous insect that's eating people in a quarantined hospital before it procreates and spreads a deadly infection it's carrying. Code Red now brings you this big bug B-movie also known as INSECT in glorious HD.
Special Features:
HD Transfer from the Original Uncut 35mm Negative

Trailers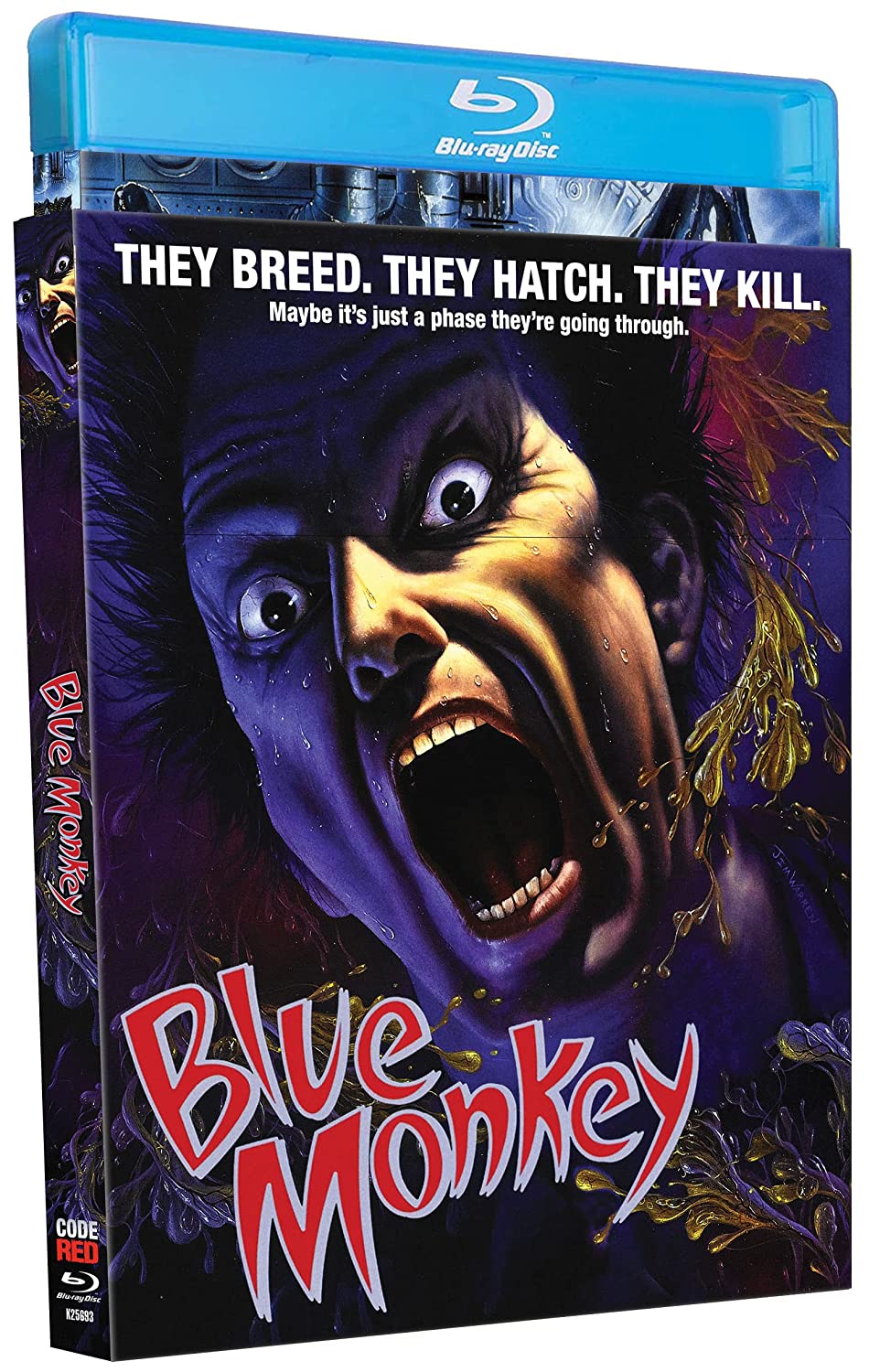 Broadcast Signal Intrusion (Dark Sky Films, Blu-ray & DVD)
For three years, James (Harry Shum Jr.) has been haunted by his wife's sudden and inexplicable disappearance. His best distraction is work—specifically, archiving old videos. While watching decade-aged TV news footage one night, he sees a video interference that's deeply disturbing. And it's not the only interference he'll see. As his obsession over these strange clips increases, and he submerges himself into their mysteries, James discovers troubling connections to his missing wife. Which will these broadcast intrusions bring him, though: long-desired answers or a never-ending nightmare?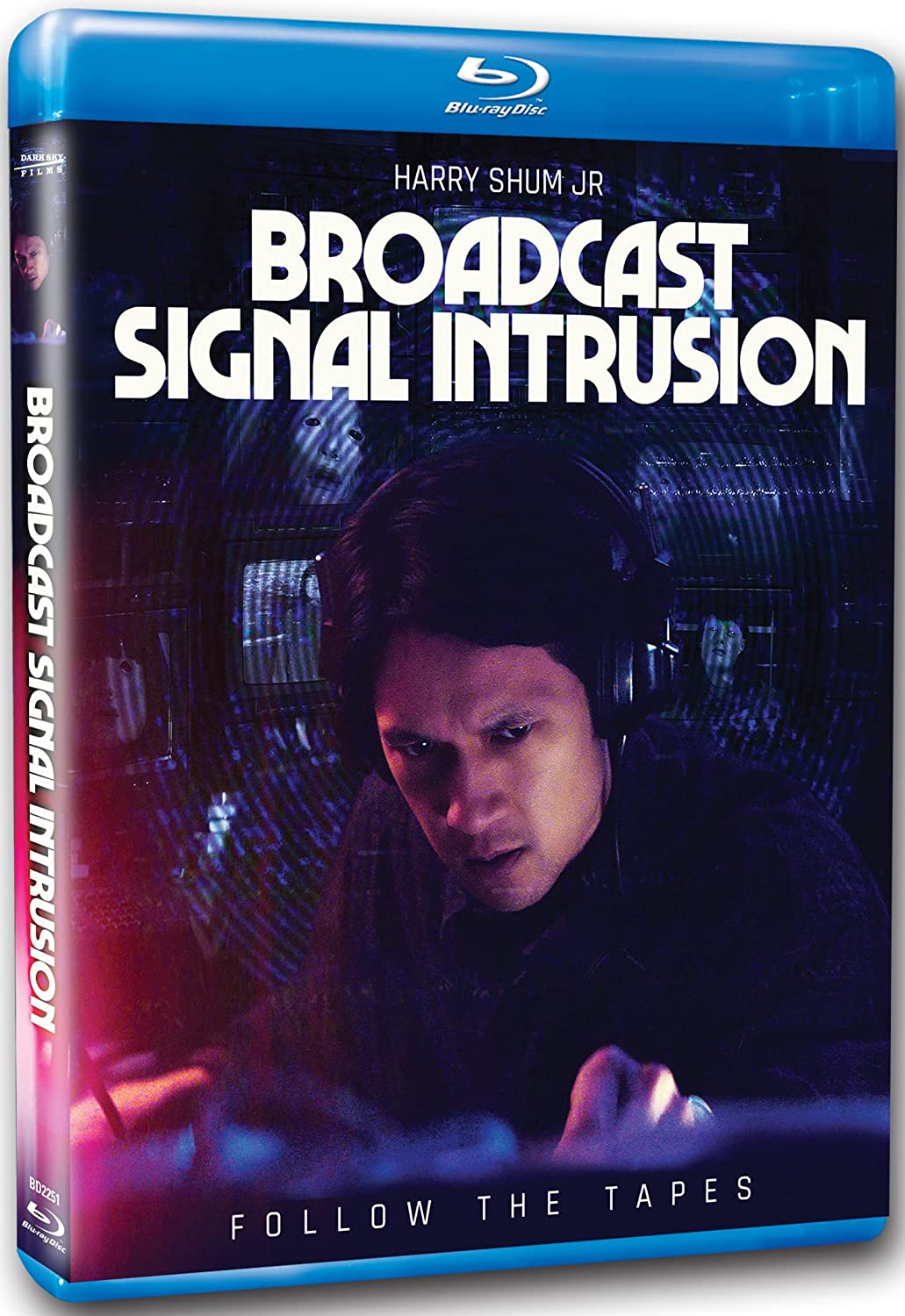 Creepshow: Season 2 (RLJE Films, Blu-ray & DVD)
It's still the most fun you'll ever have being scared! Following CREEPSHOW Season 1's Saturn Award 2021 win for Best DVD/BD Television Release comes the second season of CREEPSHOW, the anthology series based on the 1982 horror comedy classic. A comic book comes to life in nine chilling tales told across five episodes. Explore terrors ranging from murder, creatures, monsters and delusions to the supernatural and unexplainable. You never know what will be on the next page….
Special Features Include:
A Creepshow Animated Special

A Creepshow Holiday Special

WonderCon@Home 2021 Interview with Greg Nicotero

Photo Galleries

Comic Art Booklet

Exclusive Never-Before-Seen Behind-the-Scenes Featurettes

Behind-the-Scenes Raw Footage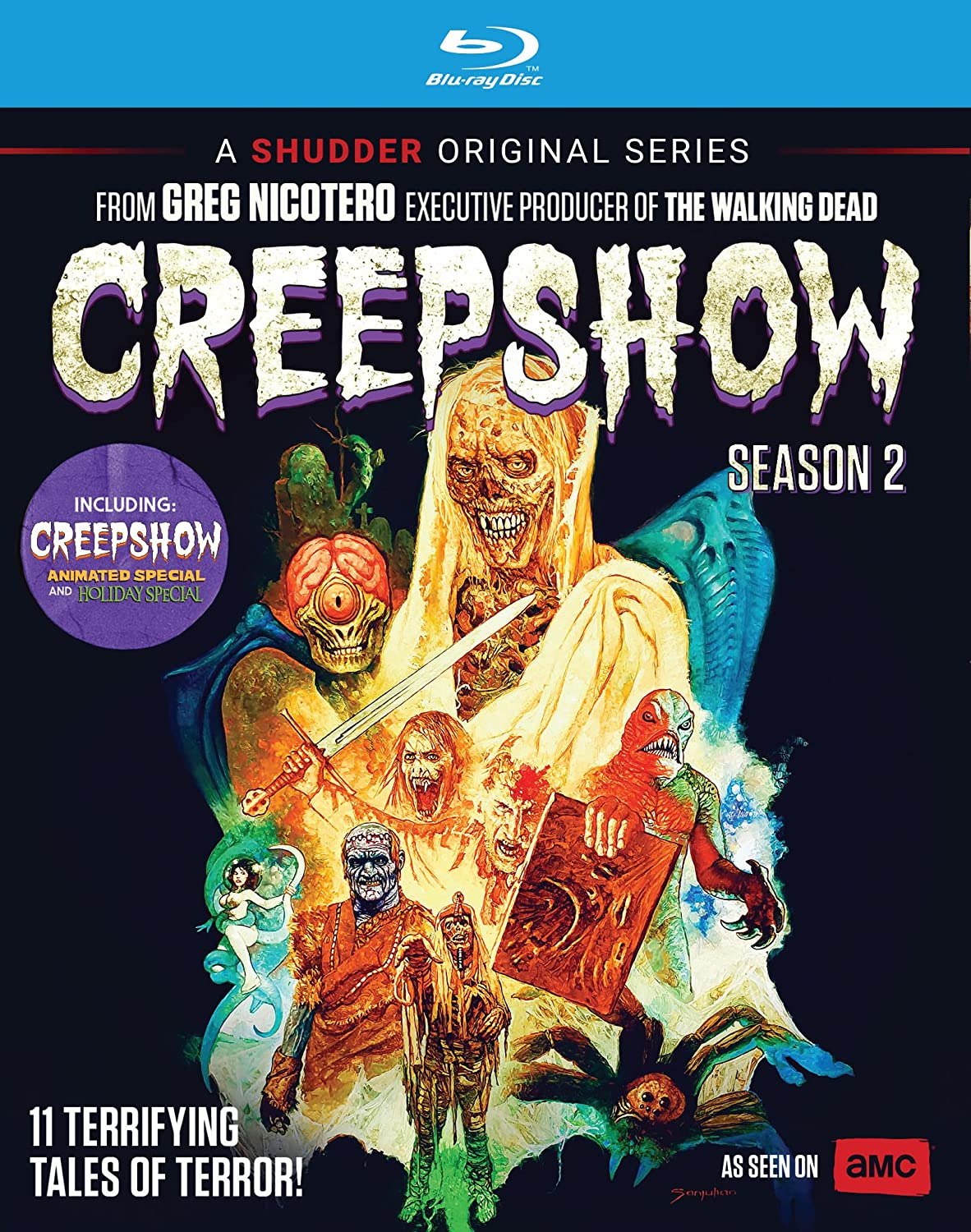 Krampus: The Naughty Cut 4K (Scream Factory, 4K Ultra HD/Blu-ray)
When his dysfunctional family clashes over the holidays, young Max is disillusioned and turns his back on Christmas. Little does he know that this lack of festive spirit has unleashed the wrath of Krampus—a demonic force of ancient evil intent on punishing non-believers. All hell breaks loose as beloved holiday icons take on a monstrous life of their own, laying siege to the fractured family's home and forcing them to fight for each other if they hope to survive.
Krampus: The Naughty Cut Bonus Features
Disc 1 (UHD):
NEW

The Naughty Cut with additional scenes and adult language

that were previously cut for the PG-13 theatrical version

NEW

Dolby Atmos track

Audio Commentary with director/co-writer Michael Dougherty and co-writers Todd Casey and Zach Shields
Disc 2 (Blu-Ray):
NEW

The Naughty Cut with additional scenes and adult language cut to get a PG-13 rating

NEW

Dolby Atmos track

NEW

A Dash of Mischief

– an interview with director/co-writer Michael Dougherty

NEW

Storm of the Centuries

– an interview with producer Todd Casey

NEW

The Great Protector

– an interview with actor David Koechner

NEW

Something Bad Happened on Christmas

– an interview with actress Allison Tolman

NEW

Max's Journey

– an interview with actor Emjay Anthony

NEW

Lord of the Things

– an interview with WETA's Richard Taylor

NEW

Mapping Mythology

– an interview with storyboard artist Simeon Wilkins

NEW

I, Krampus

– an interview with performer Luke Hawker

NEW

A Winter Chorus

– an interview with composer Douglas Pipes

Audio Commentary with director/co-writer Michael Dougherty and co-writers Todd Casey and Zach Shields

Krampus Comes Alive!

– a five-part featurette on the making of the film

Behind-the-Scenes at Weta Workshop:

Krampus

Deleted/Extended Scenes, not seen in the theatrical cut

Gag Reel

Alternate Ending

Theatrical Trailers

Photo Galleries – creature art, storyboards and more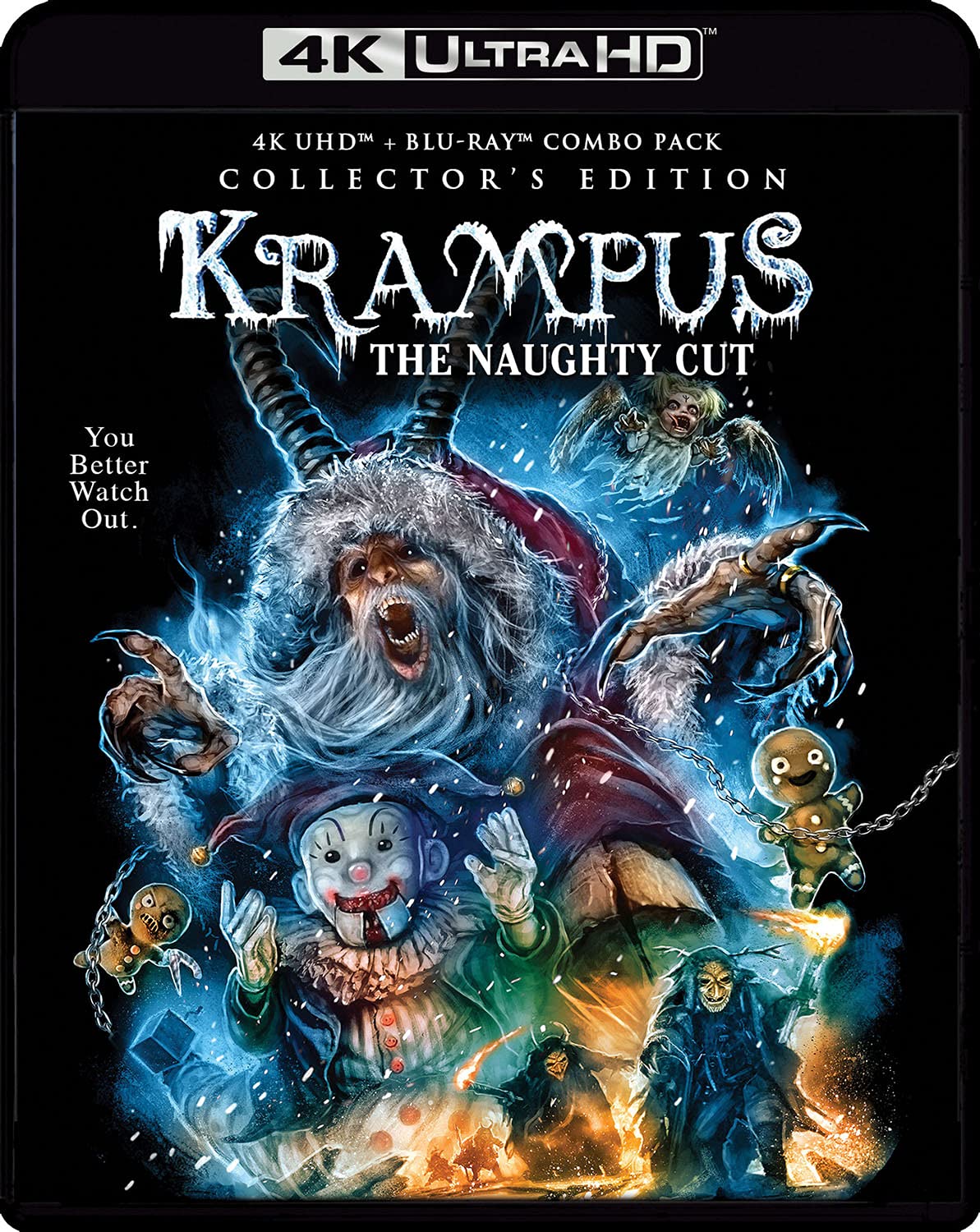 Werewolves Within (RLJE Films, Blu-ray & DVD)
After a proposed pipeline creates divisions within the small town of Beaverfield, and a snowstorm traps its residents together inside the local inn, newly arrived forest ranger FINN (Sam Richardson) and postal worker CECILY (Milana Vayntrub) must try to keep the peace and uncover the truth behind a mysterious creature that has begun terrorizing the community.