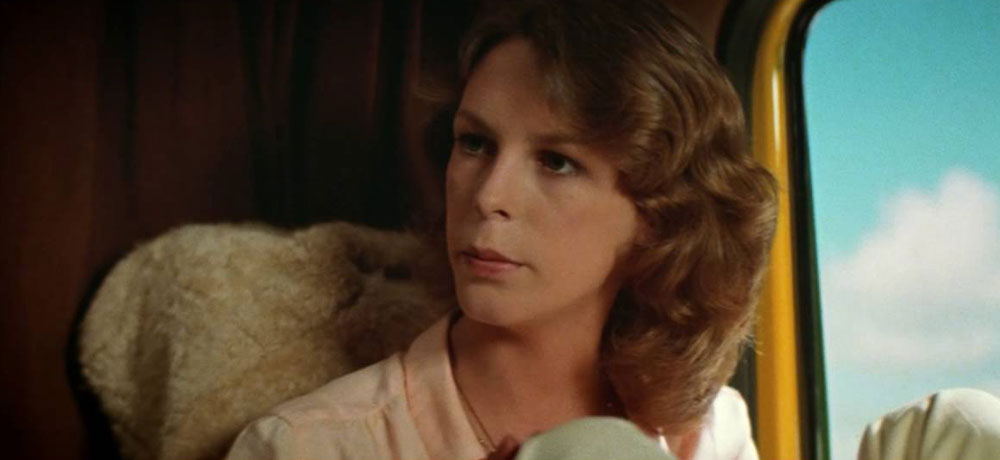 The saying goes that imitation is the sincerest form of flattery; and while that may hold true for the originator, it can often hide the imitator's intentions behind an aesthetic curtain too hard to see through. Luckily this is not the case with Richard Franklin's Road Games (1981), a taut yet  humorous highway take on Alfred Hitchcock's Rear Window. While it is a loving homage, it has a light touch even in its tensest moments that renders it beguiling. 
Released by Avco Embassy Pictures stateside in November, Road Games' production sputtered along before hitting full speed, getting veteran actor Stacy Keach on board, and then despite protests from Australians who wanted them to shop local, snagging Jamie Lee Curtis as well. The film received some positive notices (so much so it got him the job helming Psycho II), hailing Franklin's efforts to create a classy thriller amongst the Australian outback; unfortunately, reviews don't always translate to sales, and stateside at least Road Games was left to flounder on video shelves until an eventual re-evaluation decades later. Which is to say this: if you like quirky, tight thrillers, you've pulled in to the right station. 
Meet Pat Quid (Keach – The Ninth Configuration): an American expat living as a truck driver in Australia, he spends his days and nights travelling up and down the coast, hauling whatever they load into his semi. One night he notices a hitchhiker get into a green van; since he's killing time, he follows them to the nearest town where they check into a motel. Quid crashes for the night in his truck; when he wakes up the next morning, he sees the green van hanging around the garbage cans awaiting pickup. What we know that Quid doesn't is that the driver of the green van violently killed the hitcher the night before in his room. 
Armed with his suspicions, Quid heads back on the road and keeps coming across the van; at one point he sees the driver burying garbage bags on the side of the road, but can't tell what's in them. When he picks up hitcher and fellow American Pat (Curtis), the two begin to suppose as to why the killer does what he does; they won't have to think about too long, however, as the killer is looking to eliminate any witnesses to his dust covered crimes…
There can be no question of Hitchcock's imprint on Franklin's work; after all, while attending USC Franklin had Hitchcock there for a Q & A after a Rope screening. He then was invited onto the set of Topaz where he got to see his idol work, and when he had a chance to direct a thriller, he and De Roche came up with Patrick (1978), a creepy tale of a comatose man with psychic powers. It was a big hit, and gave them the confidence to move forward with this one, with De Roche's idea of a road-tripped Rear Window firmly in place. With Avco kicking $500,000 and various local film boards etc. contributing the rest, they were able to make an expansive (and expensive looking) B film with a lot of flair. 
What makes this such an interesting variant on Jimmy Stewart's wheelchair-bound classic is the shift to unfettered movement; Road Games is constantly going, and part of the appeal is Quid's interaction with people along the way and his own increasingly bedraggled mindset due to lack of sleep. Quid peering through his windshield offers the same voyeuristic vista as Stewart's character, except it is ever morphing. There are times when Quid isn't even convinced of what he has seen, positing him as the unreliable narrator – good fodder for the police too, as Quid becomes their one and only suspect. (Who better than a lonely truck driver?)
But regardless of story similarities, Road Games still gives off a quirky Aussie vibe; it's imbued in every interaction Quid has with various folks along his journey, from the middle aged lady who becomes terrified of Quid's cryptic banter to his pal at the weigh in station. Quid isn't out of his element – he's deeply engrossed in it so any peculiar behavior stands out. Hats off to his pet dingo Boswell, a constant companion who comes through in the end. 
Speaking of companions, Jamie Lee Curtis' role is not unlike her supporting turn in The Fog; she really isn't in it very much, but she's loose and having fun while she's there. (The script was written before she came aboard – Franklin claimed that if he knew how big she would become, he would have expanded the role. Fella, she was already a queen in the horror world.) 
That leaves Keach to carry most of the load, and he does a controlled, energetic job as our sleep deprived driver (think William Shatner with a governor on), a man trying to stay alive while barely clinging to consciousness. He brings that 'light rogue' Stewart touch that's quite charming; Franklin's love of Hitchcock extends beyond clever camera setups and sharp timing: he cares about his characters. 
Much like Brian De Palma, Richard Franklin wasn't an imitator slavish and hollow; sometimes what appears to be a straightforward tribute like Road Games can hit just enough side roads to kick up its own peculiar blanket of dust. 
Road Games is available on Blu-ray from Scream Factory. 
Next: Drive-In Dust Offs: VAMPIRE CIRCUS (1972)