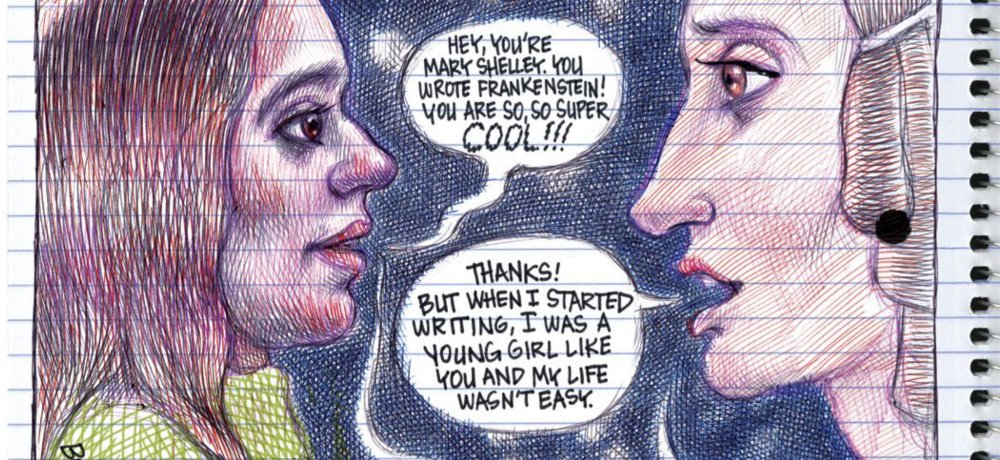 Out now from Knopf Books for Young Readers, Kazoo's Noisemakers: 25 Women Who Raised Their Voices & Changed the World highlights courageous women who changed the world as we know it. The new collection features awesome artwork and insightful writing from some of the most talented artists working today, including Emil Ferris (My Favorite Thing is Monsters), who contributed a biography on the groundbreaking author Mary Shelley to the collection. As a special treat for Daily Dead readers, we've been provided with preview pages from Ferris' contribution, offering a look into the difficult past that shaped Shelley into one of the most influential authors of all time.
Here's what Kazoo Editor-in-Chief Erin Bried had to say about Ferris' contribution to Noisemakers:
"Noisemakers is a collection of biographic comics about women who've made history by raising their voices. I wanted to include Mary Shelley in the collection, because she used her voice tell stories in a way no one else had done. She didn't just bring to life a single monster. She brought to life an entire new genre of storytelling.

For Kazoo's second issue, Emil Ferris created a "How to Draw a Monster" comic for our young readers, and as the author of My Favorite Thing is Monsters, she was the perfect person to tell Shelley's story."
You can check out the preview pages from Ferris' Mary Shelley biography below, and to learn more about Noisemakers: 25 Women Who Raised Their Voices & Changed the World, visit the book's official website.
"On Tuesday February 4, 2020, Knopf Books for Young Readers will publish Noisemakers: 25 Women Who Raised Their Voices & Changed the World, featuring top shelf comics by some of our most acclaimed, contemporary cartoonists. Noisemakers features over 200 pages of inspirational storytelling, including:

Mary Shelley by Emil Ferris (My Favorite Thing is Monsters)
Hallie Daggett by Rosemary Valero-O'Connell (Laura Dean Keeps Breaking Up With Me)
Josephine Baker by Alitha E. Martinez (Black Panther: World of Wakanda)
Julia Child by Lucy Knisley (Kid Gloves: Nine Months of Careful Chaos)
Hedy Lamarr by Sarah Winifred Searle (Sincerely, Harriet)
Jeanne Baret by Lucy Bellwood (Baggywrinkles: a Lubber's Guide to Life at Sea)
Wangari Maathai by Brittney Williams (Patsy Walker, A.K.A. Hellcat!)
Raye Montague by Yao Xiao (Everything Is Beautiful, And I'm Not Afraid)
Eleanor Roosevelt by Emily Flake (Lulu Eightball)
Bessie Coleman by Shannon Wright (Betty Before X)
Ida Lewis by Rebecca Mock (Compass South)
Rosa Parks by Ashley A. Woods (Tomb Raider: Survivor's Crusade)
Eugenie Clark by Maris Wicks (Primates)
Mary Anning, by Little Corvus (The Bridge: How the Roeblings Connected Brooklyn to New York)
Caroline Herschel by Chan Chau (Jim Henson's The Storyteller: Sirens)
Emily Warren Roebling by Kiku Hughes (Displacement)
Madam C. J. Walker by K. L. Ricks (Naima)
Annie Londonderry by Kat Leyh (Lumberjanes)
Maria Tallchief by Weshoyot Alvitre (Alice Sixkiller)
Junko Tabei by MariNaomi (Dragon's Breath and Other True Stories)
Frida Kahlo by Naomi Franquiz (The Unbeatable Squirrel Girl)
Maya Angelou by Shauna J. Grant (Princess Love Pon)
Kate Warne by Molly Brooks (Sanity & Tallulah)
Nelly Bly by Jackie Roche (Escape from Syria)
Mother Jones by Sophie Goldstein (House of Women) and Erin Bried (How to Sew a Button: And Other Nifty Things Your Grandmother Knew)

Noisemakers is the first ever book from Kazoo, the quarterly, indie print magazine for girls, ages 5 to 12, which Vogue calls "the magazine for little girls who want to grow up to be president," and Roxane Gay calls "kickass." Kazoo first made history in 2016 as the highest-funded journalism campaign Kickstarter had ever seen and again in 2019 when it became the first and only kids' magazine ever to win the prestigious National Magazine Award for General Excellence (2019). "What sets Kazoo apart is that we celebrate girls for being smart, strong, fierce and true to themselves, and everything we do supports that mission," says Editor-in-Chief and founder Erin Bried. "Plus, it's just really fun to read." Contributors have included Ruth Bader Ginsburg, Ellen DeGeneres, Misty Copeland, Elizabeth Warren, Dolores Huerta, Shonda Rhimes and many more.

Noisemakers is an ambitious and important book featuring diverse stories, stunning cartooning and a positive message that will resonate with young girls, their parents, teachers, aspiring cartoonists, librarians, and booksellers and book critics alike. For more information, follow Kazoo on Facebook, Instagram and Twitter. To get the magazine delivered to your door, subscribe at https://www.kazoomagazine.com/.

And remember: to change anything, you have to make some noise."