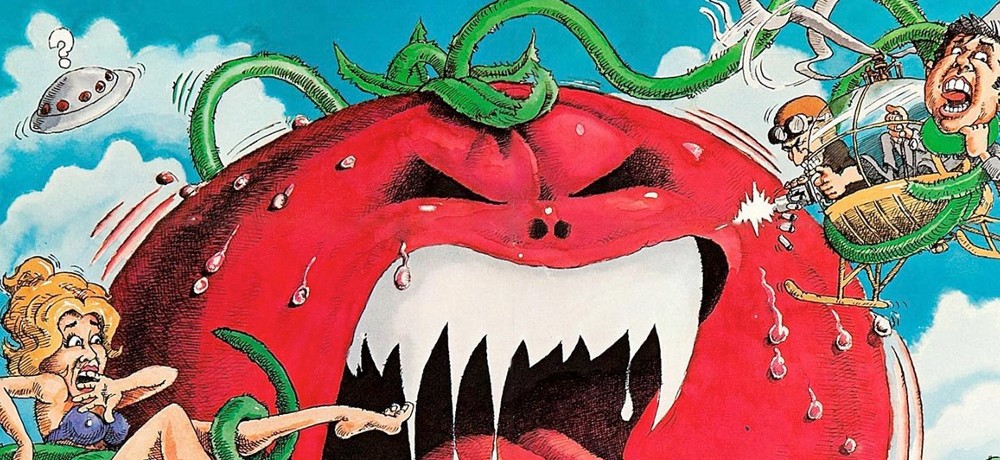 A novelization of the 1978 cult classic Attack of the Killer Tomatoes is on the way from Encyclopocalypse Publications! Written by Jeff Strand, the book will be released everywhere on April 14th and we have all the details:
"In 1978, the screenwriting trio of John DeBello, Costa Dillon, and Stephen Peace cultivated a demented seedling of an idea into the horror-comedy Attack of the Killer Tomatoes; in 2023, Encyclopocalypse Publications is uprooting the vine-ripened viscousness once again. Penned by Stoker-award-winning author Jeff Strand and releasing on April 14th, the cult smash that launched a franchise spanning more than four decades will be ready to roll into your library.
Attack of the Killer Tomatoes follows the tribulations of Mason Dixon, frontman for a motley crew of do-gooders tasked by the President to discover why the once-peaceful produce has unleashed hell upon humankind. Slathering contemporary film and hot-button issues of the period – war, commercialism, government conspiracies – underneath a saucy red coating of murder and mayhem, Tomatoes' story is as outlandish as it is original. The film has ingrained itself into the lexicon of B-movie buffs and has endured across generations of fandom through sequels, video games, and even a Saturday morning cartoon series.
Novelizing one of cult cinema's most influential properties isn't for the meek or timid – and Jeff Strand is neither. Strand's ability to masterfully weave prose through both horror and comedy has earned him the nickname "The Clown Prince of Horror." His catalog is extensive and eclectic, with over fifty novels to his name. He's a multi-time Bram Stoker Award nominee, with his recent novella Twentieth Anniversary Screening taking home the award in 2022. Says Mark Miller, president of Encyclopocalypse, "Attack of the Killer Tomatoes is one of the craziest cult movies out there, and Jeff Strand was the perfect choice to bring that madness to the page!"
"This book was an absolute blast to write," says Strand. "The movie is shamelessly silly, which gave me license to go completely bonkers with the novelization. No previous tomato experience is required, but readers will have the most fun if they watch the movie before they dive in, whether for the first time or the forty-seventh time."
Attack of the Killer Tomatoes: The Novelization will be available everywhere books are sold on April 14th, 2023. You can pre-order now. You can buy direct physical copies from Encyclopocalypse right now at BuyHorrorBooks.com and receive early shipping.
An audiobook version is in production right now, narrated by Horror Audiobook legend Joe Hempel.
Since its inception, Encyclopocalypse Publications has become a coveted publishing destination for independent authors and genre notables alike. Alongside producing audiobook renditions of literary classics, the imprint continually expands its catalog with new, original works and movie novelizations by the best dark fiction writers in the business today."
To purchase, visit: https://books2read.com/KillerTomatoes