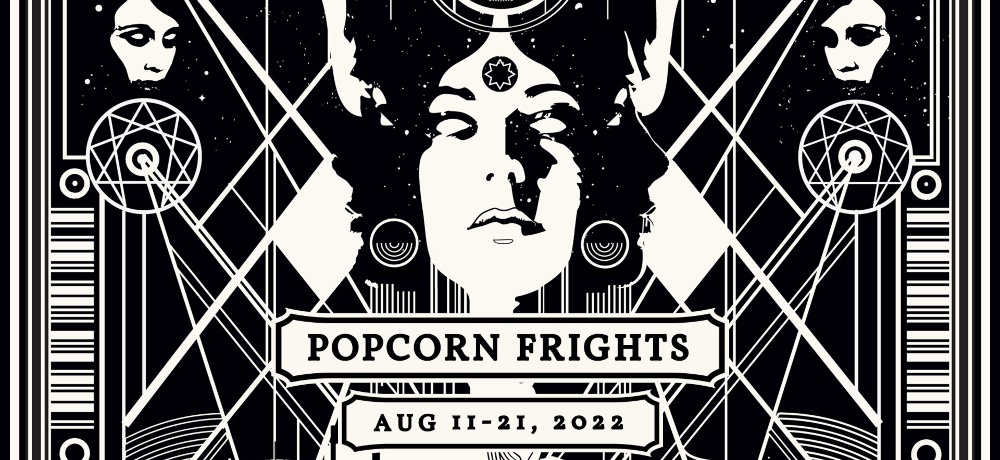 It may be best known for its pristine beaches, delectable dishes, and mesmerizing music, but for one weekend in August, Miami Beach was a thriving home to horror cinema thanks to the eighth edition of the Popcorn Frights Film Festival. Following its opening weekend of exciting premieres at the Savor Cinema in Fort Lauderdale and a week of vital virtual programming as part of its hybrid festival option for attendees at home, Popcorn Frights set its sights on the O Cinema South Beach from August 19th–21st, teaming up with the amazing team at the short film platform ALTER to provide free screenings of spooky short films and frightening features all weekend long, making Miami Beach a paradise for horror fans looking to enjoy new cinematic experiences from around the world.
I was honored to once again be invited to be on the jury (alongside FlickDirect CEO Nathan Rose and filmmaker Erynn Dalton, whose new movie The Gravedigger is now on VOD) for this year's Popcorn Frights Film Festival (I had previously had the pleasure of serving on the jury back in 2019), so even before heading down to Miami Beach, I had the chance to check out a lot of great horror films that played during Popcorn Frights' first weekend and throughout their virtual programming slate. After being thoroughly impressed by feature films such as Follow Her, The Loneliest Boy in the World, Living with Chucky, Mike Mignola: Drawing Monsters, and Swallowed (as well as many excellent animated and international short films), I was looking forward to diving into another round of horror on the big screen at the O Cinema South Beach.
After reuniting with the amazing Popcorn Frights team in the lobby, I found a seat in the cozy confines of the O Cinema (with a much-needed espresso in hand) and settled in for the first film of the weekend: John Ainslie's Do Not Disturb. Partially filmed in Miami, Do Not Disturb was the perfect film to kick off the weekend and experience with a crowd, as it unflinchingly follows a struggling couple whose honeymoon in Miami takes a murderous turn when they take peyote with a psychedelic strain that gives them a carnal appetite for human flesh. Taking place largely in a hotel room, Do Not Disturb is a mind-bending, claustrophobic, and at times unexpectedly funny descent into madness and self-discovery that at several points left my jaw hanging in "did I just see that?" levels of disbelief. It's a movie that never holds back and more times than not nails that tricky balance between horror and comedy, and I'm so glad I got to see its world premiere in the city it takes place in.
While I was still digesting Do Not Disturb, it was time to dive into horror trivia presented by Fangoria and ALTER. For trivia, I was thrilled to join forces with Erynn Dalton, Willy Le Sante, and Jason Hignite under the team name Wolfman's Nards (which was especially fitting because The Monster Squad actor and Wolfman's Got Nards director André Gower was one of the trivia hosts), and we tied for first place with Popcorn Frights attendee Steve, who ended up beating us in the fourth round of overtime (after I missed the tagline for Motel Hell by one word—I'll never again forget that Vincent is a farmer) when he was the first to answer which Friday the 13th movie featured the first appearance of Freddy Krueger's claw hand. Still, a close second-place finish was worth celebrating with some festive beverages at the Swizzle Rum Bar & Drinkery—a relaxing way to cap off the first night at Popcorn Frights.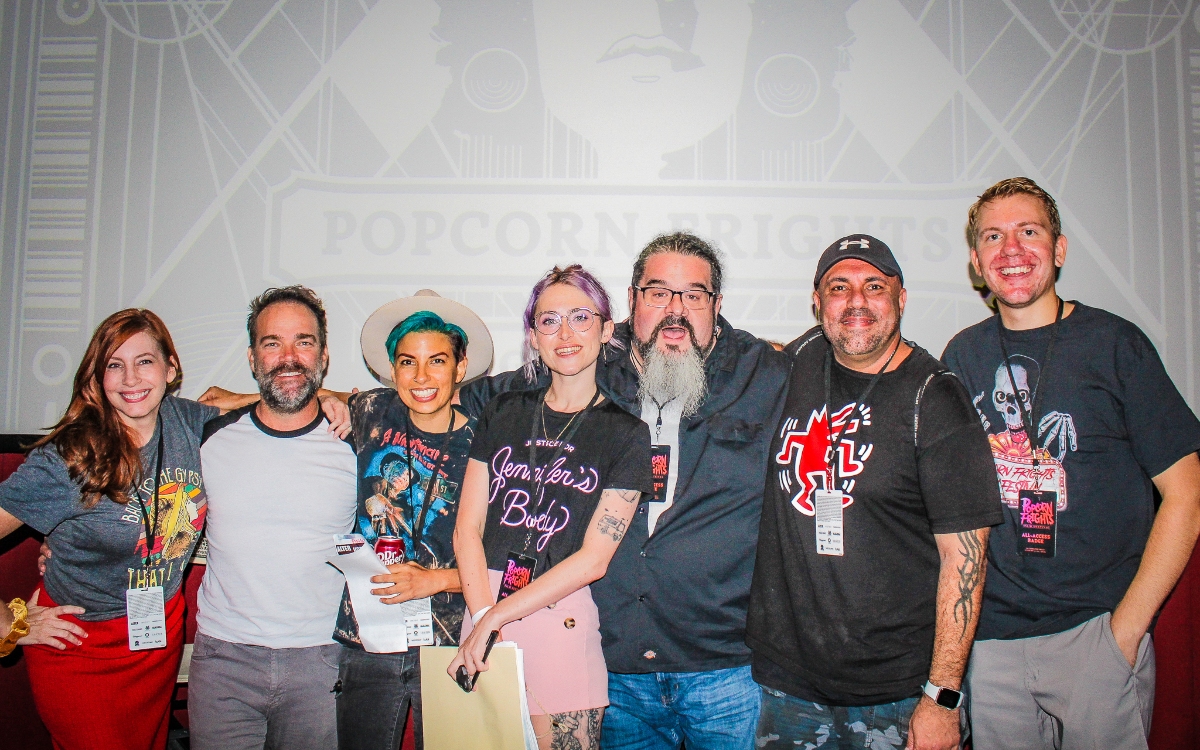 Saturday was all about celebrating short films at Popcorn Frights, so it's fitting that it began with a special breakfast and industry session panel presented by ALTER and hosted at The Betsy hotel on Ocean Drive. Titled "Finding Success with Your Short Film," the industry session featured experts from ALTER and some of their most promising filmmakers discussing key strategies on how to make and market your short film, including the process of developing your short film into a feature.
Following the inspiring and informative panel about making short films, it was time to head over to the O Cinema to watch short films throughout the day and evening, including two sets of Midnighters and the Homegrown: 100% Pure Fresh Squeezed Florida Horror block that highlighted short films made by Florida directors. It was amazing to see such a wide variety of horror short films get properly showcased at one festival, with many of the directors in attendance for Q&As to discuss the DIY spirit and creative collaborations that helped bring their short films to life on screen. By the end of the day, I had a new set of favorite short films to recommend to fellow horror fans, including Kelsey Bollig's Kickstart My Heart, Shane Spiegel's 7 Minutes in Hell, Scott Vasey's Cookies By the Fire, Ryan Valdez's We Got a Dog, Sean Menendez's Midnight Screams, Chris McInroy's Guts, Eric Swiz's Book!, Sam Rudykoff's Cruise, Matthew and Nathaniel Barber's Get Out of There, Ramone Menon's The Pey, and so many more. I can't wait to see what all of these directors do next, whether it be another short film or a feature-length expansion of their short film. That's the great thing about Popcorn Frights—it not only showcases finished films, but it also celebrates independent filmmakers and makes you excited for their contributions to the future of cinema.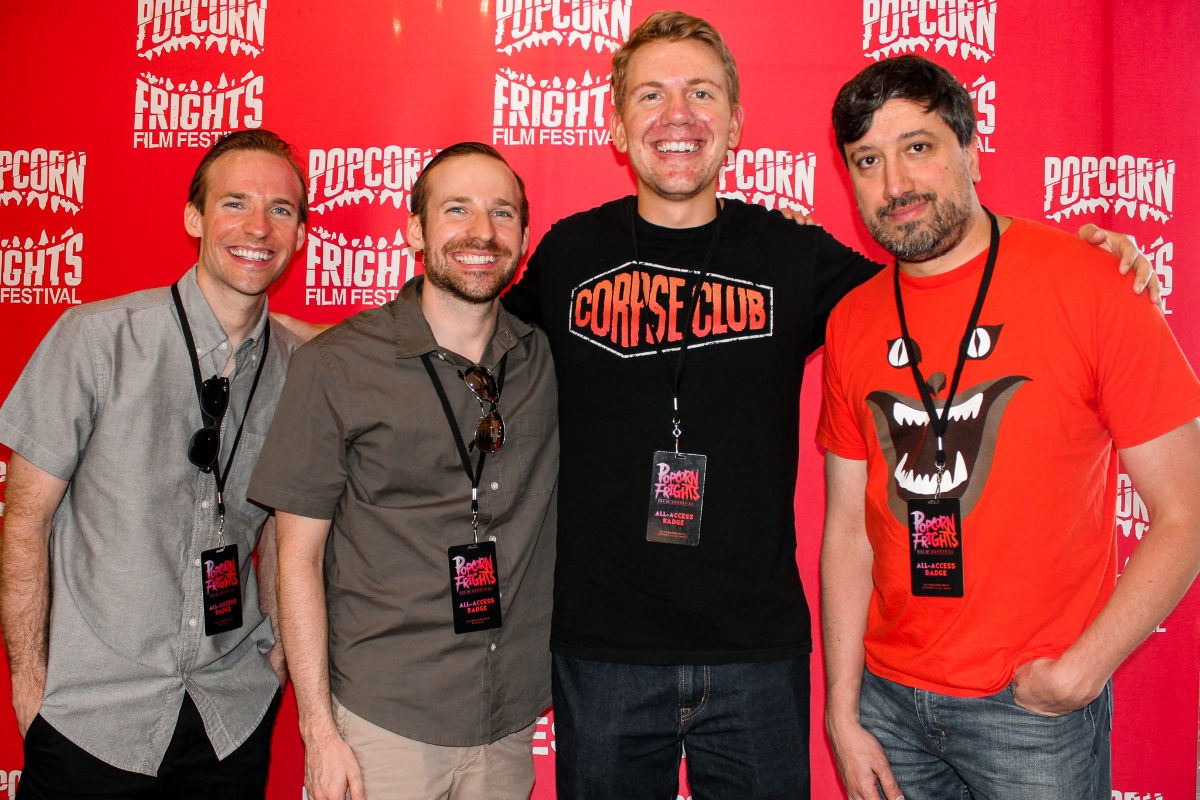 After watching three blocks of fantastic short films (and the atmospheric Icelandic feature Fanga), I joined a group of filmmakers and journalists for a rooftop gathering at The Betsy, where I got the opportunity to meet with several of the directors and producers who had just had their films showcased on the big screen. Talking with Matthew and Nathaniel Barber, Scott Vasey, Gabriel de Varona, Sean Menendez, and others about how they made their films was one of the highlights of the weekend for me (especially when you have the spectacular Miami skyline in the background), and it was great to meet and talk with Dread Central Editor-in-Chief Mary Beth McAndrews, Angel Melanson from Fangoria, Sophie and Shannon from ALTER, and other amazing members of the horror community throughout the weekend as well.
Reinvigorated from the rooftop party, it was time to head back to the O Cinema South Beach (a route I was becoming familiar with) for the world premiere of The Barn: Part II. If you read my favorites list all the way back in 2016, then you know how much of a fan I am of Justin M. Seaman's The Barn, so I was downright giddy when I saw that a sequel would be world premiering at Popcorn Frights. Suffice to say that it did not disappoint, as The Barn: Part II delivers the gory goods and seasonal scares in spades, featuring enough practical effects to satisfy even the most hardcore '80s horror fan, with a genre legend dream cast that includes Linnea Quigley, Ari Lehman, Joe Bob Briggs, Lloyd Kaufman, and Doug Bradley. The amount of mind-melting practical effects and creative kills in The Barn: Part II is absolutely astounding, and I can't wait to see what Seaman and company cook up next at Nevermore Studios.
When Sunday arrived, it was hard to believe that it was already the last day of Popcorn Frights, but that doesn't mean there wasn't a lot left to enjoy. For me, the day started at a place I hadn't been yet that weekend: the beach! Walking just a few streets over from O Cinema, I joined a group of filmmakers, journalists, and members of the Popcorn Frights team for a couple hours of sunny, sandy relaxation and swimming in the ocean (aka "The Return of the Beach Party Massacre Part IV, The Epilogue")—the perfect way to recharge before another round of cinematic mayhem at the O Cinema.
Walking in from the hot sun to the cool air conditioning of O Cinema, I found a seat for the 3:00pm showing of Bad Girl Boogey, a subversive and poignant slasher from Alice Maio Mackay (So Vam), and then watched a screening of Lucky McKee's excellent film Old Man, which feels like a lost Twilight Zone episode and was followed by a Zoom Q&A with McKee and co-star/producer Marc Senter (who is great in the movie opposite a tremendous performance by Stephen Lang). Producer Cameron Burns was also on hand to introduce the film and give insights into the making of their movie.
After Old Man, it was time for the third film in my Popcorn Frights triple feature: the theatrical world premiere of Breathing Happy, an incredibly enthralling feature film debut from Shane Brady, who also wrote and stars in the movie about an addict fighting personal demons on Christmas Eve (in case you missed it, read Michelle Swope's review). A professional magician, Brady kicked off the Breathing Happy screening with an impressive magic trick that set the stage for the movie magic and palpable emotions that we were about to witness on screen (there were more than a few tears being shed after the end credits rolled). Brady's Breathing Happy won the jury award for Best New Nightmare from a first-time feature filmmaker, and after seeing his transcendent feature debut, I can't wait to see what he does next. Getting a chance to discuss movies and magic with Brady and Breathing Happy executive producer Emily Zercher was one of my favorite experiences of the fest as well, and it made me appreciate their mind-bending film even more.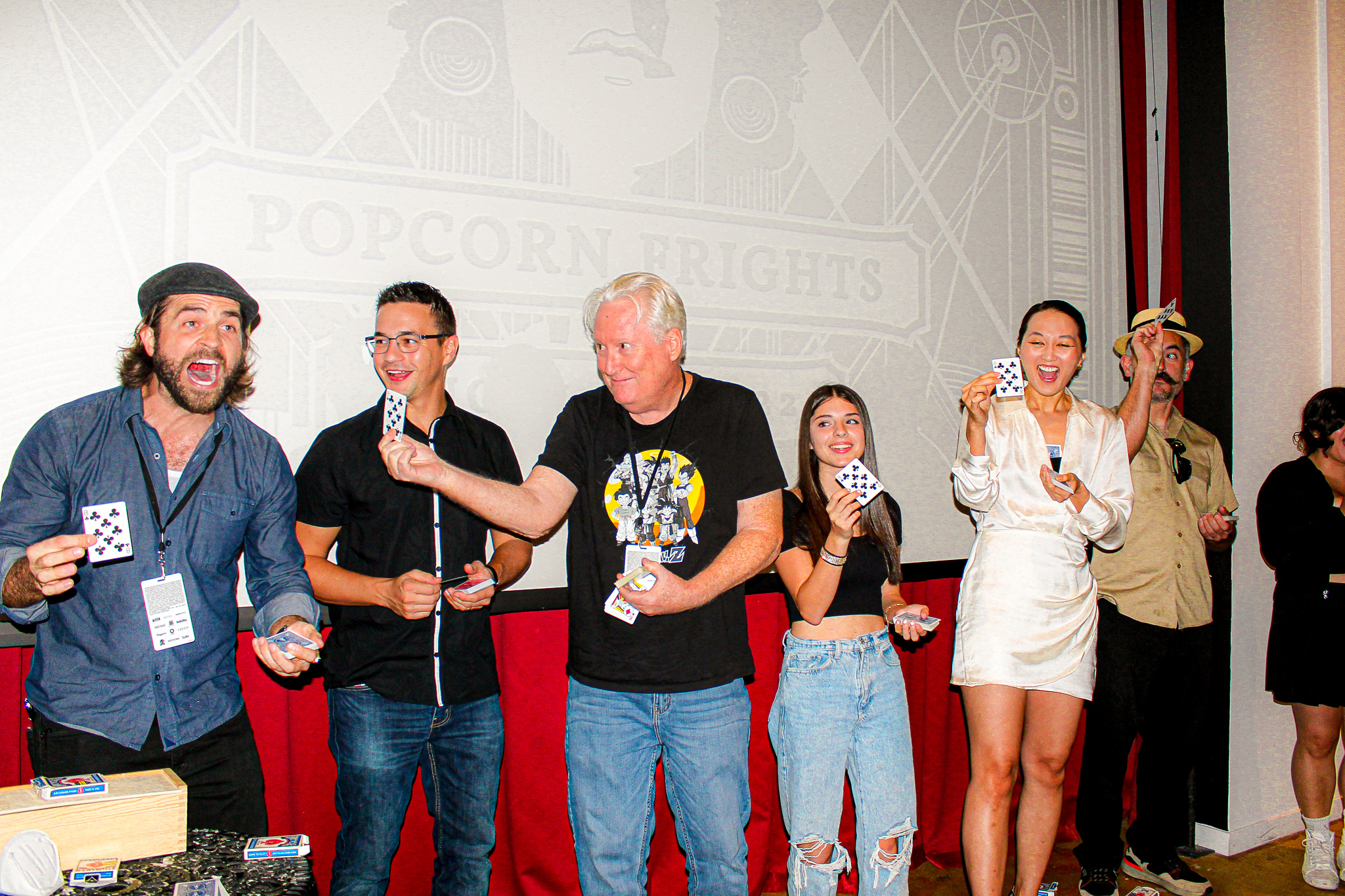 After watching three intense films on the O Cinema screen throughout Sunday, it was time to let our hair down for the final feature of Popcorn Frights: a 35th anniversary screening of Miami Connection with a live commentary by comedians Lisa Corrao, Elli Scharlin, and Orlando Gonzalez. Not having any prior knowledge of Miami Connection's existence prior to watching it at Popcorn Frights, I was absolutely floored by the film's fight sequences, awesome '80s music, and delightful randomness. It truly is something that has to be seen to be believed, and I feel like one of my new missions in life is to introduce it to as many people as I can so that they, too, can know the power of Dragon Sound.
And just like that, as the end credits rolled on Miami Connection, another Popcorn Frights Film Festival had come to a close. It was difficult to say goodbye to so many friends both familiar and new, but I was already smiling from the memories that were made. Showcasing 36 feature films and 77 short films over an 11-day period, along with industry sessions and Q&As with help from their friends at ALTER, Popcorn Frights championed so many up-and-coming filmmakers, providing a platform where they got to display and discuss their work and hopefully find those connections and inspirations to continue taking their careers to the next level.
To be on the jury again for Popcorn Frights was an absolute honor. There are so many moments from this year's Popcorn Frights l that I'll treasure forever, and once again I find myself amazed at all of the hard work and dedicated care put into this festival by Popcorn Frights co-founders and co-directors Igor Shteyrenberg and Marc Ferman, as well as associate director Judith Vigil, operations manager Douglass Gavilan, and festival manager Daniel Vasquez.
Even as Popcorn Frights grows each year, the festival's commitment to showing and celebrating independent cinema never wavers. If your film is accepted into Popcorn Frights, you can rest assured that you will have a platform to not only share your work but also discuss it with your audience and peers. At Popcorn Frights, your story will be told, because the festival celebrates the filmmakers as much as they celebrate the actual films. That makes Popcorn Frights a vital contributor to horror cinema, a festival that is inspiring the next generation of horror filmmakers while also giving fans plenty to enjoy along the way. Popcorn Frights is keeping horror cinema alive and well in South Florida, but the festival's attention to detail has a global imprint and big impact on horror in only its eighth year, so I can only imagine the essential scares and spooky celebrations yet to come in the horror haven of the Sunshine State.
---------
All photos are by Judith Vigil, courtesy of Popcorn Frights. To see more photos, visit Popcorn Frights' Facebook page, and be sure to visit their website for more information (submissions are now open for the 2023 Popcorn Frights Film Festival)!