As the sun bled out its final rays of warmth on New Orleans on March 30th, we gathered in bloodthirsty droves around the Prytania Uptown Theatre, eager to sink our teeth into the latest cinematic incarnation of Count Dracula with the world premiere of Renfield, featuring the Count himself, Nicolas Cage, in attendance. Standing in line wearing my The Lost Boys T-shirt and carrying a pair of vampire teeth in my pocket (I planned on inserting them over my incisors later that night at the Vampire Ball), I couldn't believe that another Overlook Film Festival was upon us. I was still reeling from my first experiences with Overlook back in 2022, and about 10 months later, it was already time to return for another round of what I've come to know as "summer camp for horror fans."
This year, the lineup was bigger than ever, and looking up and down the line outside of the Prytania Uptown Theatre, I could see that so too was the anticipation. The turnout for Renfield was so massive, in fact, that I ended up not being able to see the film, but that's totally okay. The beauty of New Orleans is that it's easy to call an audible and go on a new adventure, so instead of seeing Renfield, I enjoyed a bloody good dinner at the Vampire Café with fellow waiting-in-line friend and filmmaker Casimir Nozkowski (who wrote the short film Go To Bed, Raymond, which was screening at Overlook). From the Vampire Café, we headed to the Vampire Ball at the Toulouse Theatre, which was brimming with sanguine surprises and killer vampire cosplay.
After many great conversations, it was time to meet up with fellow Daily Dead team members Jonathan James and Christy Smith at the horror headquarters of Overlook, the Prytania Theatres on the third floor of the Canal Place mall, for the official in-person start of the festival's immersive game, Lingering Echoes, presented by The Ministry of Peculiarities. Seemingly plucked out of time from the early 1900s, the Ministry's staff members Higgins and Stevens had brought a device known as the Vitaphone to screen a secret film from the Ministry's archives… but not all went according to plan, as the film was interrupted by frightful footage of a man named Rutherford who was using the Vitaphone to communicate with the Other Side, leading to his imprisonment in this realm of film, from which he was now trying to cross over into our world with promises of immortality… though it would come with a nefarious price.
Leaving Canal Place with plenty of macabre events to mull over, I enjoyed a quick night of sleep before returning to the Ministry's field office the next morning. A base camp of typewriters, desks, and ancient artifacts had been set up by the Ministry on the far end of the mall's third floor—a place that would become a frequent stop for many of us playing the immersive game throughout the entire weekend. Higgins and Stevens introduced us to new agent Mallory and parapsychologist Gertrude, who were both troubled by the prior evening's supernatural screening and needed our help to get to the bottom of Rutherford's obsession with the Vitaphone. We were also introduced to Rosemary, who had a familial connection to the Vitaphone, and while I was not there for it, I heard through the ghoulish grapevine that some electroshock therapy was conducted on Rosemary during one of Gertrude's controversial sessions (with Jonathan himself administering the faux electric charges!), making me wary of trusting Gertrude (and perhaps even Jonathan) as the game went on. My uneasy feelings were only amplified by a mysterious voicemail I received in the night that was just static—something that I'm still not sure was part of the game or not (which makes it even more unsettling).
My feelings about who to trust in the Ministry would have to wait, however, as a quick glance at the clock confirmed that it was time for my first film of the festival: Ted Geoghegan's Brooklyn 45. Set in the immediate aftermath of World War II, Brooklyn 45 is captivating from its first frame to its final fadeout, featuring a powerhouse performance by Larry Fessenden and a contemplative examination of how the ghosts (and prejudices) of the past can haunt the present and forever shape the future. The film was followed by a fantastic Q&A with Ted, who discussed how he collaborated with his dad while writing the screenplay to bring further authenticity to the military veterans at the bleeding heart of his harrowing story.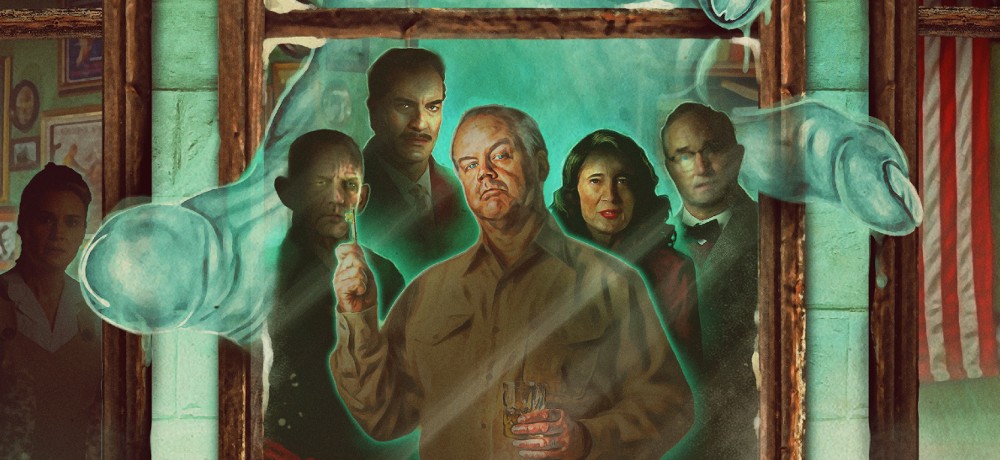 Following Brooklyn 45, it was time to head to the Courtyard Brewery for an event sponsored by Daily Dead, Final Exam Horror Trivia: Overlook Edition, hosted by Ted Geoghegan! Drinking delicious beer and enjoying some of the best ice cream of my life (fittingly named the Lament Configuration), I was thrilled and chilled to hang out in the back of the courtyard with Christy and watch so many passionate horror fans take part in trivia while Jonathan handed out Blu-rays to the winners. The amazing team at Final Exam Horror Trivia have done so much to keep horror fans entertained throughout the pandemic, so it was an absolute honor to sponsor their Overlook Edition in New Orleans. We even had a chance to take part in the immersive game at trivia, as former Ministry agent Celeste had set up a booth at the Dark Market, where she warned us about the dangers of negative wavelengths… a strategy that Rutherford may have been using to try and contact us from the other realm to do his malevolent bidding.
After trivia, the Daily Dead team enjoyed a round of refreshing old-fashioneds and snacks at the ONE11 Hotel bar, and then it was already time for the Friday night secret screening at Canal Place, which turned out to be A24's Talk to Me. I went into Talk to Me not really knowing anything about the movie, and while I don't want to give away too much about its story, I will say that it has one of the most exciting original concepts since It Follows, and it has massive potential for future installments. Talk to Me makes you wonder what you would do if you were in the characters' shoes, and I can't wait for everyone to see it (and discuss it endlessly) when it hits theaters in the US on July 28th.
There was little time to digest the onscreen scares of Talk to Me, though, as we were due back at the Ministry's field office at midnight to continue our investigation into Rutherford and the Vitaphone. Upon arrival, Higgins, Stevens, and their acquaintance Huxley selected about eight of us to join them on a journey to a mansion in downtown New Orleans, where we were taken into a room and took part in a séance with the marvelous magician Robert Zabrecky. Forming a circle in the darkness, we experienced eerie noises and scary sensations (including something cold and wet against my ear), and when the lights came back on, we were left with two key clues about who might be working with Rutherford to unleash the ultimate evil of the Vitaphone.
With another night in the books, it was time to catch a few hours of sleep before diving into even more immersive events on Saturday, beginning with In Another Room from E3W Productions. Accompanied by Jonathan and Christy, I ventured to the eighth floor of a nearby hotel, where we were greeted and instructed to knock on the last door on the left—the door of a haunted room where the ghosts of the past were very much still alive. Upon knocking, a girl named Paige answered the door and ushered us into the bedroom of her late brother Joey, who she claimed was haunted by a monster that still lives in his closet… the one located directly behind us. What followed was an intense and emotional journey to help Paige fight back against a monster both literal and figurative, and it's an experience I will never forget, especially thanks to the interactive performances and impeccable production design that took me right back to my childhood in the '90s (Space Jam poster and all). We were also given friendship bracelets by Paige, which would come into play later in the Lingering Echoes immersive game…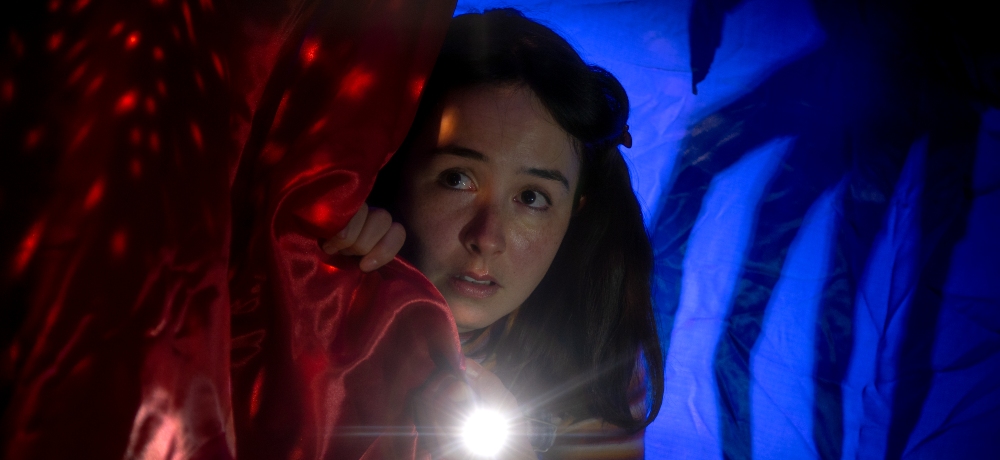 Following In Another Room, it was time to return to the Ministry field office, where the paths of the Daily Dead team in the game were about to deviate. Despite discussing how we wanted to prevent evil from taking over the world this time around (unlike our decision during the end of last year's immersive game), Jonathan ended up aligning with Rutherford after a conversation he had with him over the radio at Celeste's artifacts booth in Canal Place. Christy and I, meanwhile, still firmly stood with Higgins and company after our own unsettling discussion with Rutherford's ghostly voice, which also further cemented our suspicions of Gertrude being Rutherford's accomplice.
After more sleuthing throughout Canal Place, we all met back at the Ministry's field office to take a look at the Vitaphone, but when the trunk containing it was opened, we instead found Rosemary's dead body! The Vitaphone was gone from the trunk, and Gertrude had also suspiciously vanished from the field office! Rutherford's accomplice had now been confirmed, and we were all instructed to meet later that night at The Howlin' Wolf during the Halloween party to put a stop to Gertrude and Rutherford once and for all. But first, Jonathan helped move Rosemary's dead body, and then it was time to see Evil Dead Rise!
While waiting in line for the anticipated Evil Dead film, Christy and I were horrified to discover that most of the immersive game participants had joined Jonathan on Team Gertrude, despite her being the one who was helping Rutherford. This gave us plenty to talk about while waiting to see Evil Dead Rise, which ended up being well worth the wait, as the latest installment in the blood-soaked franchise succeeds in taking its Deadite-fueled mayhem out of the woods and into the city with a potent blend of morbid humor and visceral violence. I'll never look at a cheese grater the same way.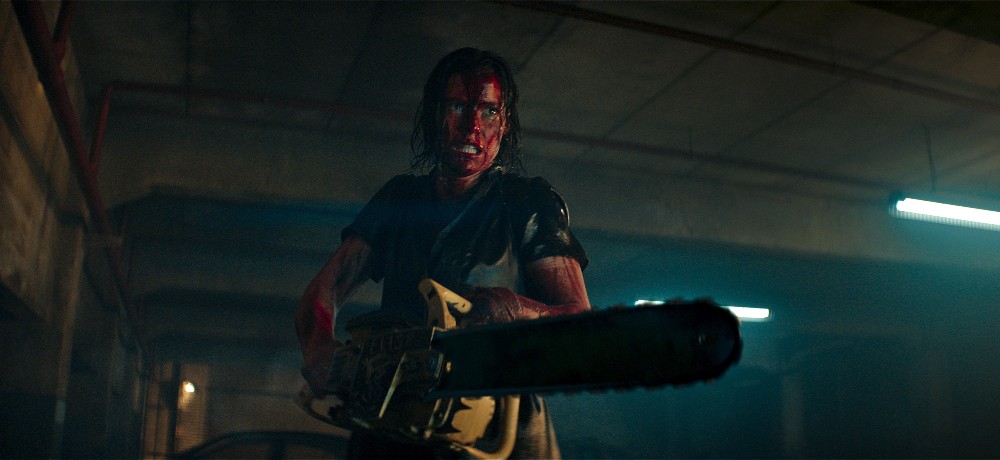 Although it was hard to believe, after Evil Dead Rise it was already Saturday night, and that meant it was time to celebrate Halloween on April Fool's Day at The Howlin' Wolf! Dressing as Eddie Munson from Stranger Things (complete with a long-haired wig, Hellfire Club shirt, and jean vest with a Corpse Club pin—special shout-out to my sister, brother-in-law, and mom for helping me put it all together), I strolled down to The Howlin' Wolf and joined the other immersive gamers (including Jonathan and Christy, who had killer costumes as Charles Lee Ray and Tiffany Valentine, respectively) gathered around the rediscovered Vitaphone, our eyes peeled for Gertrude's return. We didn't have to wait long, as the parapsychologist returned to bring Rutherford back from the dead with the Vitaphone, only to have Rutherford betray her and banish her to the film prison that he had just escaped! That wouldn't stop Gertrude, though, as she literally slashed her way out of the film realm and into the real world, stabbing Rutherford and getting her revenge! The atmosphere was electric during this final showdown, as many of the participants chanted Gertrude's name (minus Christy and I, who still didn't trust her) while she fought Rutherford. We even used our friendship bracelets from In Another Room to power up the Vitaphone, and the entire experience wrapped up with Gertrude being banished back to the film realm that had confined Rutherford. It was an all-around amazing evening that brought the immersive game to a whole new level of interactivity.
And things weren't quite done yet. The next day, the Daily Dead team (still talking to each other despite having separate allegiances during the immersive game) returned to the Ministry's field office one last time for a post-mortem report where we got to ask follow-up questions and get an idea of where things might head in the future with the Ministry. Afterwards, Christy and I each participated separately in The Oracle, a spellbinding immersive experience created by Jared Kopf, while Jonathan took part in the secretive Undersigned.
We then all headed to the Prytania Uptown Theatre for a special screening of William Castle's The Tingler presented in "Percepto!" (including shocking seats for lucky audience members) with a special introduction by Joe Dante and David Dastmalchian as the vampiric Dr. Fearless (following the screening, I even got signed copies of Dastmalchian's comic book series Count Crowley). From the Uptown Theatre, we then headed back to Canal Place for a screening of the Dastmalchian-starring Late Night with the Devil, which cleverly blends demonic possessions with the cheerful aesthetic of an '80s late-night talk show, culminating in some jaw-dropping moments of hellish rage that truly have to be seen to be believed.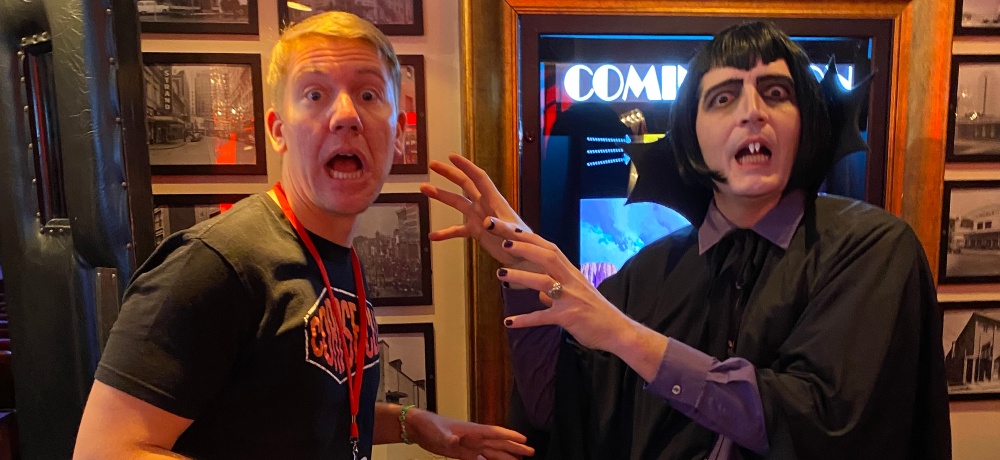 Then, all of a sudden it was Sunday night. Jonathan, Christy, and I had survived the immersive experiences and seen amazing screenings, all while meeting new friends and getting reacquainted with familiar faces along the way. It's not hyperbole to say that it was one of the most fun weekends of my life. I was exhausted in the best way possible, and before we all went our separate ways the next day, we had the rest of the night to drink gin fizzes and reflect on an epic weekend in one of the greatest cities in the world.
Thank you to every volunteer, worker, and filmmaker who made this year's Overlook Film Festival a magical reality both on and off the screen, especially the entire team at The Ministry of Peculiarities, who stayed in character throughout the weekend and worked tirelessly to make sure that Lingering Echoes was always lingering in our minds at every turn. I already can't wait for next year's festival, but that's okay, because once you go to Overlook, a part of you can never really leave, especially when you've been tinkering with the Vitaphone…
Photo Courtesy of Overlook Film Festival: