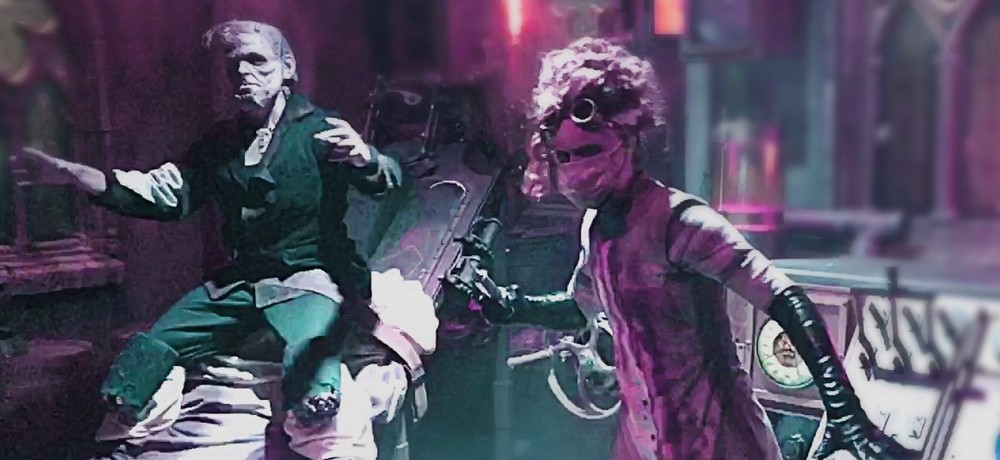 After missing out on the 2020 haunt season due to the pandemic, Universal Studios Hollywood Halloween Horror Nights came roaring back last week as it successfully launched its 2021 season with a handful of fantastic mazes and Scare Zones that are primed to scare the pants off SoCal residents in the coming weeks. Daily Dead was there for the opening night of USH's Halloween Horror Nights, and we have a ton of photos to share with you and this writer will dive into all the highlights from the event.
For HHN 2021, John Murdy and his team changed things up a bit so this year, most of the mazes are located on the Upper Lot, which made things a lot easier while getting around to all the different haunts. We started off the night at the Curse of Pandora's Box maze, which was pretty fun, especially since it wasn't based on a specific property, so it really kept me on my toes. Afterward, we hit up The Haunting of Hill House maze, which this writer had been lucky enough to preview a few weeks back. Unfortunately, when we went through Hill House, most of the scare actors weren't really in their spots, and the whole time was spent just mostly wandering through waiting for something—anything—to happen. It was opening night, so I'm willing to overlook it, since live performances can be hard to control, but considering Hill House was the one maze that had the longest wait time at HHN, I'd recommend future attendees just temper their expectations with that maze.
The biggest surprise of HHN 2021 was the Bride of Frankenstein Lives maze, as the energy of the performers in that haunt made it so incredibly fun and frenetic, and I truly felt like I had been dropped right inside of a lost Universal Monsters movie. Another highlight of the evening was the Texas Chain Saw Massacre house, as it did a great job of throwing you right into the chaos you feel while watching Tobe Hooper's maniacal masterpiece, and they even had a Hitchhiker outside of the house to greet you in proper fashion. The Halloween 4 attraction was also a lot of fun, but much of the maze felt like a carryover from the 2018 season, and the same could be said for The Exorcist maze which previously appeared at HHN in 2016.
The Ultimate Purge Terror Tram experience definitely delivered some frights, though, and I also must tip my hat to Murdy for making one of the Scare Zones this year dedicated specifically to the female characters from the Universal Monsters universe. All the performers in that Scare Zone were absolutely phenomenal and really did a great job of interacting with attendees. It was great to see some Ladies of Fright being represented here.
Also, considering everything going on in the world today, I did have my reservations about attending HHN 2021, just because it was my first "big" out-in-the-world event after everything that has happened (and is still happening), but the crowds were much smaller this year (most of the wait times for the mazes hovered around the 15–25 minute range, Hill House notwithstanding), the lines moved really well, and we were often spaced out extremely well inside of the mazes themselves, so I felt pretty safe about everything. It's also worth noting that masks are required inside all of the mazes, but I'd say about 60 percent of those who attended the opening night of Halloween Horror Nights this year were still wearing them while out and about in the park, too, which was a welcome sight. I wasn't sure how things were going to go, but once I got a sense of how things were going to go, I was able to relax and enjoy my time at the park.
For more information about Universal Studios Hollywood Halloween Horror Nights 2021, you can check out their site at: https://hollywood.halloweenhorrornights.com/. And be sure to check out our photo gallery from the opening night event as well.
Happy Haunt Season, everyone!
The Exorcist and Halloween 4 photos:
The Haunting of Hill House and Curse of Pandora's Box photos:
The Texas Chain Saw Massacre and Park photos:
The Bride of Frankenstein Lives photos: