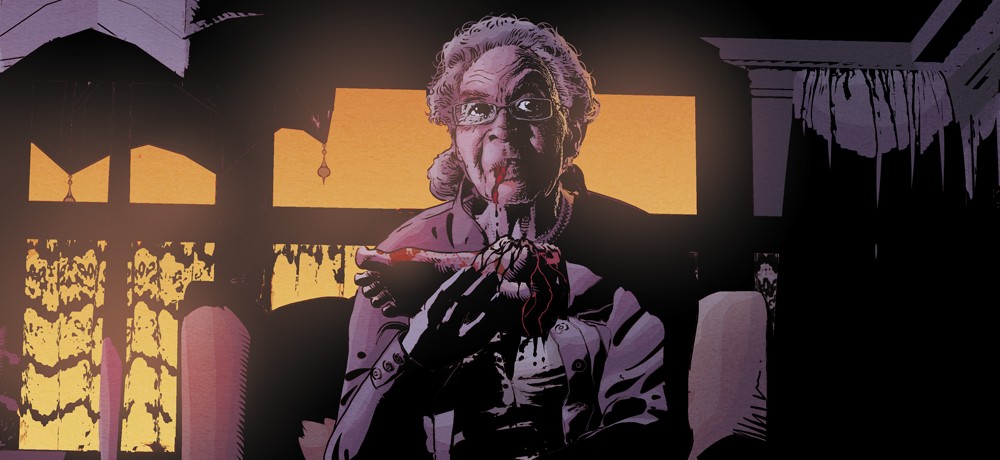 Writer Daniel Kraus (George Romero's The Living Dead, The Autumnal) and artist Goran Sudžuka (Hellblazer, Wonder Woman) have teamed up for an all-new prequel to the hit comic series Year Zero. Titled Year Zero Vol. 0, the new series launches this October, and we have all the details, along with an exclusive preview only for Daily Dead readers!
"Written by Benjamin Percy (GREEN ARROW, WOLVERINE) with artists Ramon Rosanas (Vol. 1), Juan José Ryp (Vol. 2), Year Zero is an epic series that offers a global look at the Zombie Apocalypse. These harrowing tales follow several survivors of a horrific global epidemic from all around the world who must draw upon their unique skills and deepest instincts to navigate a world of shambling dead. Year Zero wrestles with the weighty moral and theological questions posed by the pandemic and investigates its cause and possible cure.
Now, writer Daniel Kraus and artist Goran Sudžuka are taking readers back to where it all began. In this action-packed prelude to the hit series, four globe-spanning tales are unveiled from the earliest days of the zombie apocalypse when even the wildest rumors couldn't measure up to the horror to come."
Press Release: Zombies, zombies, everywhere! AWA Studios, the independent developer of bold and relevant stories from the world's most outstanding artists, writers, and artisans, announced today the highly anticipated return of the hit series, Year Zero, when YEAR ZERO VOL. 0 launches on October 5. Following the successful two volume series from original writer Benjamin Percy and artists Ramon Rosanas and Juan Jose Ryp, New York Times best-selling horror writer Daniel Kraus (George Romero's The Living Dead, The Death and Life of Zebulon Finch) and award-winning artist and illustrator Goran Sudžuka (HELLBLAZER, WONDER WOMAN, MARJORIE FINNEGAN: TEMPORAL CRIMINAL) team up for an origin anthology series that takes readers to the beginning of the beginning of a deadly zombie pandemic that plunged the world into chaos. A crime story, a medical drama, a war story, and a mid-air thriller are all set against the backdrop of the zombie apocalypse.

Before the apocalypse, there was the pandemic. Featuring a diverse cast and a wide range of settings in the Year Zero tradition, this volume takes the chaotic early days of a pandemic, when rumors swirl and denial is in the air, and injects them with the pure horror of the dead coming to life. Headlining AWA's Halloween Horror Month offerings in October, YEAR ZERO VOL. 0 continues the tradition of biting social commentary that has been a feature of the best zombie fiction since The Night of the Living Dead.

"After the incredible first volume of Year Zero from Benjamin Percy and the original creative team, I was eager to take on the challenge of stepping into this story and AWA's Upshot universe," said Daniel Kraus, creator and writer of YEAR ZERO VOL. 0. "This was my first time working with AWA Studios and Goran Sudžuka, and it was truly inspiring the whole gruesome way. Goran's work was always surprising and revealing. He made it a pleasure for me to return to the land of the living dead."

In this action-packed prelude to the hit series, acclaimed horror writer Daniel Kraus unveils four globe-spanning tales from the earliest days of the zombie apocalypse when even the wildest rumors couldn't measure up to the horror to come. A streetwise Russian cop patrols the back alleys of the opportunistic black market that emerges in response to the crisis…a North Korean soldier observes strange happenings on the DMZ…An E.R. nurse in the rural South fights to protect her hospital from threats without and within…And a transgender flight attendant observes disturbing clues as she crisscrosses the globe keeps a wary eye on the passenger in seat 23C.

Axel Alonso, Co-Founder and Chief Creative Officer of AWA Studios, added, "Daniel Kraus is a true master of his craft and a genius in the world of horror. When George Romero died in 2017, Daniel was handpicked and entrusted by the Romero estate to finish The Living Dead series. We were thrilled when he agreed to dive into Year Zero and bring this origin story to our AWA readers. ​​And once we saw Goran Sudžuka's artwork, we knew we had a hit. These two are absolute dynamite paired together, and I can't wait for our readers to dig into this chilling new story."

As part of a series published under AWA's Upshot Studios imprint that began in 2020, YEAR ZERO is one of Upshot's first hits. The prequel puts the fragmented stories of horror into the early pandemic days with which we're all too familiar. Year Zero first launched in 2020 with Vol. 1 and 2021 with Vol. 2 respectively. The series debuted to tremendous success, with Vol. 1 included in AWA's top selling and most popular horror titles and listed on at least one list of best horror in 2021.

Issue #1 of YEAR ZERO VOL. 0 will be available October 5, both digitally and in stores wherever comic books are sold, with following issues available on a monthly basis. For more information on YEAR ZERO and other content, visit AWA Studios on Facebook, Twitter, Instagram, YouTube, and AWAStudios.net.