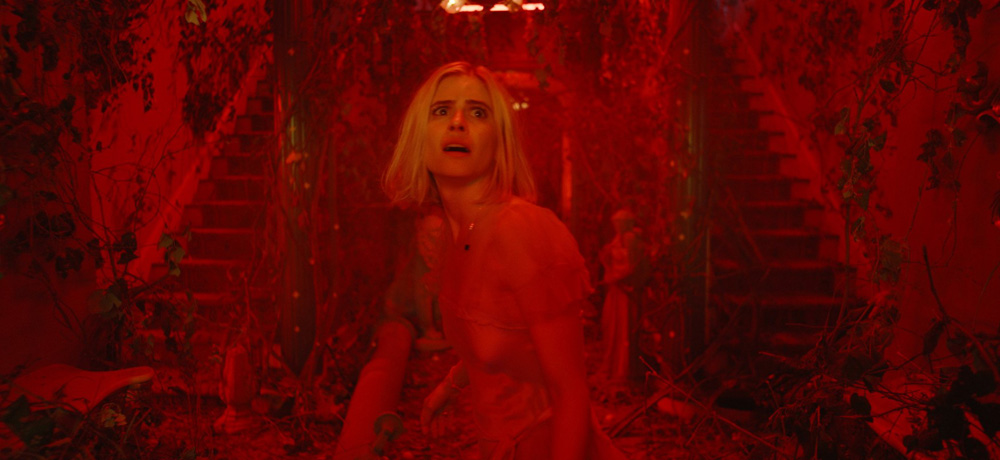 One of my most anticipated films screening at Sundance is The Blazing World, Carlson Young's feature directorial debut based on the 2018 short film of the same name. Ahead of the movie's Sundance premiere today at 6:00 PM ET / 3:00 PM PT, we're proud to share an exclusive clip with Daily Dead readers, featuring a scene between Carlson Young and Udo Kier!
"Ever since Margaret (Carlson Young) was six years old, she has been haunted by the memory of watching her sister drown during an explosive fight between her parents. As a young woman, she slides further into her twisted inner life, ultimately finding herself on the brink of suicide. Through an epic journey down the smokiest and scariest corridors of her imagination, she tries to exorcise the demons pushing her closer and closer to the edge.

The Blazing World is Carlson Young's debut feature; it is based on her short of the same name, which premiered at the 2018 Sundance Film Festival. Young brings to life in striking vibrancy an internality that is at once darkly beautiful and entirely terrifying. Blending horror and fantasy, this film is imaginative and gutsy, painting Margaret's inner life as at once an alien realm and a devastatingly familiar emotional landscape. Manifesting her trauma through a series of lusciously unnerving locations and moving, bizarre interactions, Young unearths something often quietly, privately buried in our struggles toward the light."
Directed by Carlson Young, written by Carlson Young and Pierce Brown, and produced by Brinton Bryan and Elizabeth Avellán, The Blazing World stars Udo Kier, Carlson Young, Dermot Mulroney, Vinessa Shaw, John Karna, and Soko.
The film will be making its premiere today at 6:00 PM ET / 3:00 PM PT, with a second screening to follow on February 2nd at 10:00 AM EST / 7:00 AM PT. To purchase tickets, visit: https://tickets.festival.sundance.org/
Watch the clip below and be sure to check back soon for more coverage of The Blazing World, including an exclusive interview with Carlson Young!