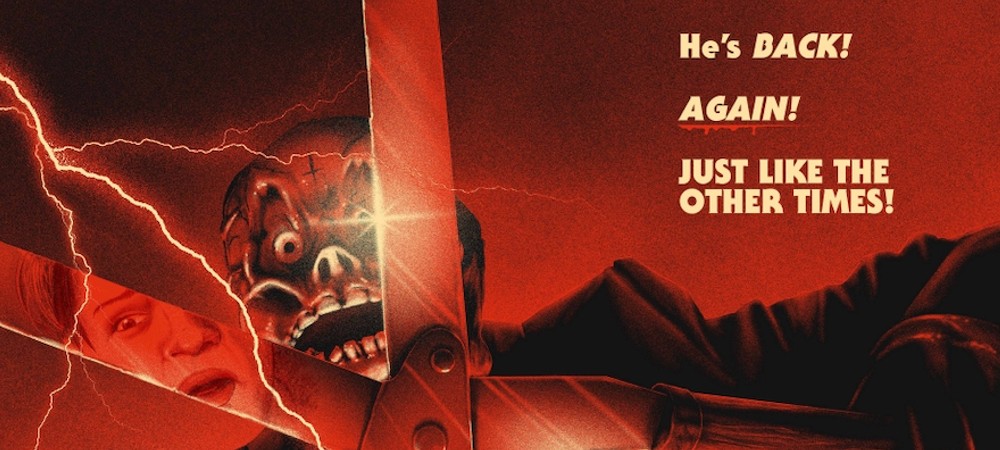 THE THIRD SATURDAY IN OCTOBER PART V and PART I are now available on digital and VOD courtesy of Dark Sky Films! A "double feature of terror" that harkens back to the video store horror days, we have an exclusive clip, along with comments from writer / director Jay Burleson!
"What if a lost horror franchise made during the peak of the slasher genre was unearthed today, but only two of the films could be restored? Filmmaker Jay Burleson imagined just that with THE THIRD SATURDAY IN OCTOBER: PART V and THE THIRD SATURDAY IN OCTOBER: PART I coming to VOD + Digital Platforms May 5th from Dark Sky Films.
A double feature of terror, THE THIRD SATURDAY IN OCTOBER Part V sees unstoppable killer Jakkariah Harding once again stalking and butchering the football-loving residents of a small Alabama town, this time finding a treasure trove of victims after he chances upon a football watch party. And then get ready to see how the horror began in THE THIRD SATURDAY IN OCTOBER Part I, which tells the story of Harding's death row escape and ensuing slaughter as two survivors of his initial attack hunt him down.
Aiming to recreate the by-gone video store days when horror fans might have had to watch a franchise out of order, the filmmakers intended for viewers to start with Part V and then go back to Part 1.
Twice the scares, twice the laughs, and a world-building start of a franchise that's as outlandishly clever in its deception as every gore set piece it throws on screen, THE THIRD SATURDAY IN OCTOBER films are a red-blooded American slice of southern gothic infused with a deliciously twisted sense of humor."
Jay Burleson comments on the exclusive clip you're about to watch:
"Hello, this is Jay Burleson, writer/director of both THE THIRD SATURDAY IN OCTOBER PART V and THE THIRD SATURDAY IN OCTOBER. Thanks for taking the time to check out this exclusive clip. We made Part V first, and we encourage everyone to check it out before viewing Part I to recreate the video store era when your introduction to these slasher franchises depended on what was in stock at your local mom and pop store.

In this exclusive look at THE THIRD SATURDAY IN OCTOBER PART V, we find Arthur (Ian J. Cunningham) and his wife Betsy (Faith Bruner) preparing to leave for the big game, but not before Arthur grabs a good luck charm to ensure his team is victorious on the gridiron. Unfortunately, psycho killer Jakkariah Harding has a different type of game in mind.

This clip highlights some of our FX work by Oddtopsy FX (the talented Marcus Koch and Jessie Seitz) while also setting the tone for the absurdity of the 5th installment in a long-running independent slasher franchise.

Neither feet nor balls will be safe from Jakkariah Harding in our mid-'90s inspired direct-to-video slasher film, which also features college football alongside a peppering of down home charm!"
To learn more and check out both films, visit: https://www.thethirdsaturdayinoctober.com/