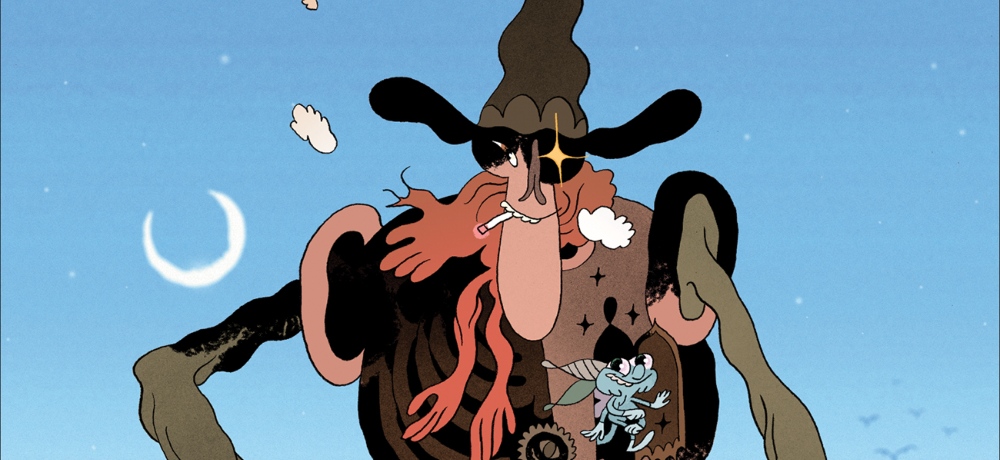 In addition to publishing legendary creators Mike Mignola, Neil Gaiman, and Chuck Palahniuk, Dark Horse Comics also has a long tradition of showcasing exciting new writers and artists whose impressive work could one day propel them to become the next Mignola, Gaiman, or Palahniuk. One such writer and artist is Benjamin Schipper, and as a special treat for Daily Dead readers, we're thrilled to exclusively announce that Schipper's surreal, western-style graphic novel Joe Death and the Graven Image will be released by Dark Horse Comics this September!
You can get a first look at the cover art for Joe Death and the Graven Image below, ahead of its 152-page paperback release on September 30th from Dark Horse Comics.
To learn more about Schipper and his unique artistic style, be sure to visit his website and Dark Horse Comics online. We also have the official press release with additional info on Joe Death and the Graven Image, which will pit Joe Death against Scary Harry and his hellraisers:
Press Release: MILWAUKIE, Ore., (February 11, 2020)— Somewhere between Mike Mignola, A Fistful of Dollars, and Johnny Cash's Ghost Riders in the Sky, rides the gray man, consequential king, Joseph Bones, Shadow of Death! A lone gun story silhouetted against the surreal desert valley where ghost and ghoul, witch and prophet, mystery and dream, ebb in and out. Joe Death and the Graven Image wanders the tombstoned road, poking at the fabric of life, loss, retribution, redemption, and the keys to paradise.

The cleanup of the massacred town isn't Joe's first rodeo, but the one life taken by the bandit Scary Harry is. Can he and his friends outsmart Harry's hellraisers and win back the babe? Life from death? The ultimate magic trick, restoring Joe to the straight and the narrow?

Debut author and artist Benjamin Schipper dives deep into the reaper's tale, employing a beautiful and quirky style that gives this macabre odyssey all the heart, humor, and tension essential to a modern masterpiece.

Joe Death and the Graven Image goes on sale, September 30, 2020. This 152-page paperback graphic novel will retail at $19.99, and is available for pre-order on Amazon, Barnes & Noble, and TFAW, and at your local comic shop.

About Dark Horse Comics 

Founded in 1986 by Mike Richardson, Dark Horse Comics is an excellent example of how integrity and innovation can help broaden a unique storytelling medium and transform a company with humble beginnings into an industry giant. Under a new partnership with Vanguard Visionary Associates, Dark Horse is positioned to further expand its reach globally with publishing, products, and filmed entertainment. Over the years, Dark Horse has published the work of creative legends such as Yoshitaka Amano, Margaret Atwood, Paul Chadwick, Geof Darrow, Will Eisner, Neil Gaiman, Dave Gibbons, Faith Erin Hicks, Kazuo Koike, Matt Kindt, Jeff Lemire, Mike Mignola, Frank Miller, Moebius, Chuck Palahniuk, Wendy Pini, and Gerard Way. In addition, Dark Horse has a long tradition of establishing exciting new creative talent throughout all of its divisions. The company has also set the industry standard for quality licensed comics, graphic novels, collectibles, and art books, including Aliens, Stranger Things, Avatar: The Last Airbender, The Legend of Korra, Predator, Minecraft, The Legend of Zelda, Super Mario, Dragon Age, James Cameron's Avatar, Game of Thrones, Mass Effect, StarCraft, The Witcher, and Halo. Today, Dark Horse Comics is one of the world's leading entertainment publishers.