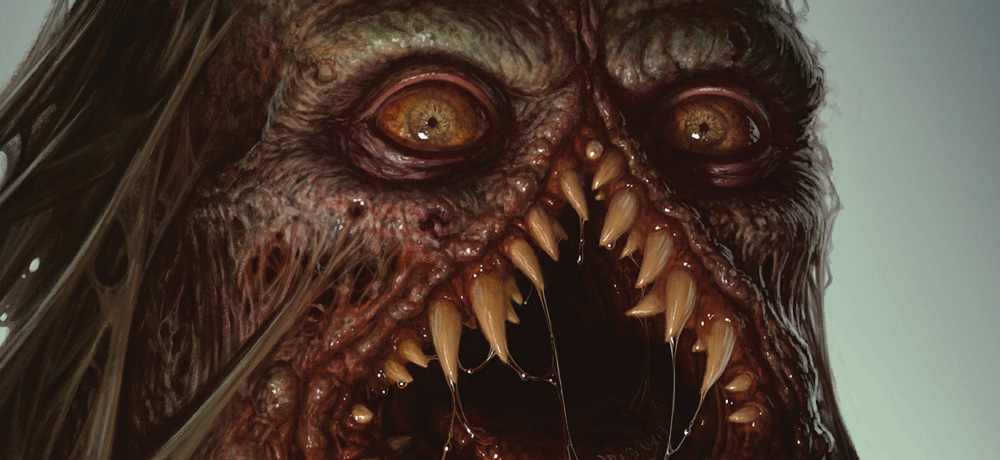 On June 15th, Heavy Metal and Simon & Schuster will be releasing an extended edition of Dan Fogler's horror anthology comic Moon Lake in Moon Lake Volume 1: Midnight Munchies! Ahead of the release later this month, we have exclusive preview pages and comments from Dan Fogler on this new edition!
Moon Lake: Midnight Munchies collects classic Moon Lake stories and features a new foreword by Kevin Smith, plus "Archives From The Vault," featuring series artwork that hasn't been shown before.
Our preview below includes artwork by Dennis Carlsson, Alex Eckman-Lawn, Jeffrey Zornow, and Scott Newman, with the cover by Jim Daly. The alien art by Alex Eckman-Lawn and sketch by Jeffrey Zornow are exclusive preview art just for Daily Dead readers!
Dan Fogler was gracious enough to send some thoughts our way about his love of Heavy Metal, his new release, and what readers can expect:
"MWAH-HAH-HAH! It's all come full circle! If you traveled back in time and tapped 10-year-old me on the shoulder while I was in the midst of watching Heavy Metal the movie for the 1000th time and told me I'd have a graphic novel that was an homage to all things Heavy Metal in stores, published by Heavy Metal... well first I'd say, "SHHHH this is the best part!" Then I'd say, "Well that makes sense, I've seen the movie a thousand times and I love the magazine. It helped me learn to like reading." Anyway, you get the point. I'm super excited that Moon Lake has found its perfect final resting place.

Moon Lake chronicles the Rise of the Zombie King and the return of The Anti-Man. Our favorite misfit characters, Cave Girl & Zrex, Mr. Space Time, and Alfredo the Sasquatch must join together to defeat the overwhelming forces of evil from the Moon that threaten to destroy Moon Lake and the world!"
Looking for more from Dan Fogler? His FishKill trade paperback is available now, and the Brooklyn Gladiator trade paperback is coming out on July 20th. And for those looking for new volumes of Moon Lake, Volume 2 & 3 are also coming soon! Moon Lake V2: Tales of Lunacy (on sale 8/17) will feature a mix of classic and new Moon Lake stories, and Moon Lake V3: Guide to the Dark Side (on sale 10/12) will feature completely new Moon Lake stories to celebrate the Halloween season.
To learn more and pick up this book for yourself, visit: https://www.simonandschuster.com/books/Moon-Lake/Dan-Fogler/Moon-Lake/9781947784185