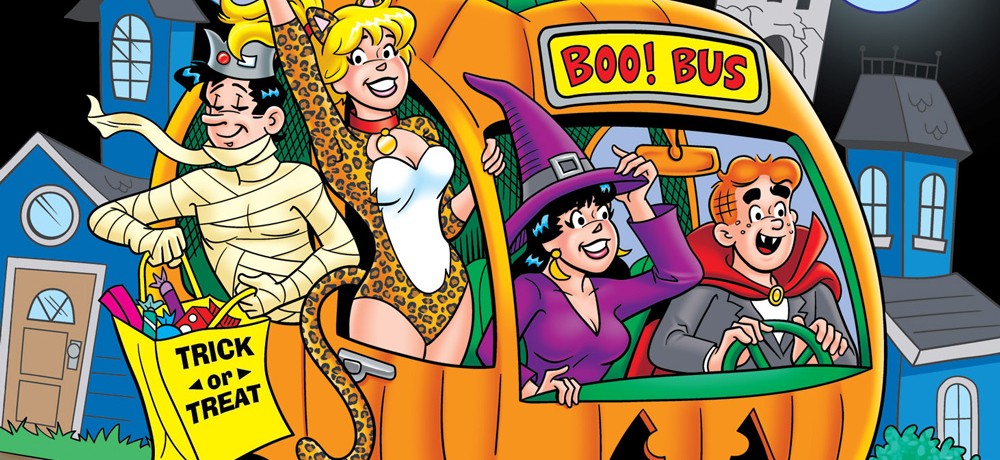 You're likely well aware of the the excellent line of adult Archie horror comics, including Chilling Adventures of Sabrina and Afterlife with Archie, but they also release classic-style Halloween stories for kids of all ages every fall. Earlier this month, we gave Daily Dead readers an exclusive preview of Betty & Veronica Friends Forever: Halloween Spooktacular #1 and Betty & Veronica Jumbo Comics Digest #297. Now we're back with an exclusive preview of World of Archie Jumbo Comics Digest #113!
Along with a 2-page tease of the new story, we have also have the reprint story "Man's Best Fiend," featuring Archie and Jughead, that you can in its entirety read below!
"WORLD OF ARCHIE JUMBO COMICS DIGEST #113
NEW CLASSIC-STYLE STORY: "Halloween Hullabaloo" Archie, Jughead, Reggie, and Raj are arriving at the big Halloween party at Lodge mansion in style—in a drivable DJ booth called the Boo Mobile! But when the girls arrive at the party, things start to go off the rails—what's causing this streak of bad luck?"
Script: Bill Golliher
Art: Bill Golliher, Jim Amash, Glenn Whitmore, Jack Morelli
Cover: Francis Bonnet, Bill Golliher, Rosario "Tito" Peña
On Sale Date: 9/29
192-page, full color comic
$7.99 U.S.
To pre-order this issue and learn more about Archie Comics, visit: https://www.comixology.com/World-of-Archie-Jumbo-Comics-Digest-113/digital-comic/962206
To pre-order this issue and learn more about Archie Comics, visit: https://store.archiecomics.com/collections/archie-digest-subscriptions/products/world-of-archie-comics-digest-subscription