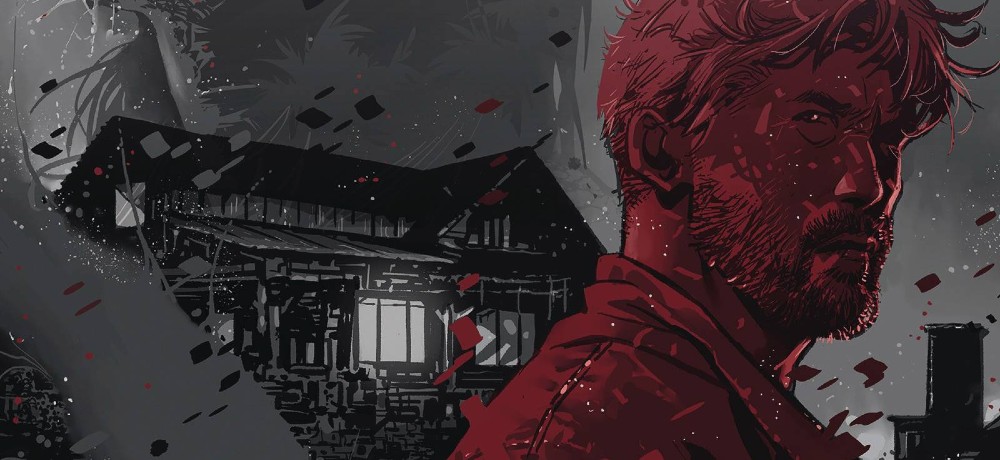 On November 22nd, Dark Horse Comics will release Lunar Lodge #1, the first issue in a new series "full of horror, drama, comedy, love, action, romance, and mystery".... and, of course, a werewolf! This is the comic book debut of writer Tyler Marceca, who is joined by artist Mirko Colak, along with Brian Valenza as the colorist with Frank Cvetkovic lettering. Ahead of the issue's release next week, we have an exclusive preview, along with a Q&A where Tyler Marceca talks about the origins of the series, working with Mirko Colak, and more!
What was your inspiration for Lunar Lodge and how did you get together with Mirko Colak to bring this story to life?
Tyler Marceca: Though I've wanted to write a werewolf story for a while now, I was reluctant to commit pen to paper on one (or fingers to wireless keyboard) because for so long, I was lacking what I felt to be a unique and worthy approach to that world. That happens quite often as a storyteller. You'll want to do a version of a serial killer thriller or a post-apocalyptic piece, but not if it means crafting something that's ultimately just a basic rehash of the books/movies that inspired you in the first place. You want to find some element that'll separate your contribution to the genre from the rest of the pack (pun grudgingly intended there).
The idea for this story was born from a very simple question; if I was a werewolf, how would I go about protecting the innocents, including those I considered to be loved ones, in my orbit? The answer was LUNAR LODGE. A place that, on most nights, is exactly what it appears to be on the outside... a rustic luxe hotel. But on those nights when the moon is full, the Lunar Lodge, and establishments like it, are there to provide boarding services to those afflicted by lycanthropy.
Because who would want to wake up the morning after a full moon naked and covered in blood, with no memory of what happened the night before? I mean, that's basically the worst hangover imaginable.
This being my first foray into the graphic novel space, I had zero artist contacts of my own. Fortunately, I had DARK HORSE to play matchmaker, which led to me being paired with our incredibly talented artist, Mirko.
Can you speak to the creative process with Mirko Colak for creating the characters and this world?
Tyler Marceca: The process of working with Mirko to bring this story to life has been one of the most rich and gratifying experiences I've had as a writer. In the script I wrote for the graphic novel, I provided minimal physical description for the numerous characters that populate the story. The fact that I've given Mirko maybe one note regarding the design of all these various characters speaks to how adept he is at taking the essence of what's on the page and fully realizing it across these incredible panels.
But beyond just characters and locations, Mirko has done an excellent job of capturing the tone of the story. One that feels grounded and contemporary, while still honoring traditional werewolf lore.
What are some of your favorite werewolf films that you'd recommend to our readers?
Tyler Marceca: AMERICAN WEREWOLF IN LONDON is the first and most obvious rec that comes to mind. I wholeheartedly love that movie, especially that opening stretch culminating in the attack on David and Jack (David Naughton and Griffin Dunne)... but I imagine most of your readers are already pretty familiar with that flick.
So let me try to establish a little more street cred here by recommending DOG SOLDIERS from 2002. It's basically ALIENS, but with werewolves in place of xenomorphs. Neil Marshall, the film's director, makes the most of what is obviously an extremely limited budget.
And the last words delivered by one of the movie's ill-fated characters just before he's ripped apart like a warm dinner roll by a werewolf are not just memorable, but iconic. "I hope I give you the shits, you fucking wimp." Talk about going out like a boss.
---
LUNAR LODGE #1
"Marriage ain't easy, especially when your spouse is hiding a monstrous secret. Just ask Rob Moreland, who knows things aren't great lately with his wife, Fiona, but is hoping to fix that . . . until the LUNAR LODGE calls to confirm her stay. Rob decides to shadow his wife to the hotel but what he finds reveals even more horror than he thought. Rob will soon discover there's much more to the Lunar Lodge, and to his wife, than meets the eye."
Writer: Tyler Marceca
Artist: Mirko Colak
Colorist: Francesca Vivaldi
Letterer: Frank Cvetkovic
Cover Artist: Mirko Colak
Publication Date: November 22, 2023
Format: FC, 32 pages; Miniseries
Price: $3.99
UPC: 7 61568 01078 7 00111