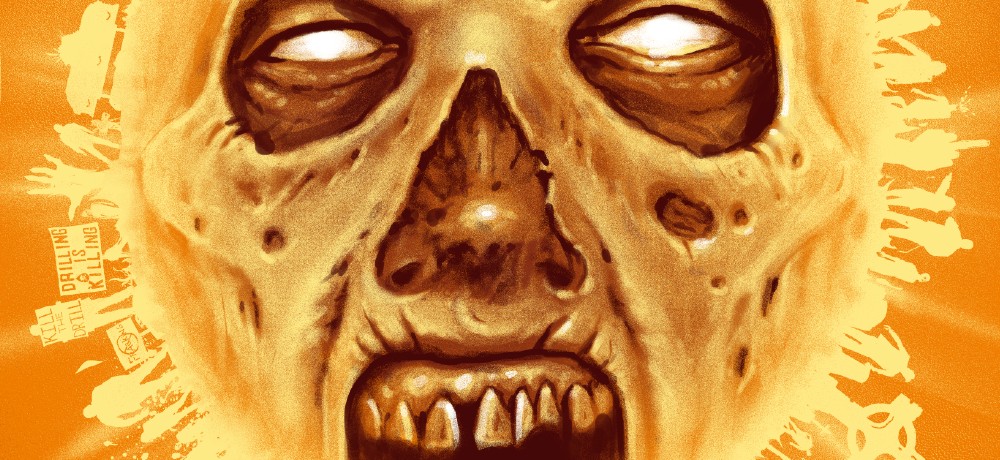 Here at Daily Dead, we're longtime fans of "Ghoulish" Gary Pullin's artwork and George A. Romero's Day of the Dead, so we're thrilled to exclusively reveal Gary's amazing poster for SYFY's Day of the Dead series ahead of its October 15th premiere. Similar to the new show, Pullin's poster pays tribute to Romero's 1985 film while also adding new and exciting elements to the legacy of Romero's living dead world!

Below, you can exclusively see "Ghoulish" Gary Pullin's poster for SYFY's new Day of the Dead series, which follows a group of strangers who must team up if they want to survive the first 24 hours of the zombie uprising.
Want to put this poster up on your wall? Keep an eye out right here on Daily Dead, as we'll be giving Daily Dead readers multiple opportunities to win a poster over the next couple of weeks! Also, be on the lookout at comic shops throughout the United States this October, as SYFY has teamed up with comic book stores for giveaways of gift cards, a SYFY Day of the Dead t-shirt, and a signed, limited edition of Gary's new poster!
One of the most prolific and talented artists working today (especially in the horror community), here's what Gary had to say about bringing his unique style to the poster for SYFY's Day of the Dead series:
"When SYFY asked me if I would like to create a limited edition poster for their new series inspired by George Romero's Day of the Dead, I immediately checked out the first few episodes they sent and I was pleasantly surprised. It also helped that my friend and fellow Canadian Steven Kostanski ("The Void," "Psycho Goreman") was in the director chair. With Steven at the helm, I had a feeling the zombie action was going to be insanely inventive and I wasn't wrong! The creative team at SYFY asked that some of their political themes were incorporated into the piece and they wanted the image to be bright, bold and have a sense of humour so we came up with the "zombie sun" concept. The rays gave me the opportunity to hide tons of easter eggs from the series. I hope George Romero fans check out the show with an open mind and have as much fun watching it as I did creating this limited edition poster. Long live Romero!"
The new Day of the Dead series will premiere on Friday, October 15th at 10pm ET/PT on SYFY. Stay tuned to Daily Dead for more Day of the Dead news in the coming weeks (including details on our Day of the Dead Twitter watch party), and check out our exclusive reveal of "Ghoulish" Gary Pullin's new poster below!
SYFY's "Day of the Dead" is the intense story of six strangers trying to survive the first 24 hours of an undead invasion. This ode to George A. Romero's famous flesh-eaters reminds us that sometimes all it takes to bring people together is a horde of hungry zombies trying to rip them apart.