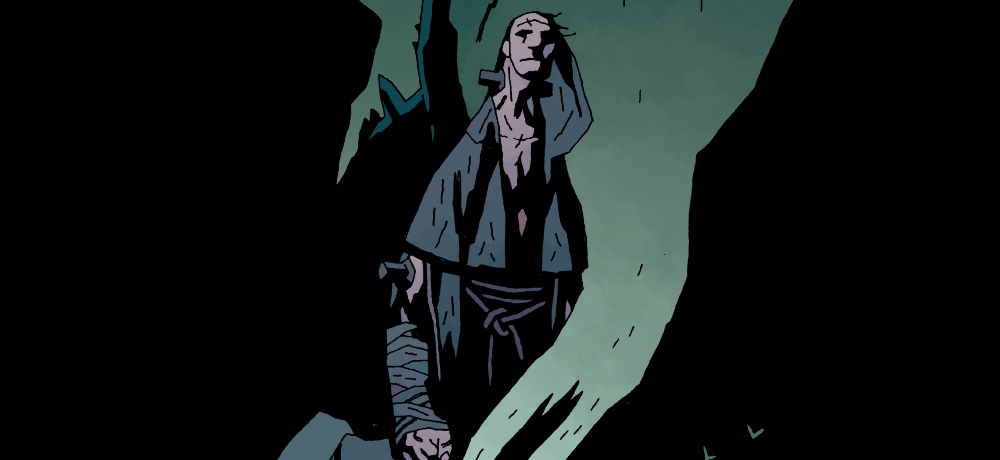 While he's perhaps best known for creating one of the greatest comic book characters of all time with Hellboy, Mike Mignola has also brought many other characters to life on the paneled page in thrilling fashion, including Mary Shelley's classic literary creation, The Monster. Linking Shelley's Frankenstein with Mignola's Frankenstein Underground, all five issues of the upcoming comic book miniseries Frankenstein Undone will be released as a trade paperback this September from Dark Horse Comics, and as a special treat for Daily Dead readers, we've been provided with an exclusive reveal of Mignola's marvelous cover art for the anticipated collection.
Featuring The Monster and an eerily beautiful antler creature, Mignola's full cover art for the Frankenstein Undone trade paperback can be viewed below. Coming to comic shops on September 16th and bookstores on September 29th, the new miniseries is written by Mignola and Scott Allie, with artwork by Ben Stenbeck and top-notch work by colorists Brennan Wagner and Dave Stewart.
Offering insights into the creation of the trade paperback cover, Mignola shared these intriguing details with us:
"I actually did two versions of this cover—one very stark and empty—snow and ice and the iced in ship in the background, the Frankenstein monster alone. It was nice and reflected the tone of the early issues, but in the end I could not resist drawing my version of the terrific frozen antler monster Ben designed. That guy was just too much fun."
Visit Dark Horse Comics' website for more updates on Frankenstein Undone, keep an eye out for the first issue (of five) on January 29th, and read on for additional details:
"Frankenstein's creator lies dead in the icy grip of the Arctic, and the monster searches for a new purpose. Just as he thinks he's found one with a group of unlikely companions, disaster strikes--and the monster is catapulted out of Mary Shelley's novel and into the world of Hellboy.

Bridging Mary Shelley's original Frankenstein novella and Mike Mignola's Frankenstein Underground, this series brings together Mignola, Scott Allie, Ben Stenbeck, Brennan Wagner, and Clem Robins for an all-new horror adventure in the far north.

CREATORS

Writer: Mike Mignola, Scott Allie
Artist: Ben Stenbeck
Colorist: Brennan Wagner, Dave Stewart

Genre: Action/Adventure, Horror"