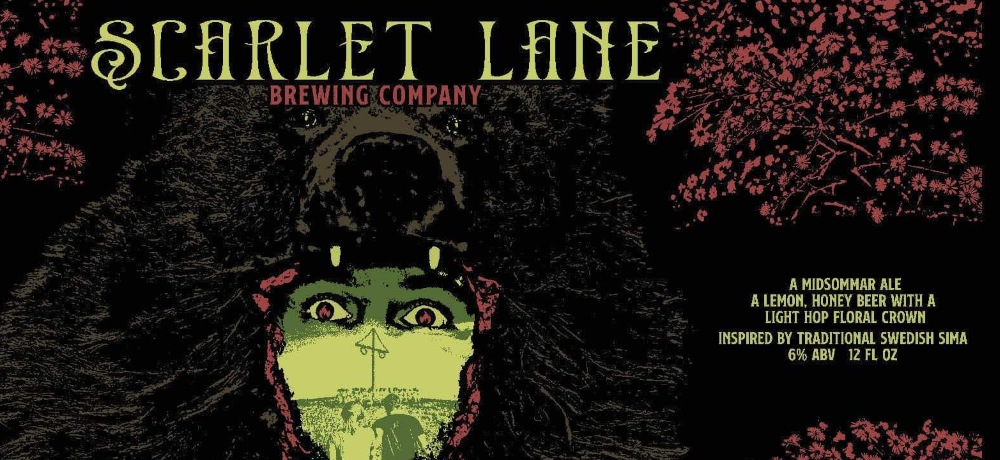 With seemingly endless sunshine and spirited dancing around the maypole, you can imagine getting quite thirsty participating in the Hårga celebration from Ari Aster's Midsommar (even just watching it can make you parched). The fine folks at Scarlet Lane Brewing Company have the solution to quench our thirst and settle our nerves from some of the festival's more disturbing rituals, as we're excited to exclusively reveal that the brewing company will release a new Midsommar-inspired beer this February.
Titled A Midsommar Ale and based on the Swedish Sima, the new beer will fittingly launch on February 14th at Scarlet Lane Brewing Company's Midsommar-themed anti-Valentine's Day dinner.
Featuring eerie artwork by Chris Garofalo of Quiltface Studios, the label art will be released as a print following the beer's launch. And beer lovers, take note, because in addition to their Midsommar-based ale, Scarlet Lane will also release a beer inspired by Larry Cohen's The Stuff in the coming months!
We have the official press release with additional details below, as well as a look at the artwork for the Midsommar-inspired beer label, and be sure to visit Scarlet Lane Brewing Company's official website to stay updated on all of their releases and events!
"Let the festivities begin on February 14th with a Midsommar-inspired beer from Scarlet Lane Brewing Company in McCordsville, Indiana. Inspired by the traditional Swedish Sima, A Midsommar Ale is a 6% lemon, honey beer with a light hop floral crown fit for a May Queen. The release will coincide with a Midsommar-themed, anti-Valentine's Day beer dinner at the brewery. A Midsommar Ale will be released in limited 4-packs and will feature the art of Chris Garofalo (Quiltface Studios, Poster Posse). A variation of the label art will be available as a print soon after the release of the beer. Garofalo has tackled a number of films with his highly stylized art including Trick R Treat, Hellraiser, the Soska's Rabid, Starry Eyes, Mandy, and a glow-in-the-dark The Haunting of Hill House. His work is available here: https://quiltfacestudios.storenvy.com/

Scarlet Lane Brewing Company will celebrate their 6th year anniversary on May 9th, 2020. The brewery began with a dark literature theme and transformed into the "Official Beer of Horror" in 2015 with the release of HorrorHound Ale, a beer made specifically for HorrorHound Weekend. Since then, they have continued to expand into the world of horror with themed events throughout the year, a wildly successful "Psychology of Horror" series with Rutgers Professor Anthony Tobia (Halloween Unmasked), special screening events, and more. HorrorHound Ale will celebrate its fifth anniversary September 18-20 at HorrorHound Weekend Indianapolis. The brewery will be officially releasing a "The Stuff" inspired beer in the coming months. Much like A Midsommar Ale, the white chocolate and marshmallow pale ale will also be available in limited 4-packs. Stay up to date on beer releases and events here: https://www.scarletlanebrew.com/

Follow Chris here:

Twitter: @QFSChris

Instagram: @qfschris

Follow Scarlet Lane here:

Twitter: @ScarletLaneBrew

Instagram: @scarletlanebrew"