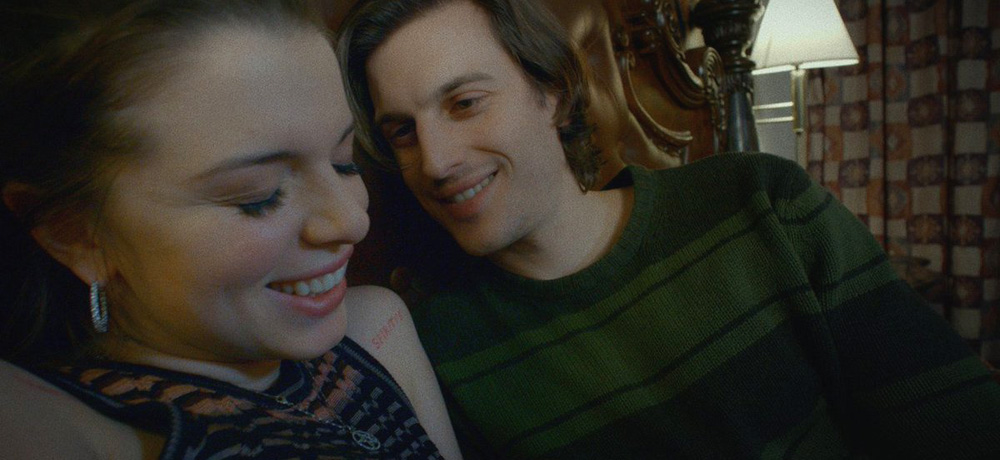 PVT Chat is directed by Ben Hozie and stars Peter Vack (of previous Fantasia Fest favorite Assholes) and Julia Fox. The film is a self-described "kinky plunge into loneliness" and the intimacy, false and real, that is developed online. Is it possible that, despite our constant connection, we are more alone than ever?
In PVT Chat, Jack (Peter Vack) gambles online by day so that he may spend his earnings on the beguiling camgirl Scarlet (Julia Fox) by night. Over time, their relationship takes on the appearance of something more than a customer and client and Jack hopes to meet the cyber seductress. Scarlet insists that the distance between them makes this impossible, but Jack swears up and down that he spotted her in his neighborhood one rainy night. Secrets and obsessions could mean the end for these star-crossed online lovers.
The film creates a beautiful, but tragic portrait of intimacy and falsehood in the online age. In the age of online connectivity, you can never truly know someone. People lie to protect themselves, but also to invite a connection. They conceal themselves, but reveal and expose themselves at the same time. Essentially, the love story at the center of PVT Chat shows how people find something real through the lies they create. Additionally, the film tragically illustrates how technology becomes a protective barrier that dulls our ability to connect. Sometimes what we desire most is only meant to be enjoyed in the untouchable ether. Being able to reach out and touch it could also mean seeing it crumble apart.
Ben Hozie puts together a stunning film. Each shot is filled with its own gritty yearning. It's depressing, but alluring and exploitive. Peter Vack and Julia Fox are a fantastic duo, to the point that you hardly notice the ensemble passing in and out of the scenes. The viewer is locked in on every expression. So often it feels like the audience is seeing something that they shouldn't. There's such a palpable intimacy, that viewing PVT Chat has the same feeling as watching a couple argue in a restaurant. You shouldn't listen in. You do it anyway.
PVT Chat is a contemporary tragedy with Shakespearean sensibilities, wearing a sexy skin. Provocative and heart-wrenching all at once.
PVT Chat enjoyed its World Premiere on August 21st at the Fantasia International Film Festival and will screen again at the fest on Tuesday, August 25th at 11:00pm.
Movie Score: 4/5
---------
Visit our online hub to catch up on our previous coverage of Fantasia 2020.