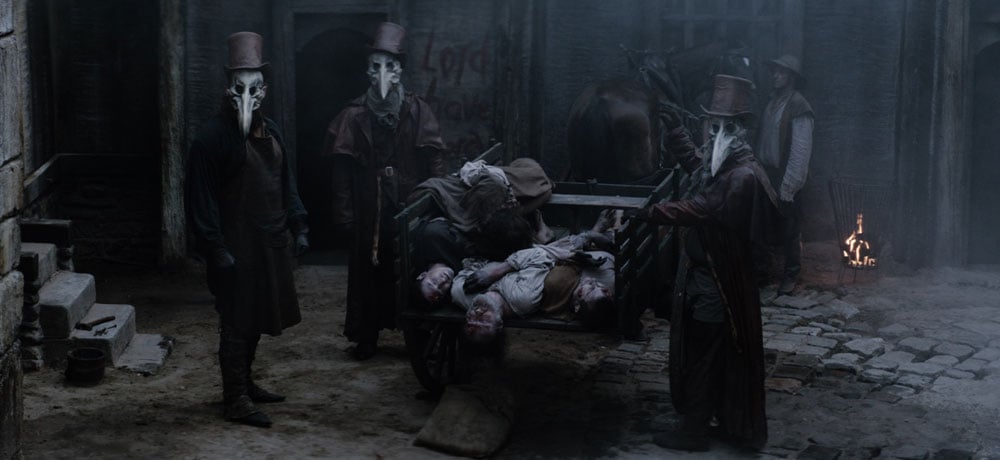 The Reckoning greets us with the image of a mass grave. It's England in 1665, the Great Plague has plunged the country into fear, paranoia, and sickness. The cause of "the sickness," as they call it, is unknown to them, but they must blame something. And like all who follow the Christian doctrine, they blame the Devil and those who represent him. Lucifer's acolytes, in their mind, are witches. While witch trials during this time were beginning to decline, "Witch Finders" kept this murder of innocent women rampant. Writer-director Neil Marshall explores this dark time in history and a true tale of horrors in his new, epic film. An examination of the trauma and pain caused by these trials that the film estimates killed 500,000 women across continents.  
The Reckoning begins in a very melodramatic fashion. A young widow and mother, Grace, is grieving her husband, Joseph (Joe Anderson). She digs a grave in the pouring rain and drags his lifeless body into it. Much of the melodrama comes in co-writer Charlotte Kirk's performance in these opening moments. This exaggerated performance is greatly noticeable and bit of a distraction, but not as much as Marshall's overabundance of cuts. But as we get into the groove of the film, so does the director's editing, and we can appreciate Kirk's performance that carries this heartbreaking tale of cruelty. 
A woman of these times would barely scrape by without a husband to feed her and her child (or children). Grace needs money for herself and her baby to pay her rent, but when her landlord suggest an alternative payment in the form of sexual favors, she refuses. As a result, the loathsome Squire (Steven Waddington) accuses Grace of witchcraft. We see how the rumors start, and the ridiculousness of how they come to such a conclusion. The logic (or lack thereof) is borderline comedic, but certainly not for the victims. Arrested by men wearing those sinister plague doctor beaked masks, she's dragged into an impressively designed medieval town in all its filth. Rats scatter, flies buzz around rotting flesh, and the sound of coughing fills the air. Death is near. Grace is imprisoned. 
The film then becomes a battle of wills as Grace is put on trial in front of the most ruthless Witch Finder in England, Judge Moorcroft (Sean Pertwee). In front of a man whose success in acquiring false quilt in undeniable, Grace must fight to stay true to her innocence no matter how much torture she endures. (The film's makeup artist could have done a better job at making Grace look like she'd actually been tortured for days.) In the face of death, Grace begins to battle with her inner demons caused by trauma she endured as a child, the loss of her husband, and now, the uncertain future of herself and her baby. She begins to have disturbing nightmares, her inner demons becoming very real in the form of Lucifer (Ian Whyte is some frightening prosthetics). As the film progresses, it becomes blurred as to whether or not these are actually nightmares, visions, or physical manifestations, and confronting the most terrifying form of evil becomes surprisingly erotic. These sequences, however brief, are reminiscent of Penny Dreadful's Vanessa Ives (Eva Green) and her own complicated relationship with the fallen angel. 
It wouldn't be false to argue that The Reckoning feels like a formulaic Hollywood blockbuster-type film. And while every turn of the plot is a predictable one, it's a contradiction because it's a satisfying historical-horror-adventure film. Grace's story is a captivating one, and while there are some very uncomfortable moments, there are also some enjoyable bits of drama and high-stakes action. The score by Christopher Drake is definitely the film's defining feature. It's grand, both Gothic and energetic, and it will make you think of Hans Zimmer's score for a certain swashbuckling franchise on the high seas. The set design by Ian Bailie, the locations chosen, and costume design by Mária Fatér are all impeccable for the period. Luke Bryant's cinematography is gorgeous with many stunning shots – like one in worm's-eye view capturing Grace holding her baby while looking down at her husband's grave – and emphasizing how epic in scale the film is. 
Marshall and co. create a genuine remembrance of the bravery of women who sacrificed themselves to protect their families and the bravery of those who fought to survive. A film about the endemic nature of violent misogyny against women who fought against being silenced and abused will hopefully, one day, not feel so relevant; no longer having to drag our blood-soaked sword against the stone of our prison as we refuse to kneel to devils. 
Movie Score: 3.5/5
---------
Visit our online hub to catch up on our previous coverage of Fantasia 2020.