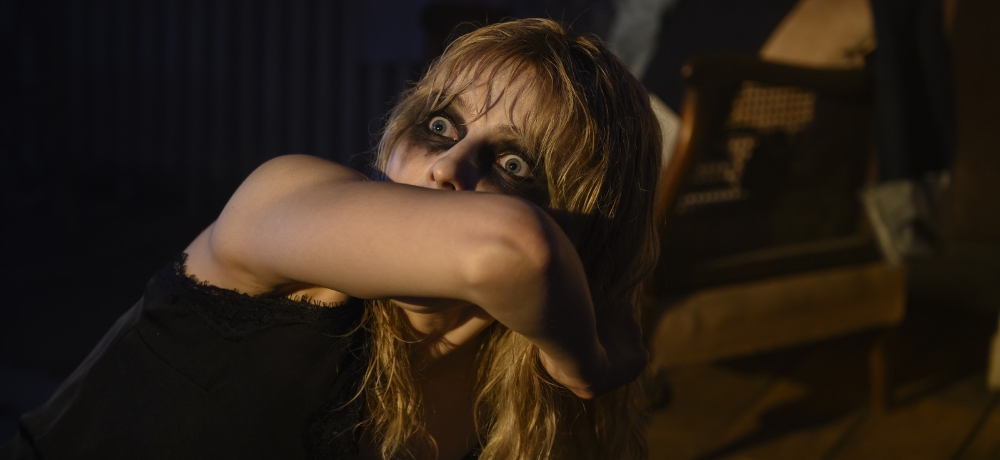 As someone who has been a fan of pretty much everything Edgar Wright has created throughout his career, Last Night in Soho was easily one of my most anticipated fall releases this year, especially considering the talent involved and its premise. And wow, does Soho feel like a huge evolution for Wright's filmmaking career, as his latest is a spirited yet sinister examination of the dangerous nature of nostalgia, and I was left absolutely mesmerized by so many different aspects of his genre-bender time travel thriller that perfectly straddles the line between panache and panic.
In Last Night in Soho, we're introduced to Eloise (Thomasin McKenzie), an aspiring fashion student obsessed with 1960s culture. When she moves from her small village home to London to study fashion, Eloise quickly discovers that her fellow students are far more contemporized than she is, and she immediately feels out of place amongst her peers. Rather than live in a dorm surrounded by students who don't quite "get" her, Eloise decides to rent an apartment in Soho, the fashion district in London's West End of the city, looking for inspiration in the area's historic locales. But McKenzie's character's obsession gets indulged in a unique way when she begins dreaming about being immersed in 1960s culture via an aspiring actress from the era named Sandie (Anya Taylor-Joy), which feels like a dream come true for nostalgia nut Eloise. But the more time she spends in the past, the more the lines begin to blur between her life and Sandie's, and the fashionable ingenue ends up in a nightmarish descent into madness as her dreamy, nostalgia-fueled indulgences threaten to wholly consume her sanity as she struggles to figure out what is real and what is a living nightmare she cannot escape.
One of the biggest reasons Last Night in Soho connected with me the way it did is just how uniquely feminine the narrative feels in comparison to Wright's previous films. I'm guessing part of that comes from him collaborating with screenwriter Krysty Wilson-Cairns on the script, where both Eloise and Sandie not only feel wholly realized, but they become unique counterparts to each other in ways I was not expecting (I won't say exactly how, as that could be a bit too "revealing"), as they both assert their agencies at key moments in Soho. Ultimately, this film becomes a story about how society mistreats women—both then and now—but there are key moments when it's clear that Last Night in Soho isn't going to just deliver up the same ol' platitudes via this theme, and both Wright and his fellow co-writer Wilson-Cairns put an unusual spin the messaging of Last Night in Soho. I may have had an inkling for where things were headed in the film's mind-bending third act, but that didn't make the ride any less enjoyable.
In the film, Wright celebrates a lot of different elements—1960s pop culture (music especially, but more on that in a moment), the era's fashion, and other cultural touchstones from the U.K.—but what's interesting to me is that Last Night in Soho ends up becoming something of an indictment of nostalgia from Wright, who pulls back those glossy layers that often sweeten up our own memories, revealing the seedy underbelly from a bygone era that Eloise has spent her entire life idealizing, permanently fracturing her delicate psyche. Nothing is as it seems in Soho, and I enjoyed the way Wright plays around with our expectations, and then mimics that approach through the film's sensational visuals that often left me breathless (there are some incredibly intricate in-camera techniques that are utilized here that I'm still trying to figure out just how in the hell Edgar and his DP Chung-hoon Chung managed to create such magic).
As mentioned earlier, music features heavily into Last Night in Soho, as the film becomes yet another showcase from Wright, who has always demonstrated that he fully understands the power of brilliant music choices in movies. The songs Wright handpicked for his latest do a fantastic job of not only adding emotion and depth to several key sequences, but also re-emphasize Soho's themes to boot. The main song featured throughout Last Night in Soho is "Downtown," which was originally performed by Petula Clark. Here, Taylor-Joy wows with her rendition of the classic ditty, demonstrating that she's just as dazzling a vocalist as she is an actress, and I love how the lyrics end up mirroring a lot of the emotions driving the narrative. Something else intriguing about a few of the other songs used in Last Night in Soho is that they were also tracks from the 1960s, but they ended up being far more popular once they had been remade during the '80s, and these sonic choices help drive home Wright's overarching thesis in Soho.
While I do think there are some questionable CG effects in Last Night in Soho's third act that nearly took me out of the story, everything else about the film is a total cinematic triumph from Wright, who shows us that he is still growing as a visual storyteller, as it feels like in some ways this might be his reconciliation with his own pop culture proclivities. Anchored by a pair of fantastic performances from both McKenzie and Taylor-Joy, as well as stellar work from the likes of Matt Smith, Diana Rigg (who steals nearly every scene she appears in), Terence Stamp, and Rita Tushingham as Eloise's grandmother Peggy, Soho is easily my favorite film from Wright since Hot Fuzz, and I loved how it thoughtfully delves into the dangers of appropriating nostalgia as a lifestyle choice, which is a lesson many of us may find useful to take with us in our own lives.
Movie Score: 4/5
---------
Visit our online hub to catch up on all of our coverage of the 2021 Fantastic Fest!
[Photo Credit: Above photo courtesy of Parisa Taghizadeh / © 2021 Focus Features, LLC]