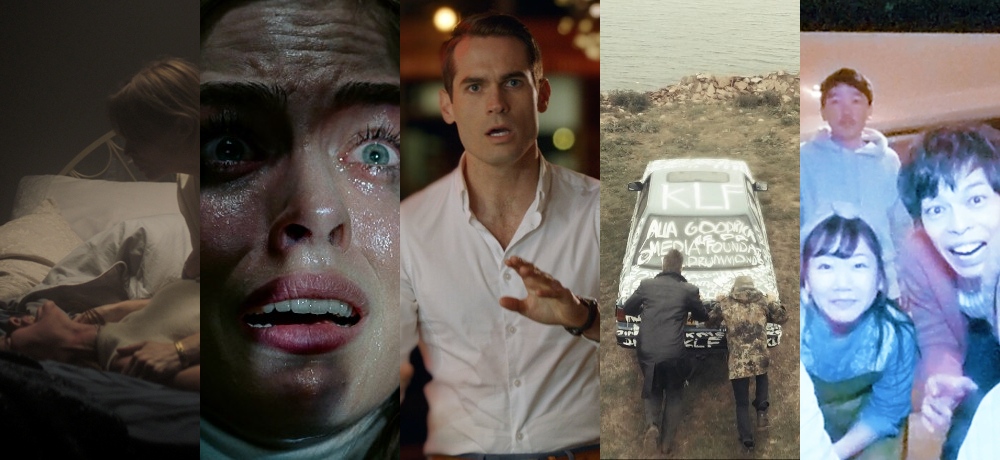 I know I'm several weeks late here, but I still wanted to go ahead and take a moment to chat about the final five movies that I had the opportunity to check out at last month's Fantastic Fest in Austin. These films include Rose Paxton's A Banquet, There's Someone Inside Your House (which is currently playing on Netflix), The Beta Test from Jim Cummings and PJ McCabe, the music doc Who Killed The KLF? as well as the wonderfully innovative Beyond the Infinite Two Minutes.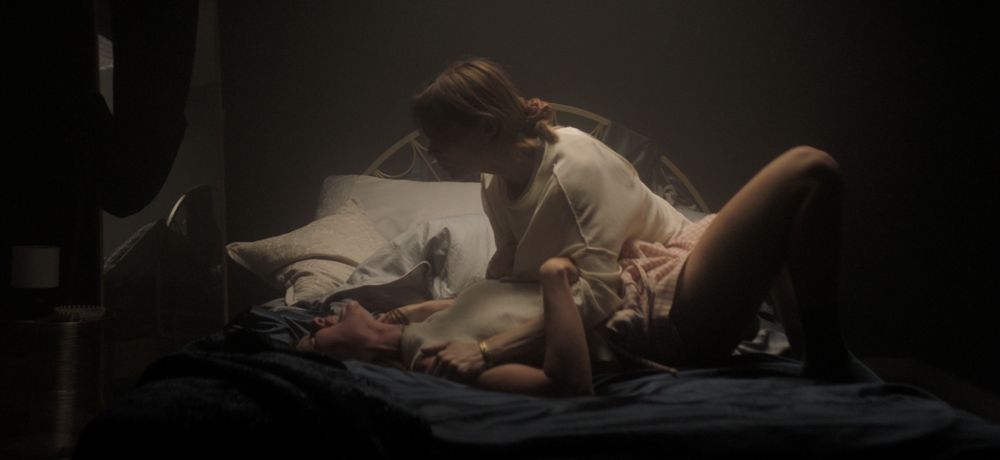 A Banquet: As far as feature film debuts go, Ruth Paxton's A Banquet is an absolute knockout. A haunting horror drama that is as emotionally devastating as it is downright chilling, the story is centered around a mother named Holly (Sienna Guillory), who is doing her best to raise her teenage daughters Betsey (Jessica Alexander) and Isabelle (Ruby Stokes) in the wake of her terminally ill husband's suicide. After her elder daughter Betsey attends a party and begins exhibiting some rather unsettling behaviors afterward, Holly finds herself pushed to the edge as she struggles to keep her family unit intact, despite these subtle horrors that have crept their way into their lives and are slowly dismantling the fabric of their familial connection ever so subtly.
In a lot of ways, A Banquet reminded me of Saint Maud, yet another film that I loved, but that's not to say that Paxton and the film's screenwriter, Justin Bull, traverse familiar storytelling ground here with their collaboration at all. The connective tissue I recognized between these two films was how both are so quietly compelling and how each perfectly taps into the inner horrors of the mind and the body in ways that felt new and unusual in the current filmmaking landscape. In A Banquet, Betsey's affliction first manifests in a way that feels akin to an eating disorder (even though we know it's something more), and I loved how thoughtfully both Paxton and Bull are able to explore just how devastating this experience can be for both those who are dealing with these issues directly, and how lost their loved ones feel who have to stand by and watch on hopelessly, unable to help them despite their best efforts.
I also loved how Paxton uses shifting perspectives in A Banquet, as most of the beginning of this story is told directly from Betsey's perspective, and once she begins to undergo her transformation, the narrative then shifts over to Holly, allowing us to connect with her viewpoint of these events as they unfold. This change feels so purposeful because it's at this point in the story, the character of Betsey is no longer "here" in the traditional sense, so if A Banquet continued following Alexander's character, we'd lose a sense of realness to the story as it unfolds because the teenager was no longer a reliable narrator. It also provides Guillory with some incredible material where her character Holly becomes the emotional anchor for A Banquet, and her frustrations and sorrow are nearly palpable to viewers. There are moments in this where you nearly feel like you're carrying the same emotional weight as Holly does throughout this story, and to me, that's the earmark of a director who precisely knows just how to make something that resonates far beyond the visual medium. IFC Midnight will be releasing A Banquet in 2022, and I highly recommend keeping an eye out for it once it's released.
Movie Score: 4/5
---------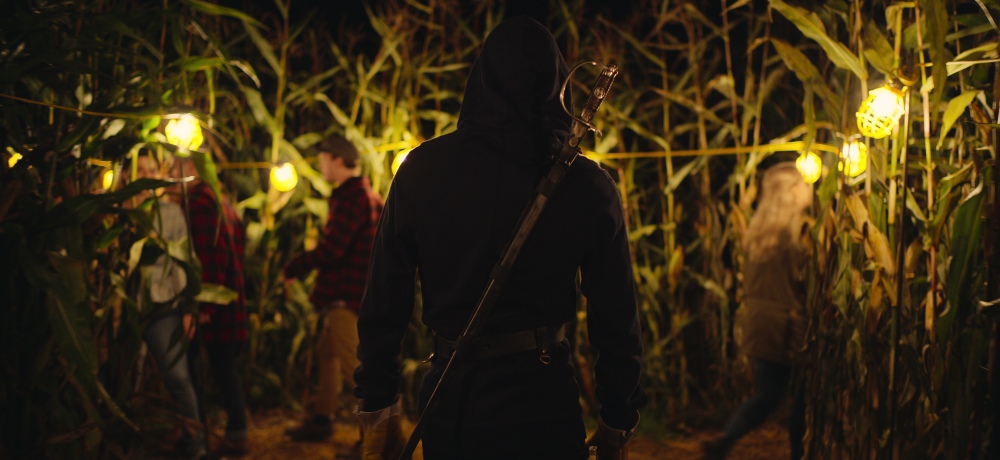 There's Someone Inside Your House: As a huge slasher fan, it pains me to say that I didn't end up loving There's Someone Inside Your House from Patrick Brice (whose Creep and Creep 2 still remain two of my favorite modern horrors) for a variety of reasons. I don't really think the conceit of the film fully comes together, the story—especially the reveal of the killer—feels incredibly forced at times, and I think the targeting of one of the victims in There's Someone Inside Your House feels completely out of step with the rest of the film. There are some positives to Brice's latest genre offering (more on that in a bit), but as a whole, I think we've seen stronger and more effective YA-style slashers come along this year than what we get in There's Someone Inside Your House. And that bums me out big time as a fan.
In this story, an unknown killer is targeting the teens of a small town in Nebraska by preying on them because of misdeeds from their past. As they stalk their prey, the murderer dons a specially created mask that replicates the face of their victim, a visual metaphor for these liars being forced to face their uncomfortable truths (which is a cool concept, to be fair). And as the body count starts to rise, it's up to Makani (Sydney Park) and her friends to try and solve the mystery before they become the latest casualty in this series of targeted murders. As far as set-ups go, I definitely enjoyed the first 30-40 minutes of There's Someone Inside Your House, as it really nails a lot of the tropes that I dig in slasher movies. But there's a specific moment in the narrative where the killer targets someone not because they've actually done anything wrong or harmed someone else, it's because they have an addiction problem, and admittedly, that's where TSIYH lost me as a fan. It just didn't feel like it fit the motivation of the killer, and it also feels needlessly cruel to boot, and even though I know this is entertainment and escapism, seeing a kid being targeted because of their addiction just didn't sit right with me at all.
That's not to say that the whole experience was a total wash for me, as there were a few elements to There's Someone Inside Your House that were incredibly well done. Visually, Brice and DP Jeff Cutter collaborate here to create some real magic and do some impressive things with the camera that added a lot of style to the project as a whole, and I think Park as the film's lead was a standout amongst the rest of the ensemble. The set pieces early on in TSIYH are also absolutely killer as well, which is why I felt so deflated by how everything unfolds in the finale. In any case, if you're a slasher fan and are thinking about checking out There's Someone Inside Your House, I'd still say it's worth your time, but I'd recommend keeping your expectations in check.
Movie Score: 2.5/5
---------
The Beta Test: Who knew erotic thrillers could be funny? Apparently, Jim Cummings and PJ McCabe did, because they somehow found a way to create a viewing experience that was both tantalizing and wickedly hilarious in The Beta Test, a project on which they both shared writing and director duties. Cummings and his high-strung antics are once again front and center in The Beta Test (much like the supremely great Thunder Road and the equally awesome The Wolf of Snow Hollow), but his character Jordan's anxieties are warranted, as he finds himself intertwined in a conspiracy fueled by infidelity, data mining, and paranoia, all right before getting married to his fiancé Caroline (Virginia Newcomb, who low-key steals every scene she's in throughout The Beta Test).
In The Beta Test, Jordan is a Hollywood agent who receives a mysterious invitation informing him that a secret admirer wants to meet him for a secretive sexual encounter, and then asks him to complete a discrete questionnaire indicating his sexual preferences. The day comes when Jordan receives a response in the form of a hotel room key card, and he begins to wonder if he should go through with the encounter, especially since he's only weeks away from being married and he's somewhat convinced that this is all just an elaborate set-up to reveal just what a creep he truly is. Curiosity gets the best of Jordan, though, and he ends up going through with the random hook-up, but the reverberations of his actions continue to weigh on him as he's convinced that somehow his dalliance is going to become public knowledge one way or another. And that's when the games begin.
To reveal just how everything unfolds in The Beta Test would be a huge disservice to Cummings and McCabe's script, but I must admit that there were a few moments when I was genuinely surprised by some of the reveals, and I also loved for as much as this is a steamy psychological thriller, The Beta Test also happens to be a razor-sharp, scathing takedown of the commodification of Hollywood that often left me cackling, especially whenever Jordan was interacting with his poor assistant Jaclyn (Jacqueline Doke), who tolerates a lot of her boss' BS. As always, Cummings does a brilliant job of delivering up yet another panic-inducing character in The Beta Test that you kind of hate and love in equal measure (and I mean that as a good thing), and I'm just happy to see the tried-and-true tradition of erotic thrillers being upheld in The Beta Test after lying dormant for all these years.
Movie Score: 4/5
---------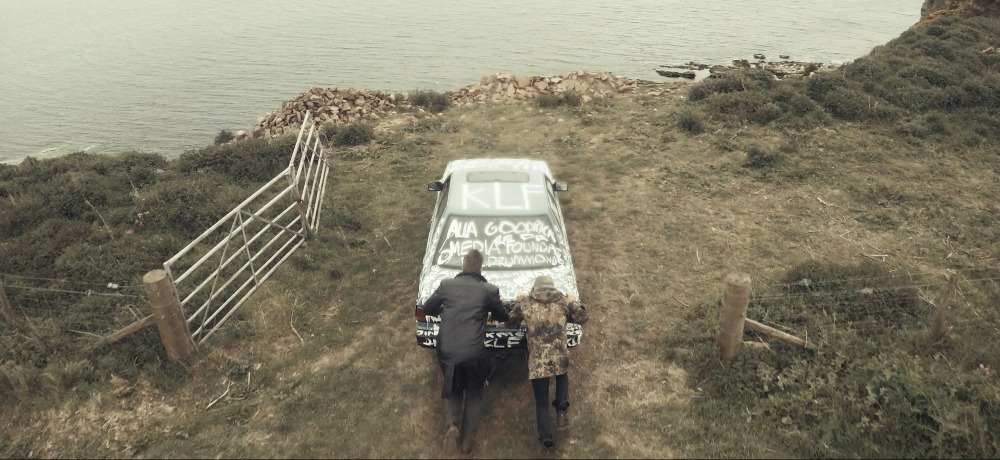 Who Killed The KLF?: I've made mention of this previously, but I've always had a deep-rooted love for electronic music in all its forms, which is why I was so keen to check out Who Killed The KLF? during this year's Fantastic Fest. Thankfully, documentarian Chris Atkins certainly delivers the goods here as best as he can, especially considering KLF members Bill Drummond and Jimmy Cauty's involvement with the project only comes via archival video footage and segments from audio interviews in the past. But when I saw the title for this project pop up on the list for FF, it hit me—holy crap, just what on earth happened to The KLF? Because here in the States, it seemed like they were everywhere and then nowhere in a blink of an eye. And that's precisely the thesis of Atkins' doc.
For those who may be unfamiliar with the work of The KLF, they were a British pop-electronic duo who rose to superstardom after releasing tracks like "Last Train to Trancentral," "What Time is Love?," "Justified & Ancient," and "3 A.M. Eternal," which was probably the duo's biggest hit. They enjoyed several years of success, but they promptly retired from the music industry after a blistering performance at the 1992 Brit Awards, and became highly notorious after they decided to set fire to one million pounds in a final act of anarchy. From there, the legend of The KLF has lived on, but so many questions remain in their wake, and Atkins admirably attempts to fill in the blanks for fans after nearly three decades.
While it does feel like Who Killed The KLF? could have benefitted from just a few small editorial trims here and there (the pacing dips about halfway through the doc but picks back up in the last 15-20 minutes), overall, I was completely enthralled by just how thorough Atkins was in his exploration of this musical act that seemed to be at constant odds with the industry it was a part of and the concept of success as a whole. Also, being an electronic music fan myself, I geeked out hard when both Paul Oakenfold and Carl Cox made appearances here, just because they are legendary figures in this world and have unique perspectives to offer in terms of just how The KLF revolutionized the electronic music scene in the late 1980s and early 1990s. I also appreciated the inclusion of the process behind The KLF's collaboration with Tammy Wynette for the aforementioned "Justified & Ancient," too, simply because I didn't realize just how involved that track was as a whole. Who Killed The KLF? feels like a real gift for music fans, and kudos to Atkins for doing his best to make sense of these musicians who often defied traditional logic and norms during their heyday.
Movie Score: 3.5/5      
---------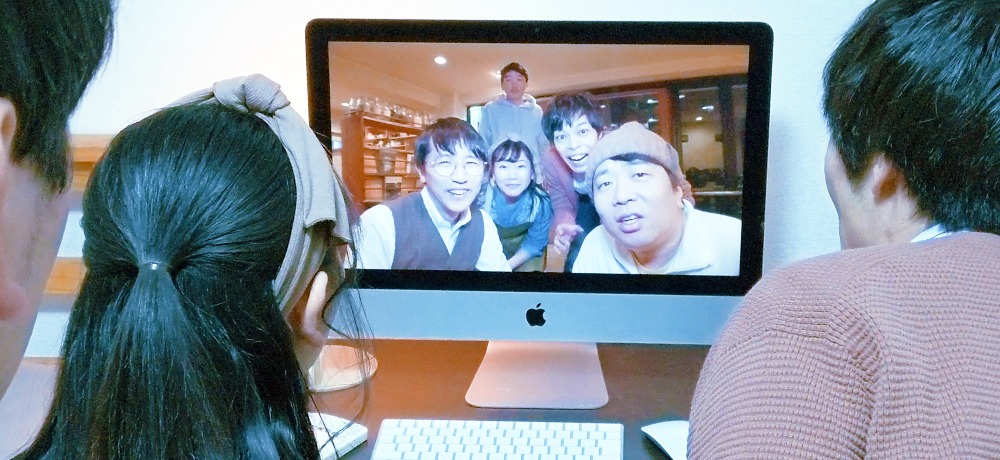 Beyond the Infinite Two Minutes: I'll be honest—sometimes time travel movies make my head hurt, which is why I really appreciated how director Junta Yamaguchi was able to break down time travel concepts in a manner that even I could grasp easily in his sci-fi comedy Beyond the Infinite Two Minutes. Beyond that, the film itself is a total delight and I was wholly charmed by this cast and Yamaguchi's innovative examination of the dangers of knowing too much about our fates and the beauty of knowing nothing.
Written by Makoto Ueda, Beyond the Infinite Two Minutes wastes no time in establishing that somehow there is a time loop connection between the computer monitor in cafe owner Kato's (Kazunari Tosa) apartment and the one that he keeps in his business downstairs from where he lives. As he stumbles across this discovery, it captures the attention of his friends and co-worker, and Ueda begins to build upon that concept of time travel even further in ways that still blow my mind even now. I am someone who absolutely loves scrappy, DIY sci-fi, and what Yamaguchi has created here is pure magic, and I loved how it was something that felt brainy and clever, but also has a big heart as well. Beyond the Infinite Two Minutes is the very definition of "crowd-pleaser" in every conceivable way, and it's a movie that I know I'm going to be spending a lot of time and energy recommending to other sci-fi fans for years to come.
On a technical level, Yamaguchi (who also edited the film and handled the cinematography as well) left me in awe with how Beyond the Infinite Two Minutes comes together, as it feels like the 71-minute film was just one long-running shot. I'm still not sure just exactly how Yamaguchi pulled off such a feat here, but the truth is, I almost like not knowing because that illusion adds an enticing layer to the overall project that makes it feel even more special than it already does. I'm not sure exactly what the distribution plans are for Beyond the Infinite Two Minutes, but I highly recommend that fans of low-budget, high-ambition sci-fi keep their eyes peeled for this one.
Movie Score: 4.5/5  
---------
Visit our online hub to catch up on all of our coverage of the 2021 Fantastic Fest!