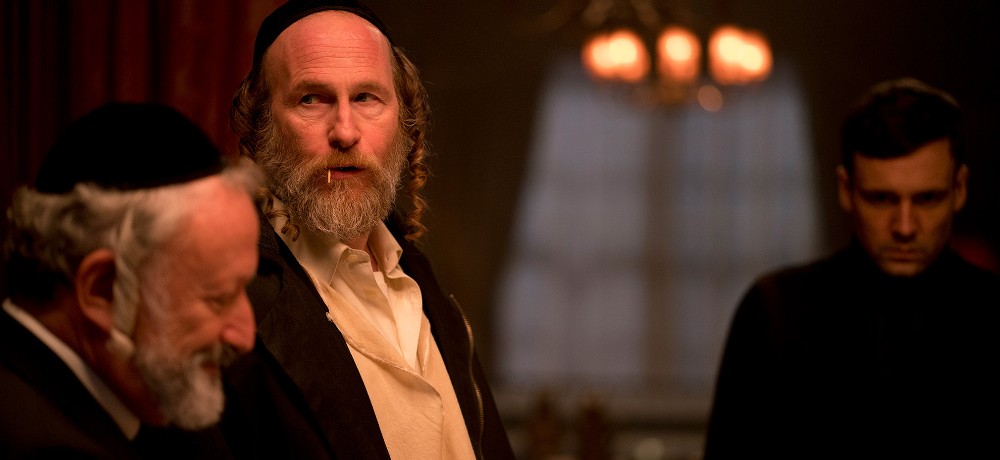 There are countless horror movies dealing with various kinds of demons and possession, but not very many that take the time to explore and showcase ancient Jewish lore and demonology. The first movie that comes to mind is 2019's The Vigil, a terrifying and consummate film about a young man in Brooklyn's Hasidic Borough who agrees to fulfill the duties of a shomer, which in Judaism is someone who watches over a deceased person until burial. Written by Hank Hoffman and Jonathan Yunger and directed by Oliver Park, The Offering is also set in Brooklyn's Hasidic community and takes a deep dive into Kabbalah lore and demonology. The Offering is Park's feature film directorial debut and premiered at this year's Fantastic Fest. The Offering skillfully blends traditional Jewish lore with the haunted house subgenre and the result is a genuinely scary experience. 
The Offering follows Art, played by Nick Blood (Agents of S.H.I.E.L.D., Euphoria), who returns to his childhood home in Brooklyn's Hasidic community with his pregnant wife Claire, played by Emily Wiseman (Winchester, The Gloaming), hoping to reconnect with his father. Claire isn't Jewish and Art is estranged from his very traditional family, so their arrival is awkward to say the least. Art's father Saul (Allan Corduner) is the undertaker for the local Hasidic community and unbeknownst to him, Art wants to use Saul's home as collateral for a loan in order to get himself out of debt. Heimish (Paul Kaye) works with Saul in the funeral home and is immediately suspicious of Art's intentions and goes out of his way to make him feel unwelcome. Prior to Art and Claire's arrival, Saul receives the body of a man who committed suicide, but what no one realizes is that trapped within the man's body is an ancient demon that feeds on children. In a desperate attempt to stop the demon from feeding on the neighborhood children, the man performs a binding ritual and places an amulet around his neck before committing suicide, all of which is guaranteed to trap the demon inside his body forever. But the demon is hungry, and Claire's unborn child is too appetizing to resist. 
The bulk of The Offering takes place in the dimly lit funeral home which gives the film an extraordinarily eerie atmosphere. There is an abundance of dark spaces where the demon can lurk, and coupled with the excellent sound design, the resulting experience is anxiety-inducing and provides for some highly effective jump scares throughout the film. The Offering does a fantastic job of analyzing and explaining the Torah and translating Hebrew to describe the customary sigils and rituals necessary to contain the demon. In fact, the original title of the film was Abyzou, which in ancient Jewish folklore is a female demon who was often blamed for miscarriages and infant deaths. Along with the creepy atmosphere that accentuates the story, The Offering features some convincing, haunting visual effects and a striking creature design. The entire cast is exceptional, but the standout performance is from Nick Blood as the emotionally conflicted Art, who desperately wants to save his wife and unborn child, but to do so he will have to reconcile not just with his family, but also with his faith. 
The expert sound design, lighting, and atmosphere, along with frightening creature effects make this film a memorable addition to the haunted house subgenre. The Offering's thoughtful interpretations of Jewish folklore and demonology make the storytelling effectively horrifying as well as meaningful and make this an accomplished debut feature film. 
Movie Score: 4/5
Teaser Trailer via Bloody Digusting!