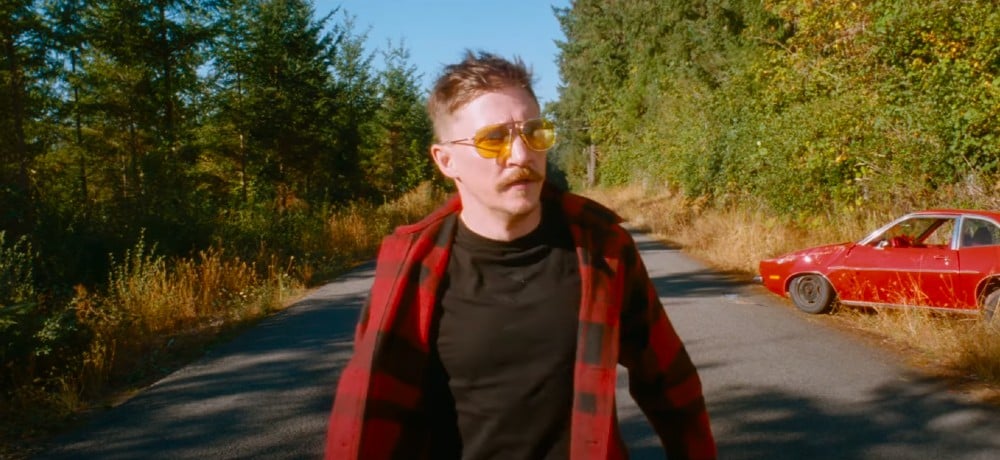 [Editor's Note: This article was written during the 2023 WGA and SAG-AFTRA strikes. Without the labor of the writers and actors currently on strike, the film being discussed here wouldn't exist.]
There's a scene in JT Mollner's Strange Darling where Ed Begley Jr. makes breakfast. He chars sausages, unsheathes and melts a stick of yellow butter, then cracks a messload of eggs and leaves them to bubble while pouring out thick globs of pancake batter in a second pan. He layers the cakes with the eggs and encased pork meat and yet more butter before drowning the whole thing in whipped cream that promptly starts to liquefy. He places the mess in front of his wife (Barbara Hershey), who comically offsets the caloric mound by placing a single, wimpy red strawberry on top. This scene is almost certainly unintentionally illustrative of Moller's approach to his sophomore feature: a twisty cat and mouse thriller so overstuffed with delicious elements that it's constantly on the verge of becoming too much of a good thing. 
The film begins with the horror genre's reigning hot dad (just ask Twitter), Kyle Gallner (Smile) as a coke-hoovering assailant in pursuit of a frantic, bloodied woman (Willa Fitzgerald, MTV's Scream) hurdling down a country road in a vintage pinto. After totaling her ride and chasing her into thick woods, the film jumps forward and backward over six disordered chapters that force the audience to reorient themselves in the story and question what we actually know about the pursuer and pursued. 
Mollner (whose debut feature Outlaws and Angels was a Sundance selection) nearly loses his audience up front with an extreme amount of preamble. With a pronouncement that Strange Darling was shot entirely on 35mm (kudos), followed by a Texas Chain Saw Massacre – style scrawl (read aloud by an imitation John Larroquette), an introduction to the players (complete with quote-unquote mysterious character monikers), and a title card describing the film as a thriller in six chapters, the film smacks of the irritating, try hard, sub-Tarantino riffage that was once popular but has itself has become something of a stylistic anachronism this side of the new millennium. But once the writer/director has all that out of his system, Strange Darling is able to settle into itself and win the viewer back with its merciless subversions and beguiling lead performances. 
Gallner and Fitzgerald do fine work in the tense, trailer-worthy moments, but the film really comes alive when the two get to share quieter ones. Actor Giovanni Ribisi (in a surprising first stint as feature cinematographer) uses his camera to drink in the white hot duo's faces as they chew over Mollner's surprisingly piquant dialogue. These scenes feel almost stagebound in a not unpleasant way (playwright David Ives' spiritually similar psychosexual pas de deux Venus in Fur comes to mind), dividing up the action and adding real meat to Strange Darling's relatively bare bones. The movie really belongs to Fitzgerald though, who goes from cute as a button to mean as a snake with kick-to-the-nuts quickness. It's safe to say that anyone not already familiar with the actress won't soon forget her when Strange Darling's credits roll. 
But Mollner sure does make you wait for those credits. At 96 minutes, one wouldn't expect Strange Darling to overstay its welcome, but the writer/director saddles his film with a protracted finale that feels like it goes on and on ad absurdum. The film trips its way over multiple very fine and acceptable endpoints to conclude on a final shot that hangs on so long it goes from annoyance to hilarity to a sort of profundity and back to annoyance again in what must just be a minute or two but feels like an age. It's choices like this that frequently threaten to overturn Strange Darling – yet Fitzgerald and Gallner (and to a lesser extent Begley and Hershey) put their full weight into keeping the ship upright. As the saying goes, too much of a good thing can be wonderful and that approach yields mixed results in this film, but it's hard to fault Mollner's over-eagerness when the film at its core is damn good.
Movie Score: 3.5/5