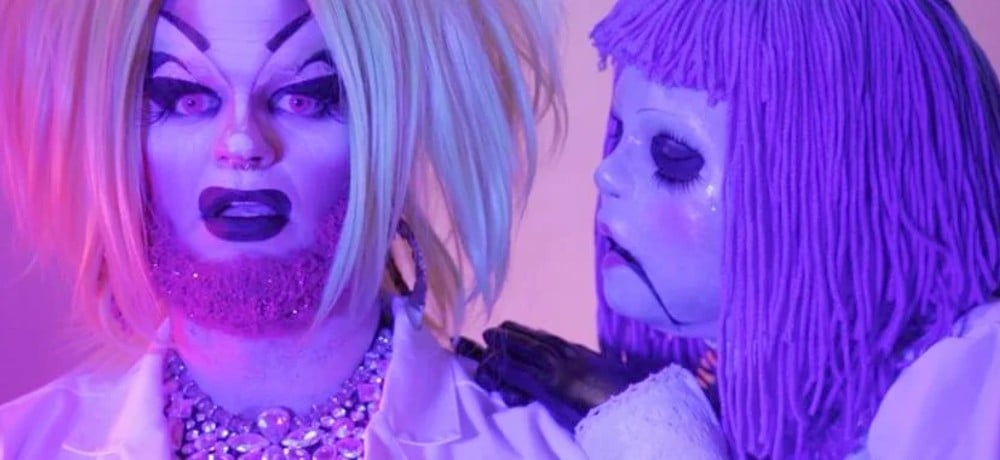 Have you ever felt that Pink Flamingos would be even better if Divine had mugged her way through a musical number or five? Was 2020 drag slasher comedy Death Drop Gorgeous a little too slick and genteel for your appetite? Then leave it to director Heidi Moore and the maniacs at Troma to turn your crank with Kill Dolly Kill – a drag rock musical with as much good taste and refinement as production value and discernable lyrics. 
Ostensibly a sequel to Moore's Dolly Deadly (2016), Kill Dolly Kill is built around drag performer Donna Slash as the eponymous lethal poppet – the grown up drag queen alter ego of the original film's pre-teen killer, Benji. Dolly is eager to take the title of Serial Killer of the Year as voted on by the citizens of Tromaville, but when her nemesis Slasharella (Amy Vodkahaus) gets her arrested, sent to an asylum and takes over as ruler of her trailer park with the help of crooked "family values" politician, Mayor Harry Cox (Tom Komisar), Dolly will have to use all her smarts to claim the title and rescue Paradise Park. 
Kill Dolly Kill is Moore's first production under Troma's piss-yellow umbrella, and it embraces what some would lovingly refer to as the studio's house style and then some. This is a down 'n dirty, fly-by-night production that looks like it escaped from the year 2008 with horrendous green screen, digital video of variable quality, and actors wearing street clothes as they fumble their way through scenes only tangentially related to what one would generously refer to as the plot. But all this is an asset in Tromaland, and Moore taps into that whackadoo Lloyd Kaufman energy like she's been at it for ages. 
It's also nice to see something this brazenly queer come out of the studio (right down to Moore herself, a pillar of the gay community for her work with Helix Studios) which has always made fans of misfits and outsiders but whose films often feel tailored to the tastes of edgelord, South Park-quoting heterosexuals. Of course, offense is the name of the game with Troma, but the AIDS subplots in Troma's War (1988) - which Kaufman often cringely boasts is the first film to mention the virus - and transgender killer of Terror Firmer (1999) are especially egregious examples of punching down at a community that would otherwise be drawn to the sorts of provocative fringe entertainment the studio is known for. Especially in light of Kaufman's own admittedly funny but dated-on-arrival anti-woke 2020 groaner #ShakespearesShitstorm, it's nice to see Troma align itself with outcasts again, putting its stamp on a queer film that wears its righteous progressive anger on its lube-stained sleeve. 
For a longtime (and sometimes begrudging) gay Troma fan, Kill Dolly Kill feels like something of a glitter-bearded mea culpa. Between its cavalcade of queer performers, Moore's colorful direction, and a script that rages against the gathering storm of anti-LGBTQ discrimination, Kill Dolly Kill is easy to embrace for any Troma die-hard who knows that standing in solidarity with your fellow freaks and weirdos is the best way to, as Dolly herself would put it, "get through this shit-fuck of a life." And if that doesn't work? Let's get to melting nutsacks!
Movie Score: 3/5