Hello everyone! We're back to give you the lowdown on another week of home media releases, and while we don't have a ton of titles on tap, there are still a few key releases genre fans are going to want to pick up this Tuesday.
If you missed it during its run on HBO, you can finally catch up with the first season of Lovecraft Country, as Warner Bros. is bringing it home on both Blu-ray and DVD. Jay Baruchel's Random Acts of Violence is also headed to both formats this week, or if you're in the mood for something a little more old school, both The Unseen and Slithis are getting the Blu-ray treatment on Tuesday as well.
Other home media releases for February 16th include Bad Impulse, Butchers, The Leprechaun's Game and Mask of Thorn.
Lovecraft Country: The Complete First Season (Warner Bros. Home Entertainment, Blu-ray & DVD)
Based on the 2016 novel by Matt Ruff, Lovecraft Country follows Atticus Freeman (Jonathan Majors) as he joins up with his childhood friend Leti Lewis (Jurnee Smollett) and his Uncle George (Courtney B. Vance) to embark on a road trip from Chicago across 1950s Jim Crow America in search of his missing father, Montrose Freeman (Michael K. Williams). Their search-and-rescue turns into a struggle to survive and overcome both the racist terrors of white America and monstrous creatures that could be ripped from an H.P. Lovecraft paperback.
Lovecraft Country stars Jurnee Smollett (Birds of Prey, Underground), Jonathan Majors (Da 5 Bloods, The Last Black Man in San Francisco), Aunjanue Ellis (When They See Us), Wunmi Mosaku (Fantastic Beasts and Where to Find Them), Abbey Lee (Mad Max: Fury Road), Jamie Chung (Once Upon a Time), Jada Harris (The Resident), and Michael K. Williams (HBO's The Wire and Boardwalk Empire). Recurring guest stars include Courtney B. Vance (HBO's The Immortal Life of Henrietta Lacks, American Crime Story), Jamie Neumann (HBO's The Deuce), Jordan Patrick Smith (Vikings) and Tony Goldwyn (Scandal).
Special Features:
NEW Compendium of Horrors
NEW Orithyia Blue and the Imagination of Diana Freeman
Crafting Lovecraft Country
Exploring Lovecraft Country
Lovecraft Country The Craft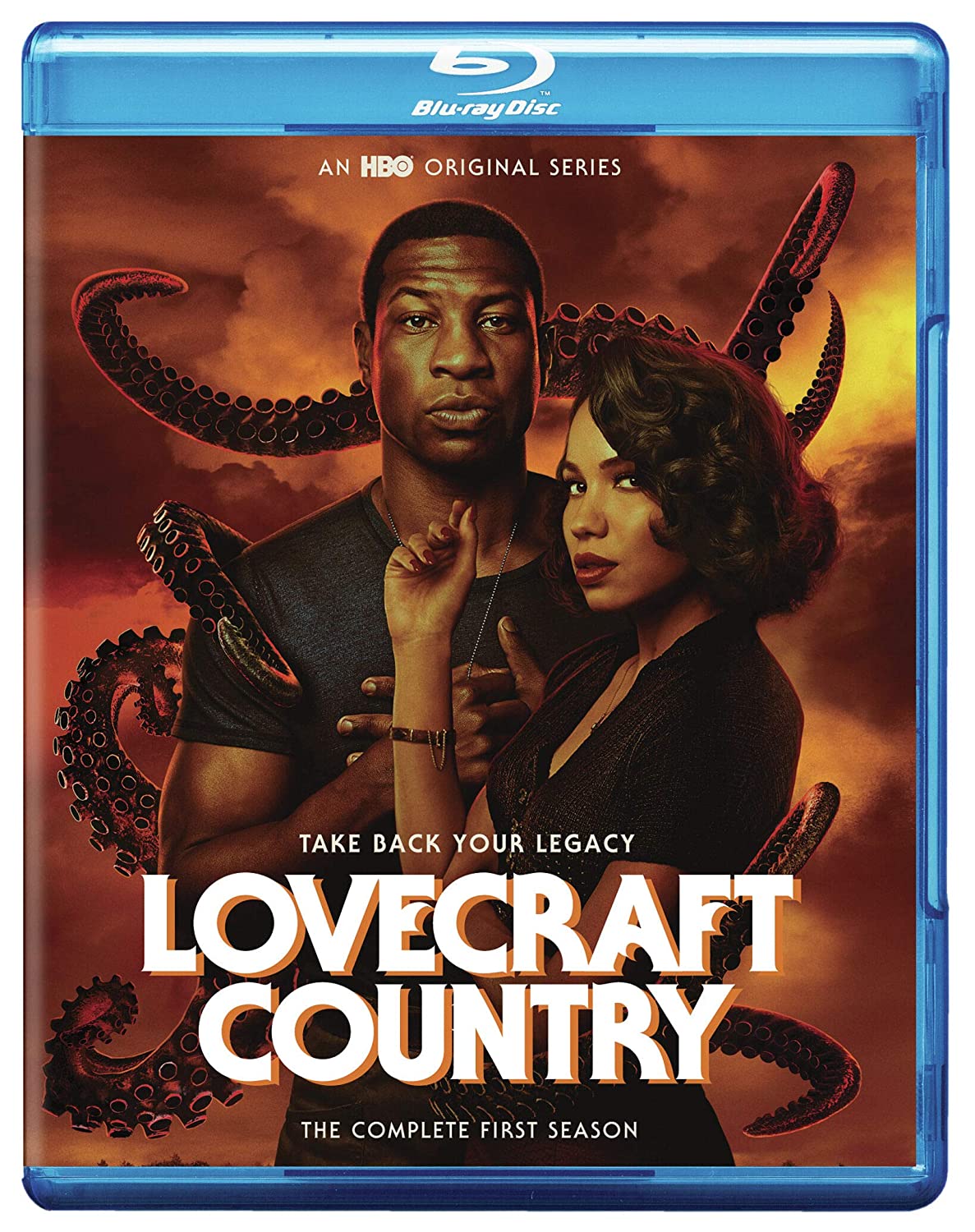 Random Acts of Violence (RLJE Films, Blu-ray & DVD) 
Comic book creator Todd Walkley, his wife, assistant and best friend, are heading to NYC Comic Con when bad things start to happen—people start getting killed. It soon becomes clear that a crazed fan is using his "SLASHERMAN" comic as inspiration for the killings. And as the bodies pile up, and Todd's friends become victims themselves, he is forced to face the killer and put an end to his notorious comic once and for all.
Bonus Features:
Interview with Director Jay Baruchel
More Than Just a Scary Movie
Inside the Making Of an Action Scene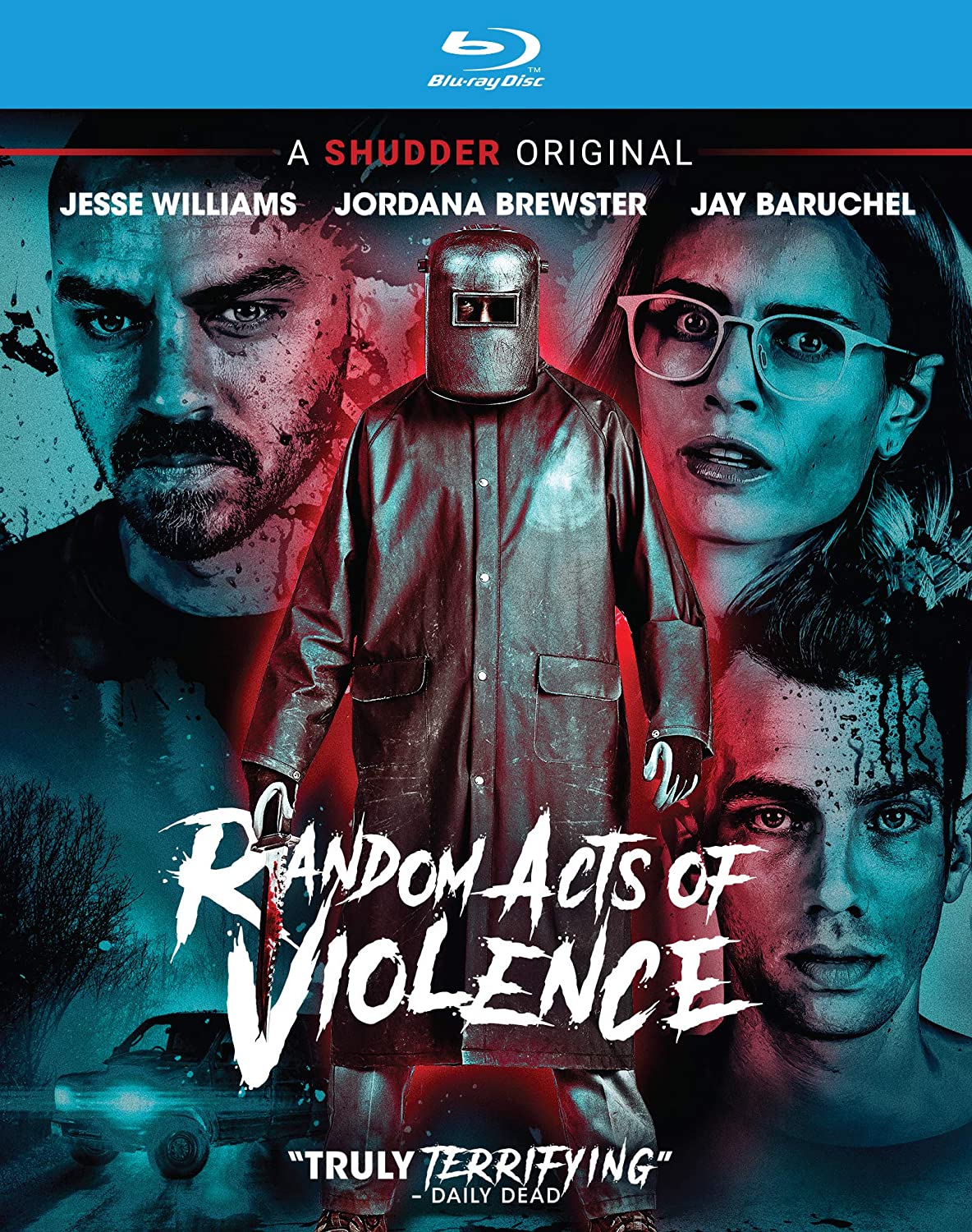 Slithis (Code Red, Blu-ray)
Finally, nature unleashes its revenge! From the pollution of our nuclear waste came the killer we cannot destroy. Our worst nightmares come to life with the terrifying, scaly monster – SLITHIS! First this nuclear mutant killed household pets near the canals of Venice, California. Now it preys on old couples and a homeless rotund man sleeping in the public men's room! In the tradition of JAWS, two outcasts, a teacher and a Jamaican sea-hunter, will take on the horrific monster to stop the slaughter! This mud monster creature is something out of those 50's classics we love!
Special Features:
2017 2K SCAN OF THE ORIGINAL CAMERA NEGATIVES

THEATRICAL TRAILER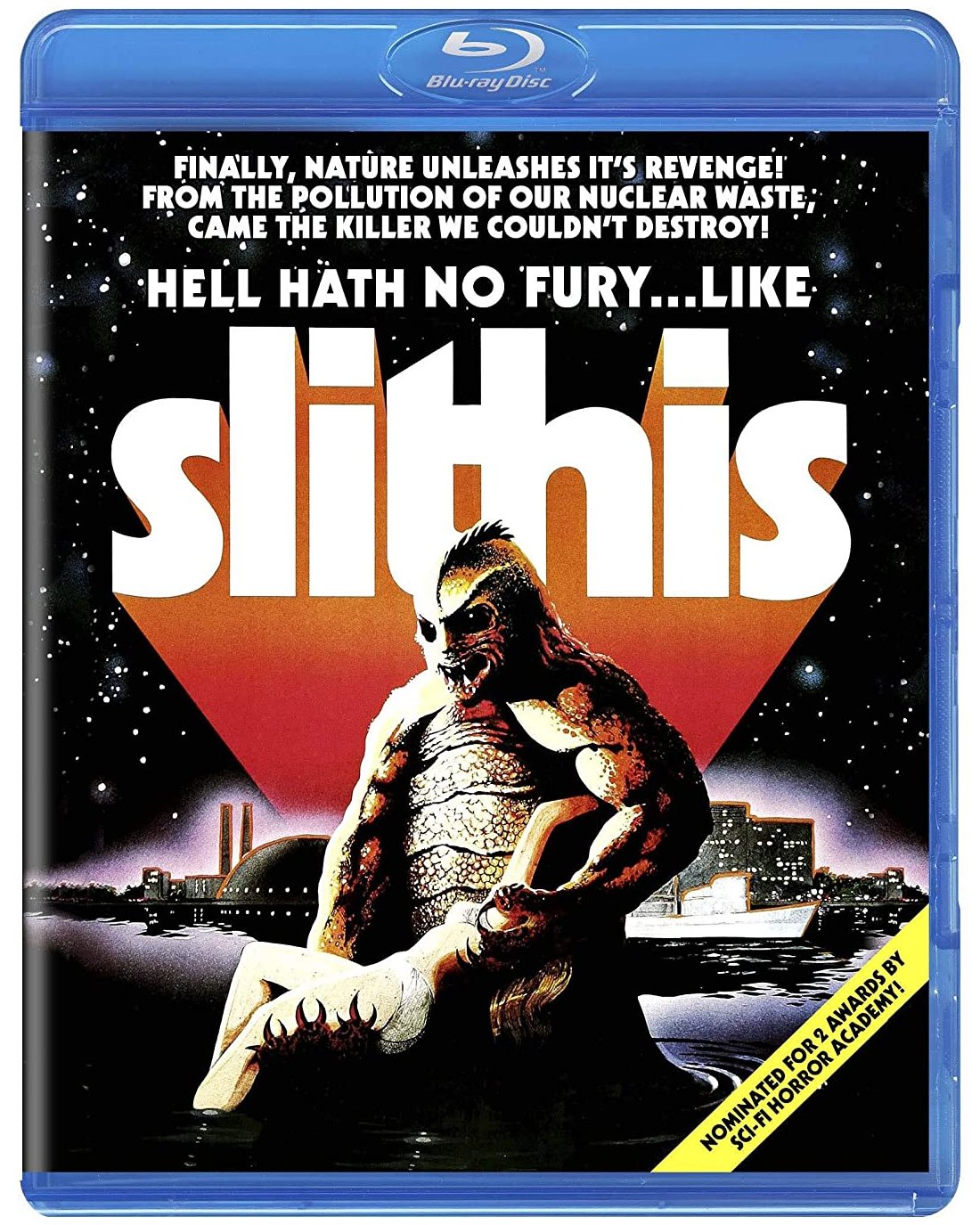 The Unseen (Scorpion Releasing, Blu-ray)
A TV reporter (Barbara Bach, The Spy Who Loved Me, Force 10 from Navarone) and two friends head to Solvang, California, to cover a Danish festival. When a mix-up at the hotel leaves them stranded without hotel rooms, the girls accept the invitation of a friendly museum owner to board at his farmhouse. But what the women don't know is that something is living in the basement of that farmhouse – something unspeakable. Their stay soon becomes a horrific nightmare when they encounter the "unseen". Also starring Stephen Furst (Animal House, Midnight Madness), Sydney Lassick (Carrie, One Flew Over the Cuckoo's Nest), Lelia Goldoni (Faces, Bloodbrothers), Douglas Barr (TV's The Fall Guy, Deadly Blessing) and Karen Lamm (Trackdown). Herbert R. Steinmann (Dawn of The Dead) presents this original story by makeup legends Stan Winston (Pumpkinhead) & Thomas R. Burman. Co-written by Kim Henkel (The Texas Chainsaw Massacre) and directed by Danny Steinmann (Savage Streets), witness the horror with a brand new 2K scan of the original negatives!
Special Features:
2K Scan of the Original Negatives with Over 45 Hours of Color Correction

Audio Commentary with Producer Anthony B. Unger and Actor Stephen Furst

On Camera Interview with Editor Jon Braun

Kats Eyes: On Camera Interview with Producer Tony Unger

Interviews with Actors Stephen Furst and Doug Barr with Make-Up Designers Craig Reardon and Tom Burman

Make-Up Test Slides, Sketches and Behind-The-Scenes Stills from Craig Reardon's Personal Collection

Watch this in "Katarina's Nightmare Theater" with Hostess Katarina Leigh Waters

Theatrical Trailer

Dual-Layered BD50 Disc

Optional English Subtitles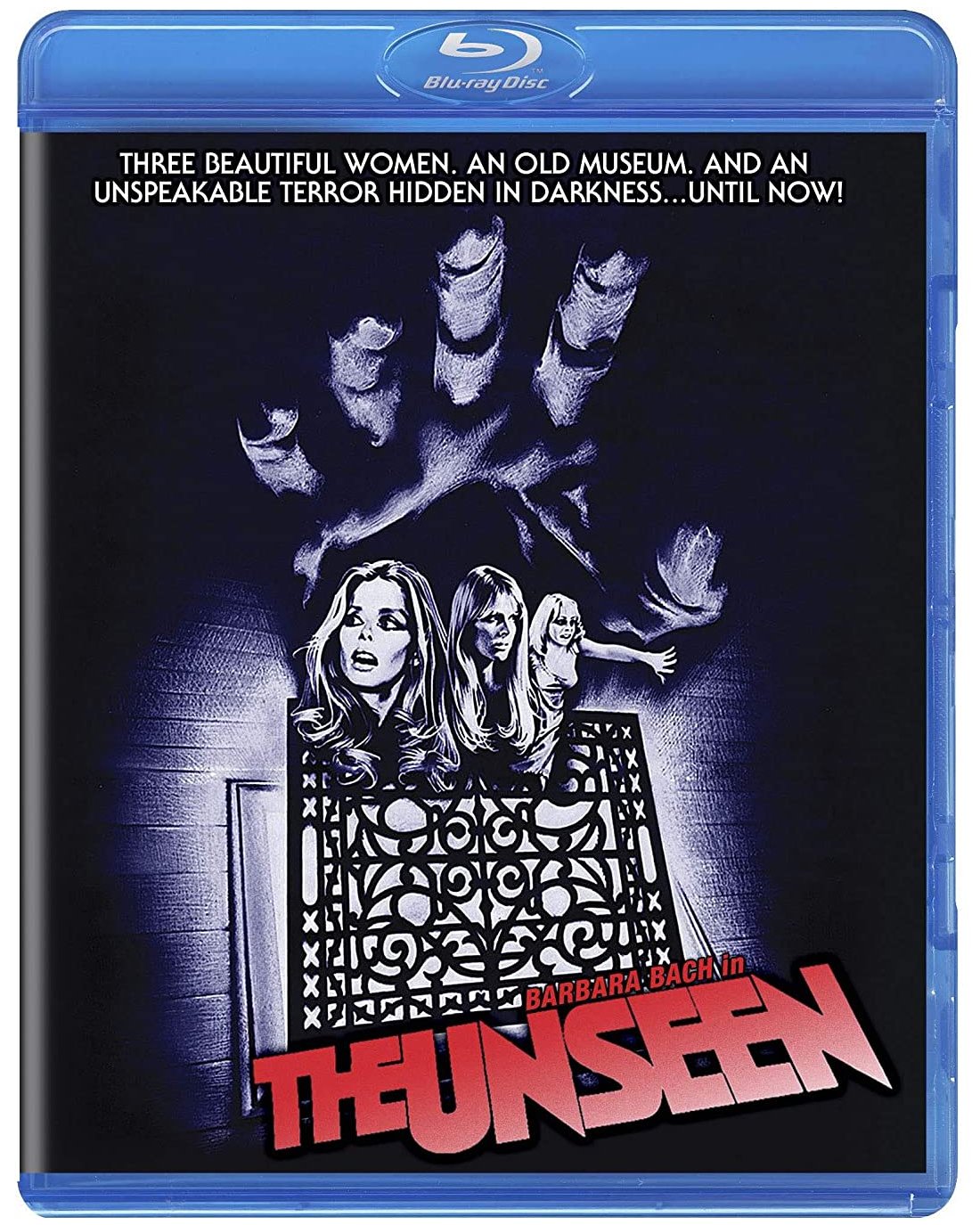 ALSO AVAILABLE THIS WEEK:
Bad Impulse (Gravitas Ventures, DVD)
Butchers (Breaking Glass, DVD)
The Leprechaun's Game (ITN Distribution, DVD)
Mask of Thorn (Rising Sun Media, DVD)