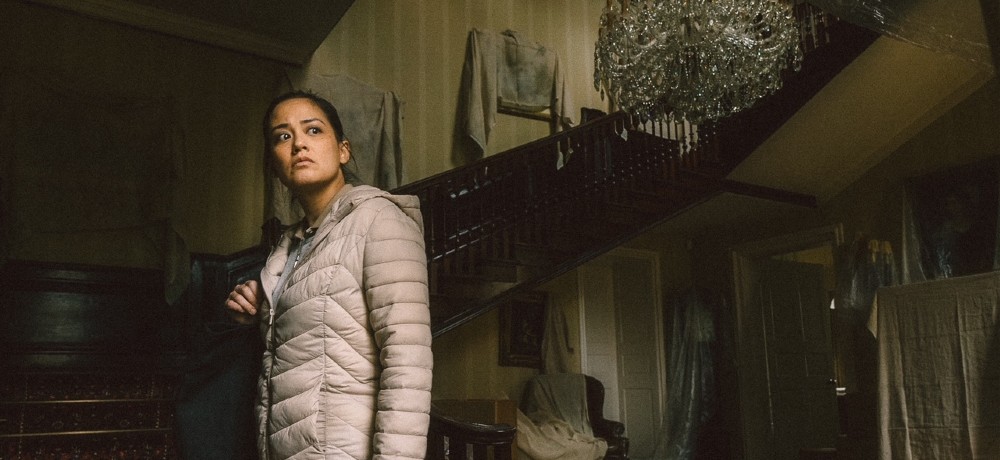 Raging Grace has already featured at a number of festivals this year, most notably SXSW where it picked up the Narrative Feature Jury Award and Thunderbird Rising Award for Best Debut, but sometimes the buzz around a movie doesn't quite live up to the hype, which can leave you wondering what all the fuss was about. However, when it comes to Raging Grace, all plaudits are fully deserved.
Raging Grace tells the story of Joy, an undocumented Filipina woman living in the UK with her daughter, Grace. In a desperate attempt to gain citizenship quickly she saves all the money she can from her housekeeping jobs. Day after day she toils whilst listening to the ignorant, offensive and demeaning comments from the people she works for. Joy must also juggle her day job with being a full-time mother to her mischievous daughter. 
But, one day, Joy gets a break. She is asked to look after a terminally Ill man, Mr Garrett, who is in a permanently comatose state. Joy is compensated well for her work and gets to stay at the stately home where she works, along with Mr. Garrett's niece, Kathrine. However, Joy must put up with the outdated attitudes of the niece whilst concealing Grace, who is living at the property undetected. As Joy gets to know the house and its occupants more, she also starts to learn the secrets that are hidden away. These secrets also illuminate some shadows from Joy's past. 
Raging Grace is a social and cultural drama decorated with gothic horror sensibilities and aesthetics – and it's fantastic. Director Paris Zarcilla takes a relatively simple, but thrilling, premise and loads it with a beating heart, which is anchored by the characters of Joy and Grace. The pair are the perfect duo – as the mother, Joy is careful, diligent, protective and cautious. Whereas Grace is her spiritual opposite – care-free, inquisitive, risky and happy. The dynamic is perfectly placed in a setting where secrets are there to be uncovered and suspicion and deceit lies behind every corner. The bond between them is unbreakable and endearing and they are at their strongest when they are together. 
The performances are stellar as well – Maxene Eigenmann's portrayal of Grace is superb. The layers of angst, regret and fear constantly, but subtlety, permeate during this understated performance. The heavy weight of her situation can constantly be felt through every lip-biting smile and every painfully-accepting nod. And Jaeden Paige Boadilla is so composed and on point as Grace, especially considering this is her debut performance. Grace and Joy are ghosts in their own lives – Joy is an undocumented woman striving to become a British citizen, and Grace isn't allowed to be seen or detected in the house; she is forced to live in the shadows.
Paris Zarcilla manages to expertly weave light-hearted moments into proceedings, namely when Joy has to go to great lengths to hide Grace in plain sight. These scenes could easily feel misplaced but Zarcilla manages to play up both the tension and the humour without breaking the momentum or comprising the story.
There are many horrors in Raging Grace, but they don't come in the form of zombies, serial killers or ghouls. They come in the form of everyday fears – fear of losing a loved one, loss of a home and loss of identity. Raging Grace doesn't need a boogeyman or a supernatural figure to drive the threat, for Joy and Grace the threats are there all the time – ignorant people, antiquated attitudes and a lack of power and control. Every character has a ghost from their past that they need to confront. Katherine and Mr Garrett's ghost is one they wish to keep hidden, but for Joy, confronting her ghost will give her and Grace more understanding, trust and closure regarding their past. 
Raging Grace received a standing ovation after its screening at FrightFest 2023, and apparently only a handful of films have achieved this accolade, but given how fantastic the finished product is it's not hard to see why.
Though not strictly an out-and-out horror, Raging Grace uses the haunted house as a backdrop for the more everyday horrors of society. This is not to be missed – seek it out at your earliest opportunity. 
Movie Score: 4.5/5