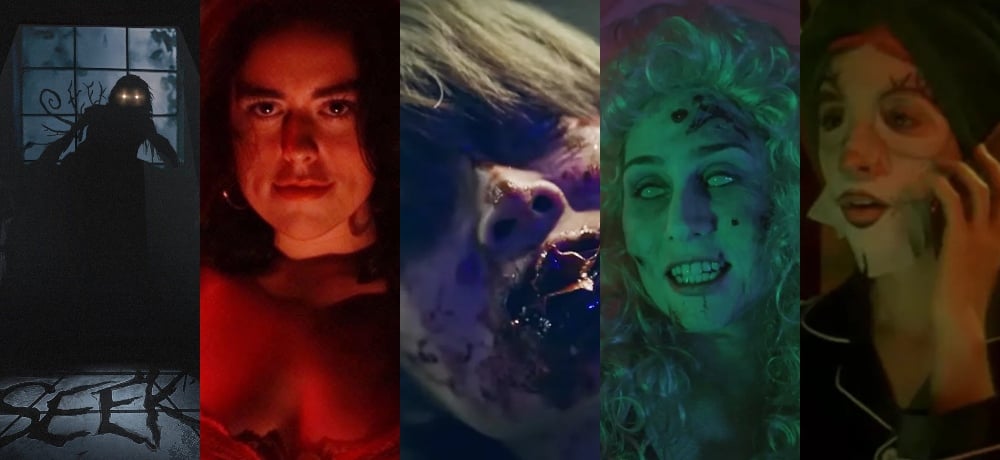 Happy (almost) Halloween, dear readers! Now that the big day is nearly upon us, I thought I'd put together a list of some fantastic horror shorts that have come across my radar recently to help you get into a macabre mood for the spooky season. Selections for this special Halloween-themed edition of Salutes Your Shorts include Seek by Aaron Morgan, Hannah May Cumming's Fanatic, The Door from Hetong Zhang, Mat Sullivan's Dead Air, and Stalkers by Dongjun Kim.
I hope you enjoy these quick bites of fright—cheers and Happy Halloween!
Seek (Directed by Aaron Morgan)
Starring: Allisyn Snyder, Clare Grant, and Steve Agee 
Synopsis: Heidi and Jordan have been driving all night, and the two estranged sisters aren't getting along. Amidst this tense atmosphere, they make a stop at a dilapidated roadside park, where Heidi takes a bathroom break. But inside the filthy room, a mischievous inhabitant demands to play a terrifying game.
Fanatico (Directed by Hannah May Cumming)
Starring: Morgan Demetre, Alina Stircu, and Judith Conly
Synopsis: When the timid yet curious new girl, Sofia, arrives at Santa Maria Catholic Boarding school, she meets her enigmatic and sultry roommate, Daria, who works as an escort at night with some of the other girls. Sofia begins to experience psychic visions of their violent and horrific deaths, and must do everything in her power to protect her peers from a black gloved killer with a deep distaste for their sexual liberation.
The Door (Directed by Hetong Zhang)
Starring: Shilin Sun, Ping Sang, Jiliang Li, and Takahashi Nobuaki
Synopsis: After a critical zombie attack, the only surviving police must face an investigation from his superior that reveals a painful fact.
Dead Air (Directed by Matt Sullivan)
Starring: Frank DeRuggiero, Lily Lipman, Lucas Serby, and Scott Watson
Synopsis: It's Halloween night at WRXN 101.5FM and DJ Mickey Monstro has some tricks up his sleeve for his ghoulish listeners. But little does he know a mysterious record will unleash the ghosts of the station's past and wreak havoc across the airwaves to all that are listening. Turn on. Tune in. Drop dead.
Stalkers (Directed by Dongjun Kim)
Starring: Jordan Carlson and Ronaldo Madera
Synopsis: A story about two stalkers who are stalking each other for different purposes.
---------
Go HERE to catch up on all of our Halloween 2021 celebratory features!