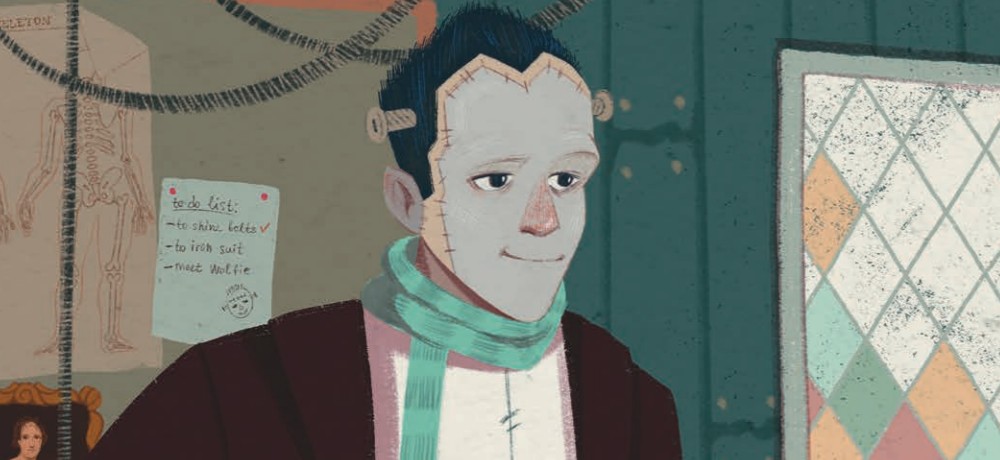 ALL HALLOWS' EVE IN SALEM: "TRICK OR TREAT?! Join the Monster's as they prepare for Halloween in Salem!
Halloween time is upon us in Salem! Salem is a place where monsters are not feared but looked upon as pillars of Halloween and the community. Join Frankie, Wolfie, the Witches and many more as they prepare their costumes and treats for a night of fun and togetherness! Salem truly is the Unofficial Town of Halloween, especially when the moon is full on All Hallows' Eve.
You can purchase a signed/personalized hard cover copy of the book along with other fun merchandise coming soon at www.allhallowseveinsalem.com
You can follow Kristian on IG @kristian13james and the book page @allhallowseveinsalem"
[Editor's Note: Kristian is one of Daily Dead's original team members and we want to congratulate him on the new release!]

--------
Watch a Clip from HOWLING VILLAGE:  "After her brother goes missing, Kanade, a young psychologist visits his last known location, an infamous haunted and cursed site known as 'Howling Village' to investigate his disappearance. Her investigation reveals that the village's mysteries are connected to her family and works to uncover her family's dark history"
Director: Takashi Shimizu
Writers: Takashi Shimizu, Daisuke Hosaka
Cast: Ayaka Miyoshi, Ryota Bando, Megumi Okina, Renji Ishibashi
Producer: Chikako Nakabayashi
Genre: Horror, Mystery
Run Time: 108 minutes
Rating: Not rated
Distributor: Dread
 In Select Theaters August 13, On Demand August 17 + Blu-Ray September 14
------
VAMPIRES: HALLOWEEN SPECIAL: "Sink your teeth into October's horrifically haunted Halloween one-shot special It's sure to drain the ever-livin' life out of you --or at least drive you batty-- Editor/host Mr. Karswell (The Horrors of It All, Haunted Horror, Zombies) returns in November with yet another creepy, creaking castle literally swarming with vicious pre-code VAMPIRES! Featuring rarely seen blood sucker classics from the gory Golden Age of comics, highlighting the spine-chilling art of Lou Cameron, Dick Beck, George Klein, and more! Featuring the classic tales: "Vampire's Bite", "One Door from Disaster", and "Vampire Castle". Featuring vintage comic book ads and commentary by host Mr. Karswell. You won't be able to get enough of this PRE-CODE HORROR BONANZA! WARNING: VAMPIRES BITE!"
Format: 7x10, FC, SC, 32 pgs

 

Retail Price

: $3.99

Ship Date/Month

: Sept. 2021
To learn more, visit: https://www.previewsworld.com/catalog?pub=ASYLUM%20PRESS
--------
FRIDAY THE 13TH uncut 35mm screening this Friday, August 13 & Saturday, 14 @ Roxy Cinema Tribeca: "This weekend Screen Slate presents the original Friday the 13th at Tribeca's Roxy Cinema on a special uncut 35mm print from the film's UK release. Although it may seem obvious, the movie has not been shown in New York City on its namesake holiday since 2013 (and at that time digitally). Here's a rare chance to view the classic slasher on film with a few extra seconds of Tom Savini's gore effects cut from the original U.S. theatrical release. It's like seeing the movie in 1980, but even bloodier!
Friday the 13th shows Friday, August 13 at 11:30 pm and Saturday, August 14 at midnight as part of the series Screen Slate at Roxy Cinema. The weekend celebrates the 10th anniversary of Screen Slate, the New York-based publication and repertory/indie film listing website. The line-up also includes Ivan Zulueta's essential Spanish cult film Arrebato, the original Jackass movie, and Michael Winterbottom's 24 Hour Party People, all on 35mm, plus a new restoration of the German acid western Deadlock with a soundtrack by krautrockers CAN.
View the full line-up and film descriptions
Tickets are $15 and available at roxycinematribeca.com"
-------
Dreadful Analekta: The Loved Dead: "Dreadful Analekta is a four issue horror series. Each issue contains an adapted short story by C.M. Eddy, Jr. 
In this first issue we present The Loved Dead. A story about the space between realities, where an unnamed narrator guides us through the darkness of his gnawing lust for the dead, leading us down to meet the horrors in the abyss of the human being."
Format: Print and digital
Publisher: Poor Man's Press PoorMansPress.com
Full Name(s) of Copyright Holders
All Art copyright Oscar Romero
"The Loved Dead" copyright C.M.Eddy, Jr.
On-Sale Now at PoorMansPress.com
Price $3.99