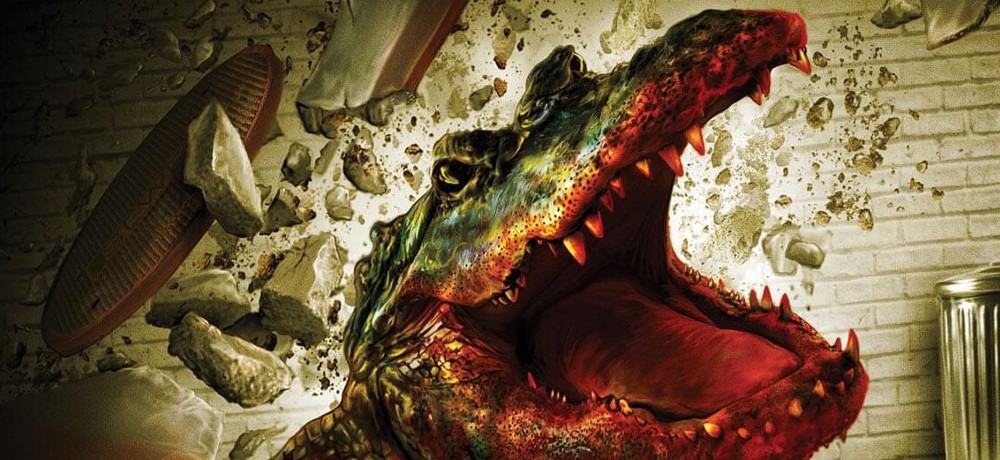 ALLIGATOR (COLLECTOR'S EDITION) SLITHERS OUT ON FEBRUARY 22, 2022 IN A 4K UHD™ + BLU-RAY™ COMBO PACK FROM SCREAM FACTORY: "Los Angeles, CA – It lives 50 feet beneath the city. It's 36 feet long. It weighs 2,000 pounds… and it's about to break out! Alligator (Collector's Edition) comes snapping on February 22, 2022 in a 4K UHD™ + Blu-ray™ combo pack from Scream Factory. Special features will be announced at a later date.
From director Lewis Teague (Cujo, Cat's Eye) and screenwriter John Sayles (Piranha, The Howling) comes an unstoppable thriller with bite. After returning from their Florida vacation, the Kendal family decides their pet baby alligator is too much to take care of and they flush him down the toilet. At the same time, Slade Laboratories is conducting secret experiments with animals and disposing of them in the sewer. The baby alligator, fending for itself, must feed on anything it can … including the dead animals. Now, twelve years later, when several murders happen in the city of Chicago, David Madison (Robert Forster, Jackie Brown) is put on the case to find out who … or what … is killing people."
Learn more at: https://www.shoutfactory.com/product/alligator-collector-s-edition?product_id=7763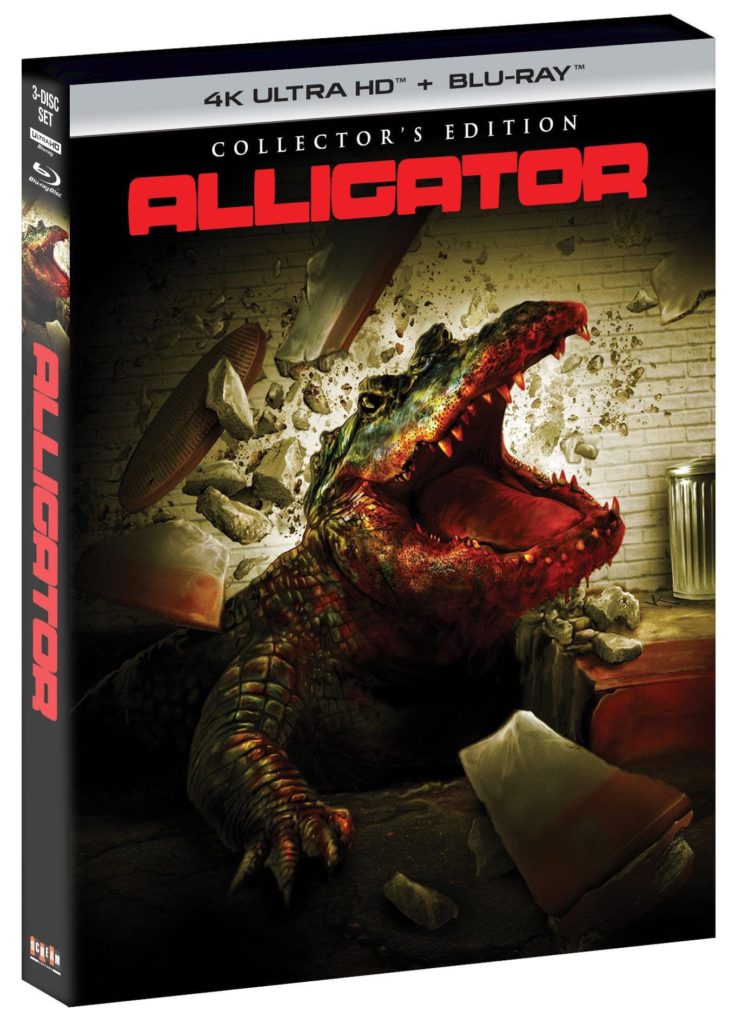 --------
NETWORK DISTRIBUTING TO PARTNER WITH THE ICONIC HAMMER FILMS: "Network Distributing has concluded a deal with Hammer Films to form Hammer Studios Ltd. The new company will manage and control Hammer's interests in its substantial library of content such as The Woman in Black (2012), Let Me In (2010), Dracula (1958), The Abominable Snowman (1957) and The Quatermass Experiment (1953), and will see heavy investment both in restoration and new production development from both its owned and newly created IP.

Network's Managing Director Tim Beddows and Financial Director Jonathan Lack, and Hammer's CEO Simon Oakes will head the new company.
Network Managing Director Tim Beddows said: 'This partnership is a really exciting opportunity to merge Hammer's amazing library with Network's infrastructure. Whilst we work our way through restoring its entire back catalogue for future generations' enjoyment, we're equally excited about the development of new productions from the Hammer canon.'
Hammer CEO Simon Oakes said: 'This new partnership will, for the first time, professionalise the restoration and creation of elements that are essential for distribution of the Hammer library across all media. At the same time we will, with Network, be able to build on the legacy of Britain's most iconic film brand, one that started in 1934 and is alive and kicking in 2021.'
About Network Distributing
Network Distributing has been mining the vaults of TV companies and film studios since 1997, unearthing original films from visionary directors on the fringes of mainstream cinema and beyond. Its award-winning restoration team has worked on iconic brands such as The Woman in Black, Monty Python's Flying Circus, The Prisoner, Gerry Anderson's slate plus hundreds of British films released under The British Film imprint. Working with the likes of ITV, BBC, ITC, Fremantle, Studiocanal and many others its team of TV and film experts have brought back more than 3000 releases, available now on Blu-ray, DVD and Digital.
About Hammer Films
Established in 1934, Hammer Films is one of the most prolific independent production companies in the world, encompassing all genres it remains best known for the ground-breaking reinvention of cinematic horror starting with Dracula in 1958, continuing to the present day with The Woman in Black and beyond. More than 60 years after Hammer revolutionised post-war cinema, the company is still pushing the boundaries of horror entertainment. The company's latest film, The Lodge, was released in 2020."
-----
FROM: "EPIX® has released the first full-length trailer for their contemporary sci-fi horror series, From, premiering on February 20, 2022. Created and executive produced by John Griffin (Crater), directed and executive produced by Jack Bender (Lost, Game of Thrones, Mr. Mercedes), and executive produced by Showrunner Jeff Pinkner (Fringe, Alias, Lost), From features a stellar ensemble cast led by Harold Perrineau (Lost). The series unravels the mystery of a nightmarish town in middle America that traps all those who enter. As the unwilling residents fight to keep a sense of normalcy and search for a way out, they must also survive the threats of the surrounding forest – including the terrifying creatures that come out when the sun goes down.
From is a co-production between EPIX Studios and MGM International Television Productions, and is produced by Midnight Radio and AGBO. Production wrapped last month in Nova Scotia, Canada. The series will be distributed by Netflix outside of the U.S.
Executive producer Jack Bender directed the first four episodes. Alongside Griffin, Bender and Pinkner as executive producers are Josh Appelbaum, André Nemec and Scott Rosenberg from Midnight Radio, Anthony and Joe Russo and Mike Larocca from AGBO and Lindsay Dunn. Midnight Radio's Adrienne Erickson will serve as co-executive producer.
In addition to Perrineau, the all-star cast includes Catalina Sandino Moreno (Maria Full of Grace, The Affair), Eion Bailey (Band of Brothers, Once Upon a Time), Hannah Cheramy, Simon Webster, Ricky He (The Good Doctor), Chloe Van Landschoot, Shaun Majumder, Corteon Moore (Utopia Falls), Pegah Ghafoori, David Alpay (Castle Rock), Elizabeth Saunders (Clarice), Elizabeth Moy and Avery Konrad."