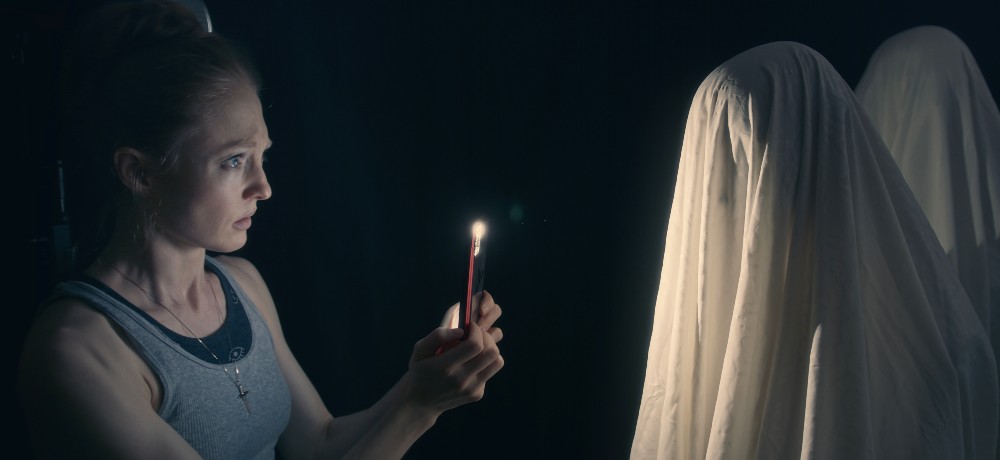 ALONE WITH YOU: "As a young woman painstakingly prepares a romantic homecoming for her girlfriend, their apartment begins to feel more like a tomb when voices, shadows, and hallucinations reveal a truth she has been unwilling to face."
Starring: Emily Bennett, Emma Myles, Dora Madison and Barbara Crampton
Co-Written and Co-Directed by: Emily Bennett & Justin Brooks
In Theaters - February 4, 2022, On Demand, Digital and DVD - February 8, 2022
---
THE LAST THING MARY SAW: "Shudder, AMC Networks' premium streaming service for horror, thrillers and the supernatural, unveils today the first trailer and new poster art for the upcoming Shudder Original The Last Thing Mary Saw, premiering exclusively on the platform on Thursday, January 20.
The film stars Rory Culkin (Waco, Halston), Stefanie Scott (Insidious: Chapter 3) and Isabelle Fuhrman (Orphan), and is written and directed by Edoardo Vitaletti, making his feature length film debut.
Southold, New York, 1843: Young Mary (Scott), blood trickling from behind the blindfold tied around her eyes, is interrogated about the events surrounding her grandmother's death. As the story jumps back in time, we witness Mary, raised in a repressively religious household, finding fleeting happiness in the arms of Eleanor (Fuhrman), the home's maid. Her family, who believe they are seeing, speaking, and acting on God's behalf, view the girls' relationship as an abomination, to be dealt with as severely as possible. The couple attempt to carry on in secret, but someone is always watching, or listening, and the wages of perceived sin threaten to become death, with the tension only heightened by the arrival of an enigmatic stranger (Culkin) and the revelation of greater forces at work.
The Last Thing Mary Saw was produced by Isen Robbins and Aimee Schoof of Intrinsic Value Films, Harrison Allen and Madeleine Schumacher of Arachnid Films, Stephen Tedeschi and executive produced by Scoop Wasserstein."

----
THE KINDRED: "After her father's suicide, a young mother investigates what led to his death. But when she is haunted by spirits and unearths an unsolved mystery from 30 years ago, she discovers a dark family history that could prove deadly for her child."
Genre: Psychological Thriller / Horror
Release Date: January 7, 2022
Directed by: Jamie Patterson
Written by: Christian J. Hearn
Cast: April Pearson, Blake Harrison, and James Cosmo
Distributor: Vertical Entertainment
----
A BANQUET: "Widowed mother Holly (Sienna Guillory) is radically tested when her teenage daughter Betsey (Jessica Alexander) experiences a profound enlightenment and insists that her body is no longer her own, but in service to a higher power. Bound to her newfound faith, Betsey refuses to eat but loses no weight. In an agonizing dilemma, torn between love and fear, Holly is forced to confront the boundaries of her own beliefs."
Directed by Ruth Paxton
Starring Sienna Guillory, Jessica Alexander, Ruby Stokes, and Lindsay Duncan
Opens in Select Theaters, on Digital Platforms and VOD on February 18th