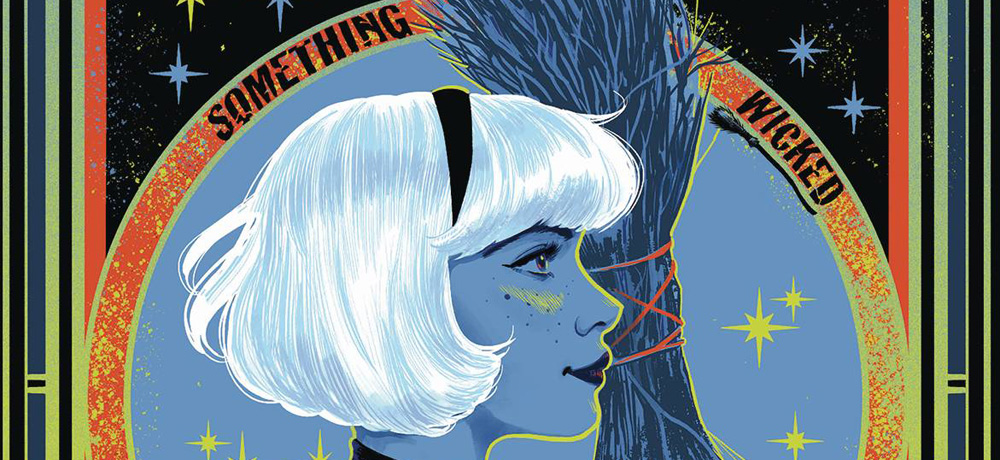 In today's Horror Highlights: Archie Comics heads to ComiXology Unlimited, a look at the art of Becky Doyon, details on the Nightmares Film Festival, and info on the audio drama At Your Peril:
Archie Comics to Release Day-and-Date on ComiXology Unlimited: "Archie Comics, home to some of pop culture's most beloved characters, is expanding its availability on comiXology, the leading digital comics service. Starting September 23, with the publication of Sabrina: Something Wicked #3, comiXology will release new titles on comiXology Unlimited the same day they are available in print. The new initiative marks the first time a major U.S. publisher has made content available day-and-date with the subscription-based streaming service. ComiXology Unlimited users can now read the full Archie library including the critically acclaimed Chilling Adventures of Sabrina, Afterlife With Archie, Jughead's Time Police, and tie-ins to the smash hit CW series, Riverdale.
Members of  comiXology Unlimited can access over 25,000 comics, graphic novels and manga for $5.99 a month with a 30-day free trial at comixology.com/unlimited.  Archie fans can now read Archie comics at no additional cost with comiXology Unlimited or with a la carte purchase on comiXology, giving readers maximum flexibility. Today's announcement is the latest in a series of moves making Archie a trendsetter in the digital comics space. Archie was the first publisher to go day-and-date with digital releases in 2010 and the first to publish animated comics with Spotify, the streaming music service.
Celebrating its 80th anniversary this year, Archie's time-tested, fan-favorite stories have launched world-renowned icons including Riverdale's "core four" -- Betty, Veronica, Archie, and Jughead -- as well as Sabrina the Teenage Witch, Katy Keene, Cheryl Blossom, Kevin Keller, and Josie and the Pussycats. Comics featuring all these and many more from the Archie Comics roster will be available to fans as soon as they want, adding to its already expansive selection on comiXology Unlimited.
Visit the official Archie Comics website for more information, follow us on Twitter, Instagram, and Facebook for the latest news and updates, and download the Archie App for iOS and Android to read all your favorite Archie Comics!"
----------
Becky Doyon Horror Art: "I'm a digital & traditional artist from Winslow, Maine. Most of my art is horror related. I am inspired by dark/horror movies, music, authors, and artists like Rob Zombie, Terrance Zdunich, Basil Gogos, Edward Gorey, and Tim Burton. One of my favorite things to do is to put my art in places where horror isn't usually expected like exhibitions that aren't horror themed.
I've always enjoyed monsters and dark things. I got into horror at a young age watching classics like Dracula & Frankenstein along with Stephen King & Child's Play movies on TV. Though Chucky was pretty scary to me as a kid, he's one of my favorites now. I'm always looking for new horror things to check out. I'll watch any horror movie at least once!"
Learn more at: https://beckydoyon.com/
---------
Nightmares Film Festival: "(COLUMBUS, OHIO) - Nightmares Film Festival has unveiled the anticipated lineup for its "Masquerade" digital showcase. For those who look closer, the 2020 edition also revealed a long-hoped-for secret achievement for fans of the festival to unlock: seeing every film in the program.
Keeping with tradition, the 2020 Nightmares program is overflowing with the unique mix of returning horror favorites, powerful new voices and boundary-pushing stories FilmFreeway's top-ranked genre festival has become known for. This year's festival delivers 140 shorts, table reads from some of the 26 screenplay finalists and Q&As into its five on-demand days.
It packs in 18 feature films, including period horror The Reckoning, from Neil Marshall (The Descent, Hellboy), a harrowing revenge story of an accused witch told against the backdrop of the Black Plague; an all-new 4K restoration of The Legend of Boggy Creek, a docu-horror classic often credited for inspiring the found footage subgenre; and the world premiere of What Happens Next Will Scare You, the follow-up from the team behind the beloved indie WNUF Halloween Special. It also features Hail to the Deadites, a doc on Evil Dead fandom, and the North American premiere of Meander, a claustrophobic terrorizer that's like Cube meets Saw.
And it jams in daily workshops from genre makers like Aaron Koontz (Scare Package, The Pale Door), Natalie Erica James (Relic), Brandon Christensen (Still/Born, Z) and Jason Trost (The FP) -- some of whom are bringing first-look footage from their newest films.
That densely packed program is one of the signatures of the Nightmares in-person experience, where seeing everything in two simultaneous auditoriums is impossible by design and fans lovingly called "The Sleepless" spend four days marathoning the morning-to-morning schedule.
"We pride ourselves on presenting an industry-leading program every year that is also a unique experience, where each audience member must make choices to create their own personal lineup," said festival co-founder and programmer Jason Tostevin. "You can't see everything here, which makes what you do see more personal and encourages you to seek out films and filmmakers afterward, which extends that fest feeling for months."
But this year, with the temporary transition to a digital event to avoid COVID risks, there's a whole new way to experience Nightmares. For the first time in its history, participants will have the ability to watch the entire NFF lineup.
"We've curated the same extraordinary set of films and screenplays we would have if we were gathering in person," said NFF co-founder and Gateway Film Center president Chris Hamel. "What will be extra fun this year is for fans to explore every nook and cranny of that program, and see connections and themes they might not have noticed without the extra time."
Will that change Tostevin and Hamel's approach to the in-person event when it returns? "Well, we've talked about letting up a little bit for more breaks and socializing, but part of the fun of Nightmares will always be a commitment," Tostevin said.
NFF: Masquerade will be presented on secure streaming platform Eventive, where films will be available on demand from Oct. 21 to 25 to all North American viewers. Virtual attendees can pay as they go to watch individual blocks -- say, a feature with a short film, or a set of themed shorts -- or can buy a festival pass that gives them access to the entire program.
Passes for NFF: Masquerade are on sale now at NightmaresFest.com, where a complete list of this year's program is also available."
---------
AT YOUR PERIL: "At Your Peril is a high end podcast anthology series that tells spooky stories for adults. Deliciously dark and frighteningly funny, each episode is a brand new original story by creators Arthur McBain and Owen Jenkins.
Arthur McBain is a TV actor and children's author. He recently starred as Alex Myer in ITV's 'The Trouble With Maggie Cole' alongside Dawn French, ABC TV's multi award winning mini-series 'Friday On My Mind' and Academy Award winning movie 'Judy' with Renee Zellweger. His debut children's book, 'In The Dead Of The Night', was released in October 2019 and is currently published in three languages. He is also an ambassador for the New Scientist Magazine.
Owen Jenkins is an actor, writer and director. He is artistic director of award-winning theatre companies, FacePlant and DeadPlant, who's credits include critically acclaimed horror comedies 'The Service' and 'The Milkman Cometh'. He starred in the international tour of David Walliams' 'First Hippo on the Moon' and David Baddiel's 'ANIMALCOM'. Amongst other credits, he directed 'A New Coat for Christmas' at the Oxford Playhouse.
Recent episodes include performances from BAFTA nominated star of Him & Her and Witless, Kerry Howard (episode 9; CHAT RADIO!) and star of BBC's Clique and New Blood, Mark Strepan (episode 4; THE PSYCHIC).
NEXT OUT!
At Your Peril's latest episode, 'The Tenth Episode' is a ghost story that skews the lines between fact and fiction.
"So basically, this episode is a bit different. As you know, if you've listened before, usually we have brand new original stories to tell you, that we've spent a long time constructing, writing and ultimately fabricating. If you haven't heard any of them, then I'd encourage you to go and have a listen, because we really have worked hard on them. But, er, well, this episode… Everything I'm going to tell you actually happened."
Arthur McBain says of the episode: 'This episode is about male mental health, and about life after death - two things I never thought would be in the same sentence… I think that listeners are in for a treat.'
Owen Jenkins says 'The fact that At Your Peril is an Anthology series feels exciting, because each episode can take the listener to a completely different setting, with varying styles and touching on lots of different themes. This latest episode combines some classic horror moments with an important underlying message, and I feel everyone will have something to take away from it.'
'THE TENTH EPISODE' IS OUT ON 30/09/20 ON ALL PLATFORMS
Search 'At Your Peril' wherever you find your podcasts!
FIND US ON SOCIAL MEDIA AT:
Instagram: @at_peril
Twitter: @at_peril
ARTHUR:
Instagram & Twitter: @arthurmcbain
OWEN:
Twitter: @0wen_jenkins"