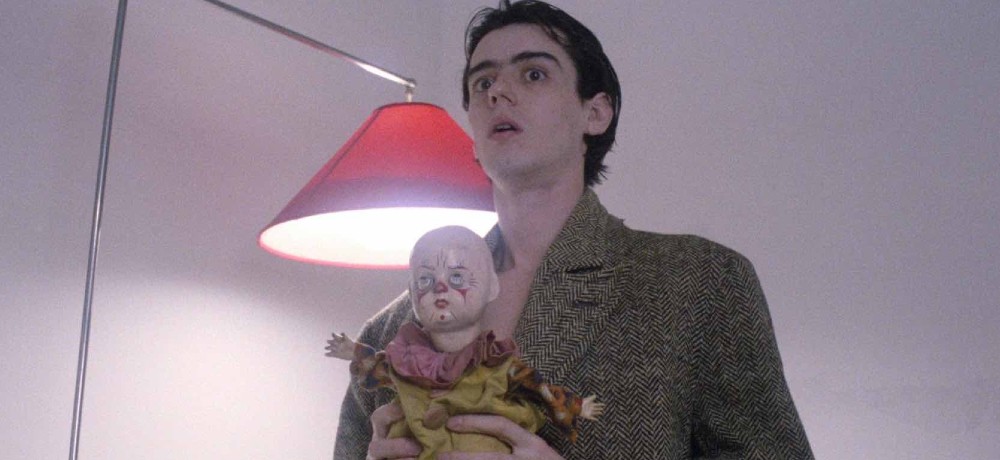 ARREBATO: "Horror movie director José is adrift in a sea of doubt and drugs. As his belated second feature nears completion, his reclusive bubble is popped by two events: a sudden reappearance from an ex-girlfriend and a package from past acquaintance Pedro: a reel of Super-8 film, an audiotape, and a door key. From there, the boundaries of time, space, and sexuality are erased as José is once more sucked into Pedro's vampiric orbit. Together, they attempt the ultimate hallucinogenic catharsis through a moebius strip of filming and being filmed."
"Brand-new 4K restoration of Iván Zulueta's 1979 feature ARREBATO, a dimension-shattering blend of heroin, sex, and Super-8 is the final word on cinemania. This towering feat of counterculture was the final film from Zulueta (ONE, TWO, THREE, ENGLISH HIDE‑AND‑SEEK), Spanish cult filmmaker and movie poster designer.
Never before released theatrically in the U.S.A, Altered Innocence is thrilled to bring Zulueta's vision, and Pedro Almodóvar's favorite horror film, to a wider audience for the first time this fall."
UPCOMING SCREENINGS:
Anthology Film Archives (NYC, NY) — 10/1-7
Nuart (L.A., CA) — 10/8-14
Austin Film Society (Austin, TX) — 10/8-10
Lightbox Film Center (Philadelphia, PA) — 10/9
Cleveland Cinematheque (Cleveland, OH) — 10/14-15
Beacon Cinema (Seattle, WA) — 10/15-17
Belcourt Theatre (Nashville, TN) — 10/16
Apohadion Theater (Portland, ME) — 10/16
Roxie Theater (San Francisco, CA) — 10/18
Stray Cat Theater (Kansas City, MO) — 10/22
Brattle Theater (Boston, MA) — 11/19-21
---------
Courtney Gains and Ghoulish Gary Team up for NFT Malachai Rising Event: "This Thursday, September 23rd, actor Courtney Gains and artist Gary Pullin A.K.A. Ghoulish will release a limited edition NFT collection based on nine artworks inspired by the iconic character from Children of the Corn. The NFTs consist of 1,984 unique Hansen's Café Menus, 4 Malachai Rising collector variant tokens, 1 prize variant token, 200 animated "Outlander!" tokens, 200 animated "He Wants You Too!" tokens, and a 1 of 1 Malachai Rising masterpiece signed by Courtney Gains and artist of the piece, Gary Pullin. The prices have been set based on the film's original release date 1984, ranging from free for the Menus to $19.84 and $198.40 for the collector variants and $1,984.00 for the animated phrase tokens. The main attraction is the 1 o 1 Malachai Rising image painted by Gary that also comes with the signed print. This image will be sold in a Dutch auction with the bid starting at $19,840,000.00 and decreasing every millisecond until it reaches 10 ETH or about $30,000.00.

In 1984 Courtney Gains terrified moviegoers as Malachai Boardman in Stephen King's classic Children of the Corn. Gains' first role in a major motion picture made him an instant star and the character of Malachai, a legendary figure of 80's pop culture. For nearly four decades, Malachai has been the nightmare fuel for millions of fans, and a simple google search reveals a steady stream of memories from fans that read like a therapist's logbook. Thirty-seven years later, Gains remains humble and grateful for the opportunity, laughing when reminded that the phrase "Children of the Corn" has become ingrained in the cultural lexicon to describe any youth misbehaving. He enthusiastically raises a fist every time someone screams "Outlander!" and, when signing autographs, the actor smiles and nods understandingly as fan after fan tells him that he was the guy that freaked them out. They still get chills when driving past cornfields. "I am in awe at how many people still love this movie," he says wide-eyed. "I want to do something for the fans that recognize that legacy. Something significant that celebrates them."

When Children of the Corn was first released, artist Gary Pullin was only 13 years old and forbidden from seeing "R" rated films in theatres. "I was already a huge horror fan as a kid, but I was only allowed to read the books, not watch the movies," says Pullin. "I was reading Stephen King and Peter Straub, Lovecraft, Poe. I was into all that stuff." It would take some time to convince his parents to write a letter allowing him to rent "fantasy" movies from the local video store in London, Ontario. When Children of the Corn finally made it to VHS, Gary was quick to rent it. "I remember that scene in the dinner got me as a kid," he says. "The teenagers were taking over and killing the parents, and that impacted me in ways that other horror films had not. Isaac and Malachai were so strong and convincing. I believed they were capable of taking over this town. They were completely beyond reason, devoted to their cause of killing people, and there was something scary about that insistency."

Gary began exploring creativity at an early age. While other kids were playing hockey, he was drawing Jaws, Darth Vader, and zombies. He was into the details of art, music, movies, books, and even toys, trying to understand how they worked. As an adult, his desire to understand the creative process led Gary to a 3-year art degree and a corporate design position working on labels for Cadbury Chocolate and Labatt Beer. Pullin never lost his interest in horror, and when he moved to Toronto, he became part of the horror community. A chance meeting with the editor of Rue Morgue Magazine landed him a 13-year long dream job as their first Art Director. Creating covers for Rue Morgue earned Gary the fitting moniker "Ghoulish" and made him one of the most sought-after freelance artists, creating imagery for horror movies, books, and posters. Even if you do not know his name, you have most likely seen his work. From Nightmare on Elm Street, Friday the 13th, and Halloween, Gary has painted some of the most recognizable movie properties out there. You can see more of his work in our review of his Book.

Gary had already proven himself with several works for Cleveland, Ohio-based record distributor 1984 Publishing when they hired him to design the album cover for the remastered release of Jonathan Elias' Children of the Corn soundtrack. Gary had complete creative control. "I have a style and a reputation," says Gary. "They trusted me and just gave me the keys to the car and said go." Still, Gary knew whatever he came up with had to please executives and, more so, had to impress a legion of Children of the Corn fans. Much of the film's promotional artwork to that point had focused on Isaac and other elements of the film. This time the main focus of the work would be the character that had haunted Gary since his youth. Malachai Boardman. "Malachai is the most memorable character from the film. Linda Hamilton, Peter Horton, John Franklin are all great, but Courtney Gains' Malachai is the icon of Children of the Corn for so many. When I finally sat alone with the project, and I thought about what I was about to do, the weight of the responsibility hit me," Gary remembers. "Then I got to work like I always do and poured my heart and soul into the art until the deadline said stop!"

"I sent it off and moved on with the next project,' says Gary. "I didn't give it a second thought until the phone calls and emails started coming. Everyone loved it! Executives, fans, it was all green lights across the board. And then I got the email from Courtney. When he emailed me and told me he loved what I had done, I was like, ok, maybe this one was a little special."

Courtney Gains had been looking at blockchain technology for a while to connect with fans in a new way. A new type of fan club membership that fans could share and pass down to new generations. "That evolved into an NFT or a piece of artwork owned by each fan with the membership built into it," Courtney recalls. "I had seen hundreds of fantastic illustrations of Malachai over the years, so I knew that there was enough art to support the idea. When I saw the album cover Gary had made, it ended the discussion. What he has created is truly stunning. If we were going to release a Malachai NFT, it had to be that image." Courtney then emailed Gary and asked him if he would be interested in releasing the artwork as an NFT or Non-Fungible Token."

"I immediately picked up the phone and called the publisher," says Gary. "I told them Courtney Gains just emailed me and said he loves the artwork and wants to make an NFT! Whatever the hell that is. They congratulated me, reminded me I owned the artwork, and encouraged me to go for it. I am dipping my toe into new technology with this, but what better person to do it with than the legend himself."

When asked about the starting bid for the Malachai Rising original, Gains is a matter of fact. "All of the prices refer to the year 1984. It honors the film and the fans who have championed this story for so long. We wanted to start the bid at $198,400,000.00, but that would have made the auction ten days long. Whatever price it sells for, I hope it to goes to someone who loves it as much as I do." Gary adds to it. "In the end, it is not about the money. It's Children of the Corn man!"
Fans can watch the auction live Thursday, September 23rd on OpenSea, TwitchTV, YouTube and MalachaiRising.com
https://opensea.io/collection/malachairising
https://www.twitch.tv/malachairising
https://www.youtube.com/channel/UCAoL5JidzHBsGEl4CaDXs4w
https://www.malachairising.com/"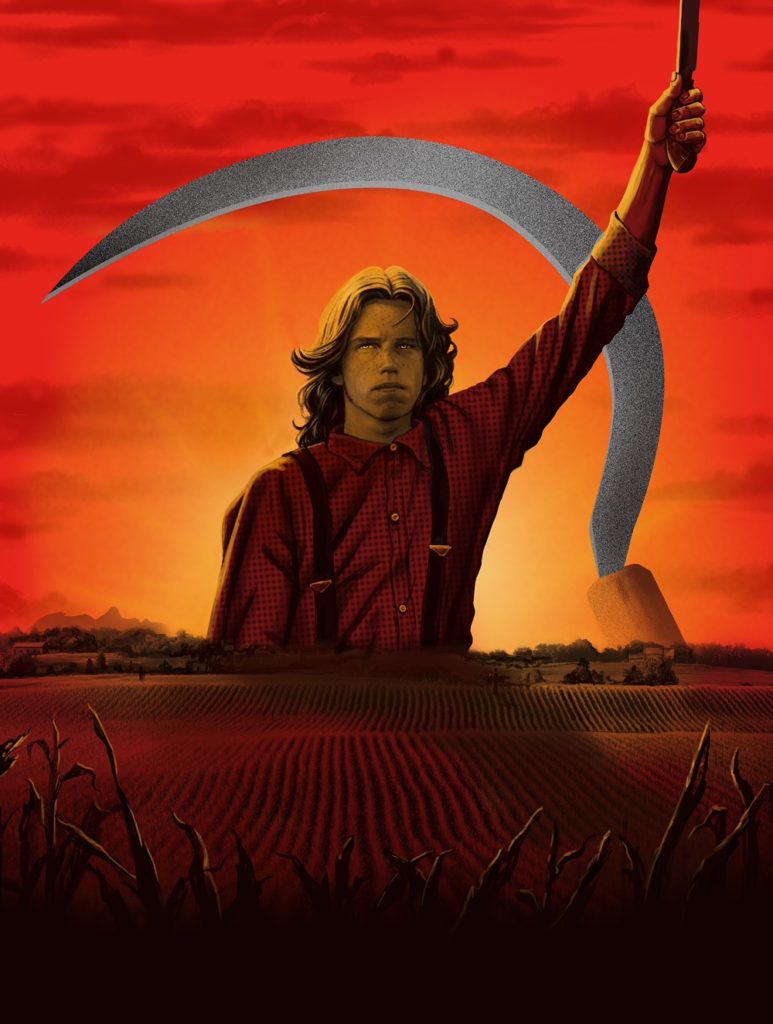 ------------
FEAR PHARM 2: "Fear PHarm 2 picks up where Fear PHarm left off. After fighting for her life within a corn field maze and trying to outrun a number of murderous psychos, Melanie (Tiana Tuttle, Fear PHarm) has regained consciousness to discover that she is now being held hostage by the Walker family, so they can continue to harvest her skin for their breakthrough skin care cream. Business is booming for the Walkers and Melanie soon finds that she's not alone. Dozens of others are being held captive for their skin, as the family has plans to grow the business internationally. With one failed escape attempt under her belt, Melanie must once again fight for the opportunity to survive.
From director and writer Dante Yore (Fear PHarm), and original producers Mark S. Allen and Howard Burd, the horror-thriller features recurring stars John Littlefield (616 Wilford Lane) and Aimee Stolte (Megalodon)."
Special Screening Event
Horror movie fans are welcome to attend a special screening event on Friday, October 8th at 8:30pm PT at the Cool Patch Pumpkin Farm in Dixon, California.
Release Details
DVD & On Demand: October 19, 2021
Digital Availability: Apple TV, Prime Video, Google Play, FandangoNOW, DirecTV and more
SRP: $26.98
Run Time: 75 Minutes
Rating: Not Rated 
--------
Genre Micro-Studio Rotting Press Launched by Former Blumhouse Head of Business Affairs and Divide/Conquer Partner Zac Locke, Announces First Projects: "Zac Locke, former Head of Business Affairs at Blumhouse and partner with Divide/Conquer, has launched Rotting Press out of the TIFF Market, a new micro-studio dedicated to uncovering, supporting, and promoting the unheard voices of horror.
The new operation, headed by Locke and backed by Silicon Valley funding and proprietary marketing/distribution algorithms, focuses on film production, financing, acquisition, distribution, and marketing, using Locke's years of experience in both the independent and studio film sectors to guide the company's strategy.
Rotting Press' initial slate of titles include Locke's feature directorial debut FLOAT, which just wrapped principal photography on the Russian River, and FROGMAN, the feature directorial debut from award-winning filmmaker Anthony Cousins currently ramping up production. A third film, a contained creature-feature, is in pre-production and slated to begin shooting at the beginning of 2022.
"Having been on all sides of the filmmaking process myself, I'm excited to be in a position to help empower independent genre filmmakers" says Zac Locke, "Rotting Press' resources, along with our ability to leverage new distribution and marketing platforms, will hopefully result in some fresh new voices and wild original films reaching horror fanatics and general  audiences alike."
While with Blumhouse, Locke's Biz Affairs credits included the Academy Award-winning feature GET OUT as well as installments of the popular INSIDIOUS, PURGE, SINISTER, and OUIJA franchises. Highlights from his time at Divide/Conquer include serving as an Executive Producer on Universal's BLACK CHRISTMAS, Amazon's THE VOYEURS, Emma Tammi's TIFF 2018 selection THE WIND, released by IFC Midnight, and Kelly Oxford's 2020 AFI selection PINK SKIES AHEAD, released by MTV Entertainment Studios.
FLOAT, written and directed by Locke, stars Scarlett Sperduto and Grant Morningstar, who both also star in Robert Rippberger's upcoming feature THOSE WHO WALK AWAY, as well as actress and model Kaya Coleman and newcomers Kate Mayhew and Miguel Muñoz. The horror-thriller follows a vlogger and her crew embarking on a river float where they are plunged into a life and death battle with a mysterious local, a sinister paranormal force, and their own fears.
Minnesota-based filmmaker Anthony Cousins, who contributed to the 2020 horror anthology SCARE PACKAGE, makes his feature debut with FROGMAN following over a decade of work directing and shooting celebrated and singular genre short films. TIFF Midnight Madness programmer Peter Kuplowsky will executive produce.