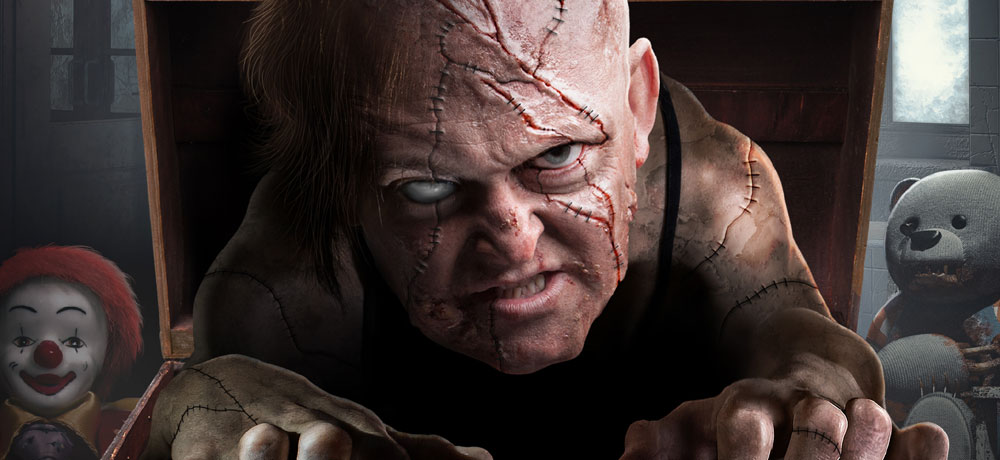 We're back with another installment of Horror Highlights, bringing you a sampling of genre news, including Screamfest's Ultimate Stay-at-Home Playlist, the VFX breakdown for The Hunt, release details for Save Yourselves!, the trailer for Baby Frankenstein and It's Just a Game, and details on a Bill & Ted contest:
BABY FRANKENSTEIN Trailer: "This June, Andre Gower ("The Monster Squad") faces Baby Frankenstein!
Baby Frankenstein is the story of Lance and his unlikely friendship with a self-aware, pint-sized automaton. Patrick McCartney and Bill Rutkoski co-star in a Jon YonKondy film!
Baby Frankenstein is on VOD and DVD on 6/30 from Wild Eye Releasing."
---------
Screamfest's Ultimate Stay-at-Home Playlist: Looking for some thrills and chills while quarantining at home? For years our friends at Screamfest have spotlighted thrilling and chilling short films, and now they've made them available online to watch for free, including The Quiet Zone (see below).
To watch the Ultimate Stay-at-Home Playlist, simply visit their official YouTube channel, and you can also subscribe to their content at:
Also, be sure to visit Screamfest's official website to keep up to date on all of the latest news for the festival, which will be taking place October 6th–15th!
---------
THE HUNT VFX Breakdown: Want to know how some of the VFX from The Hunt was achieved? Pixomondo pull back the curtain to show you their work on the recently released movie from Blumhouse (note: Spoiler warning for those that haven't seen the film).
Pixomondo is known for their dragon work on Game of Thrones, and have worked on Picard, Westworld, The King of Staten Island, and much more. To visit the official website, head over to: www.pixomondo.com
There's also a more detailed discussion with the Pixomodo team that you can find at https://www.awn.com/news/watch-pixomondo-vfx-breakdown-reel-hunt
---------
SAVE YOURSELVES! Release: "Legion M has joined forces with Bleecker Street for the release of the alien sci-fi comedy Save Yourselves! starring Sunita Mani (Mr. Robot, GLOW) and John Reynolds (Search Party, Horse Girl), and from writer-directors Eleanor Wilson and Alex Huston Fischer. The film was produced by Kara Durrett, Keshet's Mandy Tagger and Adi Ezroni.
The world's first fan-owned entertainment company will immediately unleash its fast-growing movement of more than 130,000 impassioned entertainment fans including over 25,000 shareholders on the project, through various digital, experiential and community-driven initiatives leading up to Bleecker Street's U.S. distribution theatrical release on July 24.
In Save Yourselves! Jack (John Reynolds) and Su (Sunita Mani) are a hip Brooklyn couple who, like many of their friends, find themselves dependent on technology and unable to put down their phones. Fearing their mindless scrolling may impact their connection with each other, they seize the chance to head to an isolated cabin in the woods, vowing to unplug from the outside world for a week. Sheltered from texts and push notifications, they are blissfully unaware that the planet is under attack. As strange events unfold, the couple must figure out a way back to civilization—or what's left of it.
Legion M's decision to align on Save Yourselves! with Bleecker Street was fueled by the company's innovative Legion M Film Scout app, which launched at 2020's Sundance Film Festival as a fun-to-play, interactive game that doubles as a valuable data-gathering tool for the company. Harnessing the wisdom of the crowd, Legion M captured proprietary audience insight from its members attending the festival as Film Scouts, as well as from thousands of film fans participating worldwide. The real-life consumer data scored Save Yourselves! high in terms Film Scout reviews at Sundance, confidence in the film's success and its projected popularity among audiences.
"Data gathered from Film Scout was clear and evident, guiding our choice to lock arms with Bleecker Street on Save Yourselves!," said Paul Scanlan, CEO and cofounder of Legion M. "We're fired up to partner on this worthy and hilarious surprise hit from Sundance and believe it is a perfect film to celebrate the reopening of theaters when they safely can later this summer."
"Legion M has quickly made a name for itself in the industry for its innovation and remarkable ability to mobilize their passionate community," said Andrew Karpen, CEO of Bleecker Street. "We're thrilled to be kicking off a close relationship with the Legion on Save Yourselves!"
Making good on its promise to open the gates to Hollywood for its more than 130,000 members, including over 25,000 investors, Legion M is proving once again that having fun can be good business. Legion M and its fan community will host fan-meetups when Save Yourselves! debuts at theaters, demonstrating the power of the company's grassroots mobilization efforts and its commitment to investing in its projects both financially and emotionally.
To learn more about a free Legion M membership and to stay updated on Save Yourselves!, head to legionm.com/save-yourselves."
---------
IT'S JUST A GAME Trailer: This Halloween, a teenage girl is kidnapped by a bizarre theatre cult intent on summoning an ancient witch in the bloodcurdling IT'S JUST A GAME. From writer-director Daniel Emery Taylor, and starring Hannah Cohen-Lawlor, Sarah Kopkin, Leah Hudspeth, Rachel Marshall, Alicia Clark, and G Larry Butler, is an Alabama-lensed indie that has been lauded for its impressive visuals and suspenseful storytelling. Brianna (Hannah Cohen-Lawlor) is a shy, bashful teen who is constantly getting humiliated by the other girls in her social circle. Her circumstances change when she is kidnapped by a bizarre theatre cult intent on summoning an ancient witch. Coming this October from Wild Eye Releasing.
---------
BILL & TED FACE THE MUSIC Contest:
"
Orion Pictures
 has partnered with 
Talenthouse
 to launch a fan art contest in support of 
BILL & TED FACE THE MUSIC
. Fans and creatives can submit one-of-a-kind artwork inspired by the beloved duo's upcoming adventure for a chance to have it featured in the film's marketing campaign and win $2,000.
Learn more and enter the contest HERE: 
The stakes are higher than ever for the time-traveling exploits of William "Bill" S. Preston Esq. (Alex Winter) and Theodore "Ted" Logan (Keanu Reeves). The now middle aged best friends set out on a new adventure to seek the song that will set their world right and bring harmony in the universe, with the helped by their daughters (played by Samara Weaving and Brigette Lundy-Paine), a new batch of historical figures and a few music legends. The film also stars Kid Cudi, Kristen Schaal, Anthony Carrigan, Erinn Hayes, Jayma Mays, Jillian Bell, Holland Taylor, Beck Bennett, William Sadler, Hal Landon Jr. and Amy Stoch.
BILL & TED FACE THE MUSIC will be released in theaters on August 14, 2020."