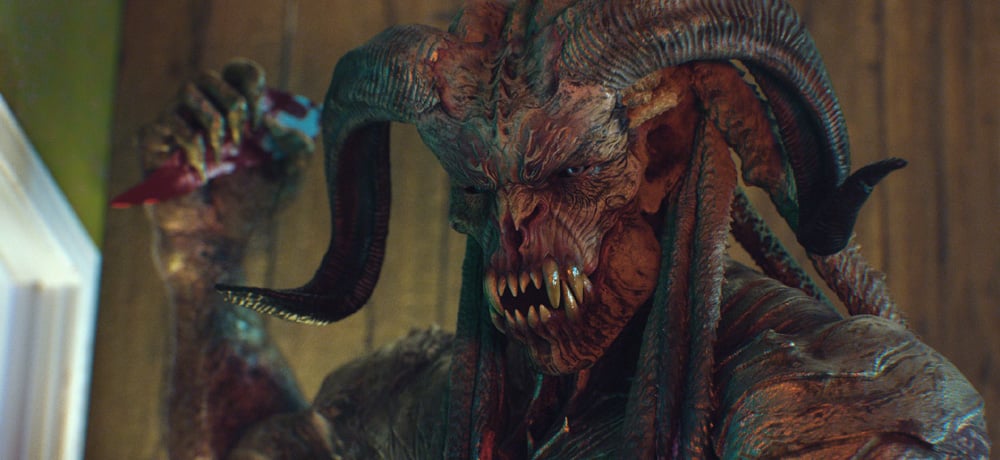 BEHEMOTH Release Details: "BEHEMOTH is the striking debut of Peter Sefchik, who has used his vast experience creating CG creatures for blockbuster films to craft an ambitious independent feature packed with monsters and demons unlike anything seen on its budget level.
Joshua Riverton spent ten years working for a global chemical behemoth, notorious for their environmental negligence. When his daughter develops a mysterious illness, he steps forward as a whistle-blower, throwing his life into chaos. He's convinced that his company's negligence has made his daughter sick, and there are dark forces hiding the truth.
When given the chance to confront his old boss, Dr. Woeland, he allows a standoff to escalate into violence, and Josh is shot in the process. Now Josh is on the run, eating painkillers, and holding Woeland hostage. Josh demands answers about his daughter's illness, but with each passing moment around Woeland, Josh's grasp on reality begins to unravel.
Is it the painkillers, or is Woeland more than he seems? Are the dark forces all in Josh's head, or has he stumbled into a terrifying league of evil?
BEHEMOTH is the stunning, VFX-heavy directorial debut of digital artist Peter Sefchik, whose lengthy career began at George Lucas' legendary Skywalker Ranch. His most notable past projects include AVATAR and the HARRY POTTER, SHREK, and STAR WARS franchises. He also serves as BEHEMOTH's Co-writer, Producer, and VFX Supervisor. The film's cast includes Josh Eisenberg, Paul Statman, Jennifer Churchich, Richard Wagner, and Whitney Nielsen.
BEHEMOTH opens on digital platforms on Friday, August 27th."
-----------
Watch the Teaser Trailer for BRAND NEW CHERRY FLAVOR: "A filmmaker heads to Hollywood in the early '90s to make her movie but tumbles down a hallucinatory rabbit hole of sex, magic, revenge - and kittens. The new limited series, Brand New Cherry Flavor, is only on Netflix on Friday, August 13th. TV-MA."
To check out Brand New Cherry Flavor on August 13th, visit: https://www.netflix.com/title/80233374
----------
OUIJA SHARK 2: "After OUIJA SHARK made a splash with B-movie shark fans just over a year ago, Wild Eye Releasing has announced that the official sequel is currently filming with principal photography to be completed this year.
A team up between Wild Eye Releasing and Survival Zombie Films, the Ouija Shark follow-up will see fan favorite John Migliore from the first film revive his shield-slinging shark fighter dad Anthony, as well as taking over directing duties for the film.
Also reprising their roles from the original film are Kylie Gough (as Illyana) and Simon Wheeldon (as Caldura). Deborah Jayne Reilly Smith appears as a mysterious new character named Cressida.
Mike Trebilcock and Semetary Spawn will be providing the movie's dramatic score as well as some new songs for the film.
The film is packed with shark action special effects and promises to offer even more bizarre and inter-dimensional weirdness for fans than the first film.
Migliore also penned the sequels' script, and previously directed Creature from Cannibal Creek (2019), Exorcism of the Dead (2017) and Poltergeist Encounters (2016).
"The world of Ouija Shark is steeped in both fantasy and the occult, making almost anything possible. I'm looking forward to providing more than a few surprises," Migliore said."