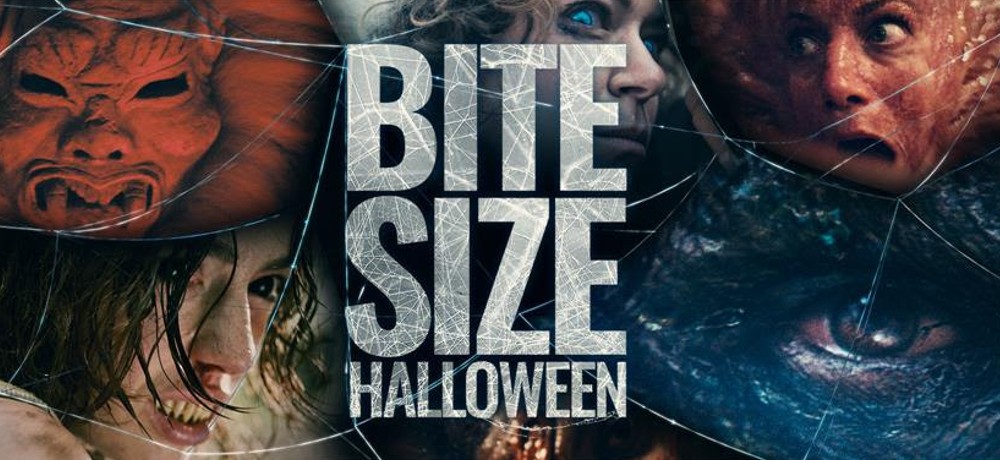 20th Digital Studio's BITE SIZE HALLOWEEN Brings 20 Spooky Shorts from Diverse, Emerging Filmmakers for Huluween: "In celebration of Huluween, 20th Digital Studio's Bite Size Halloween series of spooky shorts is back for a third season! Twenty new shorts from exciting emerging filmmakers premiere October 1 on Hulu, blending genres like horror, comedy, sci-fi, thriller, and more.
Shot in seven different countries, this season takes on topical issues such as racism, gender, parenthood, sexuality, and identity. SNATCHED (dir. Michael Schwartz) features Tatiana Maslany ("She-Hulk: Attorney-at-Law") in her first on-screen role with husband Brendan Hines ("Locke & Key"). Misha Osherovich ("Freaky") stars as their son.
Other shorts feature familiar faces like Brigette Lundy-Paine ("Atypical"), Lin Shaye ("Insidious"), David Costabile ("Breaking Bad"), and former "Glow" co-stars Rebekka Johnson and singer-songwriter Kate Nash who co-wrote/directed/star in a short featuring Nash's original music.
David Worthen Brooks, 20th Digital Studio head commented: "As we launch the first feature films developed with our incredibly talented Bite Size Halloween filmmaker alums, we are thrilled to introduce the next wave of dynamic filmmaking talent and their ingenious short films. We take great pride in showcasing these vital, diverse voices and their very personal twists on horror, thriller and sci-fi."
The goal of 20th Digital Studio's short film programs is to continue to guide and finance the growth of these artists' careers and to transition some of the shorts into longer features. The first two films developed in this way will premiere this month for Huluween: "Grimcutty" from John William Ross on Oct. 10 and "Matriarch" from Ben Steiner on Oct. 21. Shorts from past seasons have played at festivals such as SXSW, Sundance, Tribeca, Fantasia, and more.
20th Digital Studio's focus on diversity and inclusion continues as prestigious filmmakers from the festival world are featured, including Nuhash Humayun ("Moshari," SXSW Grand Jury Prize), Sam Max ("Chaperone," Sundance), Michelle Krusiec ("Bite," AFI DWW), Zoey Martinson ("Cupids," Tribeca), and many more."
----
Feature Film Spotting Set to begin production January 2023: "Just announced: Spotting, the newest horror comedy feature film by RX4 Productions - is a nod to your favorite 80s classic horror films, with a cast and crew that are doing things a little differently.
Spotting follows Naomi, who explores the nightmares of modern dating, when her best friend encourages her to date a disarming and ordinary man against her usual type. When Naomi sees a witness sketch of a serial killer that closely resembles him, an excitement awakens within her, beckoning the question… is a serial killer really any worse than her ex?
Led by LGBTQ+ creators McKenzie Townsend and Britnie Banks, Spotting follows the path of works such as A Knock at the Cabin, The Fear Street Trilogy, and Bodies Bodies Bodies by prioritizing  authentic representation of diversity and queerness on screen. It's built from the ground up by a team within those communities. These films have elevated and put a modern spin on the horror/comedy genre that we all know and love, while paying tribute to the classics - Scream, Psycho, The Shining, and more! 
"Obviously, queer representation in horror movies has a long and complicated history, for the most part. We're only seeing ourselves on screen as monsters or as victims."
-Phil Graziadei, screenwriter of The Fear Street Trilogy
"Beyond the horror genre, we've seen sexuality or gender played up as the driving force of the plot. We really wanted to see a movie where these characters exist with more depth to their identities and experiences, beyond being queer. They exist in our film just as they do in the world around us. " - McKenzie Townsend & Britnie Banks (PRODUCER/WRITER)"
Follow the feature film Spotting everywhere: @spottingfilm,
and find more updates at www.SpottingFilm.com
INSTAGRAM / FACEBOOK / TWITTER / TIKTOK
---
NEXT EXIT: "When a research scientist (Karen Gillan) makes national news proving she can track people into the afterlife, Rose (Katie Parker) sees a way out and Teddy (Rahul Kohli) sees his chance to finally make it. These two strangers, both harboring dark secrets, race to join the doctor's contentious study and leave this life behind. While Rose is haunted by a ghostly presence that she can't outrun, Teddy is forced to confront his past. As these two misfits humorously quarrel their way across the country, they meet people along the way who force them to reckon with what is really driving them. A supernatural road movie directed by Mali Elfman, NEXT EXIT also stars Tongayi Chirisa, Tim Griffin, Diva Zappa, and Nico Evers-Swindell."
Written and Directed by Mali Elfman
Starring Katie Parker, Rahul Kohli, Rose Mciver, Tongayi Chirisa, Tim Griffin, Diva Zappa, Nico Evers-Swindell, and Karen Gillan
Magnet Releasing will release NEXT EXIT in theaters and on demand November 4, 2022
---
Listen to DARK SANCTUM: "Dark Sanctum is a thrilling and spine-tingling limited audio series showcasing things that go bump in the night. Inspired by TV classics like The Twilight Zone and Tales from the Crypt and classic radio fright-fests like Inner Sanctum and Lights Out, this new series blends captivating storytelling with chilling audio and spectacular sound design to transport you through a twisted and memorable audio thrill ride.
Mark Ramsey is a producer of the Ambie-nominated cinematic podcast Aftershock featuring Sarah Wayne Callies, David Harbour and Jeffrey Dean Morgan, and the creator/writer/narrator of acclaimed podcasts like Inside Psycho, Inside The Exorcist, Inside JAWS and more. For Dark Sanctum he collaborates with his Inside partner and sound designer Jeff Schmidt, who is also known for his work on the podcasts-turned-television hits such as Dirty John and Dr. Death. The cast boasts the considerable voice talents of Bethany Joy Lenz (One Tree Hill, Dexter), Clive Standen (Vikings, Doctor Who), and Michael O'Neill (Jack Ryan, Dallas Buyers Club)."
To learn more visit: https://wondery.com/shows/dark-sanctum/