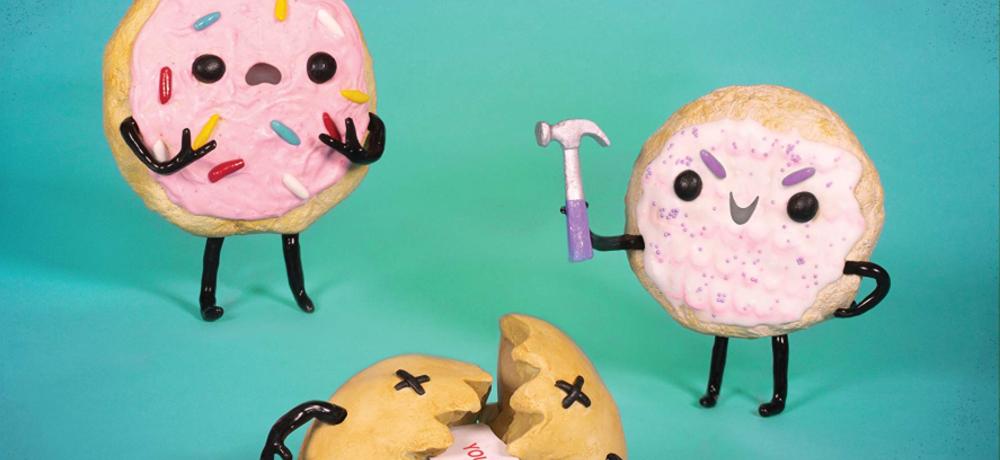 Liz and Jimmy Reed's graphic novel Bites of Terror: Ten Frightfully Delicious Tales showcases adorable food characters in frightful situations. Continue reading for more details. Also in today's Horror Highlights: release details for Killer Weekend and DarkMatter TV's new ambassador details.
Bites of Terror: Ten Frightfully Delicious Tales Release Details: "Tales from the Crypt meets All My Friends Are Dead in Bites of Terror: 10 Frightfully Delicious Tales (Quirk Books; On sale: March 24, 2020) by the creative duo Cuddles and Rage, also known as Liz and Jimmy Reed. The team's adorably creepy work began as a webcomic and has been featured everywhere from Nerdist to the Washington Post. Now they're bringing their unique combination of adorable hand-sculpted characters, meticulously designed dioramas, and photographed panels to a graphic novel that's sure to delight anyone with a dark sense of humor. In the book's foreword, Fangoria magazine's Phil Nobile, Jr. notes that Cuddles and Rage is "a brilliant storytelling duo that examines the human condition through stories about anthropomorphic foods who live rich, full, hilarious, and often relatable lives."
From an ice cream cone who makes an ill-fated deal with the devil('s food cake) to a moldy strawberry craving one last dip in a bowl of whipped cream, Bites of Terror's characters find themselves caught in various fear-filled scenarios, each with a uniquely morbid twist ending. Introducing the tales is the Cake Creeper, a partially eaten groom's cake who seems to have a sinister agenda. Here's a sampling of sinful stories to whet your appetite:
Deviled Egg: A freak accident has a Jekyll-and-Hyde effect, leaving a hard-boiled egg split in two sides—one good, one evil.
Pizza Party Massacre: A pizza slice working in children's entertainment reluctantly agrees to attend a last-minute birthday party at a previous client's house, the site of a violent incident.
Death by Chocolate: At the request of his police chief, a turnip detective grudgingly allows a banana from the press to tail him as he investigates a murder spree perpetrated by a killer who removes the chocolate from his tasty victims.
Unfortunate Cookie: After his mother's death, a fortune cookie gains her gift of second sight, but his newfound knowledge may be more curse than blessing.
Preserved: A peach tries to keep her life and household afloat while dealing with the incessant criticism and neediness of her mother (and roommate).
No detail is spared in these hand-crafted stories, from the delightfully morbid, pun-filled humor to each carefully constructed character and scene. Just like watching a horror movie—knowing a terrible fate will inevitably befall the characters—readers will be tempted to reach into the pages and save these food folk from their fates.
ABOUT THE CREATORS
Cuddles and Rage—aka Liz and Jimmy Reed—are the cocreators of a world of disturbingly cute stories. Their original webcomic featuring handmade dioramas of anthropomorphic foods has expanded into books, animation, and product design. Their clients include Netflix, HarperCollins, TLC, and the Science Channel. They live and work in the DC area.
ABOUT THE BOOK
Bites of Terror:
10 Frightfully Delicious Tales
Written by Cuddles and Rage
All Art by Cuddles and Rage
Publisher: Quirk Books
On sale: March 24, 2020
ISBN: 978-1-68369-164-8
e-ISBN: 978-1-68369-165-5
Price: $14.99 US/$19.99 CAN; Trade Paperback Original"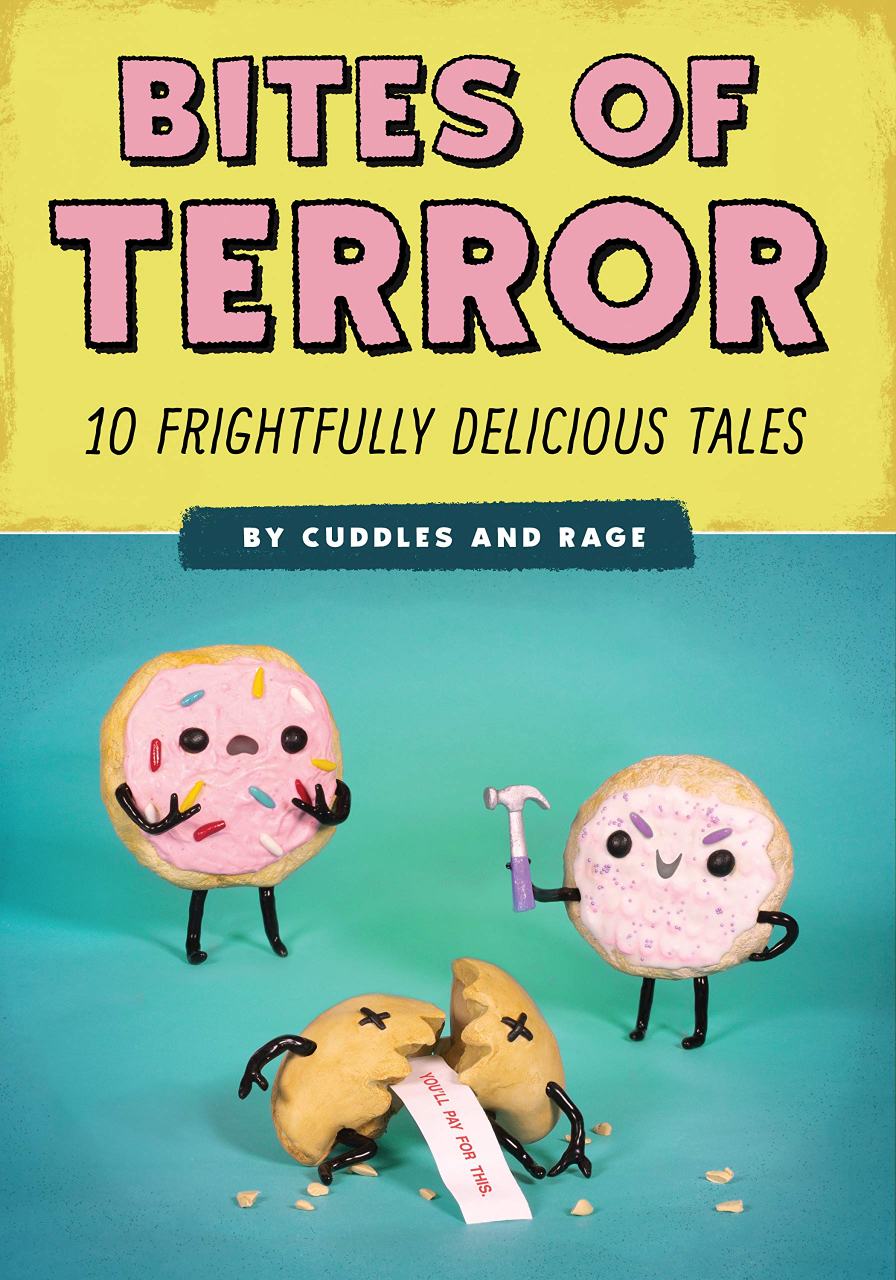 --------
Killer Weekend Digital and DVD Release Details:: "A groom-to-be and his buddies go on a paintball battle that turns horribly, and hilariously, wrong in KILLER WEEKEND. The zombie horror-comedy arrives on digital platforms and on DVD on February 18, 2020.
When Sam (Sean Verey, The Hot Potato, EastEnders) discovers that his stag weekend not only is a mock zombie survival experience but that his disapproving father-in-law-to-be has also been invited, he couldn't be more annoyed. But when the bachelor party arrives to find the "zombies" are in fact a bunch of psychotic ex-soldiers, their fantasy weekend quickly starts to look like a nightmare.
After a series of unfortunate mishaps finds the group trapped in a disused nuclear bunker besieged by the bloodthirsty troops, Sam must ask himself: Is it all still just a game, or is it actually game over?
Co-starring in Ben Kent's adrenaline-fueled debut feature is Mark Heap (Upstart Crow), Danny Kirrane (Don't Forget the Driver) and Ewen MacIntosh (Shed of the Dead).
Critic Anton Bitel, writing at SciFi Now, said, "Pitched somewhere between television's The Inbetweeners and David Bruckner's The Ritual, this is an epic weekender comedy of boys hoping to become men, and men hoping forever to stay boys."Pip Ellwood-Hughes of Entertainment Focus said KILLER WEEKEND is "packed with laugh-out-loud moments, plenty of surprises and a stellar ensemble." "Part Tucker and Dale Vs Evil, part Severance, KILLER WEEKEND is really entertaining and deserves to sit alongside the British horror-comedies said, "Nerdly's Alain Elliott."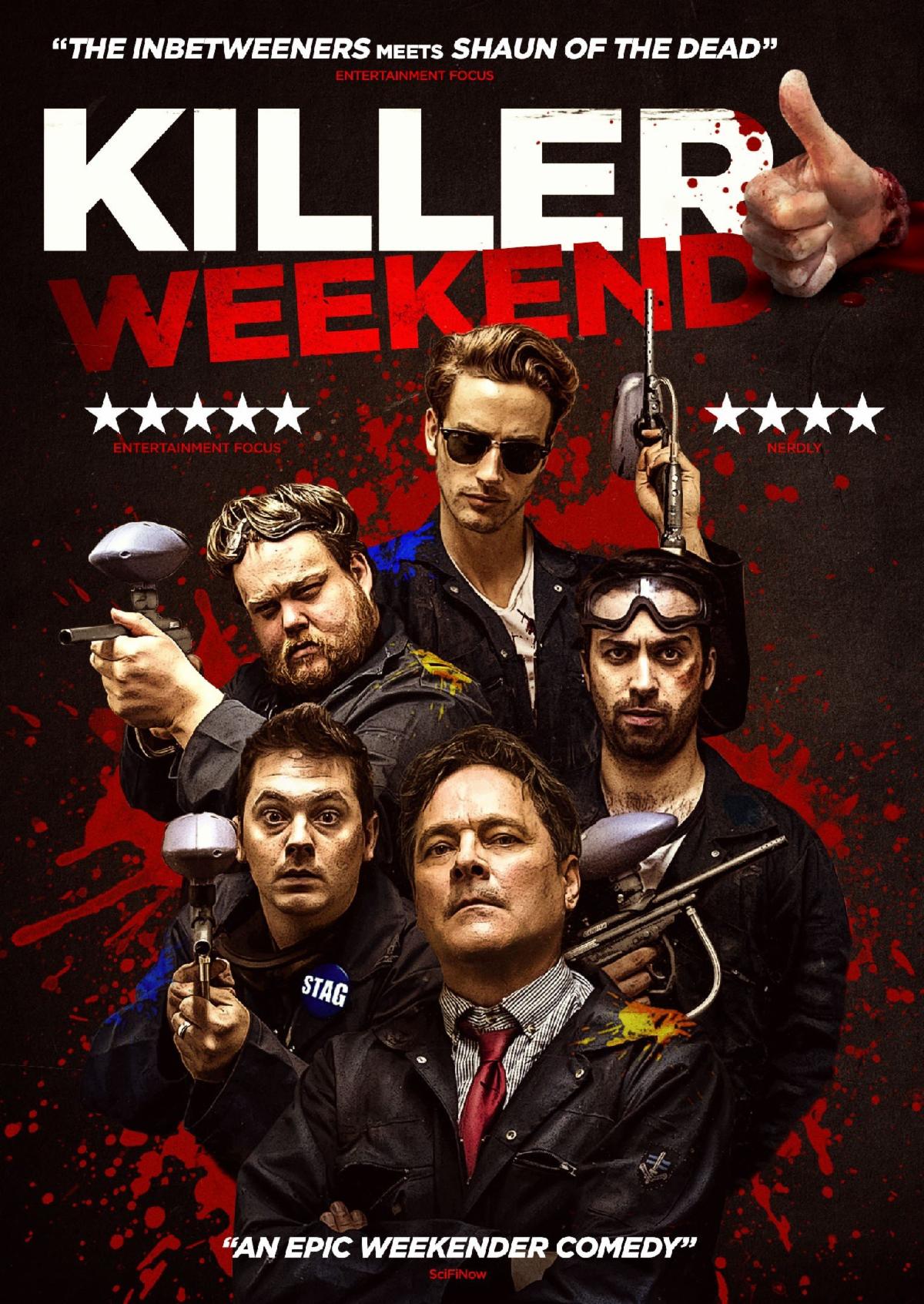 ---------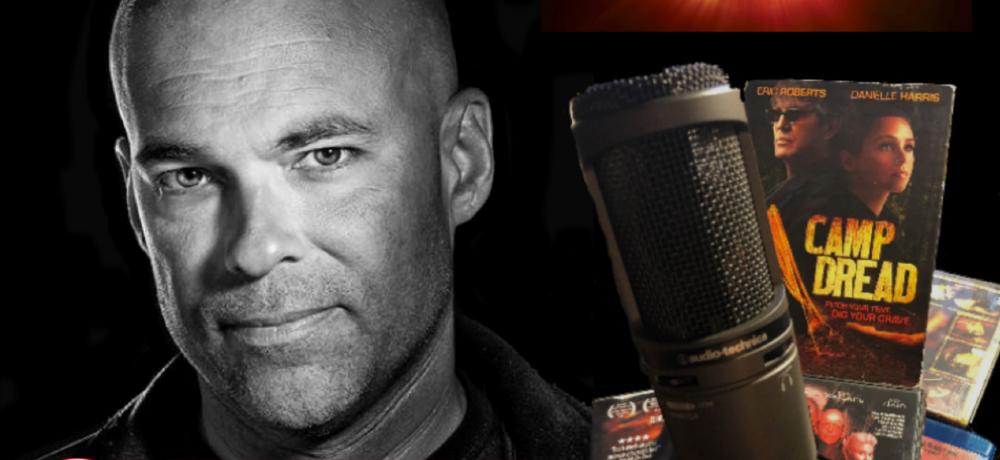 DarkMatter TV Announces New Ambassador B. Harrison Smith: "TRICOAST TV – DarkMatter TV is the go-to app to stream the best horror, sci-fi, true crime and action entertainment.
DarkMatter TV has signed its first brand ambassador, horror legend B. Harrison Smith, whose cinematic works have been love letters to dedicated horror fans, successfully capturing the horror nostalgia of the late '70s and early '80s.
Renowned as a staple in horror cinema history for his award-winning writing, directing and producing, Smith is best known for Camp Dread (2014), starring Oscar nominee Eric Roberts (Runaway Train), 21st-century scream queen Danielle Harris (Halloween) and Felissa Rose (Sleepaway Camp), and Death House (2017), featuring horror icons Kane Hodder (Friday the 13th), Tony Todd (Night of the Living Dead) and Barbara Crampton (Re-Animator), which is now streaming on Netflix.
Exclusively to DarkMatter TV, Smith will host the Cynema podcast, which has gained popularity for its hard look at the relationship between cynicism and the entertainment industry. Garnering praise from industry professionals like Mike Flanagan (Dr. Sleep, Haunting of Hill House), Smith looks forward to bringing new content to DarkMatter TV and expounding on the platform's unique content.
"I wanted to join DarkMatter TV because their ascending content has such a terrific style and flavor that hearkens back to the best of late-night cable from when I was growing up. Fun content presented in a high-quality fashion makes this fun – and isn't that the point? Movies are fun, and DarkMatter TV has found some of the best," stated Smith.
Check out B. Harrison Smith's five favorite titles now streaming on the DarkMatter TV app:
The Last Man On Earth (1964): I grew up with this on Dr. Shock or Chiller Theater. I feel like I am ten again watching it – it scared the hell out of me. One of the several Richard Matheson 'I Am Legend' adaptations, it might the one that is closest to the heart of the novel.
Home Education (2016): This film is bizarre, fresh, new, and yet, consistent with the content and tone of other DarkMatter TV titles. I so enjoyed this at a small art-house screening. Great to see it has life in streaming!
Carnival of Souls (1962): This film creeped me out so much, I featured it in a scene of my first film, The Fields (2011). Total nostalgia here… I love that DarkMatter TV gave it a home to be seen and enjoyed again.
Let Her Out (2017): A bizarre, body horror that again, stood out to me on this."