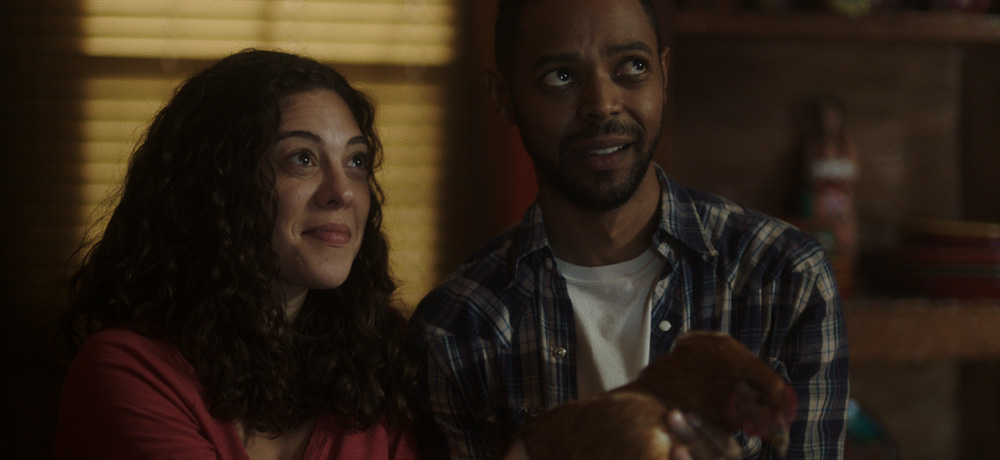 Exclusive Clip from BLOOD BORN: "From director Reed Shusterman, and in the tradition of THE OMEN, prepare for the birth of evil this summer – BLOOD BORN.
After struggling to conceive, Eric and Makayla hire a witch doctor from the Gravida Foundation to help them conceive. Ola moves into their home, taking over their lives as she puts them through a series of magical rituals. As the ceremonies take a toll on the couple, they discover that their baby might not actually be human, leaving them to decide how far are they willing to go for the family they've always wanted.
Antoine Perry ("Major Crimes"), Rosie Moss ("The Conners"), Melanie Haynes (Spider-Man : Into the Spider-Verse), Laurine Price ("American Crime Story : Versace"), and Cole Gerdes ("MOM") star in BLOOD BORN, on Digital July 16 from Terror Films.
Says director Reed Shusterman :
Having a baby is inherently irrational. It's hard, expensive, potentially dangerous to the mother, and full of unknowns. In a best-case scenario, you end up with an expensive, part-time monster who, after 20-plus years, will hopefully be a moderately functional adult. But people keep doing it, frequently on purpose. And when they try and can't, they'll go to extraordinary lengths to get the family they want. It's not a big leap to see why Eric and Makayla are willing to believe a weird old lady who promises them a magical solution to their problem.
I started development on Blood Born right when my wife and I had just decided to start having a baby. And, in a very literal interpretation of 'write what you know,' I wrote about that.
On one level this movie is about the general fears of pregnancy and parenthood, like what happens to you/your partner's body and the physical space the baby will take up. But what really scared me into making this movie was how much a baby would change me. I'd no longer be the most important person in my wife's life. Hell, I wouldn't be the most important person in my own life. In a certain way, I'd be giving up myself, my being.
When this story starts, Eric and Makayla have already given up so much in their attempts to have a baby. Inviting a witch doctor to live with you for a week isn't any more disruptive to your life than a round of IVF. But as the magic–and impending baby–get more and more real, Eric starts to question whether or not the sacrifices are worth it.
I've discovered that there's a lot of overlap between parenthood and making your first feature film. They are freight trains of momentum that cannot be slowed down. They are chaotic, scary, and stressful. But there is discovery in both, of things you'd never expect through, respectively, genetics or a fantastically talented cast and crew.
Blood Born is full of things that are scary and gross, monstrous and joyous. I am enormously proud of this film. It's a character driven, strange, off-kilter dive into a kind of fear that, to me, is far scarier than killers or ghosts: How, miracle of life or not, the beginning of parenthood is the end of everything you know. And as they say… All babies are monsters."
Available Now On Digital

----------
HEAVY METAL GOES FULL DRAG, FILTH, HORROR, AND GLAMOUR IN THE BOULET BROTHERS HALLOWEEN TAKEOVER ISSUE OF HEAVY METAL MAGAZINE: "Hello Uglies. Heavy Metal Entertainment is thrilled to  announce that The Boulet Brothers, the legendary horror hosts, producers, drag icons, and  creators of reality competition TV series The Boulet Brothers' Dragula, will be taking over this  year's Halloween issue of Heavy Metal Magazine. 
Dracmorda and Swanthula Boulet host this spooky spectacular issue, guiding readers into dark  and demented worlds with their own scary stories as well as horror tales created by Steve  Orlando (Wonder Woman, Starward) and pro wrestler Danhausen; RuPaul's Drag Race stars  Katya Zamolodchikova, Alaska Thunderfuck 5000, Yvie Oddly; American Horror Story director  Axelle Carolyn; Steve Foxe (Razorblades, Party & Prey) and artist Isaac Goodhart (Catwoman,  Postal). The gorgeous and glamorous cover is created by artist Dan Quintana (Batman,  Something is Killing the Children covers).  
"Taking over Heavy Metal Magazine for Halloween is one of the things we are most excited  about this coming season. Heavy Metal Magazine is iconic and it's an honor to appear on the  cover and to actually be able to write a few comics of our own for the issue. A lot of people  aren't aware of this but we actually got our start in the comic book industry, so being able to  connect the place where we started in comics to where we are working now in horror, drag and  television is a full circle moment and we couldn't be more thrilled," said Dracmorda Boulet. 
Added Swanthula Boulet: "We were also really excited to be able to work with our friend Steve  Orlando on this who we feel is one of the most driven comic book writers working today. Steve  worked with us and some of our friends from the drag and horror space to also develop their  own stories for the issue, so you're going to see original comics from Katya, Alaska, Yvie Oddly  and (American Horror Story director) Axelle Carolyn as well. They all did a great job and we  can't wait for audiences to see the finished product." 
"The Boulet Brothers and Heavy Metal—what an incredible pairing to help bring together for this  Halloween!" remarked Steve Orlando. "Here we've got a meeting of icons known for subversion,  pushing the envelope, questioning the expected and unquestionably pushing creativity forward.  
Whether it's comics, prose, drag, horror, filth, or glamour, these icons are more than  trendsetters—they're trendbusters, trendbreakers. So am I excited to be part of this first of its 
kind Halloween Takeover? Hell yes! There's an awesome Halloween artifact coming your way  from all involved, including first-ever comics work from pro wrestler and blimp-enthusiast  Danhausen and co-creator of the blazing new hit horror comics anthology Razorblades, Steve  Foxe!" 
Heavy Metal CEO Matthew Medney said: "Heavy Metal is always about pushing the envelope,  pushing the narrative, and creating conversation in the pop culture zeitgeist. Teaming up with  The Boulet Brothers helps to move forward our narrative of inclusion, freedom of choice, and  being your most beautiful self. We cannot wait to share this issue dreamed up by the crazy  glamorous, disgustingly outrageous minds of Swanthula and Dracmorda Boulet, and many  incredibly talented nightmarish creators, in this audacious tale told through the Heavy Metal  lens." 
The Boulet Brothers Halloween Takeover issue of Heavy Metal Magazine (issue #311) will be  available on October 27th in comic shops, bookstores, and online on Comixology, GlobalComix,  and at heavymetal.com, and will be available for pre-order. The special issue is priced at  $13.99."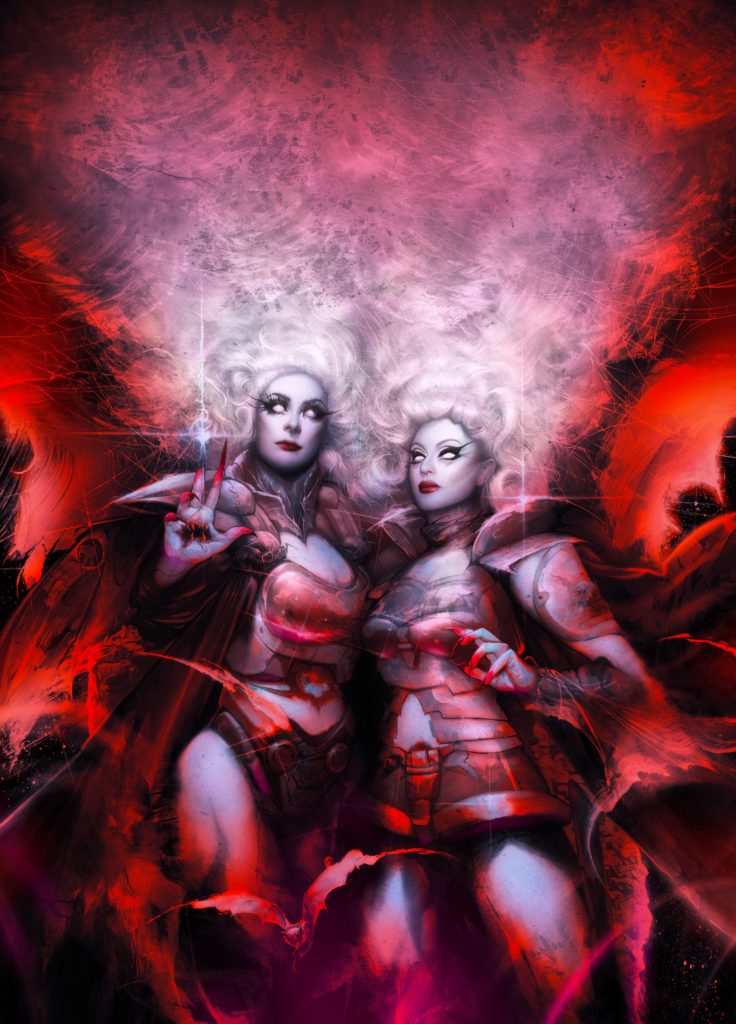 ----------
Behind the Veil: The Winchester Mystery House Comic Book Series: "Source Point Press is bringing the mystery to you in the Comic-Con@Home Panel "Behind the Veil: The Winchester Mystery House Comic Book Series." Writer Joshua Werner (Rampant, co-founder of Source Point Press) and artist Dustin Irvin (The Seance Room) discuss the behind-the-scenes creation of the upcoming Source Point Press comic book series, "The Winchester Mystery House" on Saturday, Jul. 24 at 10 a.m.
Introduced by Walter Magnuson, general manager of the Winchester Mystery House, this panel explores the thrills and struggles behind crafting a horror story based on one of the most haunted houses in the world and the incredible life of its mysterious owner.
"This is more than just a panel for the exciting Comic-Con @Home event," says Werner. "It's a mini-documentary, diving deep into the behind-the-scenes creation of this historic-fiction horror tale."
The Winchester Mystery House is a landmark mansion in San Jose, CA which was once the personal residence of Sarah Lockwood Pardee Winchester, the widow of William Wirt Winchester and heiress to a large portion of the Winchester Repeating Arms fortune. After losing her husband and child, Sarah left their home in New Haven, CT and moved out west to San Jose, where she bought an eight-room farmhouse and began what could only be described as the world's longest home renovation. From 1886 to 1922 construction seemingly never ceased as the original eight-room farmhouse grew into the world's most unusual and sprawling mansion.
In the upcoming comic series from Source Point Press, the Winchester Mystery House is much more than an architectural wonder. Reader's are invited to step inside and hear the house's whispers. Inspired by true events, this masterfully crafted horror tale written by Joshua Werner and beautifully illustrated by Dustin Irvin takes you into the non-stop construction of "The house that spirits built" and its brilliant and mysterious owner, Sarah Winchester.
"The Winchester Mystery House is a labyrinth full of secrets, and it is my great pleasure to bring those secrets to the reader and unravel them," says Werner. "Sarah Winchester was a brilliant person, incredibly ahead of her time, and deliciously complex. Weaving her tale and the story of this house into the comic book medium with the beautiful art of Dustin Irvin is a dream come true. And the reader is in for some shocks and surprises."
Source Point Press is a midwest publisher of books, comics, and graphic novels founded in 2012. Source Point Press is a division of Ox Eye Media. "The Winchester Mystery House" will be available in comic shops and online at sourcepointpress.com on Wednesday, Oct. 27 2021."