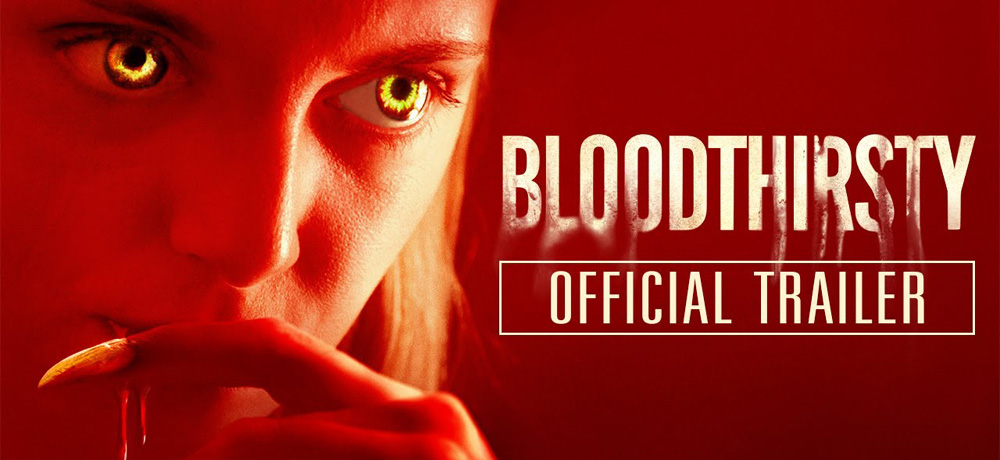 Official Trailer for BLOODTHIRSTY: "Grey, an indie singer, whose first album was a smash hit, gets an invitation to work with notorious music producer Vaughn Daniels at his remote studio in the woods. Together with her girlfriend/lover Charlie, they arrive at his mansion, and the work begins. But Grey is having visions that she is a wolf, and as her work with the emotionally demanding Vaughn deepens, the vegan singer begins to hunger for meat and the hunt. As Grey starts to transform into a werewolf, she begins to find out who she really is, and begins to discover the family she never knew. What will it take to become a great artist and at what cost to her humanity?"
Director: Amelia Moses
Co-Writers: Wendy Hill-Tout and Lowell
Featuring Original Music By: Lowell
Producers: Wendy Hill-Tout, Michael Peterson
Executive Producers: David Bond, Alan Bachus
Cast: Lauren Beatty, Greg Bryk, Katharine King So, Judith Buchan, Michael Ironside
Run Time: 85 minutes
Rating: Not Rated
Release Date: In Select Theaters and On Demand April 23, 2021
In Select Theaters and On Demand on April 23
----------
FOR THE SAKE OF VICIOUS: "Release Date: In Select Theaters April 16 and On Demand April 20 + Blu-Ray May 4
Synopsis: Romina, an overworked nurse and single mother returns home from her late shift on Halloween night to find a maniac hiding out with a bruised and beaten hostage. When an unexpected wave of violent intruders descends upon her home, the trio realize the only way out of the situation is to work together and fight for their survival.
Directors: Gabriel Carrer, Reese Eveneshen
Writer: Reese Eveneshen
Cast: Lora Burke, Nick Smyth, Colin Paradine
Producers: Gabriel Carrer, Reese Eveneshen, Avi Federgreen
Genre: Action, Horror, Thriller
Run Time: 80 minutes
Rating: Not rated
U.S. Distributor: Dread
Canada Distributor: Raven Banner"
----------
OKAY GOOGLE Teaser Trailer: "A dark comedy about a vindictive AI assistant who breaks out of the cloud to enact her revenge on her owner.
Starring REBECCA BLACK as Google, SAM LUCAS SMITH as Darren, and SAMUEL DAVID as Gerard.
Directed by SAM LUCAS SMITH & TROY SMITH
Written by SAM LUCAS SMITH
Produced by KRISTEN VAGANOS
Music by SAKELYA BEA"
----------
HALL: "Heading out of EFM (European Film Market), Black Fawn Distribution has acquired Canadian rights  for the viral zombie thriller Hall. Black Fawn Distribution will be bringing the psychological thriller home this spring with the film slated to  hit all major Canadian VOD platforms on Tuesday, April 6, 2021. A physical release of the film is expected to follow later this year. 
Starring Carolina Bartczak (X-Men: Apocalypse, Roland Emmerich's upcoming Moonfall), Hall follows Val (Bartczak), a young mother  separated from her daughter (Bailey Thain), who must navigate a hotel hallway ravaged by a mysterious virus. Forced to crawl her way past  other helpless victims, Val crosses paths with Naomi (Yumiko Shaku) - a pregnant tourist thrust into the fight of her life. While keeping out  of sight, Val and Naomi must escape the stretch of isolated carnage, before they become infected themselves. The film also features Mark  Gibson (Vicious Fun, Exit Humanity) and Julian Richings (Anything for Jackson, Man of Steel). Hall marks the feature film debut of director  Francesco Giannini and is the first feature to be completed under his production banner, Franky Films. Giannini also recently took home  Best Director honours for Hall at last year's Blood in the Snow Film Festival in Toronto, Canada. 
The production history behind Hall is a fascinating one. The film was written in 2018, filmed in 2019, and then had its release delayed in  2020 due to the global pandemic. The film was shot on location in Montreal, Quebec, Canada at the start of 2019 – well before the Covid 19 pandemic took a hold of the planet. Post production was completed just before the film's world premiere at UK's Arrow Video FrightFest in the fall of 2020. 
"The story of Hall was always somewhat anchored by my fear that a contagion could potentially be fabricated for nefarious purposes,"  states director Francesco Giannini. "But, I never thought this fictional story would share so many similarities with the reality we face today." 
Although Hall utilizes a pandemic scenario as its backdrop, the film also touches on the themes of domestic violence and mental health.  "Hall isn't so much a 'pandemic film' as it is a very honest and personal story," explains Giannini. "There were some very real societal issues  that had been sitting with me well before 2020 – one of those being how impactful our actions can be to those around us, especially when 
kids are part of your life. No one deserves to be subjected to domestic violence, be it physical or verbal, and getting out of such an  undesirable situation is extremely challenging. It takes an immense amount of mental strength to get out of such a toxic relationship." 
"When I found out that Hall was filmed pre-pandemic, I was blown away," states Black Fawn Distribution's Sales Manager CF Benner. "The  horror genre has a storied history of incorporating relevant social commentary in unique and terrifying ways. Hall is no exception and  Francesco has done an exceptional job of balancing our fear of what's on the other side of the door and the human terrors that can live in  the same room as us. Knowing that the film was originally crafted as a cautionary tale instead of a reactionary project makes for a truly  uncanny viewing experience. It was important to us that Hall became part of the Black Fawn Distribution film family." 
"It was actually a complete coincidence that Hall was almost finished just before this unfortunate crisis struck," concurs Giannini. "When  the time was right, we decided to approach the team at Black Fawn Distribution to see if they'd like to work on getting the film out to the  masses. Canada is our home and I've been a huge fan of Black Fawn Distribution and their work with helping to bring independent horror to  a wider audience nationwide. There couldn't be a better fit for our film."
----------
THE VIRTUOSO: "Danger, deception, and murder descend upon a sleepy country town when a professional assassin (Anson Mount) accepts a new assignment from his enigmatic mentor and boss (Oscar® winner Anthony Hopkins). Given only where and when along with a cryptic clue, the methodical hit man must identify his mysterious mark from among several possible targets, including a local sheriff (David Morse). Meanwhile, a chance encounter with an alluring woman (Abbie Cornish) at the town's rustic diner threatens to derail his mission in this noir-style cloak-and-dagger thriller."
THE VIRTUOSO will be available in Select Theaters and Everywhere You Rent Movies on April 30th; on Blu-ray and DVD May 4th!