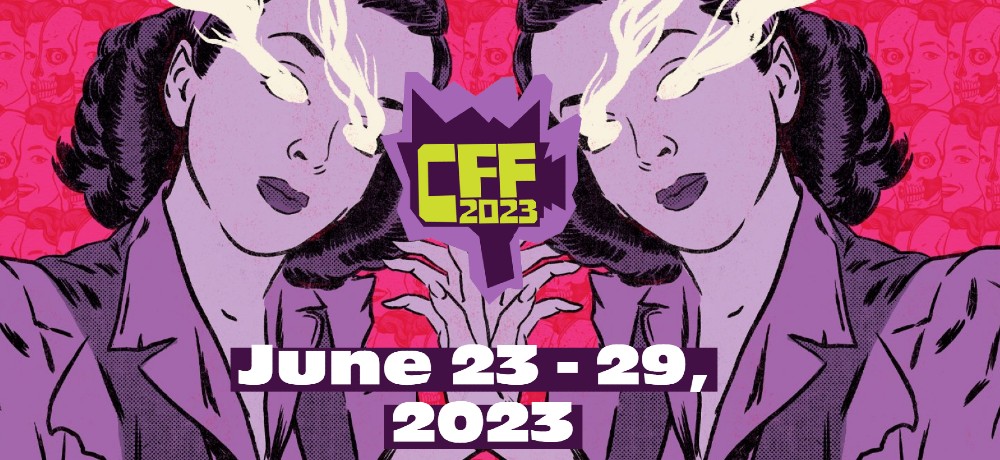 THE CHATTANOOGA FILM FESTIVAL CONJURES FIRST WAVE: "Hot on the haunted heels of their tenth-anniversary announcement, organizers of The Chattanooga Film Festival (CFF) have once assembled a first wave of strange and fantastic cinema for their hybrid edition this year.
First up is the North American premiere of a film primed to knock the socks off CFF's longtime fans - filmmaker Jonas Trukanas' perfectly executed Lithuanian slasher WE MIGHT HURT EACH OTHER. Trukanas' briskly paced hoot of a horror film is one of this year's true standouts and another title presented by Screambox. WE MIGHT HURT EACH OTHER has all the makings of a deeply satisfying cult classic.
Closing out the festival for those attending in person this year is TRIM SEASON, marking the return of filmmaker Ariel Vida, who first attended CFF in 2019 with a secret screening of VIDE NOIR. Her latest combines a terrific ensemble cast, one of the best settings you'll find in any horror film this year, plus some gnarly surprises. After the screening, we're happy to have our friends at SnapDragon Hemp on hand to help calm everybody down. 
Lots of ink has been spilled from true crime books to fear-mongering cable news segments on the "Satanic Panic" of the 1980s. With their new film, SATAN WANTS YOU, directors Steve Adams and Sean Horlor take a provocative and fascinating look at the beginnings of this bizarre movement. With a meticulously researched structure and never before heard audio recordings of Michelle Smith, who, along with her psychiatrist Lawrence Pazdur was very much the patient zero of the whole panic, Adams and Horlor have crafted one of the year's wildest and most unmissable pieces of documentary filmmaking. Whether you're a fan of true crime docs or just a kid who had your Ozzy albums taken away by concerned parents, SATAN WANTS YOU is essential viewing.
Another documentary on the slate this year is D. Smith's raucous and raw portrait of the lives of four black trans sex workers. KOKOMO CITY stands tall in our eyes as one of the most vitally important, entertaining, and poignant pieces of documentary filmmaking you're likely to see this year. From its gorgeous black and white cinematography to an absolutely amazing soundtrack, Smith's film practically leaps off the screen and we're honored to have the opportunity to share it with our in-person audience in Tennessee.
Little known to most is the CFF team's love of well-done romantic comedies. They are rare in the genre space, so when the team saw Michael Lukk Litwak's charming and delightful MOLLI & MAX IN THE FUTURE, it compelled them to drop a rom-com bomb into this year's fest.  With winning performances by Zosia Mamet (The Flight Attendant, Girls) and Aristotle Athari (SNL), Litwak's delightful far future set "com" never forgets that it also needs a good ratio of "rom."
With a vibe that is reminiscent of the films of Peter Strickland, mixed with David Cronenberg, PIAFFE is one of the standout films of the year. A film that is sexy, strange, and utterly unique, and it's recommended to let Ann Oren's debut feature lure you in with its lush, hypnotic beauty. 
The CFF team is also working with the new maniacs on the genre scene, Welcome Villain, for a screening of Sam Curtain's feral flick BEATEN TO DEATH. As one might suspect, the title hints at an intense and extreme situation that will leave the audience wondering not only how much the human body can endure, but how much they themselves can.
Longtime fans of the fest will dig Patricio Valladares's INVOKING YELL. This 90's set, Chilean, all-lady black-metal band, found footage horror film was love at first fright for us. 
What would you do if you knew the world was going to end? In filmmaker Nathan Blackwell's THE LAST MOVIE EVER MADE, that choice is simple - recruit a group of old friends and even a few total strangers to help complete the science fiction film you abandoned making in high school. The result is a film dripping with charm and will make everyone in the audience want to go make a movie with their friends.
Writer/Director/Producer Alexander Canepa's masterful indie drama MRS. BOOKER ON 8TH AVENUE deftly weaves the neorealism of classic Italian cinema, the isolation of the pandemic, and the jazz-infused soul of Thelonious Monk together in truly wonderful ways to create a work of raw power and true independence. Shot on the streets over New York in just ten days, Canepa's talented cast bear their souls and the result is a beautiful and tragic tale that couldn't help remind us of Cassavettes at his peak.
The festival's annual music-themed block, Sonic Cinema returns with a pair of films saluting outsider musicians we think will worm their way into your ears/hearts. This block will celebrate the tenth anniversary of LOCAL LEGENDS, the charming and funny autobiographical tale of songwriter Matt Farley, a man with over 24,000 songs to his credit, many bathroom-themed. We're proud to screen this wildly underrated classic and have a chat with Farley himself, moderated by Peter Kuplowsky (TIFF's Midnight Madness). 
Next, the fest will warp your brain to the uncharted zone with a screening of filmmaker Louis Crisitello's warm-hearted documentary of Florida wild man musician and green screen aficionado Phil Thomas Katt - SPACE HAPPY: PHIL THOMAS KATT AND THE UNCHARTED ZONE.
It wouldn't be CFF without a celebration of metal and rounding out the 2023 Sonic Cinema offerings is a special screening of Michael Dimmitt's upcoming music documentary A WANDERING PATH (THE STORY OF GILEAD MEDIA). Open to virtual badge holders, this film is a portrait of Adam Bartlett, the visionary head of the fascinating and beloved Gilead Media, and the many incredible black metal, doom, and noise rock bands on the label's roster. These bands have used the power of music to cope with issues from abuse to depression in unique and profound ways. Featuring incredible extreme musicians from Emma Ruth Rundle to Thou to Blood Incantation, Dimmitt's deeply personal and moving doc is a fantastic celebration of life and music, and CFF is proud to offer a sneak preview of the film before its official release.
Returning as part of the festival's celebrated short film program is the WTF (Watch These Films) block, highlighting a deranged dozen of the year's strangest and most magical shorts peppered with returning fan favorites like Chris McInroy with WE FORGOT ABOUT THE ZOMBIES, Addie Doyle & Lee Hurst's fin. as well as wild and talented new voices like Vanessa Meyer's FOOT TROUBLE and Alex Kavutskiy with VERTICAL VALOR.
Making its 2023 debut with the festival is a new virtually presented block of shorts called Fun Side Epics. Made up of eighteen shorts that genuinely feel like mini-features in every sense, from their world-building and complex characters to their slightly longer than your typical short film running times from filmmaker Montana Cypress' THE RED ORCHID to Estonian filmmakers EskoBros crazy cool TWIN TURBO. Fun Size Epics has over 5 hours of incredible short filmmaking, curated from all over the world.
Also returning is Stephen Scarlata (Jodorowsky's Dune) and Josh Miller's (Violent Night) Best Movies Never Made podcast with a special episode tie-in to our Tales From the Crypt salute. Josh, Steven, and some very special guests will dive deeply into DEAD EASY, the never-filmed follow-up to the classic Tales From the Crypt movie DEMON KNIGHT. There is plenty more from the crypt where that came from, including special live episodes of two more of the festival's 
favorite podcasts, Dad's From the Crypt, plus Pretty h8 Machine and Crazysexy ghoul's L8 Night Ghouls, who've quickly begun making a name for themselves with genre fans. 
Sure to excite fans of the eclectic mix of music, comedy, and film that has defined CFF over the past decade is the return of their infamous BOAT FLOAT. A sprawling triple-decker brouhaha hosted on Chattanooga's iconic Southern Belle Riverboat that has long served as the insane centerpiece of the festival's Saturday night parties. Comedian Jonah Ray will perform and be the night's MC, Vinegar Syndrome will be on hand with a killer pop-up shop, and local heroes LILLIAN, featuring CFF's lead illustrator and designer extraordinaire Travis Knight on bass. In addition, two of the Earth's greatest hardcore bands will also play, Texas' Strange Joy and Ohio's Slug. 
Both hybrid and virtual badges are on sale now at chattfilmfest.org. In-person screenings and events are taking place June 23 - 25 at The Read House located in downtown Chattanooga, plus additional party locations around the city.  The virtual component of the festival is taking place June 23 - 29. Individual tickets for certain in-person and virtual films and events will become available closer to the festival."
For more information, visit chattfilmfest.org and follow them on Facebook, Twitter and Instagram.
---
Watch the Teaser Trailer for Eldritch, USA: An intriguing blend of the horror, comedy, and musical genres, featuring thirteen original songs composed by the talented members of "Fox Royale." The storyline weaves together Pop/Rock melodies with themes from Lovecraftian horror, complex sibling relationships, and pop culture-centric humor.

"Passive Aggressive Films presents Eldritch, USA, a feature length Horror/Comedy/Musical.
Siblings Geoff and Rich Brewer have competed all their lives for parental affection, career ambitions, and romantic pursuits. Rich, the elder brother, always comes out on top leaving Geoff to struggle in his shadow. An unexpected death from a freak accident causes Geoff to seek out a backwoods cult rumored to have brought someone back from the dead. The bumbling cult's ritual initially solves his problem, but it soon becomes apparent that they have unleashed a sinister force on their unsuspecting, Midwestern town."
To learn more, visit: www.eldritchusa.com
-
AWA STUDIOS' UPCOMING SERIES SINS OF THE SALTON SEA IS AN ACTION-PACKED THRILLER WITH PSYCHOLOGICAL HORROR TWIST: "AWA Studios, the independent developer of bold and relevant stories from the world's most outstanding artists, writers, and artisans, announced today the upcoming release of SINS OF THE SALTON SEA, a five-issue series debuting on June 7, 2023. From the all-star creative team of writer Ed Brisson (OLD MAN LOGAN, BATMAN INCORPORATED, X-FORCE) and artist C.P. Smith (WOLVERINE: BLOOD & SORROW, THE RESISTANCE UNIVERSE: THE ORIGINS, TEN GRAND #7), this new series serves up a high octane crime thriller with a supernatural twist that asks the weighty question: Is the life of one child worth risking the fate of the world?
SINS OF THE SALTON SEA follows Wyatt, a professional thief living off the grid in the aftermath of a horrible tragedy, who is recruited by his brother to pull off one last job. Their target: an armored car traveling down a desolate stretch of California highway. But when it turns out that the armored car is carrying not gold bars but human cargo, Wyatt is plunged into the middle of a conflict between warring factions of a doomsday cult.  The Sons of the Salton Sea claim that it is their solemn duty to save the world by means of human sacrifice. Wyatt must decide if he will protect the boy who has come into his charge or be swayed by the cult's convincing claims that the end of the world is fast approaching.
"Exploring the riveting blend of action and horror in SINS OF THE SALTON SEA made it a lot of fun to write and it has been so exciting to see C.P. Smith's illustrations truly bring the story to life in such a dynamic way," said series writer Ed Brisson. "I'm thrilled Axel and the AWA team gave me the opportunity to tell this fast-paced and exhilarating adventure, and I hope readers love it as much as we do."
"Ed is an extraordinary talent playing to his strengths, and he's perfectly paired with C.P. Smith, whose neo-noir style brilliantly captures the tension and atmosphere of Ed's scripts. SINS OF THE SALTON SEA takes a familiar trope - a criminal looking to make one last score - and completely turns it on its head," said Axel Alonso, Co-Founder and Chief Creative Officer of AWA Studios. "Part conspiracy thriller, part chase movie, part cult-based horror, with plenty of twists and turns to keep readers wondering, Is Wyatt doing the right thing…?"
SINS OF THE SALTON SEA is created and written by Ed Brisson, illustrated and colored by C.P. Smith, and lettered by Hassan Otsmane-Elhaou. Issue #1 will be available June 7th, both digitally and in stores wherever comic books are sold. For more information on SINS OF THE SALTON SEA and other content, visit AWA Studios on Facebook, Twitter, Instagram, YouTube, and AWAStudios.net."