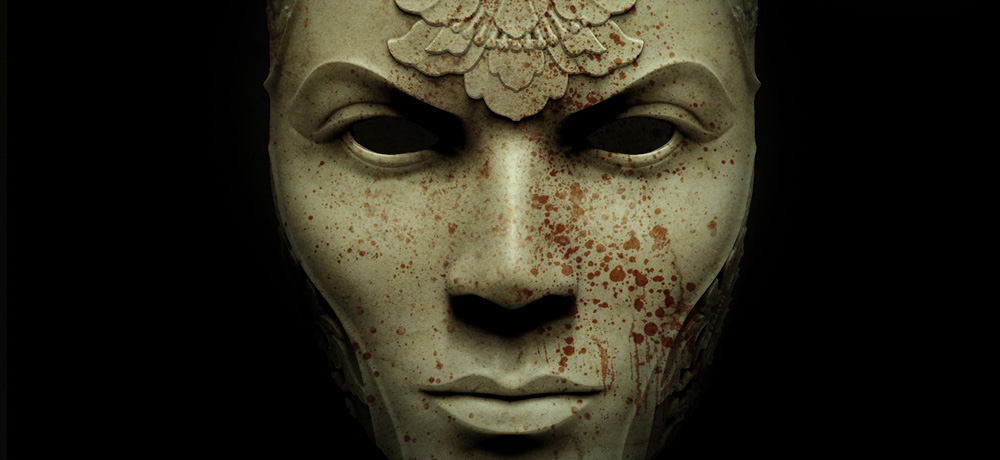 In today's Horror Highlights: a 24-hour Chopping Mall marathon, the trailer and release details for Trail of Ashes, and info on the Halftone Horrors Kickstarter!
TRAIL OF ASHES: "Los Angeles, CA – Gravitas Ventures, a Red Arrow Studios Company, has acquired North American rights to Arturo Lizardi's thriller, TRAIL OF ASHES.  The film will be available to rent and own on North American digital HD internet, cable and satellite platforms through Gravitas Ventures on December 1, 2020.
The search for the empress's daughter reunites two long lost brothers who grew up on opposite sides of a war and now must choose between family bonds and political alliances.
Written and directed by Arturo Lizardi, TRAIL OF ASHES was produced by Samari Vega and Lizardi.  TRAIL OF ASHES stars Lizardi, Hector Escudero, Cecilia Arguelles and Carlos Miranda.
Lizardi said "When we began our search to find a home for Trail of Ashes, Gravitas Ventures immediately stood out. They prioritized good storytelling above everything else. You can imagine how overjoyed we were when, after our first meeting with Nick Royak (Acquisitions manager for Gravitas Ventures), our goals and vision for the film matched perfectly. We are thrilled to make Gravitas Ventures the home of our first feature film."
"I was excited to see indie filmmakers delve into the realm of medieval fantasy, it's no small feat. Arturo and his team explore a world born out of their pure imaginations and anchor it with a boiling mystery," said Gravitas Ventures Senior Acquisitions Manager Nick Royak.
The deal was negotiated by Nick Royak on behalf of Gravitas Ventures and Tiffany Boyle on behalf of the filmmakers."
----------
Shout! Factory TV Presents 24 Hours of Chopping Mall Cyber Monday Marathon Stream November 30: "LOS ANGELES – November 19, 2020 – Attention, shoppers! The protectors are back online. Cyber Monday means Cyber Security and this year, it's PERSONAL CHOPPING. Run, don't walk, to tune in to Shout! Factory TV on Cyber Monday for 24 hours of Chopping Mall marathon madness!
High-tech robots equipped with state-of-the-art security devices have been recruited as the new mechanical night watch for the Park Plaza Mall. When a jolting bolt of lightning short circuits the main computer control, the robots turn into murderous killbots on the loose for unsuspecting shoppers! Four couples are trying to make it after hours in a mattress store. They make it all right…in the morgue!
The marathon begins Monday, November 30 at 12 a.m. PT and continues for 24 hours. The stream can be viewed on ShoutFactoryTV.com; Shout! Factory TV's Roku, Amazon Fire, Apple TV, and Android apps; and the following digital streaming platforms: Twitch, Samsung TV Plus, Comcast Xfinity, Xumo, Vizio, Redbox, IMDb TV, STIRR, Sling TV, THETA.tv and Local Now.
Chopping Mall is also available for viewing on demand on ShoutFactoryTV.com; Shout! Factory TV's Roku, Amazon Fire, Apple TV, and Android apps; and on various Shout! Factory TV branded channels including Tubi, Amazon Prime Channels, and the Roku Channel."
-------
Halftone Horrors: The History of Horror Movie Comic Books: "HorrorHound Ltd. is delighted to announce that the Official Kickstarter Campaign has NOW LAUNCHED for Halftone Horrors: The History of Horror Movie Comic Books. This exhaustive tome to the history of cinematic adaptations will be HorrorHound Publishing's first fully realized book release in the company's 15-year history. In true HorrorHound fashion, the end-result will be the most immersive and comprehensive guide ever published on the subject. In preparation for Halftone Horrors' release, HorrorHound decided to take the project to Kickstarter in hopes of developing the necessary start-up funds to launch this elaborate full-color hardcover into reality!
Visit https://www.kickstarter.com/projects/halftonehorrors/halftonehorrors
Halftone Horrors: The History of Horror Movie Comic Books will be a 240-page full-color hardbound book telling the history of officially licensed comic book adaptations of every hit, cult, and obscure horror movie to receive attention within the comic book industry. This comprehensive book includes companies from the early days of this publishing industry – like Dell, Gold Key, and Charlton Comics Group – to the indie boom of the 1990s (Adventure Comics, Epic, Innovation) – and ending on the modern-day comic giants (Dynamite Entertainment, Boom!, IDW Publishing). The guide covers everything from Nosferatu, Frankenstein, and Night of the Living Dead to A Nightmare on Elm Street, Hellraiser, and Army of Darkness.
Halftone Horrors will also dig deep to uncover comics most horror fans may not have known to exist (Freaks, Love at First Bite, Burial of the Rats, Duel, White Zombie). The book will include a visual guide to the medium by presenting a history and guide for every issue published – including variants, one-shots, promotional comics, ashcans, and more.
The official Kickstarter Campaign for Halftone Horrors is now LIVE and is set to run for 30 days. Retail for the book is set at $35 (plus shipping) and includes a wide assortment of add-on items to bolster campaign funds and provide HorrorHound, and horror comics fans, some fun incentives for helping fund this project.
Fans of both horror movies and comic books should also be urged to visit www.HalftoneHorrors.com. As part of the Kickstarter launch, we will be offering an early bird discount to 100 backers who will have the opportunity to pre-order the book at a discounted rate. HorrorHound has designed many exciting pledge levels for the Kickstarter campaign to add various incentives for helping HorrorHound reach its minimum publishing goal of $25,000. Pledge levels will grant backers the opportunity to purchase items such as stickers, pins, T-shirts, digital copies of the book – plus other add-ons like a subscription to HorrorHound Magazine or distribution partnership opportunities retailers (buying larger volumes of books at wholesale costs). Beyond incentives, several fun Stretch Goals will also be offered if and as we reach additional financial goals – to encourage fans to continue sharing the campaign's link and word. As if all the incentives and pledge level details weren't enough – the Official Kickstarter for Halftone Horrors also includes a HUGE new product that HorrorHound fans have been begging for - the first official comic book release of HorrorHound Publishing! This long-demanded comic will star the HorrorHound mascot character that has adorned thousands of T-shirts (and even received his own action figure). The one-shot comic will be based on story elements created by Jeff Rebner, Aaron Crowell, Jeremy Sheldon, and Nathan Hanneman. Fans will have the opportunity to purchase limited-edition covers, sketch covers, and even a chance to be drawn into the comic itself.
To follow Halftone Horrors online, please bookmark www.HalftoneHorrors.com and visit the Official Kickstarter launch at https://www.kickstarter.com/projects/halftonehorrors/halftonehorrors. To follow HorrorHound online, please use the following: via Facebook, please follow us at www.facebook.com/horrorhound. Via Twitter, please follow @horrorhound or visit www.twitter.com/horrorhound. Via Instagram, please follow @horrorhound, or visit www.instagram.com/horrorhound. And don't forget to like and follow up on YouTube by visiting www.YouTube.com/HorrorHoundTV."