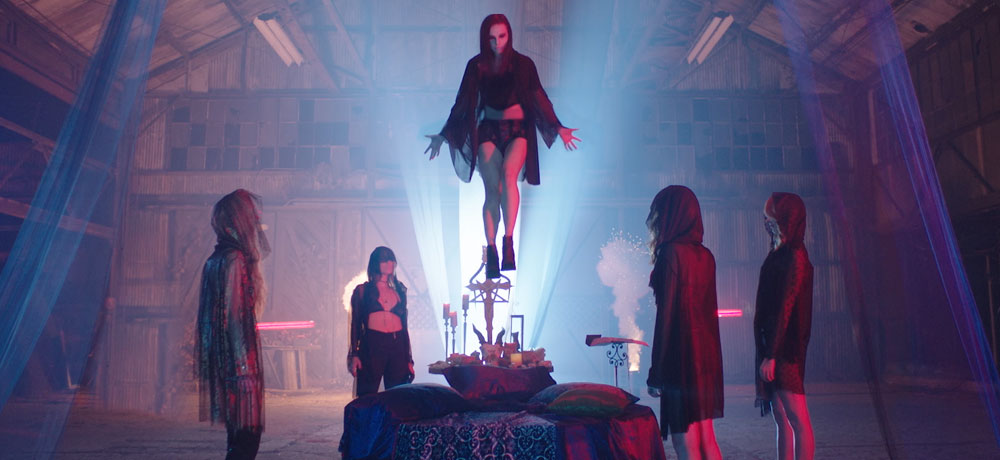 We're back with a jam-packed Horror Highlights! In today's installment, we have an exclusive clip from Coven, details on the acquisition of It Cuts Deep, first details for the graphic novel The Science of Ghosts, news on the new podcast Missing Dial Radio, a press release from Saban's acquisition of Initiation, a look at The Miskatonic's archival classes, advanced word on NYC's Shock Macabre Mansion in November, and a look at Arrow Video Channel's July lineup:
Exclusive Clip from COVEN: "The Craft meets Suspiria in the bewitching Coven, set to spellbind audiences on DVD and Digital this summer.
Five undergrad witches come together in order to perform a ritual to invoke the ancient powers of the witch Ashura. The leader of the coven gets carried away and accidentally kills one of the witches during the ritual. She needs the strength of a complete coven to invoke Ashura's powers and sends them out to find a final witch. As she absorbs power the surviving girls plot to take her down but the possessed witch unleashes hell on campus with only one young witch left to stop her.
Lizze Gordon, Jennifer Cipolla,, Margot Major, Adam Horner, and Terri Ivens star in a Margaret Malandruccolo film, Coven on DVD and Digital July 14 from Uncork'd Entertainment."
---------
IT CUTS DEEP Acquired by Dark Sky Films: "CANNES - Dark Sky Films today announced it has acquired all North American distribution rights to the new horror comedy IT CUTS DEEPS, the directorial debut from Nicholas Payne Santos.
Greg Newman, Executive Vice President of MPI/Dark Sky Films, negotiated rights for the film and Dark Sky's parent company, MPI Media Group will be representing worldwide international sales for the film. Nicola Goelzhaeuser, MPI's Vice President of Sales and Acquisitions will be introducing IT CUTS DEEP to buyers at this year's virtual Cannes.
The film is an 88/90 Production in association with BullMoose Pictures. Producer on the film is Kristy Richman. IT CUTS DEEP will be released in November 2020.
IT CUTS DEEP lives up to its title, revealing the extremes to which the fear of getting married and having children can go. While on Christmas vacation, a young couple contemplates their future together. Ashley (Quinn Jackson, The Blacklist, Hunting Season) is interested in marriage and kids, which terrifies Sam (acclaimed comedian Charles Gould, The Big Sick, Bonding). But when the handsome and paternal Nolan (John Anderson, Quantico, Mozart in the Jungle) enters the picture, Sam's life spirals out of control as Ashley questions their relationship. Chaos reigns as Sam desperately clings to Ashley while fending off the threatening Nolan.
IT CUTS DEEP stars rising comedian Charles Gould. Gould is an LA-based stand-up comedian who was named a "Comic To Watch" by Comedy Central and was most recently named a "New Face of Comedy" at the Just For Laughs Comedy Festival in Montreal.
MPI/Dark Sky's Greg Newman said, "Nicholas Santos has created a truly original blend of thrills and sly humor. Charles Gould's standout performance makes IT CUTS DEEP a unique kind of horror film that we're thrilled to be bringing to audiences."
Santos said, "I'm incredibly excited to team up with Dark Sky Films to release my feature directorial debut into the world. With a strong track record of passionately supporting unique genre pictures like ours, I am confident the film is in the right hands.
Logan Ann Taylor of the Boston Underground Film Festival praised Santos' debut feature: "A clever, economical, and effective send-off of the slasher film, IT CUTS DEEP aims to surprise and hits its mark at every turn."
---------
THE SCIENCE OF GHOSTS: "LOS ANGELES, June 25, 2020 – Legendary Comics announced today a new original graphic novel, The Science of Ghosts, written by Eisner and GLAAD Award-nominated writer Lilah Sturges (Jack of Fables; Lumberjanes). The story—centered around Joy Ravenna, a transgender parapsychologist—will feature art by veteran comic book artist Alitha E. Martinez (known for her work on the Eisner Award winner Black Panther: World of Wakanda) and will be available in stores and online in Summer 2021.
While on the verge of losing a research grant that would jeopardize her academic life work, Joy Ravenna is approached by a wealthy young heiress who claims to have encountered malevolent paranormal activity at the family's estate. As Joy, who is accustom to navigating the mysteries of the afterlife, dives deeper and deeper into the investigation, she comes face-to-face with the very real challenges of her own past and present—her first post-transition relationship with new girlfriend Cat, a hostile ex-wife, and clues to a murder long forgotten—that will test her at every twist and turn. For Joy, working with ghosts is way easier than dealing with the living.
"Having been a fan of Lilah and Alitha for so long, I am honored to be able to work with them on The Science of Ghosts," said Jann Jones, the graphic novel's editor for Legendary Comics. "Watching this come to life has been amazing, and I am very proud of this book. Authentic representation is important, and the world needs more characters like Joy and Cat."
"The Science of Ghosts brings together so many things that fascinate me: psychology, dream logic, the symbolism of ghost narratives, and... queer love stories," said Sturges. "It is certainly a horror story: it's chock-a-block with dark basements, abandoned hotels and ghosts a plenty. And it's also a murder mystery: twists and turns and clues and secrets abound. But to my mind, it's the romance that makes it special, and it's of a kind that we rarely get to see in mainstream comics: two queer women who adore each other and whose existences are not a jumping-off point for tragedy. Getting to write a trans woman protagonist who loves and is loved, who is defined by what she strives for and how she loves rather than the fact of her transness, has been one of the great joys of my career. She is informed by being trans but she isn't defined by it. And did I mention the ghosts? And the murder? And the romance?"
"I'm very much enjoying the worldbuilding and getting to know the characters that Lilah created," said Martinez. "Illustrating new books provide their own unique challenges, and I love a challenge."
Lilah Sturges is the writer of numerous comics, including the PRISM Award winning Lumberjanes: The Infernal Compass and The Magicians, as well as many other titles from DC, Marvel, IDW, and others. She lives in Austin, Texas with two daughters and two cats.
Alitha E. Martinez is the Einser Award and GLAAD Award winning artist of the Black Panther: World of Wakanda series. Her professional career began in 1999 penciling Iron Man for Marvel Entertainment. She has since worked on such titles as: X-Men: Black Sun; Marvel Age Fantastic Four; Black Panther and Black Panther: World of Wakanda; X-Men Gold Annual; Moon Girl; Mark Morales' Spiderman; Fearless; Voltron; NBC's Heroes; New 52 Bat Girl; Archie Comic's New Crusaders and Riverdale; Omni for Humanoids; WWE Superstar, WWE Slam City, and Barbie for Paper Cutz. She has worked on graphic novels including: Vampire: My Boyfriend Bites; Kung Fu Masters; and Quest for Dragon Mountain for Lerner Publications, as well as political cartooning for the New York Post. In her spare time, she works on her creator-owned titles: Yume and Ever and Foreign, which she publishes through her company Ariotstorm Productions, LCC. Alitha is also a professor at the School of Visual Arts in New York City, as well as participates in the U.S. State Department's World Speaker Program, traveling to parts unknown to teach comic book workshops and bring the art of storytelling to people who would have no other way of getting such information.
For photos of the creators and The Science of Ghosts title treatment, please visit: https://bit.ly/3175UGX.
For the latest Legendary Comics news and updates, follow Facebook.com/LegendaryComics."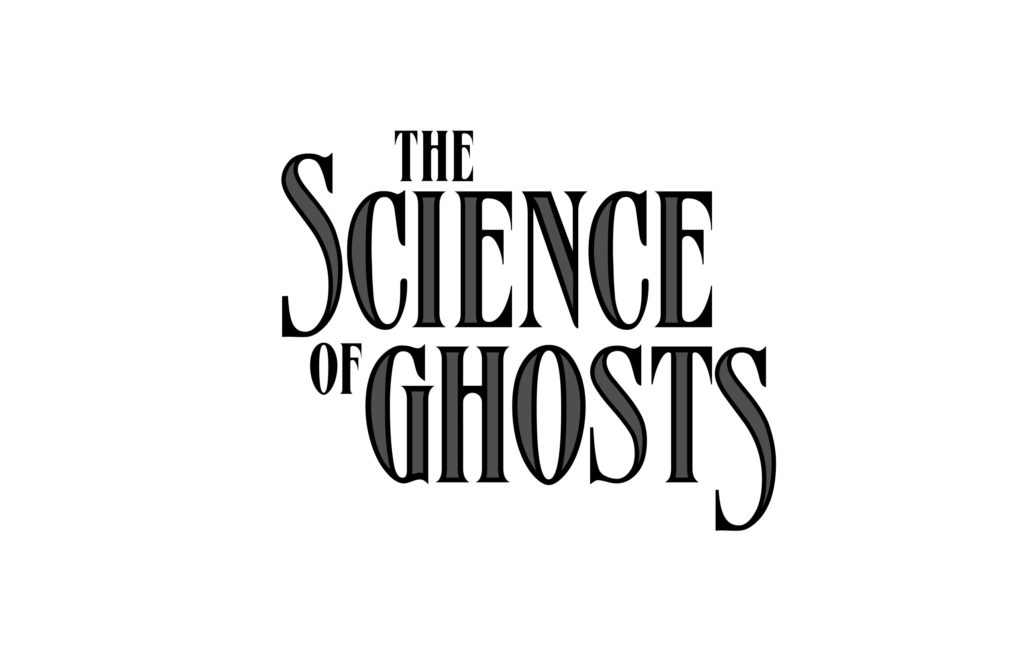 ----------
MISSING DIAL RADIO: "Missing Dial Radio is a new podcast that tunes into radio stations beyond reason, beyond time, and beyond good sensibilities. Each episode explores and parodies other podcasts and radio programs with spooky and delightful content. From radio plays, to love lines, monster documentaries and more you never quite know who or what will come across your speakers.
Episode 2 "Dr. Batty: Weddings, Wolves, and Witches" tunes in to a local love expert's help-line as she runs her new producer through the wild and weird listener letters. This episode also includes a very special call-in cry for help from scream queen Tristan Risk, which drops June 29th.
Missing Dial Radio is available on most Podcast platforms such as Spotify, Apple Podcasts, Google Podcasts, Anchor.Fm, Castbox or by listening closely to the static of a broken car stereo in the middle of the deep dark woods.
It currently updates every second Monday (until the signal is lost).
Cast for Dr. Batty includes burlesque performer Batty Page, Producer Lou, and Tristan Risk. Sound design and editing by Brett Ashleigh. Written by Tyler James Nicol (who starred in Tristan's first directorial debut "Parlour Tricks") and Brett Ashleigh."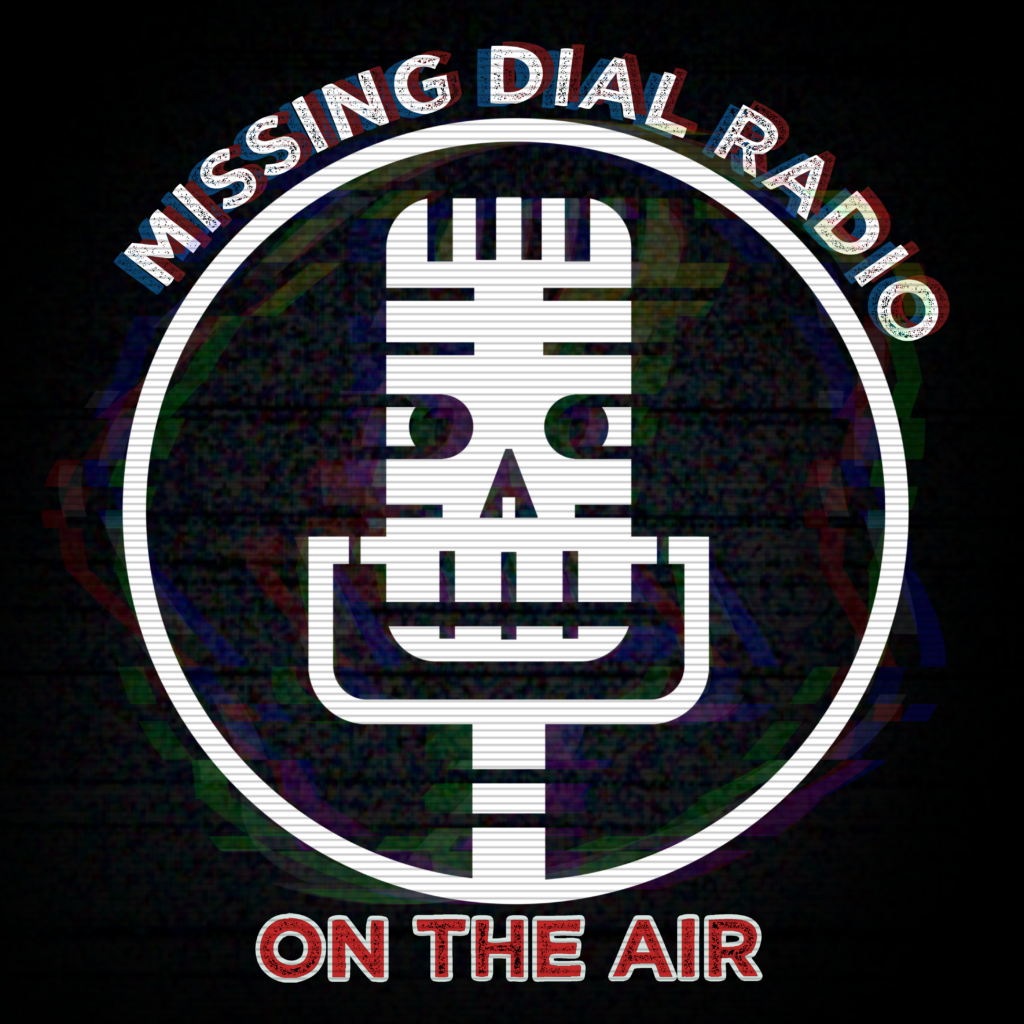 ---------
INITIATION: "Saban Films announced today that they have acquired North American rights to John Berardo's (The Labyrinth) Initiation.  Selected for a world premiere in the Midnighters section at SXSW under its original title Dembanger, the horror crime-thriller stars Lochlyn Munro (The Predator, "Riverdale"), Isabella Gomez ("One Day at a Time"), Jon Huertas ("This is Us"), Froy Gutierrez ("Teen Wolf"), Bart Johnson (High School Musical), and Yancy Butler (Kick-Ass, Drop Zone).  Inspired by his short film Dembanger, about the perils of posting on social media, Berardo penned the script alongside fellow USC SCA and UCLA TFT alumni Brian Frager and Lindsay LaVanchy.  Shatterproof Films' Berardo and Frager produced along with LaVanchy, J.P. Castel, Jon Huertas, Stephanie Stanziano, Artisan Post Group and Malsons Media. XYZ Films is introducing Initiation to international distributors during the Cannes virtual market.
Teen horror is back with a vengeance in this edgy slasher about a cruel social media game that spins out of control. Whiton University unravels the night a star-athlete is murdered in the wake of a buried assault allegation, kicking off a spree of social media-linked slayings. As a masked killer targets students across campus, a trio of sorority sisters race to uncover the truth behind the school's hidden secrets -- and the horrifying meaning of an exclamation point – before they become the killer's next victims.
"We hope that the film's topical themes and innovative portrayal of social media resonate with the cultural zeitgeist to create a thought-provoking thrill ride that will appeal to digital natives and genre fans alike," says director John Berardo. "Initiation pays homage to the nineties horror classics I grew up on, but with a modern take for today's socially conscious generation. We're thrilled to partner with Saban and XYZ Films, both huge forces in the genre space."
"John has created a frighteningly realistic horror that will have audiences watching with bated breath," commented Saban Films' Bill Bromiley.  "Initiation is the latest addition to our growing catalogue of genre films, and we're excited to provide a platform and audience for it."
Jonathan Saba and Ness Saban negotiated the deal for Saban Films along with XYZ Films and CAA Media Finance on behalf of the filmmakers.
Saban Films continues to grow its presence in the industry, remaining active in the acquisition, production and distribution space. The company's successes have run the gamut from critically acclaimed theatrical films such as The Homesman starring Hilary Swank, to two of the biggest Fathom events with horror icon and heavy metal mastermind Rob Zombie's 3 From Hell last year and Kevin Smith's Jay and Silent Bob Reboot, the sequel to the 2001 comedy Jay and Silent Bob Strike Back which the company partnered on after coming onboard at script stage. Its upcoming slate includes: Nicol Paone's Friendsgiving with Malin Akerman, Christine Taylor, Jane Seymour, Kat Dennings and Chelsea Peretti; John Suits' Breach starring Bruce Willis; and Twist starring Michael Caine, Lena Headey and Rita Ora."
---------
SHOCKFEST MACABRE MANSION: "Shockfest Film Festival is hosting Macabre Mansion, a virtual escape room, broadcast in part on the largest billboard in Times Square, New York City on Monday, July 27th, 2020.
Shockfest Macabre Mansion celebrates facets of the filmmaking process, specifically, the posters of the official submitters of the official Shockfest Film Poster Competition.  All Finalists will be announced live, in the heart of Times Square as they engage and interact with the Demons, Vampires, Ghouls and Vampire Hunters of Shockfest in an original interactive online experience, where guests have the power of life and death right at the end of their fingertips.  Free Entry to the Poster Competition is available to official submitters of Shockfest Film Festival via Filmfreeway.com.
A portion of this broadcast will take place on the most technically advanced screen in the United States, Silvercast Media's 'Godzilla Billboard' located smack dab in the middle of Times Square, the largest billboard in all of New York City.
To bring you this unique interactive production, Shockfest is working alongside local New York businesses New York Costumes: Halloween Adventure, and Forbidden Planet, NYC.  One of the prizes at Macabre Mansion will be a one-year membership in the New York Film and Video Council, New York's oldest continuously operating non-profit serving the independent film, video and electronic arts community.
More information can be found on the official Shockfest website (www.shockfilmfest.com), as well as the official Shockfest Facebook Page (facebook.com/shockfesthorrorfactory).  Tickets to the experience can be purchased through Eventbrite for $13: https://www.eventbrite.com/e/shockfest-macabre-mansion-tickets-107154586252
----------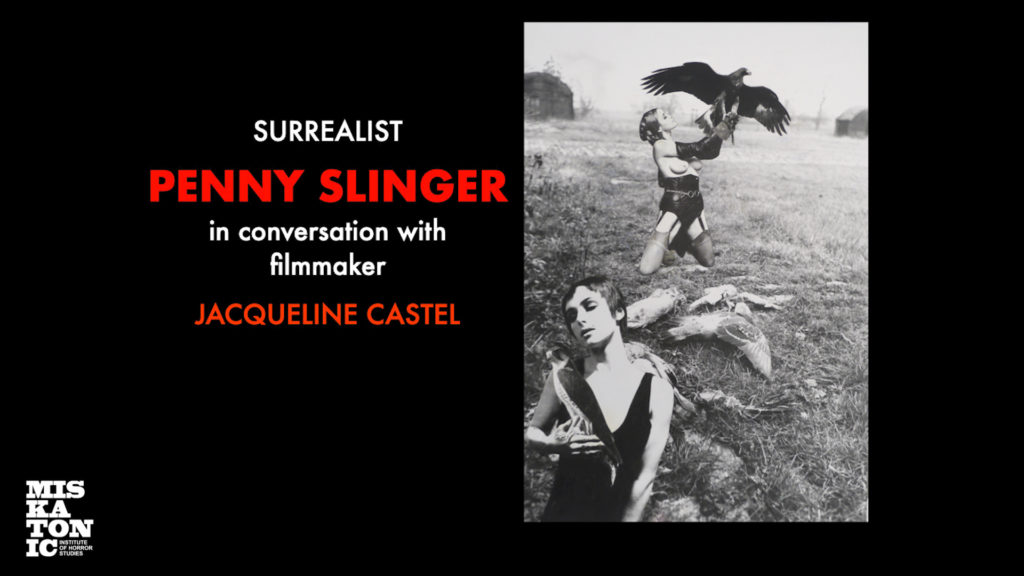 Archival Classes Announced for THE MISKATONIC INSTITUTE OF HORROR STUDIES: "The Miskatonic Institute of Horror Studies is the world's longest-running educational organization dedicated to classes in horror history, theory and production, and currently has branches in L.A., New York, and London. While we take this time to prepare the Fall 2020 semester amidst the current lockdown regulations Miskatonic will be launching archival videos of classes online for by-donation access.
Released periodically over the Summer and viewable globally, the online roll-out will begin with confrontational artist Penny Slinger's (An Exorcism, published in 1977) talk with filmmaker Jacqueline Castel at Miskatonic L.A. in December 2019. This will be followed by a Masterclass from British exploitation/horror filmmaker Pete Walker (FRIGHTMARE, COOL IT CAROL) moderated by Bret Berg of The American Genre Film Archive, and closing out with one of the most significant and celebrated sold-out events in the history of the Institute: THE SHADOW OVER LOVECRAFT: INTERROGATING H.P. LOVECRAFT'S RACISM - a panel of revisionist Lovecraft authors including Matt Ruff (Lovecraft Country), Victor LaValle (The Ballad of Black Tom), Ruthanna Emrys (The Innsmouth Legacy series) and longtime Lovecraft scholar Peter H. Cannon that took place at Miskatonic NYC in April 2019. The latter will be released in August, the same month that Jordan Peele and Misha Green's hotly-anticipated series adaptation of Ruff's novel Lovecraft Country premieres on HBO.
In addition, 
Miskatonic
 is pleased to welcome actor and filmmaker 
Graham Skipper
 and film historian 
Amy 
Voorhees
Searles
 as the new co-directors of its Los Angeles branch, based at the storied Philosophical Research Society headquarters in Los 
Feliz
.
Graham Skipper
 is best known from 
Re-Animator: The Musical 
where he played the iconic role of Herbert West, and on-screen from his leading roles in Joe Begos' ALMOST HUMAN and THE MIND'S EYE, and his directorial debut SEQUENCE BREAK. He is also the founder of the celebrated 
Rated-R Speakeasy
, an 
immersive
 movie-inspired pop-up bar and event series, which has quickly risen as a social hot-spot within the vibrant Los Angeles horror community.
Amy 

Voorhees

 

Searles

 is an award-winning Senior Producer at Trailer Park, Inc and second-generation horror fan currently living in L.A., as well as co-author of the forthcoming book 

"Unhealthy and Aberrant": Depictions of Horror 

Fandom

 on Film and Television

.
"I am thrilled and honored to be stepping into this role alongside Amy," says Skipper, "and look forward to building upon Miskatonic Los Angeles' already-strong foundation to provide the L.A. horror community with a home for learning, cultivating dialogue and ideas, and examining the horror genre we love in new and exciting ways."
"I have followed the growth of the Miskatonic Institute with great interest since its inception in 2010," says Searles, "and was thrilled to finally attend classes when the Los Angeles branch opened in 2018. Becoming involved with the Institute is a dream come true, and I look forward to promoting education regarding the historically maligned and misunderstood genre that has proven so foundational to my life. I consider myself doubly fortunate to be working with Graham Skipper, a stalwart of the horror scene, who shares my commitment to giving back to the community we hold so dear."Full details on the archival classes below:
++++
Thurs June 25, 2020 – 12:00 Noon PST
LIVE FROM MISKATONIC: PENNY SLINGER IN CONVERSATION
The Miskatonic Institute of Horror Studies presents a conversation with British surrealist filmmaker, collage artist, sculptor and performer Penny Slinger, moderated by filmmaker and Miskatonic NYC Co-Director Jacqueline Castel. This class originally took place on December 12, 2019 in the Manly P. Hall Library at our Los Angeles host venue, the Philosophical Research Society.In 1969 Slinger created her student thesis on the collage art of Max Ernst, which was a combination of written text, film and original collage work. "Having discovered the magic of surrealism," she later wrote, "I wanted to employ its tools and methods to create a language for the feminine psyche to express itself. The kind of language that dove into the subconscious for images and wantonly combined them into situations and relationships that were both confrontational and expressive." It was the beginning of an artistic identity that, while always evolving, frequently addressed themes of interior space, body horror, female sexuality and psychosis.
Penny's work – from with her early student short films and first book of collage art, 50% The Visible Woman to her collaborations with filmmakers Peter Whitehead (LILFORD HALL, 1969) and Jane Arden's Holocaust Theatre troupe (culminating in the feature film THE OTHER SIDE OF THE UNDERNEATH, 1972), and her masterpiece of psychic trauma, the collage art book An Exorcism (1977) – was the spark for a new mode of surrealism focused on the female experience that would have ripples throughout the film and art worlds, though it would take many years for her pioneering influence to be acknowledged – something that has recently been rectified with Richard Kovitch's illuminating documentary PENNY SLINGER - OUT OF THE SHADOWS, which is available on VOD in North America now, at the links below:
iTunes: https://itunes.apple.com/us/movie/penny-slinger-out-of-the-shadows/id1512881771?ls=1
Youtube: https://www.youtube.com/watch?v=dh5elR2Cje4
Vudu: https://www.vudu.com/content/movies/details/Penny-Slinger-Out-of-the-Shadows/1427729
++++
Date: Thursday, July 16, 2020 – 12:00 Noon PST
LIVE FROM MISKATONIC: PETE WALKER IN CONVERSATION
Miskatonic is proud to present an evening in conversation with the great British horror and sexploitation director Pete Walker, moderated by Bret Berg of The American Genre Film Archive. This class originally took place on Thursday, May 9, 2019 in the main lecture hall at our Los Angeles host venue, the Philosophical Research Society.
Starting out in 
softcore
 sex shorts in the 1960s before turning to features in 1968 with films like THE BIG SWITCH, SCHOOL OF SEX and his breakthrough, COOL IT CAROL! in 1969, Walker then self-financed a decade of brilliant horror and terror films including DIE SCREAMING MARIANNE (1971), THE FLESH AND BLOOD SNOW (1972), HOUSE OF WHIPCORD (1974), 
FRIGHTMARE
 (1974), THE CONFESSIONAL (1976), SCHIZO (1976), THE COMEBACK (1978) and HOUSE OF THE LONG SHADOWS (1983), with the odd 
sexploitation
 film still peppered in, such as TIFFANY JONES (1973) and HOME BEFORE MIDNIGHT (1979).
Walker's work was often critically reviled in its day – even while being immensely successful commercially – although some astute critics did note their sophisticated subtexts, often dealing with double lives and the sadism of conservative authority figures who dole out various degrees of punishment to their younger, less repressed counterparts, who they see as vulgar or sinful. We'll talk to Walker about being an upstart in an uptight industry, making a horror icon out of elderly Scottish actress Sheila Keith, turning communion wafers into weapons in The THE CONFESSIONAL, working with horror giants Christopher Lee, Peter Cushing, Vincent Price and John Carradine on HOUSE OF THE LONG SHADOWS, his ill-fated Sex Pistols documentary, and so much more.
++++
Date: Thursday, August 20, 2020 – 12:00 Noon PST
THE SHADOW OVER LOVECRAFT: INTERROGATING H.P. LOVECRAFT'S RACISM
There is no denying that H.P Lovecraft was a racist. Though racism was not uncommon in his day, and some have argued that this excuses his attitudes, his racism and xenophobia were especially vehement, even for his time. These attitudes are directly apparent not only in an infamous 1912 poem denigrating those of African descent, but in journal entries and personal correspondences, as well as both directly and allegorically in his fiction.
Often held as Lovecraft's most racist horror story, The Horror at Red Hook was addressed, revised and reclaimed by writer Victor LaValle in his brilliant, multiple award-winning novella The Ballad of Black Tom in 2016, which reconfigures the perspective of the story to that of African American protagonist Charles Thomas Tester, which Locus magazine praised for "co-opting Lovecraft's epic-scale paranoia into the service of a trickster tale."
The same year saw the release of Matt Ruff's novel Lovecraft Country, which similarly explores issues" of race in Lovecraft's work through its tale of an African American science fiction fan named Atticus Turner, traversing through New England during the heyday of the Jim Crow laws in search of his missing father.
The release of both of these books – coincidentally in the same week - prompted renewed questioning into the legacy of Lovecraft's fiction for a legion of fans and fellow writers who have found magic in his Mythos and Cosmic Horror, easily one of the most influential strands of horror in literary history. But does Lovecraft's racism overshadow his incredible contributions to the field? Should Lovecraft be demoted in the pantheon of horror writers based on his personal ideologies? Can people of those races and ethnicities Lovecraft directed hate towards still find value his work?
This momentous class, moderated by Miskatonic board member, author and festival programmer Rodney Perkins, features special guest speakers longtime Lovecraft scholar and Mythos author Peter H. Cannon and authors Victor LaValle, Matt Ruff and Ruthanna Emrys – whose debut novel Winter Tide (2017) was called "A mythos yarn that totally reverses the polarity on Lovecraft's xenophobia, so that in the end, the only real monsters are human beings.""
---------
ARROW VIDEO CHANNEL's July Lineup: "London, UK - Arrow Video is excited to announce the July slate of titles on their subscription-based Arrow Video Channel, including acclaimed undead comedy Zombie for Sale and Gamera: The Complete Collection, all twelve films starring mankind's greatest defender: a fire-breathing mutant turtle.
An infectiously funny slice of modern Korean cinema where Train to Busan, The Quiet Family and Warm Bodies collide to create Zombie for Sale, a memorable rom-zom-com from debut director Lee Min-jae. For the first time ever, fans can trace the decades-long evolution of Gamera, from the "friend of all children" in his more light-hearted earlier films, to the Guardian of the Universe in the groundbreaking 1990s reboot series, often hailed as three of the best kaiju films ever made.
Zombie for Sale and Gamera: The Complete Collection will be available July 1st on the Arrow Video Channel in the US and the UK. Additional new titles available July 1st include Creepshow 2, Bloodstone, Black Rainbow, and Merry Christmas, Mr. Lawrence. The Arrow Video Channel is available on Apple TV in the UK and US, as well as on Amazon in the UK. All July titles, with the exception of Merry Christmas, Mr. Lawrence, will be available in both territories.
July Additions:
The Gamera Collection (12 films) (UK/US)
Merry Christmas, Mr. Lawrence (UK)
July Seasons:
Asia Extreme:
From Japan:
Audition (UK/US)
Battle Royale (UK)
Ringu (UK/US)
Ringu 2 (UK/US)
Ringu 0 (UK/US)
Spiral (UK/US)
Dark Water (UK/US)
Pulse (UK)
The Happiness of the Katakuris (UK/US)
Horrors of Malformed Men (UK/US)
The Vampire Doll (UK/US)
Lake Of Dracula (UK/US)
Evil of Dracula (UK/US)
Blind Woman's Curse (UK/US)
Wolf Guy (UK/US)
Tetsuo: The Iron Man (UK/US)
Tetsuo II: Body Hammer (UK/US)
Killing (UK/US)
Bullet Ballet (UK/US)
Kotoko (UK/US)
A Snake of June (UK/US)
Tokyo Fist (UK/US)
Vital (US)
80s Horror: 
The Burning (UK)
Demons (UK)
Rawhead Rex (UK)
Bride of Re-Animator (UK/US)
Society (UK/US)
The Mutilator (UK/US)
Maniac Cop (UK)
Pieces (UK)
Hellbound: Hellraiser II (UK/US)
Slaughter High (UK)
House (UK/US)
Creepshow 2 (UK/US)
Elvira: Mistress of the Dark (UK/US)
Bloody Birthday (UK/US)
Hellraiser (UK/US)
Doom Asylum (UK/US)
Brain Damage (UK/US)
Microwave Massacre (UK/US)
House II: The Second Story (UK)
The Initiation (UK)
Return of the Killer Tomatoes (UK)
Demons 2 (UK)
Satan's Blade (UK)
Blood Rage (UK/US)
The Exterminator (UK)
About the Arrow Video Channel:
The Arrow Video Channel gives cult movie fans the opportunity to watch a wide selection of movies that the Arrow Video brand has been famous for - personally curated by members of the Arrow team. From horror to sci-fi, thrillers to westerns, the Arrow Video Channel is home to cutting edge cult and undiscovered gems such as Takashi Miike's Audition, Wes Craven's seminal masterpiece The Hills Have Eyes, George A. Romero's contagion classic The Crazies, Edwin Brown's slice-and-dice staple The Prey and so much more. In the coming months the Arrow Video Channel will be adding cult classics from Italy including The Case of the Scorpion's Tail and American made horrors such as The Deeper You Dig, Children of the Corn and Lake Michigan Monster. In addition to crowd pleasing cult movies on the service, the Arrow Video Channel will continue to give you an exclusive platform to brand new genre as part of a new global strategy.
The Arrow Video Channel also hosts a growing collection of documentaries, interviews and never-before-seen content from the Arrow Video archives, as well as newly produced material. These documentaries will breathe new life on the Arrow Video Channel, giving movie fans an immersive look into the creation of many cult movie classics such as Donnie Darko and Hellraiser. The service will be updated regularly with new content, new curation focus and never-before-seen content, all hand-picked by the Arrow Video team.