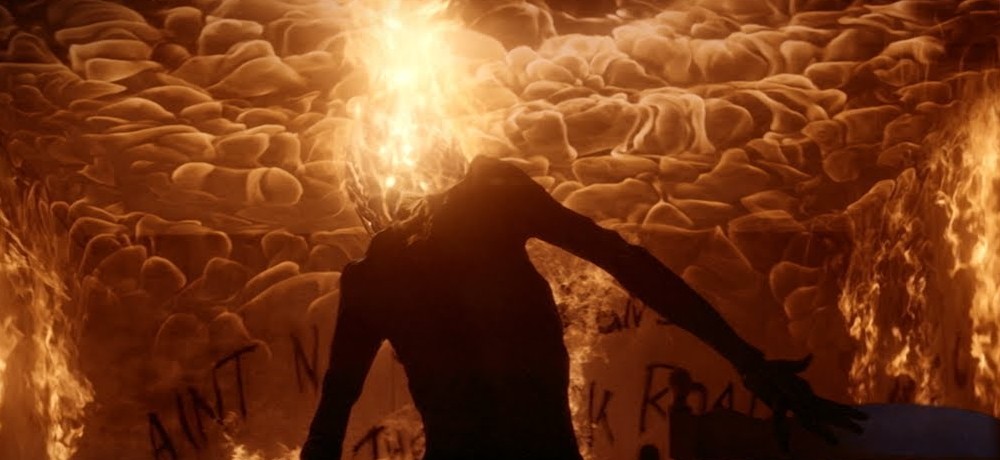 DARK HARVEST: "In a cursed town, the annual harvest becomes a brutal battle for survival. On Halloween 1963, Sawtooth Jack, a terrifying legend, rises from the cornfields, threatening the town's children. Groups of boys unite to defeat the murderous scarecrow before midnight. Richie, a rebellious outcast, joins the run, motivated by his brother's previous victory. As the hunt progresses, Richie makes a shocking discovery and faces a pivotal choice to break the relentless cycle."
Directed By: David Slade
Screenplay By: Michael Gilio
Based on the Novel by: Norman Partridge
Produced By: Matt Tolmach, p.g.a., David Manpearl, p.g.a.
Executive Producers: Pamela Hirsch, Michael Gilio
Music By: Brian Reitzell
Cast: Casey Likes, E'myri Crutchfield, Dustin Ceithamer, Elizabeth Reaser with Jeremy Davies
Available On Digital October 13th 
---
KILLHER: "Mattie and her three besties--Eddie, Jess, and Rae--head into the woods for a weekend to plan Mattie's upcoming wedding and bachelorette party. Eddie, Mattie's roommate and an unrelenting practical joker, leads them to believe they will be setting up camp near Mattie's hunky fiancé, Jagger, and his friends. They soon realize the tent they've snuggled up next to belongs to a mysterious recluse named Mr. Rogers, rather than Jagger, and this is definitely his neighborhood!
With zero cell reception and only a literal pot to piss in, their weekend camping trip is beginning to look like a bad idea for these unhappy campers. But it only gets worse when people start to die and a terrible secret is revealed. All these girls wanted was a killer pre-bachelorette party… and that's exactly what they got."
Directed by: Robyn August (Party With Me)
Written by: Tom Kiesche
Produced by: Lan Kay, Ned Kisner, Tom Kiesche, and Ron Rogge
Country of Origin: United States
Language: English
Genre: Horror, Comedy, Independent
Distributor: Dark Sky Films
Run Time: 88 minutes
Cast: M.C. Huff (Breakfast with Jenny), Emily Hall, Jenna Z. Alvarez (Shook), Nicole Lovince (Pitch Perfect & Dear White People), Tom Kiesche (Breaking Bad, W.M.D.), Harrison White (Venice the Series), Jack Schumacher (Top Gun: Maverick), and Ron Rogge (Stranger Things).
---
---
HEAD COUNT: "A gun is pointed to Kat's (Aaron Jakubenko) head. It's his gun. Or at least it was after he escaped a chain gang and stole it. Luckily for him though, it's not fully loaded. But how many bullets are left? He can't quite remember.  And now, with an unknown assailant pulling the trigger, Kat is forced to recall exactly what happened to each bullet.
While the empty rounds click away, memories of wild animal attacks, run-ins with an impulsive police officer (Ryan Kwanten), a down-to-earth arms dealer, and his ex-lover (Melanie Zanetti) come flooding back.
As the pressure mounts, Kat must figure out how many rounds are left and try to devise a plan to escape…one more time."
Directed by The Burghart Brothers, Jacob and Ben Burghart
Written by Jacob Burghart, Ben Burghart, and Josh Doke
Starring:

Aaron Jakubenko ("The Shannara Chronicles", "Tidelands")
Melanie Zanetti ("Raven's Hollow", "Bluey")
Ryan Kwanten ("True Blood", "The Oath")
Chris Bylsma ("El Camino: A Breaking Bad Movie", "Godless")
Addam Bramich ("Poker Face")
Polaris Banks ("Reclad")
Cinnamon Shultz ("Winter's Bone")
IN THEATERS AND ON-DEMAND SEPTEMBER 29, 2023
---
ABERRANCE: "Freestyle Digital Media, the digital film distribution division of Byron Allen's Allen Media Group, has acquired the North American theatrical rights and has set a theatrical release date for the Mongolian horror feature film, ABERRANCE, on October 6,2023. The video on demand (VOD) and digital release will be in 2024. ABERRANCE marks an impressive milestone as the first Mongolian horror feature to be released theatrically in the U.S. introducing Mongolian cinema to new audiences.
The film had its North American premiere at the 2023 SXSW Film Festival to positive reviews as an Official Selection in the Midnighters section.
In ABERRANCE, when city dwellers Erkhmee and Selenge arrive at an old cabin deep in the Mongolian wilds, a sense of foreboding settles over the couple. Erkhmee's seemingly keen desire to provide a safe and nurturing space for his artistic wife is at odds with the violent actions and mannerisms their quizzical neighbor observes. As the neighbor digs deeper for the reason behind this aberrant behavior, only more questions and trouble arise.
ABERRANCE is the theatrical directing debut film by Baatar Batsukh who also co-wrote the film with Erdene Orosoo (Kinsman of the Sun) and Byambasuren Ganbat. The film stars an ensemble Mongolian cast of Selenge Chadraabal (Six Feet), Erkhembayar Ganbat, Yalalt Namsrai (Snowman), Oyundary Jamsranjav (Disorder), Badamtsetseg Batmunkh Bayarsanaa Batchuluun and Ariunbyamba Sukhee (Guardians). The film was produced by Enkhmandakh Nemekhbaatar and executive produced by Angarag Sukhbaatar, Trevor Morgan Doyle and Alexa Khan of Three Flames Pictures and Team Hero Production.
"As a Mongolian and American filmmaker, I am honored to see our film being distributed theatrically in the US," said Alexa Khan of Three Flames Pictures. "It is a milestone to celebrate and excited to contribute to the AAPI filmmaking community that is making the marks in the US."
"As a Gulf War veteran and a film producer, setting a lofty goal of a theatrical distribution for a Mongolian film and having it realized is extremely gratifying," said Trevor Morgan Doyle of Three Flames Pictures. "Our long-term plan is to get Mongolian cinema and artists the recognition that they deserve. We're grateful and excited for the opportunity and for what the future holds!"
Freestyle Digital Media negotiated the deal to acquire ABERRANCE from Raven Banner on behalf of filmmakers Trevor Doyle and Alexa Khan of Three Flames Pictures."